Print This Post
November 9, 2011 by danny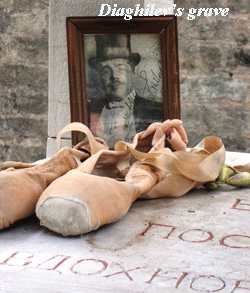 We went to Venice for a city break. I had been there two years ago speaking at a conference. This time I had more free time to explore the city. We went to the Guggenheim Museum of modern art, which contains fairly incomprehensible art from the first half of the Twentieth Century; the Doge's gothic palace in St Mark's Square from which Casanova famously escaped in1756 and which he brilliantly describes in his book, 'The Story of My Life'; Isola di San Michele (the cemetery, which is an island in the lagoon) where Stravinsky, Diaghilev, Ezra Pound, Joseph Brodsky and Baron Corvo [Frederick Rolfe] are buried; the Lido, where Mann's 'Death in Venice' is set; but the most memorable part of our visit was to the Jewish Ghetto (where there is a permanent armed guard) and which we visited twice.
On the walls, in one corner, are astonishing bas-relief memorials to the victims of the holocaust designed by the Lithuanian artist and sculptor, Arbit Blatas, whose parents had been sent to concentration camps, in one of which his mother perished. The most powerful is 'The Last Train' which was unveiled in 1993 on the 50th anniversary of the deportation of the Jews from the Venice ghetto.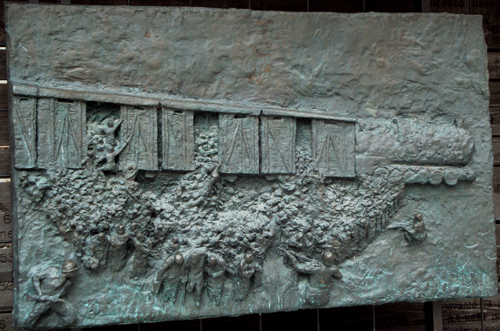 I never knew until now that the word 'ghetto' actually is derived from the Italian and it was in Venice that the world's first ghetto was instituted from 1516 at Ghetto Nuova, a small, dirty island where an iron foundry had once stood. The word 'ghetto' is from the Italian getto meaning 'casting' or 'slag' or Venetian geto meaning 'foundry'. The ghetto was totally surrounded by water and its two access points were controlled at night and early morning by heavy gates manned by Christian guards (paid for by the Jews) who imposed a curfew at night.

Print This Post
November 7, 2011 by danny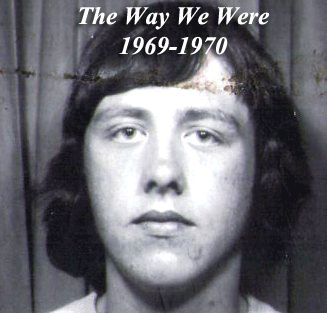 Am taking part in a panel discussion this Friday night in St Mary's Grammar School, Glen Road, Belfast, which I attended in 1969/1970. Other speakers include my then contemporaries, the historian Dr Eamon Phoenix, and the solicitor and broadcaster, Tony Caher. The theme is: The Times They Are A Changin'. In 1969 Glen Road CBS only taught as far as O-Levels which meant that my qualifying classmates and I had to change schools and cross the road that September to St Mary's Grammar to do our A-Levels. It was quite a wrench: our new teachers were now 'lecturers', many of whom wore gowns and mortar boards, but we were treated as serious and mature students – and, of course, we had 'attitude'! We were into John and Yoko but also Peoples Democracy. The British army were a huge presence after August '69 and the IRA was just about to split into 'The Officials' and 'The Provisionals'.
It has been a lifetime since I have seen my old classmates, Micky Connolly, Canice Ward, Brendan Curran, Paul Growcott, John McKernan, Anthony Simms, Peter Cassidy and Gerry Fitzgerald, to name but a few, who 'crossed' the road with me back in '69 and it would be great to meet up with them again. [See pop charts for November 1969 below]
On Thursday night [10th November] Síle Darragh and I are speaking at a hunger strike event in Sligo. The event begins at 8pm in the Glasshouse Hotel.
5th November. Interviewed via Skype by Liverpool-based lecturer Paddy Hoey who is working on his PhD looking at republicanism and media, with a focus on the media of political parties and street level activist groups.
28th October. Was a panel guest on RTE's Pat Kenny show discussing yesterday's presidential election. I was just making a point about how dirty had been the campaign, which included many unpublishable rumours that were being circulated by the various parties about their opponents when I was immediately attacked. Noel Whelan, a political commentator, and a guy to my left, who I think is a Fianna Fail senator, set upon me with a telling animosity and said, "well, don't be making it any dirtier!" as if I were about to reveal something. But I really think they were looking for an opportunity to get stuck in. What I had had in mind was the fact that even before the candidate Dana Rosemary Scanlon revealed that she was the victim of an alleged smear campaign I had been told of rumours that a sex scandal about her family was doing the rounds but couldn't break lest someone was slandered or libelled.
When the subject of Martin McGuinness and the IRA came up the Senator made the ridiculous statement that the difference between the modern IRA and the IRA of the War of Independence was that during the earlier conflict the IRA had been given a mandate by the Irish people! Yes, I had forgotten that Pearse and Connolly had been elected just before 1916 and that in the December 1918 election the Sinn Féin manifesto included a declaration of war beginning in January 1919!
Stephen Collins of the Irish Times was also on the panel and I took the opportunity to criticise him over a piece he wrote the previous week. I had written a letter to the Irish Times, which they had not published. It said:
"In 1918, before the general election, the British dropped leaflets from airplanes warning against voting for Sinn Féin (which had been associated with the 1916 Rising and subsequent gun-running). Britain had also demonised and described the Sinn Féin party as 'dangerous fanatics', in an attempt to sway public opinion.
"Nowadays these planes are piloted by none other than certain political correspondents, including your own Stephen Collins.
"Last Saturday he wrote: 'what Sinn Féin is seeking on Thursday week is a retrospective endorsement from the people of this State for the long campaign of terror waged by the Provisional IRA.' And in case the reader misses his point he repeats: 'Sinn Féin is clearly asking the Irish people to accept the legitimacy of the republican movement's record over the past 40 years.'
"His comment is insupportable and is as much a scare tactic as the historical example above. Ten years ago Sinn Féin overtook the SDLP. I have never heard a party representative or anyone state that the impressive republican mandate in the North retrospectively endorses the IRA's former campaign (which it clearly does not) and I challenge Mr Collins to provide the evidence for his contention."
Interviewed by Brian Halpin in Dublin for a project he is writing on 'creativity and communication skills'.
Interviewed by Dawn Walsh, a PhD candidate at Dublin City University, on 'the role of Sinn Fein in the party system in the Republic of Ireland.'
20th October. Did Skype interview with Illinois politics students on "why people might be motivated to struggle against injustice by armed means, how they might be effective, garner public support, and what type of strategic and philosophical questions may have presented themselves at various times."
8th October. Spoke in Liverpool on the 1981 hunger strike as the guest speaker at the annual James Larkin march and rally. Very good turnout.
The Charts for November 1969, Counting Down to No. 1
Clodagh Rodgers — Biljo
Baby Boomer Classics: The 60's Volume 4, Trax Music, Tr 16
Kenny Rogers & The First Edition — Ruby Don't Take Your Love To Town
The Fabulous Kenny Rogers, Pickwick
Bob Dylan — Lay Lady Lay
Heartbeat: Love Me Tender (Various), Global Television
Jethro Tull — Sweet Dream
Original Masters, Chrysalis, Tr 7
John Lennon — Cold Turkey
John Lennon – Lennon Legend, Parlophone
Jr. Walker & The All Stars — What Does It Take To Win Your Love
Junior Walker – 20th Century Masters, Motown, 5
Four Tops — Do What You Gotta Do
The Four Tops – The Singles Collectio, Polygram Tv
The Beatles — Something
The Beatles – 1, Apple, 2
The Tremeloes — Call Me Number One
25 Years Of Rock'n'Roll 1969 (Vol 2), Connoisseur
Jimmy Cliff — Wonderful World, Beautiful People
Jukebox 70's Hits -I Got The Music In, Old Gold
Joe Cocker — Delta Lady
The Greatest Hits Of 1969, Premier
David Bowie — Space Oddity
Space Oddity 40th Anniversary Special Edition, Virgin, 2
The Upsetters — Return of Django
Return Of Django: The Best Of The Upsetters, Trojan, 4
The Hollies — He Ain't Heavy, He's My Brother
The Hollies, EMI, 4
Lou Christie — I'm Gonna Make You Mine
Million Sellers Vol.12 – The Sixties, Disky
Fleetwood Mac — Oh Well (Part 1)
The Chain – Selections From 25 Years, Warner Bros
The Archies — Sugar Sugar
Dance Hits Of The '60's & '70's, Old Gold