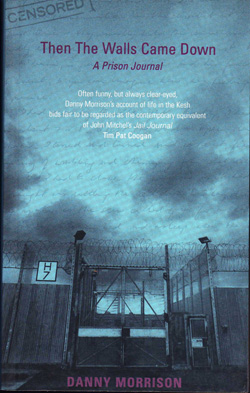 Sorry, this book is out of print but is available as a Kindle book here.
Reviews of 'Then the Walls Came Down':
"All in all, if this book is more than a Jail Journal, it might be a symphony. For like music it is poignant and liberating; written out of the cloisters of imprisonment…" – Brian Keenan, 13.11.99
"one of the most important books to emerge from the conflict in Northern Ireland… a vividly humane account of life in prison." – Irish Times, 21.10.99
"The irony of post-ceasefire Northern Ireland is that the new thinking has come from those involved in the republican war. Danny Morrison's prison memoirs is an honest study of a man seeking fresh solutions to the stalemate the Provos found themselves in at the beginning of the Nineties." – The Observer, 17.10.99
"Morrison's book, while unapologetically hardline, is shot through with subtlety and feeling." – Sunday Business Post, 26.9.99
"Like the best of novels… all human life is there, the world of the imagination and the realities of the unfolding political scene on the outside… invaluable as a rare look at prisoners as human beings." – Irish News, 16.10.99
"No bitterness, bigotry or bile… a far, far better read than John Mitchel." – Irish Independent, 30.10.99
"remarkable as a human document…The flashes of humour and compassion bear comparison with those in Brendan Behan's Borstal Boy. A must-read for anyone interested in the North." – Irish Times, 13.11.99
Read extract
The Crum
Sunday, 21st January, 1990
I'm sharing a cell with a young lad from Derry, Roy 'Finn' McCool. He is charged with possession of mortar bombs last October, one of which blew up in the tube and seriously injured a bomb disposal expert who was trying to defuse it. Roy's been married about eighteen months. His wife is called Donna and they bought a house on the Buncrana Road. Outside he was a postman. In here he is a grandmaster at chess!
He's sitting writing a letter to his wife whom he loves, and I look at him, steal a look at him, and wonder what the future holds, how the dice will fall and I am captivated by the mystery of it all…
Nicky Campbell, a BBC Radio 1 presenter, has just played Christy Moore's new single, 'Welcome to the Cabaret' which is Number 1 down south. He received that many phone calls that he is playing it again! What is amazing is that it is being played at all because among those Christy is welcoming to the Cabaret are 'those on the run; Sinn Fein too'! I was telling Roy that we went to Moving Hearts' concerts two nights in a row in the Baggot Inn they were that good. He was really envious. I told him that he could look forward to camping and fleadh ceoils and concerts and restaurants and cinemas and standing kissing under broken drain-pipes in pouring rain and he swears he'll do all those things except jump into the Atlantic because, 'I cannay swim.'
I told him about the train to Dublin and he says he didn't know there was a bar on the train and that he has only been on a train once or twice and would it be worthwhile for him and Donna to take the train to Dublin for a day's shopping as he would really love to do that… and he has me shattered but I don't show it. He asks me can you relax and lose yourself in the bars in Dublin and I tell him about our odysseys and how you drink draught Guinness and that though there are yuppie bars there are also those with great local characters.
Friday, 23 February
'The House of the Rising Sun' by The Animals is on the radio. It reminds me of our family holiday in 1964. My parents booked a house for a week in the sleepy seaside village of Glenarm, but we would walk into the town of Carnlough, a few miles around the coast. My Uncle Seamus had a stationwagon and drove us from Belfast to Glenarm. We were all crammed in: three adults, four kids, suitcases, boxes of food, etc. After a sit-down and a cup of tea Seamus took off for Belfast. But our Geraldine, who was fifteen, dashed out the door after his car as it was chugging down the street, tears streaming down her face. When challenged it emerged that she was in love with Francie McDonald from Beechmount, whom she mistook for her pop idol, Roy Orbinson, and that she couldn't live a week without him! My sister Margaret and I were pissing ourselves with laughter but my mother, sensitive Susie, scowled at us, with that look, Don't say a thing to your big sister. Nobody but our Geraldine could see the Roy Orbinson resemblance, except that Francie, who did have a lovely smile and brilliant eyes, used Brylcream and wore dark glasses once.
Anyway, Geraldine was told she couldn't go back to Belfast and be on her own. I had a great time, swimming, fishing for flat-fish from Glenarm pier, forcing my mammy to fry them in flour and butter no matter how small they were. Everytime we walked into Carnlough 'The House of the Rising Sun' was blasting from speakers in the Amusement Arcade, and the sun always seemed to beat down, and the boys sat outside chatting up the girls, and I had a sense of something bubbling in them which infected me.
I've just heard that my old friend Brendan Green was buried last Monday. I must have missed the death notice in the Irish News. Every Christmas when I do my rounds I visit him and his brother Jimmy. Brendan, who just loved dancing the night away, took a stroke in December 1969, was paralysed, had to have a leg amputated and lost the power of speech. He was bedridden since then. Last year his sight began to go.
I remember the dark and cold winter afternoon after school in 1969 that Jimmy tried to get across to me the devastation that this represented to Brendan, their elderly mother, Jimmy himself and his brother Sean, who still lived at home. I remember thinking for two seconds, gee, that's awful, before trying to turn the conversation around to my suffering, and that I was sore from being in love with a girl who didn't love me, because it was from this angst-ridden perspective that I viewed the entire world for about eighteen months, from August 1969.
I'll write Jimmy a letter of condolence early in the week. He'll be shattered. Jimmy has never enjoyed good health himself. He became agoraphobic when he was fifteen and has been house-bound for over fifty years. He has suffered down the years, from insomnia, anaemia, and regular gum bleeds. I measure my unbelievable good fortune against the fates of people like Jimmy.
It was through Jimmy and another friend, Robert, that I became interested in electronics. We used to have small pirate radio stations in our houses operating on the medium wave after midnight when BBC Radio Ulster closed down for the day. We were from the Falls and Shankill, and we visited each other's homes, swapping valves, capacitors, resistors. We talked about 6AZs feeding into 807s; we talked about carrier signals and oscillators; sometimes about books and music, but never politics. One friend, Johnny Doak, from the loyalist Tigers Bay in North Belfast, was very embarrassed one night. Robert and I were visiting his house in July '68 or '69 when an Orange flute band was playing outside. Then Johnny's teenage daughter Eleanor arrived home – in her band uniform! On Friday and Saturday nights I would go on the air at about two in the morning after I came in from working as a waiter in the International Hotel. I called myself 'Harry' – we all used false names. It was illegal and often the GPO would come out with tracking equipment trying to locate who was involved. Some of our group were students and lived over by Queen's University. The GPO's engineers declared in the Sunday News that they were going to close down one particular station, Radio Sunshine, which was run by Dave and Heather. Sunshine declared that it was not going to be intimidated and that it would be broadcasting as usual the following Sunday. Radio Sunshine went on the air and the GPO came out with their equipment, tracking the signal, and were getting 'hotter' and 'hotter' around University Road. They found the source, okay, but they had red faces! A cheap transmitter with a cheap tape recorder attached to it was found inside a telephone kiosk, which had been cordoned off and had an 'Out of Order' sign on it. The power source was the overhead electric light socket!
Jimmy is a real character, a very kind person, without any malice. He is a great storyteller and wit. Out in his small back garden in Iveagh Crescent on summer nights in the sixties a group of us, from all ages, and from all walks, would sit and discuss history and philosophy, music, books, films, astronomy, electronics, then the civil rights marches, then the Troubles, and then I disappeared from their company altogether, except for that one visit every Christmas. Jimmy's next door neighbour – he's now dead – was the actor Albert Sharpe who played the lead role in Darbie O'Gill and the Little People. Walt Disney called in to see Albert Sharpe one day. Jimmy says that Albert was definitely in, hiding behind the wife, hiding behind the curtains, but wouldn't open the door. I can understand that. When we were bored we used to torture him and knock on his door and ask him had he seen any of 'the Little People' recently. He used to tell us to Fuck Off. Anyway, the unflappable Jimmy says, 'Walt, come on in and I'll get you a cup of tea and a bit of bread.' Walt Disney came in and sat on the settee, eating sandwiches as Jimmy gave him some hints about directing!
We have a new prisoner on the wing, a young lad from Strabane. He was arrested at the Camel's Hump checkpoint when he was found to have a hand-drawn map of the barracks in his pocket with marks allegedly showing the best spots for mortars to land! This lad is dead naïve and thinks he's a member of the old Irish Republican Brotherhood. If he is, he's the only one as it has been defunct for over 70 years! Anyway, Pat Sheehan has christened him Adrian Mole, aged nineteen-and-three-quarters, because of his thick glasses and innocence. And today he has a lot of exciting entries to make in his diary. For example, one about his new friend, Jim O'Carroll.
Jim: 'Okay, everyone. Saturday afternoon, our turn for the swimming pool! Are you okay, mate?' Adrian said that he couldn't swim but was told not to worry, he would learn quickly, and one of the other lads had a spare set of shorts. Jim said, 'And don't forget later to bring your mattress to the canteen for the judo classes.' Adrian might have to go through a medical but that's no problem as we have our own republican 'doctor'! Davy Clinton shouts from the bottom of the wing to Jim: 'Put my name down for swimming!' Jim replies: 'Fuck off, you're barred, you were caught pissing in the pool last week.'
I think Adrian will grow up very quickly. He's been told to put on his good clothes for tomorrow night's disco ("they let a few girls in but there's not enough to go around.") Yes, Adrian will be a new man by Monday!
Paddy Murphy has just shouted out his door: 'There's only one schizophrenic in this jail and I'm both of them!'
H-Blocks
This evening I went out walking in the yard and fortunately I was on my own, as I needed the solitude. It was raining and I was wearing a cap (manufactured from part of a prison blanket) and my long, cream-coloured coat. At first I stepped around the growing puddles but as I got progressively wetter and my trainers began to leak I ploughed straight through the pools. There was no useful physical purpose in walking to nowhere through such weather but it made sense inside my head, turning over our future, or futures, memorising sensations that I hammered like stakes into my consciousness, knowing that if I didn't they would disappear into the past, such does time rob us of life.
I delighted in how the cold mizzle occasionally was rolled by a ball of wind and struck my cheek like a piece of wet gauze and yet, I thought, at this very same moment the happiness I have known is in the balance. The wet lining of the coat pockets stuck coldly to my hands and drops of rain in the horns of my ears rolled about, ticklishly. I was drenched, loving every minute of it, and wanting to share it with you because it was so reassuring, so fresh and boisterous, and cleansing, as if it would wipe away all the worries. But I can only share it with you through description.
This is make or break time. You can't go home this Christmas and return in the same mood. You are torturing yourself. In Toronto there will be peace and prosperity, all of your family, all of your old friends. You'll have to decide for yourself. I want you to stay but I don't believe that would be the right decision unless you felt the weight of conviction in your head and not your heart. You will be able to identify that feeling. And if it's not there soon, send me up the hankies!
I walked the yard alone, listening to a tape of jazz music by the cornet player Bix Beiderbecke who died 60 years ago this month, aged just 29. As a rule I don't like jazz. These recordings are from 1927 and are rich in atmosphere; the music is tender and bittersweet, full of the romance of that age. A contemporary described the effect of his performing: 'Beiderbecke took out a silver cornet. He put it to his lips and blew a phrase. The sound came out like a girl saying yes.' The blurb on the tape cover, referring to his premature death but the immortality of his music, quotes from The Dead': 'Better pass boldly into that other world, in the full glory of some passion, than fade and wither dismally with age…' That sounds almost like a eulogy to youthful suicide! Thank God I'm passed that stage of my life. My poor love – she would like to fade away into anonymity and have security. Am I even addressing her? I have just felt a sudden rush of insecurity and sickness in my stomach and the thoughts were given free-rein. (The truth is that some of my composure is false.)
I am reading Fabian by Erich Kastner. It's about an advertising copywriter in Berlin in the dying days of the Weimar Republic. Fabian falls in love with a girl who eventually is forced to become the whore of a film director. She has only recently arrived in this Sodom and Gomorrah and she asks Fabian to take her back to her apartment. You know the way someone's ghost lingers about furniture and rooms which you've shared with them? Well, Kastner, through the voice of this girl, brilliantly expresses the sterility of unshared rooms when she says to Fabian: 'Would you misunderstand me, if I asked you to come for half an hour? I feel such a stranger in my room. There are no echoes of things said, no memories of things done, for I have never spoken to anyone in my room, and nothing has ever happened of which it could remind me. And at night black trees sway to and fro outside the window.'
I'll leave you, or rather, leave my thoughts to you, now, and go bury my eyes in a book.