Print This Post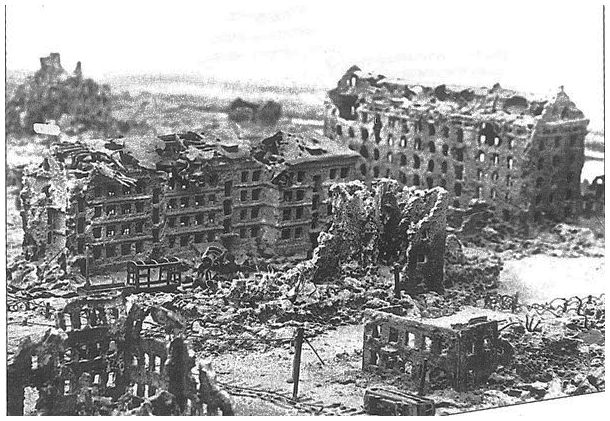 And now I have to try to retrieve the novel Life and Fate which I lent to a friend two years ago before I had read it myself! Recently I finished (pictured, front) Vasily Grossman's A Writer at War culled from the notebooks he used as a war correspondent for Red Star, the Red Army newspaper. In it he writes about the war on the Eastern front, the German defeat at Stalingrad (pictured, above) and the Russian advance on Berlin. But it is told from many perspectives so that we have a fly on the wall insight into what he calls the 'the ruthless truth of war'.
His frontline reports were censored of any negative or questioning comments and were thus marshaled to support the fighting spirit of the Russian forces and depict the soldier as the epitome of bravery and selflessness. His notes on the brutality of that army and the rapes many soldiers carried out as they charged across Germany were, of course, suppressed.
In A Writer At War Grossman meets a soldier who had been a POW during WWI. The soldier points to a Russian plane which is dive-bombing the German lines and says proudly: 'Must be my lad bombing.'
The prospect of being mutilated or becoming a cripple always represented a far greater fear for Soviet soldiers than being killed. There was of course the unshakeable belief that a woman would never want to look at them again. This may have been a misleading male nightmare, but the true awfulness of their fate did not become apparent until after the war when maimed and crippled Red Army soldiers were treated with unbelievable callousness by the Soviet authorities. Those reduced to a trunk with stumps were known as samovars. After the war they were rounded up and sent to towns in the Arctic Circle so that the Soviet capital would not be made unsightly with limbless veterans.
During the advance on Germany Grossman was accompanied by a friend Aleksei Kapler, the film director, who became the first love of Stalin's daughter, Svetlana. When Stalin discovered the affair he had Kapler beaten up by the secret police and sent to the Gulag for ten years in 1943.
Grossman was attached to the most popular of all Zhukov's commanders, Colonel-General Berzarin who became commandant of Berlin because his troops had been the first into the city. Berzarin did not even wait for the fighting to finish. He made every effort to have essential services restored as soon as possible – a huge task after the destruction – and to make sure that the population did not starve. Many Berliners worshipped him, and when he was killed a few weeks later in a motorcycle accident, rumours spread that the NKVD had assassinated him.
Grossman's novel Life and Fate was finished in 1960 and has been described as one of the greatest novels of the twentieth century. The Russian censor, having read it, said it couldn't be published for 200 years! KGB officers seized every copy of the manuscript (including the carbon paper and typewriter used in its writing). Or so they thought. One had survived in the house of a friend who had put it in a canvas satchel and left it hanging on a hook under some coats at his dacha. Eventually the manuscript was discovered and sent to the West where it was published to acclaim.

Print This Post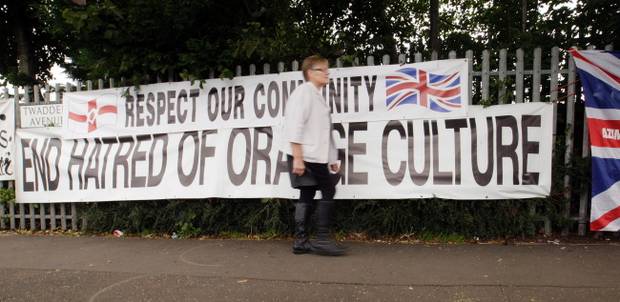 Tony Novosel's excellent and substantial analysis, 'Where Do We Go From Here' (October 14th) on Eamonn Mallie's website, should be read and considered by both loyalists and republicans.
My own view is that the flag and Twaddell protests will damage and are damaging the loyalist cause. A failed protest will increase the sense of alienation and demoralisation and will lead to a descent into further sectarianism and reaction. No one states – the flag still flies; we still march. Instead, the necessary readjustments which come as part of compromise are singled out and distorted as a fictional cultural war.
I was very angry when Billy Hutchinson and loyalist graffiti artists in 1994 depicted the ceasefire as "the IRA surrenders." I don't know what that provocation was aimed at achieving. I was in jail and some comrades (a tiny minority) fell for the bait. Some of them also became political dissidents and are now anti-Sinn Féin. I encouraged patience. Isn't it ironical that some loyalists who made that boast back then about an IRA surrender now complain that they have been betrayed, deceived and sold short by an Agreement the PUP supported?
David Trimble also failed to understand republicans when he claimed that Sinn Féin had "an exit strategy" re the Agreement and the institutions, when, in fact, it was the exact opposite. (He was, of course, being advised by a republican 'expert' – Sean O'Callaghan.)
Loyalists, and indeed mainstream unionists, have a penchant for these types of provocative statements. "Sinn Féin is implementing British rule in the North. Ha. Ha. Ha." "Is this what Bobby Sands and the hunger strikers died for! Ha. Ha. Ha."
To both claims the answer is No.
I support Sinn Féin because it is trying to administer power and distribute wealth on a more equitable basis; because of its world view; because it is progressive. Because, despite the opposite being promulgated, it has gone out of its way to meet half-way unionist sensibilities. Tolerating the 'Union' and taking seats in a building where a one-party government repressed my community for fifty years is done so for the sake of peace. It is done so because I have faith in potential future reconciliation and radical changes, including constitutional changes that satisfy my aspirations, and which Sinn Féin as an all-Ireland party also best represents.
When a unionist once provoked me with the claim that I now accepted I was British I reacted emotionally (failing to take my own advice) in a way I regret, a throwback to cheap point-scoring. "Yes, you were going to… What was it? "Smash Sinn Féin/ IRA". Well, the guerrillas fought and now they're in government running the show! How do you like it!" I sounded like Jim Allister.
The state I live in is not the alien state I grew up in. I now have a stake in this small world. My political convictions and aspirations remain unchanged. There is no hidden agenda. There is no cultural war. The flag still flies. The Orange Order still marches. I tolerate the union out of respect for unionists and their sense of security. But I am not and never will be a unionist. I am an Irish republican, a republican who appreciates the devastation a struggle I supported wrought on the unionist community.
I am writing this from Bali, Indonesia, where just four years before our conflict erupted in 1969, an estimated 80,000 people, 5 percent of Bali's population, were killed in military-sanctioned communal violence. Across Indonesia the total number to die was close to 2 million. People cannot cope with what happened. Of course, there has since been constitutional reform and a return to civilian rule, and people get on with their lives.
To one local journalist who inquired about "the great success" of our peace protest (which is how, generally and simplistically, it is perceived) I explained to him about the flags issue, and how the Orangemen were permitted to parade past Ardoyne (with no protests from the residents) on the morning of the Twelfth, but were barred from doing the same that evening when their supporters would be tanked up on alcohol and would be abusive to the local residents.
"And that's the cause of a stand-off?!"
I wish Billy Hutchinson had been in the cafe with me. I failed to stop my friend Kadek from laughing. He shook his head and laughed some more, thinking I was joking.
Though, as we know, it is no joking matter to march an 'army' up to the top of a hill.

Print This Post
It will be sad and a major setback if 5000 jobs are not realised and £300 million in investment lost. More important than Peter Robinson reneging on the MLK project, is what his decision symbolises. Yes, it is far bigger than jobs and investment: it is whether there exists a workable political process in the North of Ireland.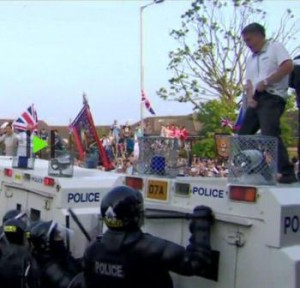 For whatever reason, democratically elected unionist parties have allowed their authority to be relegated to and their direction dictated by those who do not really believe in parity of esteem and equality. There are others who feel left out: but this is hardly the fault of Sinn Féin, but is a failure by unionist leaders.
It was Billy Hutchinson whom I first heard use the slogan that there is a "war on unionist culture". This mantra was immediately taken up by mainstream unionists, perhaps because they felt it provided them with an excuse for stalling political progress, when, in truth, it revealed their lack of leadership and the fact that they hadn't explained the reality and cost of compromise with Sinn Féin.
But this is an invented and imaginary conflict for which the gullible will fall and for which innocents might well die.
Let's examine how Sinn Féin wages this war: it supported the amendment of Articles 2 & 3 of the Irish constitution (articles described by unionists as "the raison d'être of the IRA"); it ended its 70-year-old policy of abstentionism and agreed to take its seats in Stormont which symbolised 70-years of nationalist oppression; the IRA decommissions its weapons and calls upon former activists to work politically for a united Ireland; Sinn Féin recognises and supports the police; Martin McGuinness meets and greets the British Queen; the Union flag continues to fly from Belfast City Hall on designated days; Sinn Féin raises no objections to the Orange Order parading past Ardoyne on the morning of the 12th  July.
On the other hand, we have seen unionists attempt to goad republicans that their decision to compromise means they recognise that the North is British, that they have to repudiate their struggle, inform about past IRA actions and name those involved, that former IRA prisoners cannot serve as ministerial advisors, and that republicans cannot commemorate their dead, including the sixty who lost their lives in Tyrone.
Peter Robinson used the Castlederg commemoration as the excuse to sink – hopefully, just – the MLK project, 5,000 jobs and the investment.
There hasn't been a republican parade in Castlederg (which is 60% nationalist) in almost twenty years. But in those same twenty years there have been almost 400 Orange parades in the town, including an Apprentice Boys parade through the town centre on the eve of the republican commemoration. Yes, that's some war on unionist culture.
I don't think I have felt as despondent since the night the IRA broke its ceasefire with the explosion at Canary Wharf, blaming John Major for dragging his feet and frustrating progress. For acting as if republicans could be rolled over, as if he could win politically what he hadn't won militarily.
Not that for a moment I think that political stalemate will trigger a resumption of armed struggle. Too many of us are relieved that those days are over and done with and are pledged to politics alone.
I hope I am wrong but I suspect that the Assembly could collapse.
If unionists are thinking this cannot happen, they should think again.


Print This Post
One night in 1956 the Argentinian writer Rodolfo Walsh was in a café in La Plata where he would play chess and talk about literature with friends. Here, six months earlier, when he was also playing chess, there had been a shoot-out at the time of a failed Peronist rebellion which left twenty-seven people dead, eleven of whom were unarmed working-class men, uninvolved in the uprising.  They had been taken away by the military to be summarily executed before martial law had been formally declared.
A man approached Walsh in the café and whispered, "One of the executed men is alive." Walsh immediately investigated the events of that night and interviewed one of the seriously-wounded men who had escaped and gone into hiding. He found and interviewed more survivors. He wrote a series of articles but could only find an underground publisher courageous enough to publish them. Operacion Masacre, an indictment of the military authorities, became a best-seller and changed Walsh's life.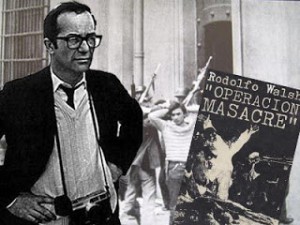 This week Operation Massacre is being serialized on BBC Radio 4, having recently been translated into English for the first time*. Walsh has been credited with founding 'investigative journalism' and of pre-dating by almost a decade the celebrated reportage of the likes of Truman Capote in his 'seminal' work In Cold Blood.
"Both books were considered groundbreaking in their literary treatment of true crimes that the writers had personally investigated and rendered in minute detail," says Daniella Gitlin who translated Walsh's book. Of course, the difference is that the culprits Walsh was holding to account were not, like Capote's, individuals who were under arrest and behind bars, but were part of the military leaders and government who wielded considerable arbitrary power.
Walsh believed in the transformational possibilities of journalism. "Events are what matter these days," said Walsh, "but rather than write about them, we must make them happen."
He went on to chronicle the forgotten people of his country, told the stories of those who were tortured, or 'disappeared', wrote about a leper community, and the lives of poor farmers. In one piece of investigative journalism, which he published as a story, he interviewed Moori Joenig, the army colonel and necrophiliac who kidnapped and sexually abused Eva Peron's body.
In his foreword to Operation Massacre Michael Greenberg writes about the Disappeared, those victims of Argentina's La Guerra Sucia, the Dirty War. It has a resonance and makes uncomfortable reading for an IRA supporter. Though the IRA has been attempting in contrition to recover the remains of the disappeared for the bereft families, the IRA can never make amends. Indeed, it is doubtful if any of the protagonists to the conflict can do justice to the suffering and the dead on whatever side – the sorrow of war bequeathing a far-reaching legacy that no one foresaw or factored.
Greenberg writes in relation to the state's dirty war, the immunity it has granted itself, the lies it has told, but, again, what he says has a universal relevance: "Prosecutions often occur decades after the crimes. They don't bring back the dead or change history. But they do affect the future. They lift the cloud of rage and unresolvedness than can hang over the psyche of a country for as long as the perpetrators run free. They force the state, and the general population, to acknowledge the ordeal of their compatriots. They air the truth and relieve an immeasurable weight of psychological repression. Crucially, they vindicate the loved ones of the disappeared who have been consigned to a state of silence and shame."
Walsh was of Irish extraction, the great grandson of Mary Kelly and Edward Walsh who fled famine and repression in Ireland in the nineteenth century and settled in rural southern Argentina. Walsh married in 1950 and had two daughters but he was a husband who strayed and stayed away a lot as he was smitten with the bug of revolution.
I was first introduced to the writings of Walsh by the Irish journalist and specialist in South America, Michael McCaughan, who spoke at Féile an Phobail many years ago at the Belfast launch of his book, True Crimes – The Life and Times of a Radical Intellectual.
In 1959 Walsh moved to Cuba and helped launch Prensa Latina, an international press agency set up to counter the pro-US bias of international news agencies. It was Walsh, as an amateur cryptologist, who decoded intercepted CIA messages detailing plans for the Bay of Pigs invasion, thus giving Castro crucial warning of the impending aggression. He moved back to Argentina to pursue his writing career but after the death of Che Guevara in 1967 he decided to join the action and after a period in different organisations he joined the Montoneros which were engaged in an armed struggle and he quickly rose through the ranks to become an intelligence officer in charge of infiltration of agents into the army and government.
In 1976 he was dealt a crushing blow when his daughter Vicki was killed whilst engaged in a gun battle with the army. Rather than suffer capture and torture she took the cyanide pill prescribed for all members of the Montoneros. Six months later government forces tracked down Rodolfo Walsh. Twelve agents were sent out to take him alive but he fought back and was shot dead. They took away the corpse, burnt it and dumped it on waste land. Earlier that day he had just posted a letter challenging the authorities.
Military rule ended in 1983, and in 2001 the government of Buenos Aires approved a city ordinance which directed all schools to read out Rodolfo's "Open Letter from a Writer to the Military Junta" every year on March 24th, the anniversary of the 1976 coup.
*Operation Massacre by Rodolfo Walsh, £9.99. ISBN 978-1-908699-51-0. For further information contact Ben Yarde-Buller – ben.yb@oldstreetpublishing.co.uk or Tel. 01874 731 222

Print This Post
Finished No-No Boy by John Okada who died in obscurity aged 47 in 1970 believing that Asian America had rejected his work.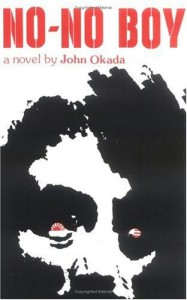 This was his only published novel. When no one showed any interest in him his wife burnt the remainder of his writings.
The novel, which was published in 1957 and had gone practically unnoticed, concerns 25-year-old Ichiro, a Japanese-American from Seattle, who has just been released after spending two years in a US internment camp, followed by two years in prison for refusing the draft.
Americans generally despise and suspect him but nor does he receive sympathy from many of his fellow Japanese. Ichiro's younger brother, to overcome the shame he  feels, joins the army even though war is over.
Germans and Italians living in the US were not interned even though their countries were at war with the USA. However, the Japanese community, over 100,000 people, were interned for the duration of the war, following the attack on Pearl Harbour in 1941. Even though I was aware of this, it really took a novel to bring the force of what happened home to me. And, of course, this is why the novel creates an empathy which cannot be realized in text or history books. I always remember Henry Miller's description of the frisson he experienced when as a child he started to read fiction and discovered character: 'They were alive and they spoke to me!'
Ichiro struggles with his identity, who he is, where he fits in in the world, what his nationality is, and he rails against his delusional mother, a Japanese zealot, who despises the country she came to in order to enrich the family before returning to Japan. Ichiro is, indeed, caught in a metaphorical no-man's land. His mother actually believes that Japan has won the war but that American radio and newspapers are holding back the bad news from the whites and are disseminating propaganda by claiming the opposite. Scenes of devastation and defeat have been staged to fool people and she is waiting on the emperor sending ships from Japan to bring them 'home'.
One of the best passages is the interior monologue of Ichiro as he looks at his mother and thinks back to how it was before the war: "…we were Japanese with Japanese feelings and Japanese pride and Japanese thoughts because it was all right then to be Japanese and feel and think all the things that Japanese do even if we lived in America. Then there came a time when I was only half Japanese because one is not born in America and raised in America and taught in America and one does not speak and swear and drink and smoke and play and fight and see and hear in America among Americans in American streets and houses without becoming American and loving it. But I do not love enough, for you were still half my mother and I was thereby still half Japanese and when the war came and they told me to fight for America, I was not strong enough to fight you and I was not strong enough to fight the bitterness which made the half of me which was you bigger than the half of me which was America and really the whole of me that I could not see or feel. Now that I know the truth when it is too late and the half of me which was you is no longer there, I am only half of me and the half that remains is American by law because the government was wise and strong enough to know why it was that I could not fight for America and did not strip me of my birthright. But it is not enough to be American only in the eyes of the law and it is not enough to be only half an American and know that it is an empty half. I am not your son and I am not Japanese and I am not American.'
In the 1980s a US commission report, titled 'Personal Justice Denied', followed by legislation, declared that there had been little evidence of Japanese disloyalty and said that the actions had been based on 'race prejudice, war  hysteria and a failure of political leadership'. Reparations were paid to the survivors and their heirs.

Print This Post
Was at the Linenhall Library today for the launch of a new theatre company aimed at giving expression to that lumpen section of the unionist community who for a variety of reasons feel marginalized and demonized and who have rarely received a 'good' press.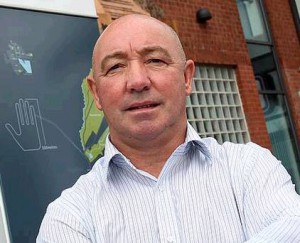 Etcetera Theatre Company is the product of the efforts of two former loyalist prisoners, William Mitchell and Robert Niblock (pictured, left) who became interested in writing whilst in jail though it was many years before either writer's work was performed in public and began to receive due recognition. (Bobby Niblock's Reason to Believe was performed across Belfast, including at Féile an Phobail where it premiered in 2009 to much praise.)
Their number one priority is to initially give voice to the 'Protestant, Unionist, Loyalist' community.
William Mitchell (artistic director) says: "Our experience leads us to judge that these communities currently feel culturally marginalised and disillusioned, as audience, participants and creative artists have an untapped vein of significant stories to tell and also need to find ways of telling new stories."
Some promising young actors did a reading from Bobby Niblock's new play Tartan, set in the early 1970s, which deals with one gang's induction and grooming into loyalist paramilitarism. The performance was pregnant with foreboding but it will be interesting to see how Niblock handles that particular journey and what its resolution turns out to be.
Details of the new company can be found at etcetera's website here.
(Cover pic of William Mitchell being interviewed by BBC at today's launch)

Print This Post
The newly-inaugurated  Liam & Tom O'Flaherty Society's first Summer School has just been announced to take place on Aran between 23 and 25 August. It is open to members and non-members alike and booking details can be got by emailing Jenny Farrell – Jenny.Farrell@gmit.ie
The Summer School is integrated into an international cultural festival on Aran, taking place on the same weekend. These events are included here in italics to distinguish them from those of the Liam and Tom O'Flaherty Society. However, all events are open for everybody to attend.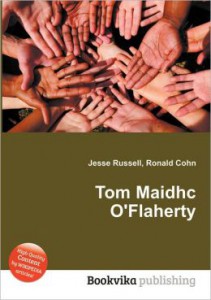 Friday, 23 August
6.30pm. Fáiltiú agus Oscailt Oifigiúil/Official Opening and Reception Kilmurvey House
Saturday, 24 August
10am. Kilmurvey House
'Thar Farraige Anonn'-Oileánaigh San Am a Caitheadh agus Anois/'Going Beyond the Sea'- The reach of Islanders Past and Present
11.15am  Ferry arrives in Cill Rónáin – Transfer to Kilmurvey House
12 noon: Kilmurvey House
Lecture, in English, by Brian Ó Conchubhair: "Liam O'Flaherty: The Missing Years" ("Liam Ó Flaithearta: Na Blianta Amú")
Brian Ó Conchubhair is Associate Professor of Irish Language and Literature and Acting Director of the Center for the Study of Languages & Cultures at the University of Notre Dame.
2.30pm: Gort na gCapall: Walk to sites depicted in O'Flaherty stories, their homestead etc., conducted by Máirín Uí Fhátharta, this will include some readings of their works. The walk will commence and end at O'Flaherty's house in Gort na gCapall.
4pm: Oatquarter School/Scoil Fhearann an Choirce. Launch of the new edition of Liam Ó Flaithearta's book of short stories, Dúil, published by Cló Iar-Chonnacht.
8pm. Aran on Stage and Screen- Cill Rónáin Cinema and Internet Café Screening of an O'Flaherty film
Céilí
Sunday, 25 August
12 noon: Tí Joe Mac  in Cill Rónáin
Lecture, in Irish, by Seosamh Ó Cuaig: "Cumannach as Árainn – Thomas J. O'Flaherty agus an FBI." Seosamh Ó Cuaig is Chairperson of the Liam and Tom O'Flaherty Society, film maker, broadcaster and Galway County Councillor.
2.30pm: 'If you cannot visit Jerusalem or Rome, visit Aran' – Aran and its history as a place of Pilgrimage/Walk weather permitting
4.30pm: 'Stíl na nOileáin'- Practicality and aesthetics- Tara Mooney –Kilronan
8pm: 'Putting the Islands in their Place' –Aran in the Past, Present and Future/'Na hOileáin Lena Linn'- Árainn Inné, Inniú agus Amárach-Kilmurvey House
Followed by Closing Reception

Print This Post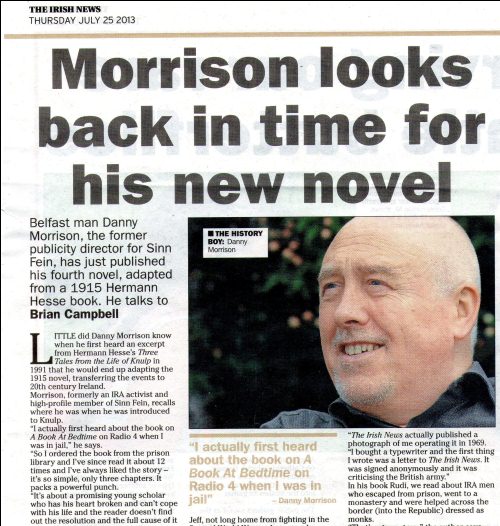 Last week I was interviewed by journalist Brian Campbell. The interview is published in The Irish News today (25th July) under the heading 'Morrison Looks Back in Time for his New Novel'. Here is the feature in full:
Little did Danny Morrison know when he first heard an excerpt from Hermann Hesse's Three Tales from the Life of Knulp in 1991 that he would end up adapting the 1915 novel, transferring the events to 20th century Ireland.
Morrison, formerly an IRA activist and high-profile member of Sinn Féin, recalls where he was when he was introduced to Knulp.
"I actually first heard about the book on A Book at Bedtime on Radio 4 when I was in jail," he says. "So I ordered the book from the prison library and I've since read it about twelve times and I've always like the story – it's so simple, only three chapters. It packs a powerful punch.
"It's about a promising young scholar who has his heart broken and can't cope with his life and the reader doesn't find out the resolution and the full cause of it all until the last few pages.
"I decided to try and adapt it, using the plot but bringing it to Ireland and to make the character a member of the Protestant/unionist community in the 1940s. I had to do a lot of research into that time so I'd have some idea of the psyche and the personality of my Rudi."
Morrison was charged with false imprisonment and conspiracy to murder in 1990 in relation to the kidnap of a suspected IRA informer. He was sentenced to eight years in prison and was released from jail in 1995. In 2008 the appeal court in Belfast overturned the conviction.
These days Morrison is the chairman of Féile an Phobail and secretary of the Bobby Sands Trust, as well as carving out a career as a successful writer. His previous books include the novels West Belfast (1989), On the Back of the Swallow (1994) and The Wrong Man (1997), a book of prison letters (Then The Walls Came Down, 1999), and a memoir, All The Dead Voices (2002).
Rudi is the story of a loner who has lost his way. In his youth he was a promising scholar and was deeply in love with 'the sumptuous, voluptuous Isabel'. Born in Belfast but brought up in the fictional 'Drumbridge' (which Morrison says is an amalgamation of Dromore and Banbridge), Rudi has his heart broken by Isabel and everything falls apart. He ends up a wanderer, restless and homeless, for the next few decades until a young friend, Rebecca, tries to get him to tell her his story.
It's a fantastic read, charting the story of this "humble, ageing bachelor" who gets jokingly called 'Rudi the Orangeman' at one point.
It begins in1946 with the stabbing of Jeff, not long home from fighting in the Second World War, and we soon learn there is "the rumour of IRA involvement".
But unlike Morrison himself, Rudi has no political allegiances.
"That's the way he was and I could understand that and admire that. I tried to be like that," he says. "When friends of mine were rioting I refused to pick up a stone until eventually there was a threshold reached and I made a decision to become involved and I became interned and the rest is history."
He says he always wanted to dedicate his life to writing but then the Troubles broke out.
"I probably would have ended up a journalist or a writer but the Troubles came along and I ended up devoting whatever talent I had to republicanism," he says.
"When I got out of internment I became editor of Republican News and a few years later I became national director of publicity for Sinn Féin until my arrest in 1990. I was editor of An Phoblacht and I was an abstentionist MLA in Mid-Ulster from 1982 to 1986. I was the main spokesperson during the hunger strike, representing Bobby Sands in the election broadcasts.
"So that's where all my energy and attention went.
"I was in jail when the [IRA] ceasefire was called [in 1994] and I absolutely supported it. So, although I'm still a Sinn Féin supporter I only speak for myself now." He recalls that his first couple of appearances in the media came in The Irish News.
"I was 16 in 1969 and I had a transmitter that I gave to republicans and that became Radio Free Belfast," he says. "The Irish News actually published a photograph of me operating it in 1969.
"I bought a typewriter and the first thing I wrote was a letter to The Irish News. It was signed anonymously and it was criticising the British army."
In his book Rudi, we read about IRA men who escaped from prison, went to a monastery and were helped across the border (into the Republic) dressed as monks.
"That's a true story," the author says. "It would have been in 1971, 1972 or 1973."
It's a brilliant structured book, split into two parts and it keeps you turning the pages to discover why Rudi's life spiralled out of control. Morrison is gifted at vivid descriptions that draw you into a scene: "When the [pub] door opened a coffin of light fell across the yard"; in a scene where a car encounters treacherous snowy conditions, "a blizzard of large flakes swarmed like locusts, devouring the head beams"; and when Rudi took lifts from strangers and has to listen to their various ramblings, "he felt he was a pin cushion, who was there just to absorb all their barbs".
As for his next novel, the old Monty Python line "And now for something completely different…" is appropriate.
"It's about a taxi-man who's in his late sixties and who has always wanted to play in a band, so he decides to form a boy-band. So it's like The Commitments for older people. It'll be more of a comedy. The provisional title is Band on the Run."
As a man who recently turned 60, does he have any boy-band ambitions?
"No," he laughs. "But I am enjoying writing the book, though."
[Front pic: 'Drumbridge, 1946']

Print This Post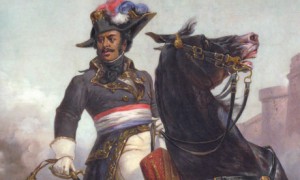 Finished The Black Count by Tom Reiss, a brilliant and absorbing biography about the author Alexandre Dumas' father, Alex, son of a black slave and aristocratic fugitive in Saint-Domingue [Haiti]. He rose to become a hero of the French Revolution, a general in charge of a division of 53,000 soldiers, Commander in Chief of the Army of the Alps, and whose criticism of Napoleon's empire-building and aggrandisement of power, led to him being ostracised, victimised and virtually written out of history. To this day there is still no monument in France commemorating the life of General Alexandre Dumas.
The adventures and misadventures of the father were what gave Dumas the material for such novels as The Three Musketeers and The Count of Monte Christo.
I never completed my A-Level History (under Jonathan Bardon at the College of Business Studies) which included the French Revolution but have always been fascinated by it. Napoleon was a monster who seized power and destroyed the progressive gains that had been made. Slavery, which had been abolished in the Revolution, Napoleon reintroduced, his forces reoccupying the republic of former slaves that had been established in Saint-Domingue. Toussaint L'Ouverture, the black republican hero of the republic, was fooled into going to an informal diplomatic meeting, was seized, brought to France in chains and thrown into a freezing cold cell where he eventually died.
French soldiers tortured, raped and murdered blacks "in every gruesome way imaginable".
Reiss writes: "Evoking a particularly chilling image in light of twentieth-century mass murders, some blacks were killed by deliberate asphyxiation using burning sulphur in enclosed spaces aboard French vessels in Port-au-Prince harbour…
"Cornered at a plantation on the slope of La Soufrière volcano, some three hundred of the island's leading black and mulatto rebels – men and women – chose to take their own lives rather than live to see slavery return. Screaming "Live free or die!" they blew themselves up with their remaining gunpowder."
Back in France Napoleon issued a law banning all officers and soldiers of colour who had retired or been discharged from the army from living in Paris. The following year he outlawed marriages between people of different skin colours. General Dumas, recently released from an Italian prison, where he had been poisoned, would need to request a special dispensation to be allowed to stay in his own home which was in a zone forbidden by retired military men of colour. Napoleon then created segregated infirmaries and ordered that "coloured men who will be treated there will be placed in a separate room, so that they have no communications with the White patients."
So, there you have it, preceding Churchill's willingness to use gas against Iraqis in 1920, Hitler's monstrous perfection of mass asphyxiation, and Verwoerd's apartheid laws, France's Emperor Napoleon Bonaparte led the way.

Print This Post
'Oh my God! 'E looks like a toad!' were the first words said by Brian Blessed's mother just after she had given birth. ''E looks as if 'e's been in the ring with Joe Louis!'
I have always admired Brian Blessed from his earliest days in 'Z Cars' in 1962 which I watched from the age of nine, but I thought he was absolutely brilliant as Augustus in the BBC series, 'I, Claudius'. A few weeks ago I saw him chair 'Have I Got News For You' in his normal way: that is, he was as mad as a hatter, and I immediately went on Green Metropolis and ordered the first part of his memoir The Dynamite Kid. He has such joie de vivre and even his rant about Gerry Adams on 'Have I Got News' I found hilarious.
I loved The Dynamite Kid, its tenderness, its descriptiveness about the pastoral beauty of the English countryside, his love of music and adventure, his gaucheness with women. It is a warm and honest story about growing up the son of a Yorkshire miner (his uncle was killed in a mining accident) and being frustrated at wanting to get to drama school; having to work as a coffin maker; having to work as a plasterer by day to pay for voice classes and then having to do two years national service before going to Bristol Old Vic Theatre School where his friend was Patrick Stewart. (Both were to act in 'I, Claudius'.)
As a kid in his gang he played the role of Vultan, King of the Hawkmen from Flash Gordon, and then thirty years later he actually plays that part in a film! An adventurer as soon as he got out of nappies, he loved trains, raiding orchards or carrying a dead cat around as a talisman even as it rotted. He was so enthused with boxing that when only seven years old he cycled eight miles to watch Bruce Woodcock, the English heavyweight boxer, train. Blessed told true stories but adults thought he was a pathological liar.
 There is a real sadness about the chapter, 'The Brick Pond', which reminded me of the death of young Stephen Duignam in our street when he was about six or seven. I suppose everyone has a poignant memory of the death of a young friend. We had guiders and ginger-haired, freckled-face Stephen was playing on his little wooden board at the top of Iveagh Parade. A neighbour reversing a van accidentally struck Stephen. Stephen's injuries weren't serious but it was while he was in hospital that the doctors, running blood tests regarding his allergies to antibiotics,  discovered he had leukemia and we never saw Stephen again until his little body was returned to us in a small coffin to 37 Iveagh Parade. Blessed tells of how he led his gang to the pond to see dead toads and that one of the boys, Tank, fell in and drowned before their eyes and though they tried they could not save him.
The death of Tank was the end of Blessed's childhood.
He loved boxing and was due to represent Highgate Junior Mixed School but first had an exam to do. The exam invigilator was flabbergasted when Blessed announced with great confidence after twenty minutes that he had finished. He was so impatient to get outside and warm up for the fight that he had filled his exam papers with sketches of dinosaurs and noughts and crosses! He ended up among the hopeless cases, 'the dunce class', 'the wooden tops' but was subsequently saved by a teacher with drive and determination to make something of them, Mrs Brown.
She taught them Shakespeare, Wilde, Keats and Wordsworth, the history of the Greeks, the story of Odysseus. She was transformational and when she eventually left, the class was heart-broken.
His art teacher, Mr Donaldson, and his form master, Mr Quament, were also influential. In the school play Blessed acted Rumpelstiltskin. He caught the bug and his talent as an actor was spotted immediately. The next day Mr Donaldson asked the class, "What happened yesterday in the play?"
One pupil joked that Blessed was funny but Mr Donaldson became serious and continued:
"When the Miller's daughter finally guessed his name, during his mad laughter, what did Blessed do?… He paused! He paused! Probably the most important effect in dramatic art. That's what he did, he paused!"
In 1950 he went to the Second World Peace Congress in Sheffield to see and hear Paul Robeson, 'the black ambassador of freedom'. But before that he bumped into a guy claiming to be Picasso.
Blessed said: "You don't look like Picasso! If you're Picasso, let's see you draw something… If you're from Spain, how much did it cost you to come here?"
It is, actually, Picasso and he draws something on a piece of paper – a Dove of Peace. Blessed asks him why the dove looked so unfinished at the bottom of its body.
"I am trying to show zat someone is holding zee dove in zeir 'and." Picasso added his signature which Blessed said looked like algebra.
(I remember the day Picasso died in April 1973 because I noted it in my Long Kesh jail diary and how the sky, spotted with tiny black clouds from the direction of the lough, reminded me of the coat of a dalmatian hound.Who did I say this to? Who was in the exercise yard? Where are they now?)

After the concert Blessed bluffed his way backstage and got talking to Paul Robeson and complained that he hadn't sang 'Ah Still Suits Me'. So Robeson sets Blessed on his knee and they do the duet together with Blessed singing the woman's part: "Does yer ever wash the dishes, does yer do the things a wishes, does yer do 'em – no you won't!"
Back at school Blessed – a late developer – was learning rapidly. After acting in a school production of Macbeth he just knew he wanted to become an actor but life (and is there, ultimately, something amiss about that?) got in the way.
Although a powerful figure he was bullied and teased by fellow plasterers about his acting and, in particular, one bad review. He lost his temper and physically attacked a labourer. But he was also sensitive and fell into a long state of depression; began to doubt himself, and his mental condition deteriorated.
He writes honestly about this period, his recovery but also about his haughtiness and how one who is admired, half-famous, half-successful, can become quite egotistical.
This memoir is a real gem where a great actor opens up to us his very soul and conscience, his strength and foibles, his humour, his courage, his humanity.