Print This Post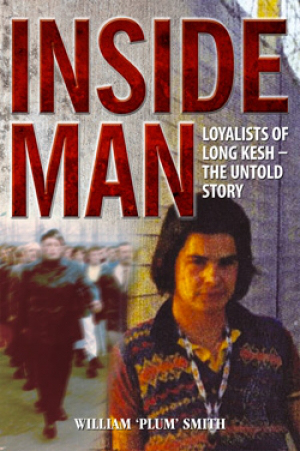 Have just reviewed for a loyalist website (longkeshinsideout) former UVF prisoner, Plum Smith's fascinating book about his time as a prisoner in Crumlin Road and Long Kesh. Here it is.
SOME years ago I was on a panel in the Waterfront Hall along with Billy Hutchinson of the Progressive Unionist Party. We were discussing a play we had just watched, The Chronicles of Long Kesh. Billy and other loyalists in the audience took great exception to the depiction of their prisoners in the play, and objected to prison experience and indeed the conflict generally being monopolised as mainly a dominant republican story (on stage, in literature and in film).
Of course, the required response was for loyalists to take control of their own story and write their own accounts. That process was already underway, for example, in such a work as Reason To Believe by former loyalist lifer, Robert Niblock, a play which was well-received and reviewed.
I was thus glad to hear a few weeks ago that former UVF prisoner William 'Plum' Smith had written a book and I went along to the packed launch in Crumlin Road Prison. I have to say, I was very impressed and enjoyed Inside Man, about Plum's five years in prison for the attempted murder of a Catholic, Joseph Hall, whom he shot in Unity Flats. 'Enjoyed' might be misinterpreted as mischievously delighting in the woes and suffering of an opponent. But what I mean is that his is a very honest, human account, and at times a very funny account, of life in prison and his life before that: what made him a loyalist who was prepared to go beyond parading and take up arms against what he perceived to be the enemy (however I disagree with that description).
It is a book that nationalists and republicans should read in order to learn about the loyalist mindset which is too easily dismissed and stereotyped. Obviously, I would take issue with his analysis of what was happening in 1968 and 1969 because I think unionism misread the Civil Rights Movement and was fairly complacent because it had power and could exercise that power. That power had worked for fifty years so why change tack, why reform, why make any concessions? But once we were plunged into violence then every past slight, every insult, every act of past discrimination and every memory of injustice, and the greater sense of alienation, would feed the explosion that was to become the IRA and its long campaign.
Plum Smith was born on the Shankill Road in 1954, so he and I are almost coevals (I was born in Andersonstown in 1953). His father often had to go to Scotland or England when work was slack in the North, as had my own father and neighbours.
Seventeen-year-old Plum was first arrested during a riot in June 1971 and was subsequently sentenced to six months in Crumlin Road Prison. There he was attacked by republicans who outnumbered the loyalists. He was only out seven months when he was rearrested and this time convicted of the attempted murder of Joseph Hall and sentenced to ten years imprisonment.
"The IRA, Nationalists, Republicans or Catholics were killing people in the Protestant Community and I was retaliating in kind. I had neither sense or remorse, nor a sense of loss of freedom or how long I would lose that precious freedom. I had no regrets, nor did I contemplate what the future would hold."
In August 1972 he was among nine loyalist prisoners placed in a remand cage in Long Kesh which the year before had opened as an internment camp. In the cages around him were up to 500 republicans. He was to return to the Kesh as a sentenced prisoner with political status where the undoubted leader and major influence was Gusty Spence. Initially, loyalists from different groups were all mixed together but later, as factionalism arose, each group (UVF, UDA) demanded its own cages – a development that Plum Smith regrets because he believes it led to even more feuding between the groups.
Earlier in 1972, as a result of an IRA hunger strike, the British government had introduced Special Category Status which was political status or POW status in all but name. It was perhaps the most progressive penal concession made by the British during the conflict and was to lead to 'relative' calm in the prisons. (No prison officer had been shot during this time.) It was withdrawn by the British in 1976 with devastating consequences that led to a blanket protest and the hunger strikes and deaths outside and inside the prison – only for the British government, years later, to again concede political status after its disastrous experiment failed.
This memoir is a mine of information about the discussion papers produced and the level of debate which went on inside the loyalist cages. They advocated a Bill of Rights, reform of the RUC, integrated education, cross-border cooperation in non-contentious areas (tourism, regional development, agriculture, etc) and instead of power-sharing, 'Equal Responsibility' (which was probably power sharing!). Whether the workshops, the literature, amounted to anything of substance in the end is open to opinion, but he establishes the fact that there was a culture of political engagement and self-examination.
Looking at old photographs and sometimes scratchy silent Super 8 film of these men in prison, what I do find alien (and perhaps it is just me) is the apparent fetishism with military discipline and military display within loyalist cages.
I am not sure of the degree of militarism (marching, parading, saluting, bed and hut inspections) that went on inside the cages of republicans serving prison sentences. What I do know, is that among us internees at the lower end of the camp, the drilling that went on in Cage 2 bored me and the majority of others to tears. We'd rather watch Top of the Pops and M.A.S.H. than practise drill in a freezing Nissan hut. But from Plum's account the prisoners, apparently willingly, enthusiastically, were up for marching at the crack of dawn and had the best polished shoes in Ireland! (Sorry, the UK!)
He also reminds us of escapes by loyalists – of which I was unaware – the first of which was in 1972 from Crumlin Road Jail.
He epically tells the story of the republican burning of the camp (which was now huge, consisting of 21 cages) from the loyalist perspective and of the incredible degree of cooperation (a non-aggression pact between prisoners) that existed that night. The gas affected every area and the republicans were surrounded and being beaten by overwhelming numbers of riot troops.
"Republicans began moving their injured out of the football fields back into Phase 6, just outside our compound. We used the wire clippers to cut the fences and make entrances into C19. Those who we thought were the most seriously injured we brought into our compound, into the wooden study hut and gave them first aid using the medical supplies we had procured the night before."
The following day he watched as soldiers beat prisoners: "I have never seen such brutality in all my life." The republican prisoners were to be given two pieces of bread and milk but the soldiers put the bread and milk in a heap, tramped and spat on them and then made the prisoners run a gauntlet of batons to get their food."
A loyalist rescue party, incredibly, also took prisoners to safety.
Three years later, after the withdrawal of political status, loyalists were on the blanket protest for a time but came under pressure to call off the protest because of its identification with their enemy – the IRA. I wonder what would have happened to the prisoners had they pooled their opposition to the withdrawal of status? Would the British government have folded earlier than they did? Would the prisoners have found common humanity in common ground? Would it have helped bring down the walls that separated them a little?
There was, of course, the establishment of a Camp Council in the early 1970s made up of all republican and loyalist factions. Whether this had potential to mature into something significant – a lobby, finding consensus, engaging in acts of conciliation – we will never know because it was thwarted by the NIO who were moving towards the strategy of 'criminalisation'.
I can absolutely identify with Plum's graphic descriptions of life behind the wire, the raids, the deceptions employed to get 'one' over the governor and staff, including the smuggling into the jail of a transmitter! He captures the atmosphere, the personal suffering, the death of a prisoner through medical neglect, his learning of the Irish language, loyalist involvement in further education, the joy of comradeship but also the travails of imprisonment, especially the difficulties for one's loved ones.
They made long journeys, visited week-after-week, waiting for long hours, often experiencing humiliating searches for a half-hour visit which was often cut short at the whim of a prison officer who alleged that smuggling was taking place (often a bit of tobacco, the historic currency of prisoners). Families lost their breadwinners and the prisoners often 'lost' their spouses and their children, especially those prisoners serving lengthy sentences.
Released in 1977 Plum Smith became a shop steward with the ITGWU, remained a determined advocate on behalf of loyalist prisoners and in 1994 chaired the press conference when the loyalist ceasefire was announced. These might have been the golden days for the Progressive Unionist Party when it looked like it was on the verge of making a major and sustained breakthrough but through numerous mishaps, and the tragic death of the talented David Irvine, the party's support fell, and with it, I suppose, came disillusionment and some internal chaos.
Plum Smith has always been amiable and accessible and prepared to cross the peace line. He has been an honest witness but also a reflective protagonist. After the signing of the Good Friday Agreement he was one of his party spokespersons selling the deal to the public and addressed a meeting at a women's centre in Belfast. After his contribution an elderly woman got up to speak in favour of the Agreement and swung many doubters in the room.  He writes:
"A few weeks later I met the woman who had organised the meeting and I asked her who the lady was, did she know her? She said to me, "Plum, that man you shot all those years ago was her son." I was taken aback. She then said that the lady had expressed her joy that I had been so positive about the agreement and supported me in the work I was now doing. What can you say to that? Her face never haunted me, it humbled me. Her dignity and compassion was so elevated. She was someone's mother and my victim was someone's son."
Plum Smith in 1971 went inside as a kid. But he came out a man. A man dedicated to his community, to reconciliation and peace.

Print This Post

Almost one hundred years ago, fifteen of the leaders of the Easter Rising were executed by firing squad. In the case of six of the men the British hangman was brought over from England to officiate at their deaths. In August 1916 Roger Casement became the sixteenth republican to be executed when he was found guilty of 'treason' and hanged in Pentonville Prison, London.
The man present in Dublin and who later killed Casement – and 200 others during his despicable career – was John Ellis from Rochdale, Lancashire. I first came across his name when I was researching Reginald Dunne and Joseph O'Sullivan, the two IRA men who assassinated Field Marshall Sir Henry Wilson in London in 1922, and whom Ellis had also executed.
However, whilst Ellis, in a self-serving book which he dictated to a copytaker, 'Diary of a Hangman', writes about the civilians he hanged, he is careful not to make any mention about the political executions of Irish republicans, whether through fear of reprisal or because of the strictures of the Official Secrets Act.
Ellis's father was a barber, a trade which the son thoroughly disliked. Instead, he worked as a textile machinist and it was during a break in work that he and his mates were discussing an execution which had taken place the previous day.
Ellis, a man of slight physique, who was then 22-years-old, said, "That's the kind of job I'd like."
His mates all laughed at him. Ellis admitted that when younger he couldn't "kill a chicken, and once when I tried to drown a kitten I was so upset for the rest of the day that my mother said I was never to be given a similar job again."
Five years later, after a factory accident which left him physically weak, he opened his own barber's shop. He was now married but didn't tell his wife or parents that he had applied for the job as a hangman until he received a letter from the Home Office inviting him to London to take lessons in hanging.
His wife was stunned and asked, "Why on earth do you want to be an executioner?"
"I don't know," he replied. His mother was similarly outraged and totally opposed to the idea.
His training consisted of learning all the intricacies of calculating drops, measuring them off, how to fix a noose and use pinioning (restraining) straps. After being trained he returned home but became despondent when months passed and he hadn't been sent for. Then, in December 1901, he received a letter stating that he was to act as assistant to a double execution of a man and his nephew convicted of killing an in-law.
He was assistant to the official hangman, James Billington, "a small fat man", with whom he travelled to Newcastle Prison. They went into a pub near the jail for some lunch but had to finish quickly when they realised that three women crying at a nearby table were relatives of the condemned men.
After five years as an assistant in the executions of 32 people, Ellis was finally given responsibility for pulling the lever himself, on a man condemned to death for killing his lover. He was paid £2. 2s., plus expenses, so clearly was not doing it for the money.
He prided himself on his efficiency. There were two cases throughout his career that troubled him: the hangings of Edith Thompson for being an alleged accomplice in the killing of her husband (the actual killer said she was innocent) and an eighteen-year-old whom he described as a mere boy (there was uncertainty about his intelligence). Nevertheless, Ellis's struggles with his conscience never lasted more than a few hours. He felt it was 'his duty' to 'help' these poor wretches through their ordeals "with all the swift humanity that my twenty years' experience as a public hangman had taught me to how to bestow."
Minutes before her death Edith Thompson was in a state of collapse and had lost all control of herself. She screamed and sobbed and when she fainted they strapped her up and carried her to the scaffold where Ellis placed a white cap over her head before pulling the lever.
Throughout his career this slight man would work the majority of his time in his barber shop. When the Home Office letter arrived, requiring his service, once, twice or three times a year, off he would go like a small businessman with his suitcase, travelling anonymously by bus and train to the particular jail where he spent the night before the execution.
When he retired in 1924 his shop became a bit of a tourist attraction with people standing outside for hours just to catch a glimpse of him. He had eschewed all requests for newspaper interviews and refused to discuss his work. However, he couldn't settle, had received no pension from the Home Office, and began drinking heavily. In August 1924 he tried to kill himself but the bullet went through only his jaw. He was arrested and charged with the then criminal offence of attempting to commit suicide. The judge asked for and received an undertaking that he would not attempt suicide again.
"If your aim had been as straight as the 'drops' you have given it would have been a bad job for you. Your life has been lengthened and I hope you will make the best use of it – the spare life which has been granted to you."
Ellis returned to his hairdressers'. He received numerous offers to give lectures but eventually decided to go on stage and act in a play based on the true story of the infamous nineteenth-century cat-burglar and murderer, Charlie Peace. In the final scene, Ellis came on stage dressed in black and hanged him – or at least, the actor, playing him. The play caused uproar in the press for its sheer bad taste and was withdrawn at the end of its first week.
Ellis then put on a road show, touring seaside towns and fairs giving demonstrations on the British method of execution, using a working model. The crowds paid sixpence a time to witness mock hangings.
In 1932 Ellis, who was still drinking heavily, threatened his wife and daughter with a cut-throat razor and screamed, "I'll cut your heads off!" With 203 executions under his belt they wisely fled the house.
Ellis ran to the front door and drew the razor across his throat making a five-inch gash. He collapsed and died in a pool of blood on the street.
Neither the Home Office nor the Prison Commissioners were represented at his funeral.

Print This Post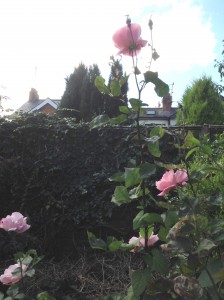 Billy was born in 1911 in East Belfast. He became our most wonderful friend when we moved into Norfolk Drive. We saw him for the last time in a nursing home in Newcastle, County Down, on 9th May 2003. He died on the 18th May, 2003. The family home was not lost: his granddaughter Terry, daughter of Rita O'Hare, moved in and lives there now. When she was getting an extension done we asked could we dig up the rose bush that Billy had planted and cherished a millennium earlier!
Each year it blooms in our back garden. The story below is from my book All The Dead Voices.
Billy McCulloch comes to our house for his Sunday dinner and some nights he and I sit in his living room and drink and talk about poetry, which he loves, or he'll recall certain historical events which impressed him, such as the race for the South Pole, of life in Belfast during the blitz, or about all the people he knew in his life. Splashed on his table before him are poetry books that he is reading and letters he is writing and we have to make room for the glasses and the gin. Often he mentions an old friend, Gibbie, about whom I have heard so much that I feel we are acquainted. Billy is eighty nine but had to give up driving some years ago. He lost his balance and became shaky on his legs, had to use first a stick and now this past year a frame.
I don't own a car but my son, Kevin, who was holidaying in Mexico for a fortnight had left me his. Then, over a few gins late one night we planned that in Kevin's car to Gibbie's, to Cumbria, England, we would go! On a sunny May morning Billy and I packed our cases like excited kids and drove on to the Stranraer ferry.
Billy was born a Protestant in East Belfast in the year that the 'Titanic' was launched, 1911. He describes his nationality as left-wing or sans frontier. His father, John William, came to Belfast from Birkenhead as an iron moulder during the engineering boom in the 1880s, bringing with him his new wife, Mary Francis (whom he addressed as 'Polly') from Conah's Quay, Wales. She had worked as a domestic servant. At first they lived in a single room but later managed to move into a new house on working-class Rosebery Road, most of whose menfolk worked in the nearby shipyard.
Rosebery Road, built in the 1890s, was named after Archibald Philip Primrose (who became the 5th Earl of Rosebery after the death of his grandfather in 1868) and became British prime minister when Gladstone resigned in 1894. He caused mayhem when he made his first speech as premier and said that Home Rule for Ireland could only come about when England, 'the predominant member of the three Kingdoms' agreed to it. Primrose had left Oxford after he came into conflict with the university authorities over his ownership of a racehorse. Despite not having a degree, he was considered to be a distinguished, young intellectual. He declared that he had only three ambitions: to marry an heiress, to win the Derby and to become Prime Minister. He achieved all three. When he resigned as leader of the Liberal Party, Gladstone made an assessment of Rosebery's character: 'I can say three things of him: One, he is one of the very ablest men I have ever known; two, he is of the highest honour and probity; and, three, I do not know whether he really has common sense.'
Half way up the Lough I looked back at Belfast and imagined how the formidable shipyards, linen mills and rope works must have looked from the boat through the eyes of Billy's young parents, about to put down their roots in this part of the world.
Our sailing took just over three hours and the weather and conditions were perfect. We disembarked just after lunchtime and began the long drive to Cockermouth in Cumbria, across the border. The road had been improved since I remembered being on it last in my teens, almost thirty years ago, furiously driving late through the night, my girlfriend beside me, as Stevie Wonder's song 'Superwoman' kept fading in and out on Radio Luxembourg. Billy is naturally garrulous and kept me occupied but in between the silences memories came to me, about old friends, what had happened to them in the Troubles, who had and had not survived, and the journeys we have all gone through.
We were short on petrol but there were no petrol stations (bar two family ones that looked permanently closed) on the seventy-mile stretch between Stranraer and Dumfries. And, when we did stop to refuel, across the English border, the garage accepted our Northern Irish sterling notes, though I had expected objections. At that garage and, later, when we were to ask for directions or order coffee and sandwiches in a cafe or dinner, we found the English to be gentle, kind, warm, and helpful, without being ingratiating, in sharp contrast to my experience in Ireland of their uniformed sons, and, I believe, to the experience of other subject peoples around the world, who found them repressive, pompous and self-righteous. I wondered, how could such a cultured and law-abiding people dramatically change personae when they stepped onto someone else's shore?
Throughout our journey there were to be many literary reminders. We passed through Dumfries, where Robbie Burns spent his last days, drove past Eccelfechan, birthplace of Thomas Carlyle, the historian and essayist. It was Carlyle who introduced to the English language that brilliant German word schadenfreude, to express the perverse pleasure we experience from someone's misfortunes. He used it to describe the British Chancellor of the Exchequer, Benjamin Disraeli's delight in mischief when proposing the Second Reform Bill in 1867 which extended the franchise to many city workers and small farmers. (In his younger days Disraeli wrote trashy love novels which received terrible reviews. It was he who also said: 'There are three kind of lies: lies, damned lies and statistics.')
We arrived at Cockermouth around five o'clock, stopping off at a shop so that Billy could buy some flowers. Gibbie's and Billy's eyes lit up when they saw each other. Gibbie is very nimble for eighty-six, and helped Billy with his things. Gibbie, a Scotsman, was born in Coatbridge in 1915. He says that although his town's population was divided fifty/fifty between Protestants and Catholics he never met a Catholic until he went to university. Billy had married Maureen, a Catholic from Ballymacarret, East Belfast. Maureen's mother was a convert from the Protestant faith, and had come from Farnham Street on the Lower Ormeau Road, an area which during recent decades has experienced a complete demographic shift and is now wholly nationalist. It is one of those areas which the Orange Order demands a 'traditional' right to march through several times each year.
Billy worked as a weaver in linen factories in Belfast but devoted all his holiday time to hostelling. One day, sixty-five years ago on a July day, in the Scottish village of Balloch, at the bottom of Loch Lomond, he stopped to look in a shop window. Another young man came up and looked into the window, then said to Billy, 'Where are you going?' Billy replied, 'I haven't decided, but I'll go wherever you're going.'
So they hostelled together, were sometimes mistaken for brothers, and forged a lifelong friendship, writing to each other when Gibbie was in the British Army during WWII, and visiting each other, even after they were both married. They met their wives, Maureen and Sadie, whilst hostelling, Billy in Slievenamon in the Mourne Mountains and Gibbie in the Cairngorms. Both Maureen and Sadie died three years ago, and Billy and Gibbie hadn't seen each other in twelve years.
It was a glorious evening so we sat on a bench in Gibbie's back garden and I listened with fascination as they reminisced about their hostel days, trekking mountains and bogs, about all the characters they went about with, about the 'code', quite chivalrous, that operated in the Youth Hostel Movement in the 1930s, and the respect that young men had for women. Every person lives through a rich history and every story is different, is told from a different, if even marginally different, angle.
Billy is self-taught and has an amazing grasp of poetry and an impressive repertoire. Although his father read a lot, Billy attributes his interest in books to several influences: his neighbours, the Boyces from Rosebery Road, whose house came down in books and whose sons were among the working-class few who went on to university (Billy remembers John Hewitt being a regular visitor to their house); and Joe Walker, 'an ingrained socialist' from Newtownards, a moulder in Harlands, just like Billy's father. Walker bought a book every Saturday and the books crept up the walls of his sitting room like ivy, as he had no shelves.
Gibbie has a degree in English from Glasgow University and worked as a teacher before retiring. He never expected to end his days in Cockermouth. When the Second World War broke out a friend of his from Coatbridge, a law clerk who was working his way up to be a solicitor, refused to serve and declared himself a conscientious objector. He was sent to Barlinnie Prison in Scotland where harsh treatment eventually broke him. He then agreed to join the Army but when he went for his medical he was turned down – due to a mastoid infection in his ear from childhood.
Instead of going to war he relieved an employee from a legal practice in Aberdeen who went off to fight. On one occasion the clerk was sent to investigate a claim in the Lake District and whilst there he met a nurse from South Wales, fell in love and eventually married. He always spoke to Gibbie about the beauty of the Lake District but Gibbie was too proud or too Scottish, he says, to take it in. Then, when Gibbie's daughter Margaret got married and moved to Cockermouth, he and Sadie to be near her, ironically, came to live here, the place about which he was once dismissive. Although millions have experienced displacement due to war and conflict, or have had to emigrate from their native country, I suppose that the majority of people in this world live and die close to the land or village or street where they were born.
On Wednesday the three of us went for a drive through part of the Lake District, lakes whose names I, as a kid, had to learn in Geography Class, along with details of the British coal and steel industries. The scenery was breathtaking but the countryside was fairly deserted of livestock and visitors due to the outbreak of foot and mouth disease, which had hit Cumbria quite hard. We drove past many roadside inns and hotels and I often wondered if this or that one was where Roy and Vera had stayed, thirty years before.
Whether it was a reference to nature or the elements, love or life, Billy or Gibbie would recite part of a verse from Wordsworth, who was born in Cockermouth, or Burns or the Bible, and the other would finish it. I couldn't keep up with them and I wished I had had a tape-recorder.
Early sun on Beaulieu water
Lights the undersides of oaks,
Clumps of leaves it floods and blanches,
All transparent glow the branches
Which the double sunlight soaks
I asked Billy where he got that from and he replied, 'Betjeman, "Youth and Age on Beulieu River, Hants".' Later, I looked up the poem and learnt that it was about mortality and the envy of an old woman for a young girl. Over the past year Billy has been increasingly talking about death. He becomes emotional when talking about his son Bill, a talented craftsman, who died suddenly of a heart attack three years ago. He says how much he misses Maureen who died from cancer, about her deep Catholic faith and belief in the afterlife, which he could never share. He talks about his youth, about Rosebery Road to which I've offered to bring him, but which he does not want to see. And he wonders whether he'll make it to ninety.
Billy was the youngest of three sons and four daughters, all of whom are now dead (John, Alexander, Molly, Edith, Nellie and Mamie). He said to me once: 'All the sisters got married and left. It was a tremendous regret to see your family diminishing like that. Everything changes so horribly as you grow up. All of them are gone…I am the last of the Mohicans,' he joked.
He pointed to an old family picture on the wall, taken around 1919. 'There's my father sitting there and you can tell by his attitude that he was the disciplinarian of the family. My mother was a very, very soft person. I can never remember my mother chastising me in any way. I was a spoilt skitter! But I loved my oul mother and you can see by the photograph that I'm hanging on to her there.'
I had asked him some questions about his parents' courtship, the type of detail that a child often picks up from innuendo or light banter in the home, but he couldn't recall. 'I can't even ask my sisters, who are bound to know a hell of a lot more about my mother and father than I would… Damn it, it's bloody awful when they're all gone. They used to live over in different parts of East Belfast and you'd go over there and you'd say, I'll go and see Molly. Ach Christ, she's dead. Bloody awful,' he whispered through clenched teeth.
Driving around Derwent Water Billy and Gibbie had the cheek to sing and exchange hymns and I joked with them because they are both atheists. In St George's Church in High Street, Belfast, Billy's father had been an 'official', that is, he organised the collection at the Church of Ireland services, and through him Billy and his brother, John, became members of the choir. However, Billy claims that he himself was 'a crow', and bluffed his way for some time. Then, one day at school, an inspector came into his class and asked his teacher, Miss Freebourne, if she had any good singers. "I knew right away what she was going to say. She said, 'Willie. Could you sing something for the inspector.' Well, I fell from grace after that." Nevertheless, he dates his love of classical music from that time.
His brother John was known in the family as 'a joiner' – not by trade but because he would have joined anything. He was an engineer at the shipyard, joined the Merchant Navy, then joined the Orange Order on his return. Billy joked that he must have taken after him. The parents of Billy's companion Robert Boyce were members of the Plymouth Brethren and Billy used to go along to the meeting hall with them. He recalled one preacher, a bread server, who used to get up and do his stint, by beginning, "Dear Brethren and Cistern…" which had Robert and him wetting themselves.
Billy, as a young boy, also had the distinction of marching down the Lower Ormeau Road with the Orange Order. An Orangeman called Jimmy, who was dating Billy's sister Mimi, asked him would he like to carry a string of one of the banners on the Twelfth of July parade. 'Says I, "Do I get paid?" "Certainly, you get paid,"' he was assured. And he did.
Gibbie directed us to Pendle Hill and showed me the rock where George Fox, the founder of the Quaker Movement, had preached to thousands of people in the 1650s. 'When I was come to the top, I saw the sea bordering Lancashire. From the top of this hill the Lord let me see in what places he had a great people to be gathered. As I went down, I found a spring of water in the side of the hill, with which I refreshed myself, having eaten or drunk but little for several days before.'
Fox had been imprisoned eight times between 1649 and 1675. He met Cromwell in 1656 and advised him not to accept the Crown which was being offered to him and which he eventually refused. Fox argued against the formalism of the established Church and all social conventions: 'The Lord forbade me to put off my hat to any, high or low… neither might I bow or scrape my leg to any one.'
Billy, Gibbie and I had our last supper together on Wednesday night, I cooking, as they again sat outside in the warm evening, close together, retelling events from forty and fifty years ago, cracking open small epiphanies to reveal what one or other had perhaps forgotten, and I heard the occasional laugh and confirmation.
On Thursday morning, Gibbie and Billy came out to the car and I asked them to stand for a photograph. Then they shook hands for a long time and said goodbye. As we turned the corner from Rose Lane, Billy said with finality and a passion, 'That's my old friend Gibbie, who I met in 1936.'
Thus far, O Friend! have we, though leaving much
Unvisited, endeavoured to retrace
The simple ways in which my childhood walked;
Those chiefly that first led me to the love
Of rivers, woods, and fields…
O Friend! O Poet! brother of my soul,
Think not that I could pass along untouched
By these remembrances.
- William Wordsworth

Print This Post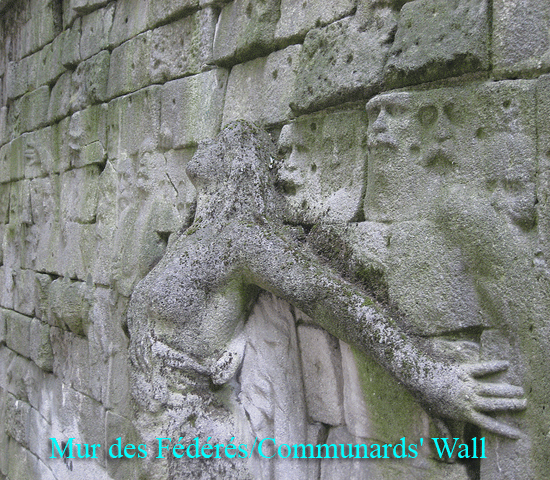 A friend from Colorado asked me was I ever in La Père Lachaise cemetery in Paris. Several times I was there and in 2003 wrote a feature about it which appeared in my book, Rebel Columns. It was titled 'And Outcasts Always Mourn'. Here it is:
Foremost, there are two types of tourists: those who go away to relax and luxuriate, usually in a balmy climate, and those who go away to learn and explore. However, no matter where I go, or what type of holiday I embark on, I get restless after three of four days and look forward to getting back to the blue skies above Black Mountain in 'equatorial' West Belfast.
We went to Gran Canaria for a week a few years ago – to Playa del Ingles, and our apartment was within petrol-bombing distance of the Kasbah, the playground for youngsters with boundless energy who danced and drank till dawn. We were in bed for 10 each night but thanks to these kids, not asleep until six each morning. It wasn't until we hired a car and took to the mountains, away from the madness of the resorts, that the holiday became tolerable.
Even so, getting home to beautiful Belfast was the best part.
So, I prefer short holidays to long ones, and pack in as much as possible.
Two weeks ago, my wife and I and her nephew Peter from Toronto (our French translator) went to Paris for three days and walked out a pair of shoes each. Did all the usual sights: Arc de Triomphe, Moulin Rouge, Le Sacre Coeur, the Seine cruise, Notre Dame Cathedral and the Louvre (with the Mona Lisa looking browned off with all the attention). Viewed the city from the top of the Eiffel Tower, dined in Montmarte, and drank endless cups of strong coffee at sidewalk cafes. On occasions we split up and went our separate ways and thus I spent the last day all by myself, out at Le Père Lachaise, wandering through the city's largest cemetery.
I love cemeteries, not because I am morbid (though I am harmlessly melancholic), but because cemeteries speak for a people, its motley collection of individuals, from the lowliest to the highest, from the leaders to the followers, the politicians, the writers and musicians, the masses. They tell a people's history and though the briefest of details – name, date of birth and death, and sometimes an epigraph – are carved in and will fade over time from headstones, even these last words evoke a great narrative about a person's worth, their place on this earth, their legacy.
The cemetery opened in 1804 as a solution to the problem of overcrowding following the revolution of 1789. The first man to be buried here was an anonymous bell-ringer from the local police station, but several famous Parisians were re-interred in Pere-Lachaise, including Moliere, the French dramatist who wrote, "We die only once, and for such a long time." The cemetery became a much sought after resting place for the rich and famous – or the stranded, as in the case of Oscar Wilde, W.B. Yeats and Jim Morrison. Yeats died in Paris in 1939, on the same day as a Parisian refuse collector, and they were buried close together. There is a theory that the person who was re-interred in Drumcliff in Sligo never wrote a poem in his life but emptied plenty of bins.
Le Pere-Lachaise covers 100 acres and I walked most of it, beginning with the grave of Rossini. There, I thanked him with a few prayers and found myself irreverently humming the 'William Tell' overture, that is, the theme for 'The Lone Ranger' to which, as a child, with a yard brush called 'Silver' between my legs I use to "de-deeee-de-de-deeee-de-dee-dee-de-deee-dee…" through Andersonstown with the ever-faithful 'Tonto' (six-year-old Brendan Hunter) on his mop by my side.
(Only when I got home from Paris did I discover that the mausoleum was empty and that Rossini's body was moved to Florence in 1887 – but nobody has told the Paris Tourist Board, or else they are not letting on.)
Other composers buried in the grounds, and still here, I hope, include Bizet, Chopin, Dukas and Poulenc; singers Maria Callas and Edith Piaf, where fresh flowers had been laid; actors Simone Signoret, Yves Montand and Sarah Bernhardt; the dancer, Isadora Duncan; and writers from Balzac to Colette, to Marcel Proust, Gertrude Stein and the American Richard Wright, author of that brilliant novel, 'A Native Son'.
The cemetery has 97 divisions and is easily navigable because each section is signed and named. I am not sure what the convention is in other cities and towns throughout Ireland but here in West Belfast's vast City Cemetery and Milltown Cemetery there are no signs on the roads and lanes, making it possible to lose loved ones not just once, but again and again. Of course, great argument would erupt if our councillors were tasked to agree to name lanes after notables, given the large number of Orange leaders, empire builders, British soldiers and IRA members who populate both cemeteries.
Soft rain fell as I made my way through the cobble-stoned avenues of Le Pere Lachaise, drawing out that universal, almost sweet, earthy odour from the trees, bushes and clay, and the scent of our dead.
And then I came upon the Mur des Federes, and I stood and wondered about the dreams that died here in a nightmare.
In the Franco-German war of 1870 France was thrashed and Napoleon III was taken prisoner. But Paris fought on and declared a 'Government of National Defence'. It lay under siege for six months before surrendering. Meanwhile, a pro-monarchist Assembly in Versailles, outside the capital, with Adolphe Thiers as Chief Executive, accepted an armistice. Paris, which had a strong revolutionary and republican tradition, rose up against the capitulation of the government and formed the Commune (municipal council). The Commune put a moratorium on unpaid war-time rents and stopped pawnshops from selling goods, made all church property state property, postponed debt obligations, and abolished interest on the debts.
Thiers, watched by German forces, bombarded the city for six weeks, which was then slowly taken, barricade-by-barricade, street-by-street in bloody battles, in which at least 30,000 people lost their lives and over 17,000 more were either executed or transported to French penal settlements overseas.
The 'Communards' made their final stand in the Pere Lachaise cemetery. And here, at Mur des Federes, in the quiet eastern corner, is the wall against which their leaders, 147 of them, were executed and buried. Not far away is the grave of Thiers who died six years later.
And finally to the grave of that great genius Oscar Wilde – broken and murdered by the intolerance of society because he loved men. I am sure Wilde would enjoy the fact that the authorities no longer replace his penis, or rather that on his monument, which collectors would break off as mementoes. In his lane the trees were shedding their small, pale leaves, like a perpetual autumn. Three sides of his monument were imprinted with lipstick from the adoring, some voluptuous, kisses of many women.
And on the fourth were these lines from 'The Ballad of Reading Gaol'.
And alien tears will fill for him
Pity's long-broken urn,
For his mourners will be outcast men,
And outcasts always mourn.

Print This Post
This afternoon I went to the Ulster Museum to see the exhibition 'Art of the Troubles' which brings together the work of 50 artists and their responses to the Troubles. My favourite piece was 'Year in Black Taxis: January-December, 1989′ by Belfast-born Brendan Ellis. It runs until September 7th.  But it brought to mind another exhibition, 'Painting The Troubles' I had seen in the National Army Museum in London back in 2006 and which I wrote about in a feature for Daily Ireland. As I prepared to write that piece I made some interesting discoveries about some of the paintings selected and used by Ralph Lillford. Anyway here is that feature – Just Another Brick in the Painted Wall:

Looking at the wall, I thought to myself, where are and what ever happened to Joseph McNally, Joseph McKenna from 1C, Kevin Fusco and Jim Donnelly both from 2B, who were pupils at St Gabriel's School, Antrim Road, Belfast, in 1974?
The story begins last Friday afternoon in London when I went to an exhibition at the National Army Museum. Parked outside the museum is a large First World War cannon and a Humber Armoured Car, or 'Pig', which we used to mistakenly call a Saracen. The claustrophobic innards of this vehicle always smelt of gun oil, sour sweat and bad breath, sometimes of cordite, and always fear, usually one's own.
I went into the foyer and up to the desk. The receptionist said, "Can I help you, man?" Then, realising he was at work, said, "I mean, sir," and we both smiled. I was looking for the 'Painting The Troubles' exhibition, and he pointed to a ground-floor gallery, next to The Great Escape Café.
I had heard about the exhibition on Radio Ulster's Arts Extra. Other permanent exhibitions range from 'The Making of Britain 1066 – 1783' to 'Fighting for Peace 1946 – 2006', which I thought was an interesting euphemism for most of those brutal counter-insurgency operations Britain fought and lost before eventually relinquishing the majority of its colonial possessions.
From the beginning of the First World War Britain has had 'official war artists' to cover battles and army life during conflict. Paintings, which in the early days had to go through the censor, were for propaganda purposes as well as part of the official record. The Imperial War Museum in London has dispatched artists to every major conflict involving British soldiers (including the Falklands/Malvinas, today's Afghanistan and Iraq) but never to the North of Ireland because the British government refused to recognise it as a war.
This is the first time that the National Army Museum has displayed an exhibition relating exclusively to the conflict here, so this represents some progress.
Ralph Lillford, who now lives in Australia, did his national service from 1952 to 1954, before becoming a professional artist. His visits to the North between 1971 and 1976 when he had access to the British army make up the theme of his exhibition. Images of soldiers, and life through the eyes of soldiers, predominate. Life in the barracks is depicted as extremely tedious. In a church, which has been taken over as a billet, the walls are covered in pornographic pictures.
A painting titled, '68-76', of Belfast's Grand Central Hotel after the IRA blew it up in April 1974, is depicted by Death calling and carrying a photograph of Christ, which suggests, unfortunately, that Lillford didn't travel too far in his journey through the stereotypes. Another, 'Seamus Dealer', which is set in 1975, has this explanation: "To signify urban life at this time, the artist deliberately introduced incongruous imagery to strike a discordant note. He also placed the soldier midway between the Protestant house and the Roman Catholic-owned shop, so that he is caught in the middle literally as well as metaphorically."
The soldiers neither arrest nor shoot anyone. Only a car is searched, no homes.
On a large piece of clear Perspex, representing a gable wall, visitors are invited to write their names, or whatever. I wrote 'UP THE IRA' – in the interests of balance – before noticing the CCTV frowning at me.
I don't know enough about the art or philosophy of painting and what makes for greatness and can only articulate my own response. Lillford's paintings are interesting – and do capture something of the atmosphere of the period. I suppose the one I liked most was that of the Grand Central Hotel (containing a sample of the original loud wallpaper), after the deathly Roman Catholic IRA came to redecorate.
Near the end of the exhibits I was surprised when I came across a series of adolescent drawings. They were street scenes, mostly of riots in nationalist areas, including The Bone in Belfast, and were signed by the young people I mentioned at the outset.
According to Lillford he was in a café in Belfast's York Street late one wet and miserable Belfast night in 1974 with nowhere to stay. He got to speaking to a man who said he could stay in his house on the outskirts of the city. He was apprehensive but took up the offer. The next day the man took him to "some IRA headquarters" and introduced him to "some IRA staff" who gave him posters. The man said that his son was an arts teacher and later he sent Lillford these drawings by his son's pupils.
I tried to locate the former pupils of St Gabriel's but had no luck with Joseph McNally or Joseph McKenna. But I did get speaking to Kevin Fusco. He is now a furniture maker.
"I'm a bit shocked. I never thought I was that good," joked the 44-year-old. "But my daughter is big into art." He recalls his art teacher asking them to take part in a project, titled, 'What do you think about the Troubles', and it was supposed to appear in a book but he never heard anymore about it.
And what happened to Jim Donnelly whose painting hangs on a wall of the National Army Museum in London? Shortly after the 1981 hunger strike he was charged with dozens of other republicans, twenty-two of whom were sentenced to a total of 4,000 years in prison based on the word of supergrass Christopher Black.
From H-Block 7 in September 1983 Donnelly took part in the IRA takeover of the jail for the biggest IRA escape in republican history. However, he was quickly rearrested. Ironically, part of his Black conviction was overturned on appeal in 1986 but he was later sentenced for escaping and in total served seven years in jail.
He remembers a student arts teacher called Marcella inviting him and Kevin Fusco to take part in the project. They got off normal classes for a few days but he thought no more about it.
"It's funny my painting ending up on the wall of a British army museum," he joked. "Especially when you think of the wall I ended up behind!"

Print This Post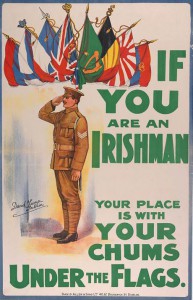 One hundred years ago Britain entered Britain and Ireland into World War I. Thousands of books have been written about that period. In 1996 I reviewed Myles Dungan's Irish Voices from the Great War (which has recently been reissued) for the Sunday Tribune, and, later, in 1998, I reviewed his companion volume, They Shall Not Grow Old. Here they are:
Just as it is possible to admire the fortitude and heroism of the Protestant defenders during the Siege of Derry in 1689, and yet regret the political legacy of their victory, so too should nationalists and republicans feel able to acknowledge the selflessness and patriotism of those thousands of Irish men and women who participated in the First World War.
Prior to 1914 the regular British army had many Irish regiments. Service, like emigration, was a means of escape from hunger and unemployment. However, after September 1914 there was a huge influx from the Irish Volunteers when the leader of the Irish Parliamentary Party, John Redmond, made a recruiting speech in favour of the British army.
The Irish Volunteers, established to support Home Rule, then split. The minority saw England's difficulty as Ireland's opportunity. But most marched off to war, believing naively that by fighting, Ireland would get a better post-war deal. The loyalists believed the same and they were correct.
Myles Dungan tells the story of the first Irish Division, the 10th, and the 16th, raised from the Irish Volunteers, and reprises that of the 36th Division – the old UVF – drawing on the diaries, letters and oral accounts of those who took part. It is horrifying and poignant: most of the military battles were a waste and pointless.
Landing at Gallipoli in a boat with 32 men, only six of whom got out alive, a Sergeant McColgan said: "One fellow's brains were shot into my mouth as I was shouting to them to jump for it." On another boat, 149 out of 200 were killed outright. Private Timothy Buckley recalled: "I stood counting them as they were going through. It was then I thought of peaceful Macroom, and wondered if I should ever see it again."
Of course, the slaughter wasn't all one-sided. A Lieutenant Guy Nightingale wrote to his sister: "When dawn broke, we saw them in hundreds retiring and simply mowed them down. We took 300 prisoners and could have taken 3,000 but we preferred shooting them. All the streams were simply running blood and the heaps of dead were a grand sight."
Almost 2,800 Irish men died at Gallipoli. When it was evacuated in December 1915 the Turks were still in possession.
Until I read this book I had only the vaguest comprehension of the extent of Irish involvement and the magnitude of the sacrifices. The Somme had been understandably appropriated and commemorated by the loyalists, and Suvla and Sudd-el-Bahr had reproachful connotations. (Indeed, the republican song 'The Foggy Dew' makes this very point, contrasting dying for Ireland in Ireland than for England in Gallipoli: "Twas better to die 'neath an Irish sky/Than at Suvla or Sudd-el-Bahr".)
So although those names were familiar I had never heard of Guillemont or Ginchy or Messines or Salonika or the Third Battle of Gaza, the hundreds butchered here and there.
"Had nationalist Ireland taken a different political direction perhaps Gallipoli might occupy a place in the Irish psyche similar to that of the Australian," observes Dungan.
But the Ireland to which the survivors returned was in chaos, nationalist passions having been fired by the 1916 Easter Rising, the executions of its leaders, the threat of conscription. Few wanted to know their story. Many ex-servicemen would subsequently be shot as spies. Some, like Tom Barry, took their military skills into the fledgling Irish Republican Army. And what could be more ironical than the case of two former servicemen, Dunne and Sullivan, one of whom was lame from a war wound? Acting under orders from Michael Collins they assassinated in London Sir Henry Wilson, former chief of the Imperial General Staff in 1921. Arrested on the spot, they were tried and convicted and hanged, having fought in two wars for the freedom of small nations.
After the death of a comrade at the front, the Commanding Officer of the 6th Connaughts wondered would he and his men come to be considered 'saints or traitors,' little realising that they wouldn't' even come to be considered…
_____________________________________________________________________________________
They Shall Not Grow Old – Irish Soldiers and the Great War by Myles Dungan
This is a companion volume to Myles Dungan's Irish Voices From the Great War and complements that anthology of tragedy with further stories of unromanticised life in the trenches, the experiences of PoWs, and an illuminating and critical look at the role of chaplins.
Incredibly, up to a quarter of a million Irishmen fought in the First World War. Dungan has already dealt fairly comprehensively with the loyalist 36th (Ulster) Division and here focuses more on Irish soldiers from the South. He has two objectives, both worthy. One, to record the sacrifice, sufferings and courage of these soldiers, the majority of whom believed they were advancing and securing Irish claims to Home Rule. The Act had been passed at Westminster but suspended until after the war. Two, to rectify the subsequent injustice the returnees experienced – non-recognition, public antipathy and animosity due to the political revolution (Easter 1916, Sinn Fein supplanting the Irish Parliamentary Party, the emergence of the IRA) that had taken place in their absence.
The World War I 'veteran', Dungan says, became indelibly associated with the other 'veterans' who made up the Tans and the Auxiliaries and who carried out atrocities. Commemoration and memory of the war became associated with support for the British administration in Ireland, just as in the North today the wearing of the Poppy is largely identified with the unionist cause.
He accuses subsequent generations and the state itself of 'culpable neglect'. There is certainly a case to be answered and most people, I believe, would be interested in finding a way of embracing this part of our history. My Granda Morrison and my mother's Uncle Paddy both took part. And just last year the West Belfast Festival sponsored a discussion around the controversial question, ''Twas better to die 'neath an Irish sky than at Suvla or Sed el Bahr'?  One of the guest speakers was Gordon Lucey of the Somme Association.
A problem arises, however, because the more rabid of the revisionists (for example, Kevin Myers) come to this subject with their own political agenda. In seeking to create a sense of public guilt they seek more than rehabilitation. By exploiting the war dead and war veterans, by making disparaging comparisons between the warfare and sacrifices of those Irish who fought against the British and those who fought with the British abroad, they seek to return to the days when Pearse and Connolly were spat on as they were marched through the streets of Dublin. In their view the IRA's War of Independence should be rejected, its heroes tarnished (and in the process the cause of Irish reunification). The invective of the revisionists is deliberately aimed at making it difficult for those who do not share their political analysis to become embracive.
Dungan himself is not above exaggeration, linking the political defeat of Paddy Harte in his Donegal constituency (where he had been a TD for 36 years) with his wearing of a Poppy in Leinster House in 1996. I don't think so, Myles.
The descriptions of the war are horrific and heart-breaking. One soldier, Wallace Lyon, was given the task of disposing of over 300 bodies after a gas attack: "They were in all sorts of tragic attitudes, some of them holding hands like children in the dark." Another soldier, Patrick Downey, was sentenced to death for disobedience (he refused to put on his cap). On hearing of the verdict he allegedly laughed and shouted, 'That is a good joke. You let me enlist and then bring me out here and shoot me.' They shot him at dawn.
One of the most interesting chapters is The Foolish Dead, which deals with the soldier writers Tom Kettle (killed in September 1916), Francis Ledwidge (killed in July 1917), and Patrick Magill (author of 'Children of the Dead End', who died in the USA in 1940). Kettle was appalled by the actions of Pearse and Connolly, denouncing the Rising as madness. Yet after the murder of his brother-in-law, the pacifist Francis Sheehy-Skeffington, and the executions of the leaders, he knew his own position with the British Army at the Somme had lost its initial validity. Just before he was killed he wrote a sonnet for his little daughter. With poetry such as this as testimony, Kettle and his comrades will never be forgotten:
   Know that we fools, now with the foolish dead,
   Died not for flag, nor King, nor Emperor,
   But for a dream, born in a herdsman's shed,
   And for the secret Scripture of the poor.

Print This Post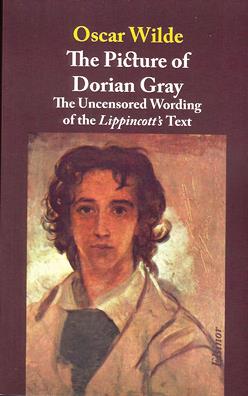 Earlier this year I was asked by my German translator, Jörg Rademacher, if I would write the introduction to his translation and annotation of the original version of The Picture of Dorian Gray, the version used in court to ridicule and indict him by Edward Carson. The book has now been published in Germany and here is the piece I wrote, Trapped By His Own Words:
Oscar Wilde died twice. Of course his final resting place was in Père Lachaise, Paris, where he had succumbed to meningitis in 1900. But he had already died in London, his spirit crushed by a prison sentence of two years hard labour (1895-97) on a charge of gross indecency, this humiliation, this downfall having destroyed the brilliant, flamboyant Anglo-Irish writer.
Unwittingly, Wilde had forged some of the nails for his own coffin, in his own hand, by his own words, when he submitted the manuscript of The Portrait of Dorian Gray to the American publication, Lippincott's Monthly Magazine, in June 1890. In this first version homosexual themes border on the explicit. But the second version, the British-published book of 1891, was a more circumspectly crafted text and included a Preface which attempted to negotiate his way around the initial criticisms that Dorian Gray was scandalous and immoral. Damaging quotes from the Lippincott's version, along with compromising letters, and the prospect of testimony from young male prostitutes, would later be used against Wilde in court by Edward Carson to discredit him and pave the way for his prosecution on charges of committing indecent acts.
Carson, like Wilde, a Protestant Dubliner and former fellow of Trinity College, was the leading barrister of his era. He was not only Wilde's Nemesis but, later, when he rose to political prominence, that of Irish nationalists. What a contrast between the lives of Wilde and Carson! One, a gifted artist who would hardly hurt a fly and who brought joy to thousands of readers and theatregoers and who would, after his death, be exonerated; the other, a skilled lawyer and consummate politician who would engage in illegal activity, threaten the will of parliament and bring immense suffering to the Irish nation, the repercussions of which are still felt today.
From 1911 Edward Carson became involved in subversion against the British government, opposed democratic Home Rule for Ireland, helped raise an illegal, paramilitary army (armed from Germany) and threatened civil war – all with impunity! When the First World War broke out, Carson's (Protestant) Ulster Volunteer Force largely converted into the British army's 36th (Ulster) Division; Carson became British Attorney General, a member of the War Cabinet and First Lord of the Admiralty. He was to symbolize the partition of Ireland, the man who sabotaged his country's independence.
Dorian Gray is the story of a young man selling his soul in a Faustian pact in exchange for eternal youth. The plot is quite staid: "all conversation and no action", as Wilde described it. Overtly, it is a novel of ideas about aesthetics, and the relation of passion to art. Wilde, a married family man but a practicing, covert homosexual for the four years prior to 1891, could not but help use his art to promulgate his ideas.
Those ideas (that it is right – healthier and cathartic – to give into temptations of the flesh) certainly aren't as monstrous as that suggested by Dostoyevsky's Smerdyakov's character, that "Everything is permitted", but they did outrage the Victorian establishment, Wilde's enemies and jealous critics. Wilde's unique wit, his affectation of speech, manner and eccentricity of dress, which was often ridiculed, incensed this section of society, the philistine majority, who allegedly practiced self-denial, and who viewed him as immoral and degenerate, but lacked the opportunity to humble and humiliate him.
It was a combination of Wilde's own hubris, and the encouragement of his lover, which set the scene.
One of those who read and was beguiled by Dorian Gray was Lord Alfred Douglas, a handsome young man, nicknamed 'Bosie', a spoilt and self-indulgent brat. He and Wilde were introduced in June 1891 and thereafter began an affair, often acting quite incautiously, though it was Alfred who was reckless and publicly flaunted himself so that they would be recognized as 'Oscar Wilde and his boy'. Alfred's father, the Marquess of Queensberry, was outraged at what he considered was the corrupting of this son (though it was actually Alfred who introduced Wilde to the subterranean world of male prostitution), and when Wilde was challenged by Queensberry in June 1894 he denied the allegations. But in February 1895 the Marquess threw down the gauntlet in the form of a calling card left in Wilde's club, basically publicly accusing him of being a sodomite. Against wiser counsels, Wilde sued and Queensberry was arrested and charged with criminal libel.
However, during the trial, which began on 3rd April 1895, the tables were turned and Edward Carson, who was brilliant, eloquent and forensic in regard to highlighting 'immorality' in Wilde's work, including the Lippincott's version of Dorian Gray, easily demonstrated Wilde's licentious life and that he had an insatiable sexual appetite and predilection for young men. When Carson announced that he would produce male prostitutes as his witnesses who would testify to have having had sex with Wilde, Wilde dropped the prosecution. Not only did the court costs bankrupt him but the court ruled that the accusation that he was a sodomite was 'true in substance and in fact', and this triggered the next stage of the tragedy – his arrest on twenty-five counts of gross indecencies and conspiracy to commit gross indecencies.
His first trial ended with the jury unable to reach a verdict.
(To be fair, at this stage Edward Carson appealed to the Solicitor General for clemency but was told it was too late as the case was now "too politicized" to stop. This is a reference to speculation that the British Prime Minister, the Earl of Rosebery, had had a homosexual affair and was being threatened with exposure if he failed to aggressively prosecute Wilde.)
At the second trial, in May 1895, which heard lurid details and allegations of hotel sex with male prostitutes, Wilde and his co-accused, Alfred Taylor, were convicted of gross indecency and sentenced to two years' hard labour.
Imprisonment broke Wilde. He experienced hunger, insomnia, disease, bouts of dysentery, loneliness, desertion, and the death of his mother. When being transferred in prison stripes to Reading Gaol a crowd gathered around him on the railway platform and jeered and spat at him. He wrote that he knew that when he would be released from prison that there was "nothing before me but a life of a pariah – of disgrace and penury and contempt."
His tragedy was the second occasion within a few years of a prominent Irish figure being brought down on the issue of morality. Charles Stewart Parnell, the greatest Irish politician of his era, was leader of the Irish Parliamentary Party at Westminster and appeared to be on the verge of achieving a measure of Home Rule (the Second Home Rule Bill). But, in 1890, in a London divorce case Parnell was named as co-respondent, as living with another man's wife with whom he had two children. The subsequent fallout from the scandal especially in Catholic Ireland, destroyed Parnell and bitterly divided his party. Meantime, others had become disillusioned with the failure of constitutional politics to deliver and were to go down the separatist road which would eventually lead to the 1916 Easter Rising and the formation of the IRA. Although the Irish Parliamentary Party had recovered by 1900 and looked again as if its lobbying at Westminster would finally result in the passing of a Home Rule Act, onto the stage strode Sir Edward Carson to thwart their Irish aspirations.
Wilde was released in May 1897 and immediately went into exile, unaware that history and public opinion would exonerate him.  His writings are celebrated, his plays constantly performed and attract new admirers, his life the object of biographers, and his epigrams (used to blacken him at this trial) regularly quoted in books, in film and in the media. In Ireland and Britain today homosexuality has been decriminalized and gay partnerships/marriages are recognized. In another ironic twist, the newspaper symbolic of Rupert Murdoch's modern global media empire, the News of the World, which throughout its 168-year-old history specialized in scandal, salacious stories and prurience, and which rejoiced in Wilde's imprisonment and downfall, itself was brought down by scandal in 2011 and court cases! Police revealed that the newspaper was involved in widespread phone hacking of royal, public and celebrity figures, of the families of soldiers killed in Afghanistan and of the families of teenage girls who had been raped and murdered.
Against this history, in hindsight, who truly was the more moral but Saint Oscar?
Dr Jörg Rademacher, in as forensically a manner as Carson indicted Wilde, liberates Wilde from the censuring  and self-censorship Wilde himself, for motives of self-protection, futilely wrought on his novel in the various stages of production. Rademacher, as he explains, distills the variant texts to produce a new edition of the old but original Dorian, a reconstruction of the uncensored wording of The Picture of Dorian Gray.
It presents us with a unique insight into the parturition of a work, the struggle that takes place between true, unencumbered, artistic freedom and powerful social forces which compromise such work – for better or worse, but rarely for better.

Print This Post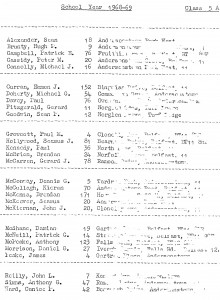 Received in the post today a copy of those of us in class 5A, Glen Road CBS, 1968-1969, forty-five years ago, as the twenty-eight of us prepared to sit our 'O' Levels in June 1969. Those of us who passed and who wanted to do 'A' Levels had to cross the road and go to St Mary's Grammar School – which I never liked, and eventually left in September 1970, to go to St Peter's Secondary in Brittons Parade, Whiterock.
I recognize most of the names and last summer bumped into one of them, Brendan McKenna, who lives in Australia and who was back home visiting. Barney had hardly changed a bit!
A few Sundays ago I met Paddy McNeill who with his wife was doing the Divis Mountain walk. Mickey Connolly became an MD, immigrated to Australia but returned to Ireland. Gerry Fitzgerald became a prize-winning photographer and I saw him at the PA's Deric Henderson's leaving do last month. John McKiernan, a great footballer, became a teacher and his son also became my doctor. Michael Doherty (brother of Kieran who died on hunger strike) is still to be seen running and cycling – the fittest of us all!
Peter Cassidy works in the RVH. Another friend's father was in the RUC and had helped prosecute those involved in the Malvern Street murder of Peter Ward but himself was later wounded (presumably by the IRA) in a gun attack at Springfield Road in 1971. One – who ended up at CBS after being expelled from Garron Tower in 1968 – became a compulsive gambler.
A few more I would see at a distance in town or in West Belfast and acknowledge with a nod.
But the rest? What ever happened to them? Did they stay or leave? Presumably, most are still alive.
Only forty-five years ago!

Print This Post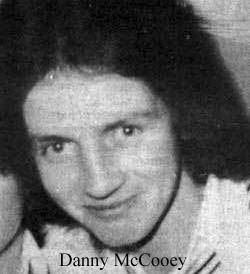 Ten years ago, in 2004, I wrote two features about the conduct of the British army in Iraq. One was 'A Tale of Two Cities' – comparing the British army killing of Danny McCooey in Belfast in 1977 with the British army killing of Baha Mousa in Basra in 2003. The second was 'A Proud Tradition' showing that human rights abuses by the British military were a constant, despite all the blethering about "the British army being the finest army in the world".
Today's Guardian now reports that British troops are being accused of war crimes in Iraq and that this is being investigated by the International Criminal Court at the Hague. Only last year the British government was forced to apologise and settle some of the thousands of claims made by Kenyans who were tortured by British colonial forces there in the 1950s.The Kenya Human Rights Commission says 90,000 Kenyans were executed, tortured or maimed, and 160,000 people were detained in appalling conditions during the struggle for independence.
Here is the feature I wrote in May 2004 and which appears in my book, Rebel Columns:
A PROUD TRADITION
The Daily Telegraph wrote: "The Royal Military Police are already investigating allegations of mistreatment of Iraqis by British soldiers in southern Iraq after the Mirror's publication of photographs said to show a member of The Queen's Lancashire Regiment urinating on an Iraqi lying in a military truck with a hood over his head."
The Guardian wrote: "The soldier at the centre of the new revelations in the Mirror, Soldier C, said he saw four beatings where PoWs were punched and kicked, the paper reported. In one, a corporal placed a sandbag over a suspect's face and poked his fingers in the victim's eyes until he screamed with pain."
In the Commons, Tony Blair used prime minister's questions to say any "human rights abuses, torture or degradation" of prisoners were "wholly unacceptable".
PRISONERS' STATEMENTS
"On the table was a small bottle of stuff, and two syringes with needles…Somebody came from behind and put on a blindfold. The soldier gave me an injection on the right arm, then he tied something round it, then he did something to my fingers… Then I felt this feeling in my arm, electric shocks, but two given to start off with, not painful, just uncomfortable. Then every time they asked a question, it only kept increasing."
"He kicked my legs apart and stuck his heel into my privates. Others came in and said that half my district had been wiped out in the fighting. At about 4am I was told that I was to be taken for a ride in a helicopter and that I was to be thrown out."
"After what seemed about one hour in the helicopter I was thrown from it and kicked and batoned into a lorry."
"The next I knew was being put into a helicopter and taken away. I overheard voices talking about, 'Throw him out' Before I went into the helicopter I was asked if I could swim."
"What was going to happen to me? Are they coming to kill me? I wished to God they would end it."
"I was beaten again. I was taken out and made stand against the wall. The soldiers said, 'You are being taken out to be shot."
"I was beaten and kicked in the stomach and privates for about half-an-hour. I was made lie on the floor. One put his foot on my throat and the other held my legs. The other one lit matches. He blew them out and then put them to my privates."
"I was forced to stand against a wall with my hands supporting my body for a long time. I collapsed. My hands and legs were beaten whenever this happened and the insides of my feet were kicked until my ankles were swollen to almost twice their normal size. At the time that I was against this wall I got bread and water once and water alone on two other occasions. I was also punched in the ribs and in the stomach, as well as being nipped."
"After being hooded I was led to the helicopter and I was thrown bodily into the helicopter. During this my hands and wrists were hurt due to the others handcuffed to me not being pushed equally. On being put into the helicopter, the handcuffs were removed and were applied to the back of the hood to tighten it around the head."
"I would estimate that the helicopter journey lasted half an hour at the end of which I was put in a lorry. I was made to lie face downwards in the back with other men thrown on top of me."
"A shot was fired. It went past my ear. They all had a good laugh at this."
"I was not allowed to dress again but was told to put the hood back over my head. I was taken to another room, stood against the wall, the hood was removed and a flash picture was taken."
PRINCIPAL METHODS OF INTERROGATION
Twenty-five principal methods of interrogation have been documented, which included: stretching a man over benches with two electric fires underneath and kicking him in the stomach; insertion of instruments in the anal passage; electric shocks given by use of a machine; urinating on prisoners; and psychological tortures such as firing shots close to their faces, playing Russian roulette or throwing them out of helicopters just above the ground (when the prisoners thought they were high in the air).
NEVER AGAIN
All of the above quotes are extracts from statements running to 4,500 pages, compiled by the European Commission on Human Rights over thirty years ago. They refer to the interrogations of Irish people in the North by the British military and Special Branch. The ECHR found Britain guilty of torture and inhuman and degrading treatment of prisoners. A British prime minister stood up in the House of Commons to state that 'ill-treating' (sic) prisoners was totally unacceptable and would never happen again.
It happened again and again and again. A proud tradition.
First in Ireland, now in Iraq.

Print This Post
On 8th March, the weekend section of the Irish Times devoted a full broadsheet page to an astonishing photograph showing a backstreet Belfast scene from the early 1960s of a young, smiling Seamus Heaney, in an Aran sweater, surrounded by about fifteen joyous kids, at a time when he was teaching in Belfast.
The photograph was taken for a Vogue magazine article by Heaney's future sister-in-law, the author Polly Devlin, and probably the first person ever to interview Heaney.
The Irish Times caption reads: "This rarely seen photograph was taken for a Vogue article on Belfast by Heaney's sister-in-law Polly Devlin. It shows Heaney in 1962, when he was 23 and teaching at St Thomas's Secondary Intermediate School, in Ballymurphy."
Copyright for the photograph resides with the old publishing house Condé Nast Publications in New York.
I thought it would be an easy task to find out the identities of the children and whatever happened to them and whether they knew they had once been photographed with the future Nobel Laureate Winner. But I was wrong.
I tried to identify the district where the photograph was taken and I brought it around to various areas asking people if they could recognise an old school friend (all of the kids in the photograph would now be sixty or more) or the street in question. The photograph was certainly not taken in Ballymurphy or the Whiterock, the vicinity of St Thomas's, because the houses in those two areas have small front gardens and the background of the Heaney picture is of old terrace houses.
I went down to the Falls, up to the Clonard area, down to the Markets and over to the Ormeau Road area where between 1961-1963 Heaney lived in flats in Wellington Park and Fitzroy Avenue. Of course, I was assuming it was taken in a nationalist area and I might be entirely wrong about this. Gerard Rice, who runs the Shaftesbury Community and Recreation Centre, told me that this part of the Ormeau area back in the 1960s was a fairly mixed area but even he drew a blank with the older citizens.
I went to bars and clubs frequented by pensioners to see if any of the clientele could recognise someone in the picture which would then put me on the scent of others – but again nothing. The photo was copied and put up on the wall of my doctor's surgery and posted on various websites.
There were many who thought they recognised this or that person but nothing checked out and so it remains a mystery. Someone suggested Cairns Street, off Leeson Street, but then that was dismissed. Another person thought it was Boundary Street, off Divis Street. With redevelopment in the early 1970s the topography of much of old Belfast has been changed beyond recognition, making identification even more difficult.
One old boy in the Falls, who grew up in the Pound Loney, joked, "it's definitely not us. Look how well dressed that kid is on the right. And there's a wee girl with a tennis racket! When did we ever have a tennis racket? They all look too well fed!"
I contacted Polly Devlin, who as a young journalist was one of the first to spot Seamus Heaney's talent. In the 1960s Polly had also interviewed Bob Dylan, John Lennon, and Janis Joplin, and worked with photographers David Bailey, Richard Avedon, Norman Parkinson, Irving Penn and Lord Snowdon.
"I commissioned the picture and can't even remember who I commissioned to take it! Boundary Street sounds right in poetic terms and in terms of Seamus's sense of fun and irony. It's a heartbreaking and joyous picture at the same time. Good luck with your search – I'm sure you'll unravel it!"
I also contacted Seamus Heaney's widow, Maire, whom I had met before. She thought that Seamus probably made his own arrangements with the photographer. But she also introduced an intriguing possibility.
Maire said, "I'm pretty sure the photo was taken in 1965 and not in 1962, as stated, and he would no longer have been teaching in St Thomas's but was lecturing in St Joseph's Training College, Trench House, by then. I hope this is of some help and that the project, which would be most interesting and revealing, is successful."
So, the photograph might be misdated by two or three years, which I am beginning to suspect – because I read somewhere that Polly didn't begin full-time with Vogue until 1964. If it was taken in 1965 this should have made the chances of resolving the question marginally better but hasn't!
Does anyone know any of these children and where they are now?