Print This Post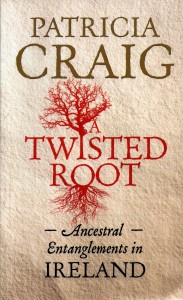 Being expelled from St Dominic's Grammar in 1959 over an innocent adolescent 'carrying-on' with some boys that summer in the Donegal Gaeltacht, undoubtedly had a profound effect on 16-year-old Patricia Craig from St James', off the Falls Road. Her 'co-accused', so to speak, Rita O'Hare, from the Glen Road, was also dismissed.
Rita went on the become the Sinn Féin National Director of Publicity and the party's current representative in Washington, whereas Patricia became an eminent and astute writer and critic whose works have been hugely influential on the perception of the literary canon of the North.
A few years ago Patricia wrote about her youth,  Asking For Trouble – The Story of an Escapade with Disproportionate Consequences. Now she has turned her hand to a very ambitious and detailed research project, investigating her antecedents, and comes up with surprising and rich results.
In A Twisted Root – Ancestral Entanglements in Ireland she is able to trace her family connections back to the Plantation in the form of Katherine Rose who came to Lisburn, through to a forebearer William Blacker who founded the Orange Order, and her great-uncles who fought in the IRA in the 1920s. Patricia's mother was a Catholic, her father a Protestant. Which, interestingly, was also the case with Rita O'Hare.
The book demonstrates how in a place like ours, we are all related in one way or another, given those ancestors who converted from one religion to another or who changed political allegiance. (Not sure who in the Morrisons, my Scottish Presbyterian ancestors, jumped 'ship' and left me with no Lodge but a cumainn! I owe you nothing. And I owe you everything.)
She argues that this heterogeneity "makes a nonsense of the monolithic certainties on which the entire structure of our centuries-old conflict is based". In a way she is right: the pure Gael does not exist. (Nor the pure English or Scottish race.).
But the past, and particularly the wrongs of the past, where they explain the conditions of injustice and inequality under which one's community has had to live, or lives, are not fallacies but potent drivers of action. If wrongs are not redressed through reform, they will be redressed through rebellion, with each rebellion creating an inescapable culture and patriot narrative which will resonate for generations.
So, in sympathetically explaining the Plantation, for example, Patricia leans towards what she calls 'scrupulous historians' (what an oxymoron) as opposed to 'old-style nationalist historians', whereas truth, in my opinion, is to be found somewhere between, if it is to be found at all.
Although it does seem incredulous that she is able to produce a distant relative here and there who, Forrest Gump-like, witnesses many of the defining events throughout our history, I would not like to contradict her because she marshals convincing supportive evidence (a bit overwhelmingly and with some licence here and there) for these often convoluted connections.
The pace and interest and accessibility quickens when we reach contemporary times and it is easier to take issue with her!
Having written several memoirs I know of the problems one can encounter with one's family and living relatives. The closer one comes to the present the greater the danger of offending someone and yet the writer struggles between depicting the truth as she sees it or a tactful travesty of the truth. Charles McQuaid in The New Yorker once wrote: 'If you want to be a writer, somewhere along the line you're going to have to hurt somebody. And when that time comes, you go ahead and do it.'
I suppose, it all depends on how tactful or tactless one is.
In many ways a paean to her mother and father, A Twisted Root, is a valuable and provocative contribution to our ways of seeing.
"All of us in the north of Ireland, Protestant, Catholic or what-have-you, are a compound of the same good and bad elements from brave hearts to stiff necks," says the West Belfast woman who has come a long way from snogging boys in a Donegal haystack, back in 1959, as gaeilge.
Published by The Blackstaff Press – £12.99
This review was published in the Andersonstown News, 18th April, 2013

Print This Post
Today, for some reason, I am remembering an old friend whose death I learnt about three years after it occurred, not that I would have been able anyway to have attended his funeral, seeing that I was in jail. James Nolan is now dead twenty years. I first referred to James in my prison letters which were published in a collection in1999, Then The Walls Came Down. Here is the piece I later wrote in tribute to him:
One day in the early 1960s James Nolan was working outside Monaghan on the tracks of the Great Northern Railway. He was in his mid-twenties, and was married with three young daughters. It began raining and he took shelter under a disused water tank, opened his lunch box and began eating his sandwiches.
Afterwards, he finished his day's work and went home.
The next day he was running a temperature and felt aches and pains and couldn't go to work. His wife called the doctor. He examined him, diagnosed that he had a bad dose of the 'flu and gave him a penicillin injection. Almost immediately James' body went into spasms and the doctor realised that something was seriously wrong. He was rushed to a specialist hospital, Cherry Orchard in Dublin. But it was too late.
The consultant probed James about what he had been doing recently and concluded that a drop of water contaminated with the polio virus had probably fell from the tank into his sandwich as he was eating. The family doctor had unwittingly spread the polio rapidly through his body when he gave him the injection. He was paralysed from the neck down and had to be placed in an iron lung – a frightening, tomb-like metal capsule. Because he required special treatment and because of the limited resources in those days James would have to stay in this ward, in this hospital, fifty miles from his wife and children, for the rest of his life.
It was a blow that could have felled the strongest of persons. His muscles eventually wasted but fortunately, and with the help of private donations, a special air-pump was bought. He had a tracheotomy and a plastic tube ran from this machine which pumped air into his lungs, making an awful piston-like sound every three seconds and could be heard in the corridor. Because he had no power he couldn't cough and every half-hour to prevent him from drowning in his own fluids a nurse had to put a tube down his throat and suck out the mucus which you and I normally clear with a subconscious harrumph.
And so he lay in the same bed, looking out a casement window which had a limited view of a green field which lay sparse and grey for the six months of an Irish winter and which came to life in the summer when travellers' kids raced their ponies up and down. He was in that bed when Kennedy was assassinated, when the Beatles were first heard of, when the civil rights marches began here in 1968, during internment, when the Yanks withdrew from Vietnam, and when hunger strikers died in the H-Blocks.
I was in the next ward to him, or rather, a room, because with hepatitis I had to be isolated from the other patients. But when I improved I was allowed to mix and hearing that he liked to play chess I sat with him in the afternoons and at nights. When I first said hello he whispered – even though no one else was in his ward – "I know who brought you in. It was David O'Connell. I recognised him." I smiled. He said. "Lift up my pillow." I lifted it up. "See what it is," he said. It was 'Prison Poems' by Bobby Sands. "That's the way I think," he said.
We became good friends and he was great company, always laughing even though his eyes were permanently glassy and you thought he was going to burst into tears. His family were grown up and his wife still made the long trek to visit him but he relied on an old man from Ballyfermot who three nights a week smuggled in a noggin of Powers which James sipped through a straw. On his wall was a picture-board with his proud collection of postcards from across the world that people had sent him. From places that he would never see. He prayed several times a day and looked forward to receiving the Eucharist. He was so full of humility that you had to keep reflecting on your own dismal standards and values.
The televisions in Cherry Orchard were small, black and white sets, except for James which was a colour TV and which he had bought. It was the day of  Di and Charles' wedding and many nurses and doctors gathered at the bottom of James' bed, assuming it would be okay to watch the live broadcast in full colour. Not a bit of it! James announced that they should all be ashamed of themselves and that as long as men were dying on hunger strike nobody would be watching a royal wedding on his TV!
I got out in early August and promised James I would be back to see him and did so about twice a year. On one occasion Gerry Adams came with me and you would have thought James had won the Irish Sweepstakes'. Anytime I went abroad I would send him a postcard and when I went to jail I wrote him a letter saying that there would be no postcards for a while. I wrote him letters for over five years and just before my release asked a friend in Dublin to phone Cherry Orchard to find out how he was keeping, because, of course, James wasn't physically capable of replying.
At first the receptionist didn't understand who my friend was inquiring about, but asked her to hang on, and then came back a few minutes later to say that James Nolan had passed away three years earlier.
I received the news as if he had just died, with a sense of shock and sadness. But I smiled as I remembered the TV incident and James's freedom of spirit and its expression in a small act of solidarity with people imprisoned like him, that July all those years ago.

Print This Post
Wrote a feature on the death of Margaret Thatcher which was published in today's 'Irish Examiner'.
WHEN Mark Thatcher went missing in the Sahara while taking part in an international motor race in Jan 1982, his ashen-faced mother, upset and distressed, appeared on television close to breaking down.
She prayed to God that Mark wouldn't die, that he would be rescued.
Six months earlier Rosaleen Sands appeared on television, interviewed in the car park of Long Kesh, and prayed for her son Bobby, and asked Margaret Thatcher to compromise and resolve the hunger strike. We all know how Thatcher answered, and the mountain of suffering that nationalists in the North experienced under her premiership.
Ironically, this is the day, 32 years ago, that Bobby Sands was elected MP for Fermanagh and South Tyrone. Thatcher's mantra to republicans before that was, "'how can I talk to you, you don't have a mandate". But when Bobby got elected (with almost 10,000 more votes than Thatcher got in her constituency), the British prime minister rushed through an amendment to the Representation of the People Act to prevent any other prisoner being elected in his place.
When Gerry Adams, Martin McGuinness, and I were elected to the assembly in 1982, Thatcher issued exclusion orders against us, banning us from entering Britain on pain of a five-year prison sentence. My ban lasted 13 years. In 1988 she introduced the Broadcasting Act banning Sinn Féin elected representatives from being interviewed on radio and television. Yes, she was the Queen of Democracy for sure.
I remember the 10 men who died on hunger strike but also women and children her forces killed with impunity and immunity; people like 14-year-old Julie Livingstone, shot dead by the British army the day Francis Hughes died in jail; 11-year-old Carol Ann Kelly, shot dead a week later while getting milk for a neighbour; and on the morning of Joe McDonnell's death in jail, my childhood friend Nora McCabe, a mother of three, shot dead seconds after going to buy a packet of cigarettes to calm her nerves.
These are just some of the names. The list runs to hundreds when we add to it those killed by loyalist groups that were rearmed and reorganised by British military intelligence, which reported to Thatcher until her resignation.
Thatcher sanctioned the use of supergrass trials which completely undermined the justice system. She authorised the shoot-to-kill policy and her colleagues subsequently undermined the attempt by Deputy Chief Constable John Stalker to get to the truth. She authorised the attacks on republican funerals and created an atmosphere of hatred and bitterness which ultimately led to the attempt on her life by the IRA in the Brighton bombing in 1984.
Of course, she also destroyed proud working-class communities in Britain with her social and economic policies. And over lunch one Sunday she ordered the sinking of the Argentinian Belgrano during the Falklands War even though it was outside the 200-mile exclusion zone and was sailing away from the area of conflict. More than 323 sailors died, many of them teenage cadets.
When Carol Thatcher, Margaret's journalist daughter, travelled to the Falklands and Argentina to make a documentary on the 25th anniversary, one woman whose son died on the Belgrano said to her: "I never saw him again because your mother killed him."
In 1986 she and US president Ronald Reagan ordered the bombing of Libya, which took the lives of over 130 civilians.
Some have argued that Thatcher stood up to the unionists when she signed the Anglo-Irish Agreement in Nov 1985 and should be given credit. But her motives were two-fold: She expected extradition to be made easier and increased security collaboration in the fight against republicanism. She was, indeed, also responding to the warnings from then taoiseach Garret FitzGerald that something needed to be done to halt the electoral rise of Sinn Féin.
In reality, it was the suffering and determination of the Northern nationalist community which forced change.
When Thatcher became prime minister in 1979 we know that on her desk was a secret assessment of the IRA by Brigadier James Glover, commander of land forces in the North. He said the IRA would continue with its war until there was an acceptable political settlement.
He rejected the official propaganda line which was the basis for the treatment of the men in the H-Blocks and the women in Armagh jail. He said that IRA volunteers were not criminals but were talented and dedicated.
Thatcher put my community through hell and her policies unnecessarily protracted the conflict. When it came to a political agreement on Good Friday 1998, the prisoners in the H-Blocks were given early release (an "amnesty") which was recognition that the British knew they were political prisoners all along.
I was in jail (again as a result of her dirty war and use of agents provocateurs) when she resigned in 1990. One newspaper told this story: "'The bad news,' said a voice over the public-address system in a north London railway station, 'is that a signal failure means another delay. The good news is that Thatcher's resigned! Hip, Hip, Hooray!' Most of the commuters cheered."
I once might have cheered her passing. But now I am indifferent — though I will never forget what she did, and all those who died on her watch.

Print This Post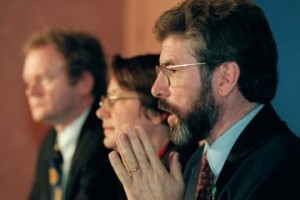 Fifteen years ago I covered for The Guardian and the Irish Examiner the negotiations which led to the signing on Good Friday of the Belfast Agreement. This is the feature I wrote (though slightly amended in The Guardian).
Letitia Fitzpatrick from Ulster Television says to me, "I am so thirsty. Would you?"
"Okay", I say. "Once more I'll trudge off and get you coffee." It is 11.55 pm, Stormont, Government Buildings, and at midnight, if the parties to Senator George Mitchell's talks haven't agreed and gone home, they'll all turn into pumpkins. Just at midnight I arrive back into the press conference hut with the coffee. Behind me the aroma has seemingly attracted several suspicious-looking men in suits, some more in denim jackets, and, to my left, women with non-Catholic perms. Then I hear the booming voice of Ian Paisley and realise that I am at my first DUP press conference and have no flak jacket.
"I have here in my hand," he begins, "a delegate's badge which gives me the right to attend all meetings of the Forum on one side, and the right to attend all meetings of the Talks, on the other hand."
"Why didn't you use it for two years!" shouts a man to my left.
"The people wanted you in here to fight for them. You wouldn't do it! You hadn't got the balls!" shouts a man to my right.
Oh dear, I think. I'm with the UVF.
"You're not pressmen," declares a most perspicacious Mr Paisley. "You belong to parties that are opposed to my party, so just shut up!"
"Your days of telling people to shut up are gone!"
"Yeh! You don't even care about the people. You don't give a shit, with your big fucking house!"
Uh-oh. I'm now in the middle of the UDA.
"You are all fascists! Adams' lovers!" shouts Ginger Spice at me and them, and which is partially true. At any moment I am awaiting them to zero in on the common enemy – me, the Armalite-and-Ballot-Box-Kid – but the division between them is palpable. And where now is Paisley to go, because his muscle, the people who accuse him of rolling the snowballs for them to throw, back in 1972, back in the DUP/UDA strike of 1977, are no longer with him, but have their own representatives here in the talks. Unionism in change is dynamic: Unionism is interesting.
Earlier in the evening we were told by Tony Blair's coiffeur, Alistair Campbell, described affectionately, I think, by one British newspaper as the Spindoctor-General, that the deadline of midnight is having a powerful effect of focusing the parties on concluding. He is received by journalists from London with just a teeny-weany bit too much sycophancy for my liking. Two hours later and no one from the government is telling us what is happening, though we have had Sinn Fein's Mitchell McLaughlin come out and declare bleakly that there is no agreement because unionists are blocking the agreement.
Time passes. The press people get bored. A woman runs in. "There's a rumour that Sinn Fein are walking out!"
"Who started that?"
"God knows. But it's a good one."
An hour later a journalist from Dublin says, "Heard anything?"
"No. What about you?"
"Can't say, but just wanted to check if anybody had a better rumour than me."
Some people are reading, others are snoring. I asked Letitia to name her favourite film, favourite book, favourite song and favourite poem, and at the prompt of the latter she launches into Eliot's 'Journey of the Magi':
A cold coming we had of it,
Just the worst time of the year
For a journey, and such a long journey:
The ways deep and the weather sharp,
The very dead of winter…
It was an eerie rendition, given our circumstances.
In one of the press huts I met with Frank Millar, London Correspondent of the Irish Times. Years ago we couldn't speak to each other because he was the general secretary of the Ulster Unionist Party and I was the National Director of Publicity for Sinn Fein. But now that we were covering the talks for newspapers we had a cover for talking. People have to talk – it is the way forward.
As the night progressed the rumours that Sinn Fein was feeling shafted by the SDLP and the Dublin government increased to the point where I was predicting that Sinn Fein could not go along with the re-negotiated Mitchell paper, which also proposed an Assembly (probably based at Stormont).  Sinn Fein, an abstentionist party in the North, is implacably opposed to a return to Stormont, because of its connotations of sectarian, 'majority' rule, its de facto recognition of partition. Yet, Sinn Fein had contributed to the Mitchell paper and made amendments to it, proposals to which it has to remain faithful if it is to be consistent. The biggest difference between Stormont and the new Assembly is the crux issue of consent: the combined strength of Sinn Fein and the SDLP gives the nationalist community a powerful veto. Can Sinn Fein adapt to this fairly scary, new challenge and, if so, can Sinn Fein persuade its supporters that there is a case for entering a parliament in the North?
Driving up to Stormont on Thursday was a strange experience. But, confession to make, it wasn't my first time there. I took my seat a long time ago. The summer of 1962, to be precise. My father took my two older sisters and myself on one of those bus tours around the city that included a visit to the Stormont Parliament, which was a wholly uncharacteristic act for nationalists back in those days. During the fifty years of one-party unionist rule at Stormont, nationalists initiated one single piece of legislation – an Act for the Preservation of Wild Fowl! I sat in the speaker's chair. All I can remember is the smell of leather and pine.
In 1979, when editor of An Phoblacht/Republican News, much to the horror of the NIO press officer, David Gilliland, I got past several RUC security checkpoints and into Stormont Castle, thanks to Peter Fearon of the Press Association, a wild and lovable man. He brought me into a press conference where the late Humphrey Atkins, the Secretary of State, was announcing a new initiative, a round-table conference. A month earlier the British government launched the Lancaster House talks between Robert Mugabe's outlawed Patriotic Front and Ian Smith's National Party. I asked Atkins what was the difference between the Patriotic Front and the IRA, and shouldn't the government be talking to the Republican Movement to end the conflict. He replied, "Don't be ridiculous!"
I wasn't allowed to ask another question but an American reporter repeated my question. Atkins hesitated, stuttered and said, "I…I…I don't know what the difference is," after which the press conference erupted in laughter. For helping me Peter Fearon didn't remain too long at the PA! He moved to New York, where he still lives and works, and found infamy. Tom Wolfe in 'The Bonfire of the Vanities' based the character of the English journalist, Peter Fallow on Mister Fearon.
It's fine going to Stormont for a stunt, but would one's attendance there, as a republican, copperfasten partition, undermine one's republicanism or, could it, through example and reconciliation, undermine the sectarianism and opposition to Irish unity of one's erstwhile opponents? Who knows?
By 4 am those of us still alive are watching James Cagney in 'Public Enemy' followed by a programme ironically titled, 'Living With Violence.' This vigil reminds me of barricade duty back in 1969, when you wished that the loyalists would hurry up and attack so that you could get it over with and go to bed. Bored out of his mind, one hack begins singing, to a Dr Hook air, the words, "If I said I had a Cross-Border body would you hold it against me…" Several other appalling plagiarisms follow.
There is a new rumour that Sinn Fein is preparing to walk out. Then, at 7.10 am Mitchell McLaughlin arrives to read out a short statement but not to answer questions. In confident tones he declares that Sinn Fein has, during negotiations, clawed back a considerable amount of ground which it believed had been lost earlier. Suddenly, the atmosphere changes. There is no rush of Ulster Unionist MPs out to contradict him. The impossible begins to seem possible. Everyone is in great form. There is a buzz. This could genuinely be a new beginning. Of course, there are still problems. Of course, there are issues outstanding, and we can forget about it all if Orange feet get marching down Garvaghy Road this July.
In late afternoon the document has still not been finalised. There are rumours of dissent within the Ulster Unionist Party.
But as I drive out of Stormont, past the statue of Lord Edward Carson, down Prince of Wales Avenue, I feel that something fundamental has shifted. My view of East Belfast is always from the west of the city, my home. Stormont lies in the Castlereagh Hills, foreign. On this evening, I look from this Avenue across to Black Mountain above West Belfast, distinct and familiar, and realise that it is not that far away, after all.

Print This Post
Dr Jörg Rademacher, the German translator of my novels, wrote a critical feature on Oscar Wilde as a follow-up to his 2011 translation of 'Dorian Gray' – 'Das Bildinis des Dorian Gray', published by Elsinor in Germany in 2012.
This feature, now in English, can be read here.
It deals with the decisions a translator must make when faced with variations on a particular text, how it was first produced and appeared and whether to question or honour the elisions the author made in the light of difficulties to do with his personal circumstances rather than revisions made to perfect the final work. It is a fascinating piece.

Print This Post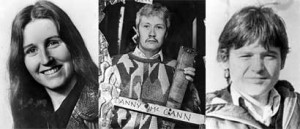 Twenty-five years ago three IRA Volunteers, Mairead Farrell, Dan McCann and Sean Savage, were executed by the SAS in Gibraltar. At the time I was Sinn Féin's National Director of Publicity. Those killings and other events at that time ultimately led to the foundation of Feile an Phobail, the festival based in West Belfast, which I currently chair. The following feature was published in last week's Andersonstown News.
Scrolling through channels that Sunday, 6th March, I stumbled on BBC Radio Wales and caught a newsflash from the British Ministry of Defence claiming that three 'IRA terrorists' had been shot dead in Gibraltar. At first I thought they had made a mistake and that three ETA members had been killed. But, worried and anxious, I went out to look for other members of the Movement in West Belfast and discovered that many others were doing the same.
Eventually we held a meeting and people were able to piece together something of what had happened.  There was a lot of confusion and rumours. Different people's names were being mentioned, people who perhaps were on the run, people who had been away from home for some time.
At about 8pm the facts were slowly pieced together: it was Mairead, Dan and Sean who had been killed. I had visited Mairead when she was in Armagh Jail and I knew Dan from he was a teenager. Sean, the youngest, aged just 24, I knew slightly.
We had to make arrangements to inform their families. At that time Sean's father, John Savage, was the head barman in the Beehive pub. I went there and saw him just standing behind the counter, chatting away to people and smiling, not a worry on his face.  I called him to the side and told him that there was bad news and he would need to go home and then I informed him of exactly what we understood happened and with great dignity the man just put on his coat and left.
That night we had another meeting and Gerry Adams, who was MP for the area, was present.  He contacted Paddy McGrory, the solicitor, who had represented Dan and Sean, and at about eight o'clock the next morning I, Joe Austin and Gerry met in Paddy's home with representatives of the McCann family, Mr. and Mrs. Farrell and one of their sons and members of the Savage family. It was an extremely distressing and emotional meeting. The media were carrying British claims that 'a very large car bomb' had been recovered and that there had been a 'shoot-out', all of which were lies.
Our priority was overcoming the difficulties and obstacles in getting the remains of our comrades home. It was the start of a very, very long twelve-day period when the community of West Belfast was put through hell.
Joe Austin's account of that journey from Gibraltar to Ireland and his dealings with Gibraltar's hate-filled bureaucrats, is a quite harrowing story.
As the cortege was making its way up north from Dublin I was in our Sevastopol Street offices in contact with Gerry Adams who was using an early version of a mobile phone which kept cutting out. But I could hear the conversation in his car as the coffins were attacked, passing through the northern outskirts of Newry by flag-waving, jubilant loyalists. My memory is also of Tom Hartley coming into the room to tell me that in a shooting in Turf Lodge an IRA Volunteer had been killed by the British army. As it turned out it was former blanketman Kevin McCracken who had been on active service.
I stood, along with a thousand others at Kennedy Way roundabout, after midnight, waiting on the cortege, chatting to people, including Ned Flynn, the second man on the blanket protest in 1976, and my young friend Kevin Brady, who had operated with Dan. The next time I was to see Kevin was in a coffin. The RUC hijacked the three hearses on the M1 and diverted them away from those who had come to pay their respects. The RUC or British Intelligence also had another plan.
Michael Stone in his so-called 'true story' Stone Cold claims that he decided against killing Adams, McGuinness and myself as we sat together in a pew during Requiem Mass in St Agnes' and would wait until Milltown. But I had been outside throughout Mass, not in the chapel. Afterwards, in Milltown, I was standing beside Mary Holland of the Irish Times when Stone's first grenade exploded, showering us with dirt. Kevin Brady had, I now know, moments earlier gone to pay his respects at his father's grave and was the first to encounter and challenge Stone as he retreated from his murder spree. Stone shot him in the stomach and Kevin bled to death on his way to the Royal.
For several years, until that day, all republican funerals had been viciously attacked by the RUC. But that morning the RUC had withdrawn from West Belfast and it was clearly to give Stone a free hand. Indeed, when they did appear it was to save him from a crowd of courageous unarmed young people who had pursued him despite being shot and bombed and three of their number killed.
Three days later, I was a pall bearer carrying Kevin's coffin when again we were attacked when a car drove at high speed toward the cortege. It was a terrifying experience. To this day the British have never explained what exactly two armed, plain-clothed soldiers in an unmarked car where doing that day in Andersonstown. Rather, their capture and deaths at the hands of the IRA were turned into a demonization of West Belfast's people.
Of course, the irony is that West Belfast turned that negative into a positive and decided to celebrate who they really were – a people with a proud history, a people to be admired, who had talent, who were forgiving, outgoing, friendly and generous and who could hold their heads high.
Thus arose Féile an Phobail, twenty five years ago. A distinct community festival because of its roots, because of its people, and we can never forget the cost to our people of survival in those dark days, and, ultimately, the triumph of a community over oppression and adversity.

Print This Post
Last Thursday I was invited by Vince Curry of the UDA-linked Ulster Political Research Group to participate in a panel discussion in a loyalist area of Lisburn as part of the John McMichael Memorial Debate. John McMichael was probably the most military-minded (yet also politically-minded) loyalist paramilitary leader of the 1980s and was killed by the IRA in an explosion in December 1987, twenty-five years ago. He was thirty nine years-of-age.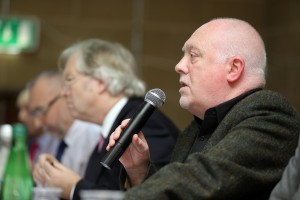 I had reservations about going and was a bit nervous about what to expect, yet myself and another former IRA prisoner Sean 'Spike' Murray were welcomed and given freedom of speech at the discussion which also included: Jeffrey Donaldson MP, Mike Nesbitt MLA, Conal McDevitt MLA and Paul Clissold of the Ulster Political Research Group.
The clear force behind the initiative and in memorialising John McMichael is Jackie McDonald, a friend and comrade of McMichael. In the audience were John McMichael's widow Shirley and his son Gary.
Eamonn Mallie chaired in the absence of Peter Shirlow and through his jokes and quips certainly relaxed me and, I presume, others. The panel was probably too big to allow a fluid debate and it was also all-male.
I made the point that regardless of the merits of McMichael's document, 'Common Sense', which advocated power-sharing and a Bill of Rights, it also sought to copper-fasten the union with Britain by seeking to raise the bar by a proposal that any change in the status of the North would require a two-thirds majority, instead of the current simple majority. I also said that because of the conflict and the campaign by the UFF, few would take any loyalist paramilitary proposals seriously and scrutinise them, just as the IRA's armed campaign inhibited anyone taking seriously the Sinn Féin documents, 'A Scenario for Peace' and 'Towards a Lasting Peace'.
This was the first time I had ever been invited by a loyalist group to address a loyalist meeting in a loyalist area and I am sure it was not an easy decision for them. The audience showed a lot of respect, there was little rancour but there are huge disparities between the political development of nationalists and republicans and the loyalists and their base. It may well be, I said, that if the loyalists have 'missed the boat' in terms of having their own individual political party (and a credible party) then the only way they might get their grievances resolved (including grievances regarding education standards in working-class areas) was by simply joining the mainstream DUP or UUP.
It is also clear that loyalists perceive that the Historical Enquiries Team's work is disproportionately directed at them. I said that republicans were also being arrested on an on-going basis regarding past actions and one only had to look at the case of Marion Price, who had been bailed by the courts only to be interned-without-trial by the British Secretary of State.
How to deal with the past featured prominently in the discussion. Again, loyalists and mainstream unionists are generally suspicious about the Sinn Féin campaign on Truth and Reconciliation etc and believe it to be subterfuge for re-writing the past in the IRA's image and for republicans to put Britain in the dock (over the dirty war and collusion etc.). I cannot see how these positions can be squared: no one is going to tell the whole truth and no protagonist can afford to, and victims, who do not represent a monolith, also have disparate demands in regards to the past and the truth. The victims, it seems, will remain stranded and disappointed. Given the impasse, the least the state can do is to ensure that their medical needs and essential comforts are met – and yet they often are not.
For me the most important aspect of the meeting was the courage of the organisers in inviting republicans like myself and Spike Murray into their area, given that we and John McMichael were opposing protagonists in an armed conflict and that republicans took this man's life, widowed his wife and orphaned his children – as has happened to many on all sides.
I was granted another glimpse into the loyalist mind-set and sensibilities which help inform one when thinking about a shared future, what is possible and what the limits are.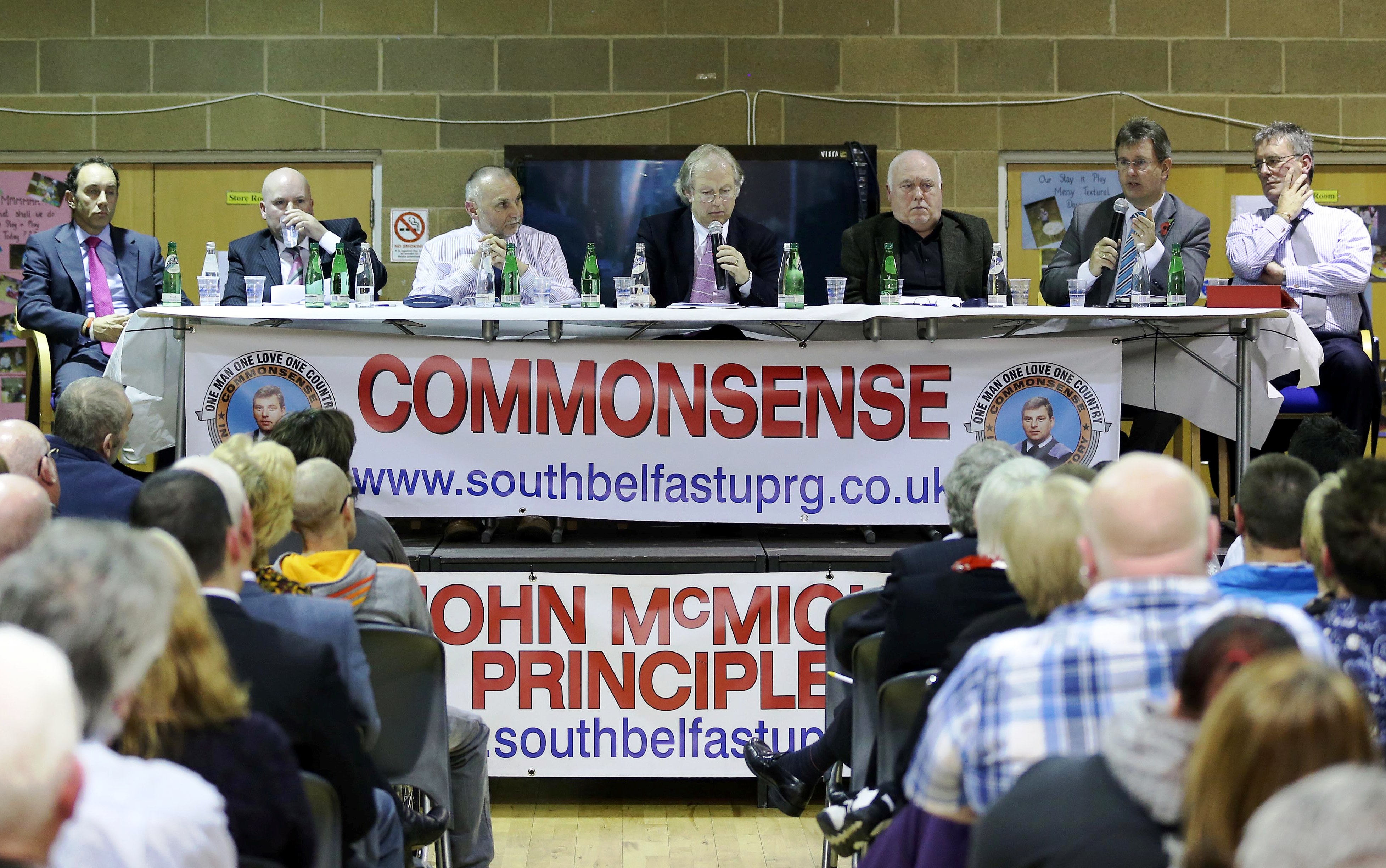 Print This Post
In a press statement on Sept 14th, which coincided with the submission of his affidavit to a Belfast Court, Ed Moloney outlined his view of his Belfast Project debacle ("summarizing the essential facts") and then states that what he has just written proves that he was not out to 'Get Gerry Adams'. He said: "Incidentally all this nails the lie that the Belfast Project was established to "Get Gerry Adams" as people like Niall O'Dowd and Danny Morrison have alleged. As this episode demonstrates, no interviewees were ever put under pressure to implicate him or anyone else in IRA activity."
But writing on his blog between October 18th and 22nd Moloney, in an exchange with Walter Ellis [formerly a feature writer for the Daily and Sunday Telegraph] unthinkingly, reveals that getting Adams was part of his sham historic project!
MOLONEY: Ah Walter! I had thought you dead and gone. Never a losing cause, just keeping my promise to people. If I do have an obsession it is with outing liars, which is why I write about Lance Armstrong! There is another outrageous liar with whom we are both familiar, me perhaps more than you. Wears a beard and used to puff on a pipe a lot. Write about him too. Suspect he may be heading for an Armstrong-like denouement as well.
WALT ELLIS: I'm not dead yet. It just feels that way. I hope you're not suggesting that a certain one-time barkeep, for whom power was the ultimate performance-enhancing drug, will one day soon be stripped of his many titles.
MOLONEY:  a former barkeep with a power complex? who could you possibly be talking about?

Print This Post
The Irish News phoned me the other day for an interview: they were doing a feature on the thirtieth anniversary of the Assembly elections which were held in twelve constituencies under PR on 20th October, 1982. I had forgotten all about it. Back then, I was the national director of publicity for Sinn Féin and editor of An Phoblacht/Republican News working out of Dublin three days a week.
In April 1982, James Prior, who had succeeded Humphrey Atkins as Secretary of State, had published a white paper referring to 'partial' or 'rolling devolution'. Sinn Féin's long-standing policy, until the ard fheis of 1981, had been to boycott such elections. But the hunger strike and the elections of IRA prisoners Bobby Sands, Kieran Doherty and Paddy Agnew, and, after Bobby's death, Owen Carron; their morale-boost to the struggle; the prestige and international publicity accruing from these successes and the difficulties they presented to the British government, convinced the republican leadership of the merits of adopting an electoral strategy.
The decision at the ard fheis of 1981, when I made the case for a dual strategy, removed the impediments and authorised the ard comhairle to decide on whether to contest any future election.
My wife and I were still in bed, the boys still asleep, when an anxious Tom Hartley knocked on our door in Beechmount Parade. He was general secretary of Sinn Féin at the time. He said that the previous night, supporters of two of our three candidates in Mid-Ulster, Francie Hurson (brother of hunger striker Martin Hurson) and Sean Begley, had fallen out. They couldn't agree on where to divide the constituency in terms of canvassing Number 1 and Number 2 preferences for their particular candidate, with one side feeling that the other side was looking for too much territory. Francie and Sean, who weren't involved in the row, withdrew their names from the race.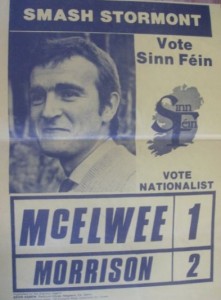 We still had a third Mid-Ulster candidate over in South Derry, Benny McElwee (brother of hunger striker Tom McElwee), who would surely pick up votes across Mid-Ulster from Castlederg to Moortown.  But the problem was that we needed at least twelve candidates to qualify for television and radio election broadcasts and now we were down to eleven. Tom's message from Gerry (Adams) was that we were to go up to Mid-Ulster, link in with Owen Carron and Francie Molly, the main men, and find a suitable candidate. If we could not find a candidate then I had to put my name forward!
At our meeting in Dungannon the two men reported that Francie and Sean could not be persuaded to change their minds and that there was no other option but for me to run. Young Seamus Kerr had expressed an interest but I think a candidate had to be at least twenty-one and he was underage.
We drove at speed around the constituency to get sponsors to sign my nomination form. Francie Hurson (who tragically died in 1984) became my director of elections and Sean Begley (now a councillor) my election agent. At two minutes to five, just before the deadline, I handed in my papers to the electoral office in Omagh and then drove to Dublin to work on that week's paper, wondering what I had let myself in for.
During the campaign we were continually stopped by the British army, the UDR and the RUC in a way that is hard for young people to imagine today. Our supporters putting up posters near Kildress were fired on from a passing car; others were arrested and held for up to three days. On the Crockanboy Road, on our way to Gortin, a helicopter swept overhead, landed in a field in front of us. Soldiers ran out onto the road and stopped the car which Seamus Kerr was driving and which had posters pasted on the doors and loudspeakers on the roof. We were kept there for several hours and then let go. Our planning meetings were held in an old school hall on the Creggan Road in Carrickmore. Activists arriving and leaving were held at checkpoints, their documents removed and read for information.
Campaigning brought hundreds of people out of being passive observers and into activity. One indefatigable activist, fifteen-year-old Barry McElduff, skipped school in the run-up to polling day, and it appears to have done his education no harm!
The counting centres began opening the boxes at 9am on Thursday, 21st October. Ours was in Omagh. But because the first result to come in was for West Belfast where Gerry Adams topped the poll and exceeded the quota, how well Sinn Féin had done in its first election (10% of the vote) became the big media story, headlining on British national television and further afield. Martin McGuinness was also elected on the first count in Derry and Owen Carron on the first count in Fermanagh and South Tyrone. Also elected were Jim McAllister in Armagh and myself in Mid-Ulster.
I had to give up the editorship of An Phoblacht/Republican News which I loved, but I fell in love with the people of Tyrone and eventually ended up living with the Hursons and working there for the next four years until the Assembly (which we and the SDLP had correctly boycotted) collapsed.
It would be another sixteen years before the Good Friday Agreement was signed and the two main unionist parties agreed to share power with ALL representatives of the nationalist community.

Print This Post
So disquieted by 'The Book of Disquietude' by Fernando Pessoa to the extent that I couldn't finish it. You feel immoveable, that the story is leading you nowhere except into depression and perhaps even death!
Not sure where I first came upon his name but a few years ago I was in Portugal for a week's autumn holiday on the southern coast with some friends. I was determined to go to Lisbon which I hadn't seen since February 1980 when I was stuck there, alone, in a flea-ridden, backstreet hotel, with little money, during an air traffic controllers' strike.
But I had been smitten by the beauty of the old city which had suffered a major earthquake in 1755, an apocalyptic event which had killed about 30,000 people, literally shook the contemporary world and was written about by writers as diverse as John Wesley and by Voltaire in 'Candide'. In 1980 there was still a hint of the 1974 revolution in the air and there were many huge anti-imperialist murals on walls, but also a significant number of refugees from the former colonies of Mozambique and Angola living in encampments on the outskirts of the city.
I originally had it in my mind to search out and perhaps re-interview Otelo Saraiva de Carvalho, the left-wing Portuguese army officer who led the 1974 revolution which overthrew the dictator Salazar. I was enthralled by his account of the coup. He had told me that when he was in the colonies interrogating captured guerrillas he [and young officers like him] realised that the guerrillas were right and he was wrong! I searched the internet for current information on him and was disappointed to read that he had apparently turned to business and was now a small arms trader. So I didn't pursue it.
At 5.25am I left my snoring friends in the apartment and walked down the dark street into town to the railway station. The air was briny and chilly and the streets were deserted. Outside a shop lay a strange lump of a mongrel, but as I neared I realized it was actually a big brown dog with a much smaller black companion curled up beside it, each comforting the other.
As I crossed the wide Avenida dos Descobrimento, solely and completely in possession of the street as far as the eye could see, I had a feeling of déjà vu, of standing on the Falls Road in the early hours of the morning, shortly after the barricades went up in August 1969, when the road was completely empty of traffic and when to be in possession of the road felt eerie yet exhilarating.
I decided to buy a single ticket at 21 Euros so as not to be tied to a time for returning. I was the only customer and was first on the train, though I was joined by other passengers before the 6.11 departed for Tunes, an hour down the track and where I had to transfer.
When we arrived there it was light but even colder than before. At the station there were no time-tables, no station master, no platform numbers – almost like the helpful directions we give tourists in Ireland! At one point, a young woman, who had the appearance of poverty, jumped off the platform opposite, where there was a small café. She carried a baby in one arm and an infant aged about two held on to her right hand as they stepped across the stones and humming steel tracks. Using her knee as a fulcrum she raised the infant and tossed him onto our platform, then sat the baby down, before herself climbing up. Then she shouted across to the café, presumably that the train was coming. A man her age, in thin track bottoms, then crossed the exact same way she had with the children except that he carried two paper cups of coffee. I was panicking but none of this took a puff out of the thirty or so passengers on the platform, some of whom had a variety of luggage, destination presumably Lisbon which was confirmed when I found someone who spoke English.
 I made my way to Cemitério Inglês (the English Cemetery), hoping to visit the grave of Henry Fielding, author of that comic epic 'The History of Tom Jones'. I got there at ten past one but the cemetery had closed at one o'clock and although I could see life inside through a gap in the gate and pressed the bell no one came to the front to let me in, even for just a few minutes. Fielding had come to Portugal in search of a cure for gout and asthma but died within two months.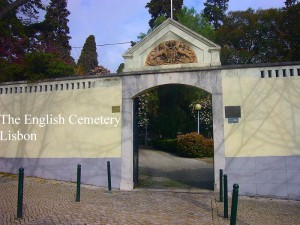 From there I went to the Jeronimos Monastery, which in one incarnation or another has been on the site since 1459 and survived largely unscathed the 1755 earthquake. Here are the tombs of the famous explorer Vasco da Gama [whom we learnt about in school] and the sixteenth century lyrical poet Luís Vaz de Camões. And here also is where in 1988 the remains of 47-year-old Fernando Pessoa, who died in 1935, were reinterred. His work went unrecognised until after his death and now he is considered a great poet 'whose part in modernism gave Portuguese literature cachet elsewhere in Europe'.
Serendipitously, just a few weeks after my holiday, I was at a book sale in the Cathedral Arts Quarter, came across 'The Book of Disquietude', which, of course, I bought, to savour another day. But boy did it prove to be a difficult and depressing, overly-melancholic read, though this imagery isn't bad: "Whenever I see a dead man, death seems to me a departure. The cadaver looks to me like a suit which was left behind. Someone went away and didn't need to take the one and only outfit he'd worn."
He also approvingly quotes himself (who wrote under the name of a poet called Alberto Caeiro), again, with an interesting idea: "24 March 1930. I passively re-read – receiving what I feel like an inspiration and liberation – those simple lines by Caeiro that naturally result from the smallness of his village. Since it is small, he says, one can see more the world than in a city, and therefore the village is larger than a city…
Because I am the size of what I see
And not the size of my stature.
Yes, Pessoa is the prose master of tedium – though someday I shall attempt his poetry!