Print This Post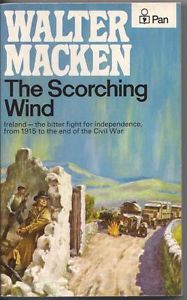 Recently, An Phoblacht published a feature by Robert Allen about the writer Walter Macken who died in 1967 at the age of fifty-one, who has been described by the Connaught Tribune as "Galway's neglected genius of literature," and the centenary of whose birth takes place this May.
Danny Morrison remembers in his teens discovering with excitement Macken's trilogy – Seek The Fair Land (1959), The Silent People (1962) and The Scorching Wind (1964) – a literature which presented and dealt empathetically with earlier periods in the struggle for Irish freedom: namely, Cromwell's invasion of Ireland; the Famine of the 1840s; and the Easter Rising and subsequent Tan War and Civil War.
Macken told his wife Peggy that his objective was to write the history of his people from the point of view of the ordinary man. "Before I die I want to do the history of our own people from the viewpoint of the little man, not all the big shots and the people who have done 100 things or anything like that."
The publication of the trilogy was preceded by Macken's earlier novels, Rain On The Wind and Bogman, and succeeded by his later works, Quench The Moon and Brown Lord Of The Mountain. Fifteen years ago when those four books were re-issued by Brandon, Danny Morrison re-read the novels and wrote this assessment of Walter Macken's writing which he has enlarged upon for this An Phoblacht feature.
Loyal Provincialist
"It's a strange thing," says a character in The Bogman, "that nothing is more boring than eternal fertility."
That sentiment, and a dislike for everything east of Galway City, are common themes running through four re-issued novels of Walter Macken, all of which are set in the bleak and rugged landscapes of Connemara, its interiors and shorelines.
When people hear the word 'Connemara', according to Stephen O'Riordan's dying mother in Quench The Moon, "they immediately think of wild animals and pagans." But, she argues, being uncorrupted by civilisation means "the Connemara people are still living. Everything they do is dramatic. When they love, they love unashamedly and tempestuously and in a healthy manner. When they fight, they fight with ferocity… Their whole life is a fight against something."
But if Stephen wants to become a writer, she tells him, then he must leave, he must see the world.
(In real life Macken believed that a writer should not leave his own country, much like the Russian poet Nikolay Gumilyov who wrote, "A great poet always shares the fate of his nation, regardless of what political programme he supports.")
Donn Donnshléibhe, on the other hand, is drawn back to the Mountain sixteen years after having walked out on his pregnant wife in 1939, hours after marrying. He has roamed the world, and fought in wars.
Donn, a powerful personality, belatedly realises that he belongs to this society and is the moving force behind bringing the people electricity, mains water, farming equipment, entertainment, and confronting the church along the way. However, he becomes disillusioned and blames the entire community when his retarded daughter, a beautiful, simple girl, is raped by a thankless youth whom he befriended and discouraged from emigrating by giving him a loan for a tractor. He becomes a slave of his own determination to exact revenge and darkens the skies over the Mountain. But, ultimately, it is the people who intervene and stop him from killing the culprit – and although grateful, Donn feels that he must leave once more.
Macken (1915-1967) often appears restless with this characters, as if he cannot decide whether his creations can survive happily in Connemara. Certainly, the more sophisticated, like Cahal Kinsella, the eponymous bogman, has to flee the mob with his maimed girlfriend, Marie Brodel, having satirised their narrow parochial ways in his songs as a release from his claustrophobic, loveless, arranged marriage to a woman twice his age. And Stephen O'Riordan, writer manqué, comes back to Killaduff to collect his bride only to discover that she had been drowned by her brother whom he then murders, before being knifed himself and left for dead by two other vengeful brothers.
Macken, however, is no Zola and these novels are no Irish equivalents of Earth or Germinal. The violence is sanitised; sex implied.
The later work, Brown Lord Of The Mountain (which with The Bogman is the most accomplished) was published in 1967, just before Macken's death at fifty-one. It is consummately drawn, free of the quaintness and maudlinism of Quench The Moon (banned in 1948 because it describes a pregnancy outside of marriage!), which is also marred by the begorra-ism of an occasional, extremely irritating, narrative voice which slips in and out of the vernacular like Darby O'Gill on poitín.
Macken was a loyal provincialist and probably his critical reputation suffered for it. As an author, he would never be mentioned with the same reverence as Peadar O'Donnell (Donegal) or Patrick Kavanagh (Monaghan), his contemporaries who were readily admitted to the literary Pale, though he was a credited dramatist. He wrote several plays in Irish and was, for a time, a prominent actor in the Abbey Theatre (and also played a leading role in the film, The Quare Fellow). His novels were received well in America, but he is survived more by his historical trilogy, comprising Seek The Fair Land, The Silent People and The Scorching Wind, than by his other novels and plays.
The trilogy, despite the last volume's portentous ending in tragic fratricide, is commonly taken as eulogising the cause of Irish nationalism. Certainly, it was tacitly appropriated, post-1969, into the republican canon as a populist text reflecting continuity of struggle against the traditional outside enemy. I remember buying several copies of each and passing them around my friends who devoured them, such were we in the North starved of anything literary that spoke to our political stirrings. In the early 1970s, there wasn't a Long Kesh hut without those books – The Scorching Wind probably being the most popular.
Seán O Faoláin has observed that "there was hardly an Irish writer who was not on the side of the movement for political independence", but that "immediately it was achieved they became critical of the nation." A variation, I suppose, on Adorno's "quintessential intellectual, hating all systems, on our side or theirs, with equal distaste".
I can understand the temptation though I've never been entirely convinced that it isn't a contrived stance, this utter 'independence'. To be critical for the sake of being critical. Artists are often notoriously pompous asses. How they suffer!
Many of Macken's characters belong to isolated communities which are alienated from the centre. Veterans of the independence war complain about being sold out socially and economically, but also that 'the common man' is a victim of the establishment. Their children still have to emigrate. A medical student who comes to the city notes that louts, ignoramuses and oppressors lead the country. All politicians are swindlers and thieves.
But up here the guards' writ does not run. Macken doesn't seem able to make up his mind about the 'primitive ways of protection' (summary justice) which, although demotic, is open to the abuse of being yet another 'system'. And his characters agonise over the loss of the old ways, the old values.
Eventually, he comes down on the side of restraint; on the side of progress and modernisation. That things are changing and can change for the better: slate replacing thatch; artificial fertiliser in place of seaweed. "Someday what I'm going to do concerns Connemara," pledges Stephen, promising to merge art and life.
Macken is also a romantic and inevitably comes down on the side of love.
Mico the fisherman, in Rain On The Wind, decides not to kill himself, not to sink his boat and deprive his family of a livelihood, and turns to the shore to find beckoning him the girl he thought didn't love him, along with his friends and family. But Cahal Kinsella embraces exile because it means a fresh start for him and Máire.
Donn Donnshleibhe can see no solution for himself but exile, only to discover his forgiving wife, whom he thought had rejected him, is pregnant and has the solution in her suggestion that they live at the bottom of the Mountain for a change. He then realises that he came back to Ireland, to Connaught, for love: "It is the only thing left to believe in, the tie between two people."
Macken's storytelling is old-fashioned to our modern ear, but that is a minor complaint. Perhaps the thatch is gone for good, but when we read a Keane or the McCabes we find that out there in the sticks is the same bitchiness and ugliness and milk of human kindness that land and the wilds universally evoke in human nature.

Print This Post
Today on The Nolan Show on BBC Radio Ulster, one of the SDLP's leaders, Alex Attwood, was asked who was standing for the party in Fermanagh & South Tyrone in the May general election. Alex said the party had yet to decide. In fact, the SDLP convention took place in January, so much for Alex's knowledge of his own party! They chose a relatively unknown councillor, John Coyle.
Currently, there is a lot of debate around election pacts after the DUP and UUP announced that they had agreed a pact for four constituencies: East Belfast (DUP), North Belfast (DUP), Fermanagh & South Tyrone (UUP) and Newry & Armagh (UUP).
Alex Attwood is hyping up their chances of taking Newry & Armagh from Sinn Féin because high-profile Conor Murphy is not standing and has been replaced by sitting MLA Mickey Brady who probably has one of the best records for constituency work in the North.
Let's remind ourselves of Alex's history of hyping!
And, thank you, Alex for giving me the excuse I have been looking for to re-publish a feature I wrote in 2001 about your strategy of getting Bríd Rogers (whose name, I confess, you did know) elected to West Tyrone! Here it is:
HAVING BEEN MOVED to tears by Commander Alex Attwood's despatches about the war crimes against his people in West Tyrone, your intrepid reporter has risked his life, crossed the Strule River under cover of darkness, and broke through the lines of the Sinn Féin besiegers, to report at first hand the massacres taking place in this most distressful county.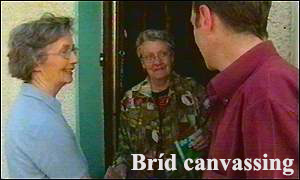 Unknown to the outside world, and to BBC and UTV, food is still getting through, though I did see some demoralised troopers balk at the prospect of having to eat their hats in the grim days ahead. Ordinary people appear oblivious to the siege and go about their everyday lives, working, eating, drinking, golfing, fishing, completing crosswords. However, from David Sharrock of the Daily Telegraph a disturbing despatch is emerging of serious war crimes in the smouldering village of Greencastle. It appears that twice in the space of one hour, Commander Attwood's lieutenant, Bríd Rogers, was twice insulted and called bad names by a man who was home from England for a holiday and had had a few drinks.
ON A MORE serious note, has the SDLP completely lost the run of itself? I strongly suspect that it was Alex Attwood who came up with the silly idea of describing the battle for West Tyrone in the general election as the SDLP's 'Stalingrad'. In history the 1942 siege of Stalingrad simplistically represents the forces of good (the starving citizens of that city and its outnumbered Soviet Army defenders) seeing off the forces of evil (Hitler's armies) and reversing the tide of WWII. But a little bit of history, like knowledge, can be a big bit dangerous. At Stalingrad Hitler was humiliated and found himself out-manoeuvred by the unexpectedly talented young Soviet commander Zhukov, whom Alex is trying to emulate.
By describing the battle in West Tyrone as its Stalingrad the SDLP is putting all its eggs in one basket, so to speak. I believe Pat Doherty (Sinn Féin) is going to win and when he does the SDLP will then have conceded in one fell sweep that Sinn Féin has effectively won the battle for the hearts and minds of northern nationalists. No political party should ever allow its future to be decided in one constituency. The use of the Stalingrad analogy/metaphor smacks of desperation and an attempt to galvanise otherwise despondent party workers and supporters.
Having been up this week in West Tyrone, which is one half of the former Mid-Ulster constituency to which I was once elected, I have a number of observations to make. Firstly, Sinn Féin was significantly ahead of the SDLP in the 1997 local elections (32% to the SDLP's 23%) and the 1998 Assembly election (34% to the SDLP's 26%). In the most recent by-election last year Sinn Féin dramatically trounced the SDLP.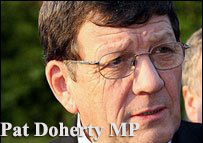 Secondly, it was generally accepted that in this election Pat Doherty would massively outpoll Joe Byrne of the SDLP and take the seat from Willie Thompson. The SDLP, as it was entitled to do, pushed Byrne aside and replaced him with the high profile Bríd Rogers, with no real hope of her succeeding but with the intention, I believe, of stopping Doherty.
I say this with good reason because if the SDLP really believed they were going to beat Sinn Féin then you would have expected them to match their anticipated high poll and put up a large number of candidates for the council elections which also take place on June 7th. Instead, the SDLP in West Tyrone are putting up just twelve candidates (two less than before) to Sinn Féin's twenty candidates (seven more than before). If anyone can explain to me how this represents a sign of confidence I will eat Alex Attwood's baseball hat whilst it's on his head and he's running a marathon.
People aren't stupid and it is for this reason that Bríd Rogers' intervention, being parachuted in from Upper Bann which she represents in the Assembly, is generally seen as a spoiling exercise against Pat Doherty, who has been actively representing West Tyrone for over four years. The hysterical reaction of the SDLP to the cut-and-thrust of the election campaign, where insults are traded on the street and people on doorsteps tear your literature up, is nothing more than a headline-grabbing attempt at garnering sympathy.
A Sinn Féin election worker in North Antrim has been threatened by the LVF and has had his car burned; a Sinn Féin candidate in Newtownabbey has been threatened by loyalists with hatchets; a Sinn Féin candidate in South Antrim has recently received two death threats (having had his home shot-up twice in recent months) and yet none of these incidents received the type of television coverage that Bríd Rogers' encounter with a drunk man in Greencastle received. A big part of the SDLP's election personnel is in the newsrooms of distant Belfast, London and Dublin.
At the end of the day, the republicans are still seen, especially by the media, as the threat, those most determined to challenge and change the status quo. Who really believes the ridiculous Belfast Telegraph poll on voters' intentions? This week the Financial Times stated that a private poll by the NIO indicated that Pat Doherty was ahead in West Tyrone, but that too is irrelevant. Polls are manipulated and abused, and are as accurate as gossip, though I don't believe they should be banned.
Finally, next week's two elections are extremely important to our future and to the negotiations that will take place in the weeks ahead. If you have a vote, use it. Nationalist people marched and were battered into the ground demanding the right to vote. And they came up again and again.
This Thursday unionist domination of Belfast City Council can come to an end through the ballot box. This Thursday can represent another step on the road to freedom.
FOOTNOTE: Bríd came third, 6,000 votes behind Pat Doherty

Print This Post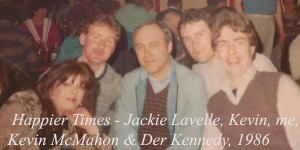 Around about this time in 1988 I was in Milltown Cemetery with several thousand people at the funerals of Dan McCann, Sean Savage and Mairead Farrell, IRA Volunteers who had been killed by the SAS in Gibraltar ten days earlier.
Given the large number of relatives at the graveside, I didn't go into the Republican Plot but stood at the hearses with the journalist Mary Holland and veteran republican Richard Behal. I had seen and spoken to my friend Kevin Brady earlier, around midnight, when we were waiting at Kennedy Way for the arrival of the bodies from Dublin airport but the cortege had been hijacked on the M1 motorway by the RUC who forced the drivers of the hearses to follow them and take the coffins directly to the homes of the three Volunteers and deny us paying our respects.
On the morning of March 16th, to our pleasant surprise, the RUC and the British army were nowhere to be seen. They had completely withdrawn. It seemed as if they had now ended their five-year-old policy of attacking IRA funerals and had pulled back to allow us to bury our dead in peace and with dignity.
As the coffins were lowered into the ground and Gerry Adams was just about to begin his oration, the first hand grenade exploded not far from the hearses. We immediately dived to the ground and debris and soil flew through the air. There was another explosion and pandemonium broke out. Initially, I thought we were coming under mortar fire but then there was the sound of low velocity gunshots. I stood up and could see a crowd of young people chasing someone who was heading in the direction of the M1. Alan Rusbridger, later editor of The Guardian, would write how a man told him to keep his head down before he leaped over the headstone Rusbridger was hiding behind, and began pursuing the attacker.
That man was Martin McGuinness.
People were screaming, the wounded were lying all around. A St John's ambulance, I think, was at hand and were administering medical help to those injured.
An angry crowd had caught a man who they thought was with the gunman who was now escaping. I ran over and could see that he was a journalist and told them to let him go, that I knew him. I am not sure – but I think he might have been Noel Dornan who went on to become the editor of the Irish News but was then working for the Belfast Telegraph.
There were a couple of other explosions down on the Bog Meadows and more gunshots.
A few hours later I received a call from Flair Campbell who had gone to the morgue with Brid Wiggins and he told me that Brid (Kevin's sister) and he had just identified one of the three people killed as Kevin, Kevin Brady, who had been mortally wounded when he challenged Michael Stone during the attack.

Print This Post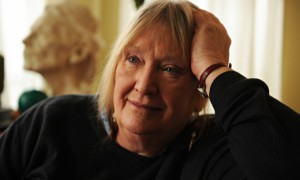 Last Sunday the news of Pam Brighton's sudden death spread quickly throughout the West Belfast community where she had made her home the past twenty years or more. In fact, I received a text from the Basque Country telling me the sad news just before I was phoned by a friend in the city.
Yesterday, I was honoured to chair the service for Pam which took place in Roselawn, and to introduce as speakers her friends, Maura Brown, Brenda Murphy and Bridie McMahon, whom Pam had mentored in Dubblejoint and Justus Theatre Companies, and who hilariously regaled her life and their adventures together.
Pam, who was sixty-eight, was born in Bradford but was always 'really' from Belfast and in particular West Belfast. She had one child, Ned, who also came to Ireland and made it his home. Ned married Jeanette Keenan, daughter of the IRA veteran, the late Brian Keenan, and they have two children, Oisin and Dearbhla.
Pam was a woman whose life was lived to the full and who covered an extraordinary range – from lawyer (in human rights veteran Mike Mansfield's practice) to actress, theatre director and writer, directing in her early days the agitprop theatre group 7:84; with the Half-Moon Theatre where she worked with Shane Connaughton and Peter Sheridan; to her work with Charabanc in the 1980s, producing raw, honest and hilarious theatre, along with Marie Jones, Ian McElhinney, Andrew Hinds and Peter Sheridan.
Theatre that dealt with the lives of 'insignificant' people, as Fintan O'Toole put it – "women who are supposed to have no place in history other than as extras for the crowd scenes".
The excitement that surrounded the setting up of Dubblejoint with Marie Jones and Mark Lambert in 1991 cannot be overstated. Pam was totally committed to making theatre accessible and relevant to working-class communities. She discovered new talent and encouraged people not only to write their own stories but to tell those stories in their own voices. She touched so many lives and covered so many themes and subjects from the local (Just A Prisoner's Wife, Binlids, A Working Class Hero, The Ballymurphy Massacre) to the international (the late Brian Campbell's Voyage of No Return which explored colonial and sexual exploitation on the island of Montserrat), to Marie Jones' reworking of Gogol's subversive social comedy The Government Inspector.
She premiered many productions in West Belfast, including Someone Who'll Watch Over Me, and, in collaboration with Marie produced a formidable body of work such as the astonishing, cathartic journey about one man's liberation from sectarianism, A Night In November, and the brilliant Stones In Their Pockets, inspired by a Shane Connaughton story.
I first saw Pam when she was in her early 20s, many, many years before I met her in her late 30s. I had been a fan since the 1960s of filmmaker Ken Loach, famous for Cathy Come Home and Kes, and loved his 1975 film, Days of Hope, about the British working class and the rise of Labour.
In that film Pam acts the part of Sarah whose pacifist, Christian socialist, husband Philip is a conscientious objector, who is arrested and condemned to death. Pam is young, vivacious, loyal, and (no surprise) supportive of resistance and revolution! If memory serves me well, I think that there is also a scene where she cradles an infant in her arms – her real life son, Ned Cohen, who decades later makes his home in Ireland.
So, now here was Pam Brighton, visiting me in Crumlin Road Jail, telling me that she was working for the BBC and had proposed to the BBC that they adapt my first novel, West Belfast into a four-part radio drama. Most of the visit, actually, was about prison conditions and how we were doing. It was about politics, about Ireland, England, what I thought of the Middle East, Nicaragua, the recent release of Nelson Mandela in South Africa, my position on arts and culture and capitalism! She was relentless!
Even after I was sentenced and convicted, and West Belfast couldn't find a writer to adapt it, Pam still stuck her neck out for me. She kept writing to me in jail. At her behest, I wrote a short story called We Got Tonite, based in an unnamed city, where there was no conflict, no IRA or RUC. It was about infidelity in a marriage, the breakdown of that relationship, and a subsequent reconciliation. The BBC recorded it – either with Stephen Rea or Dan Gordon doing the voice-over. But the BBC banned it! Not Thatcher. But the BBC. Pam was incandescent.
When I came out of jail I rejoined the management of Féile an Phobail where Pam was also on the board.
In 2000 she produced another former prisoner Brian Campbell's play Des, about the revered Father Des Wilson. In typical Pam style she said, "The play skipped the reverence, and gave us the man."
The work that emerged from Dubblejoint, the talent it facilitated, the new actors it produced, the offshoot companies like Justus it inspired, the communities it uplifted, the people who acted in them, wrote for them, designed backdrops and costumes, did lighting and sound – from Brian Campbell, Laurence McKeown, Brenda Murphy, Gary Mitchell, Brian 'Cormac' Moore, Tony Devlin, Donna McGarry, 'Cruncher' O'Neill, Danny Devenney, Marty Lyons – to name but a few, are part of Pam Brighton's enduring legacy.
One of Pam's closest friends, Maura Brown, remembers her fondness for animals: "She had two dogs, Maddy and Chucky, two of the worst behaved dogs I've ever seen but she loved them and insisted on taking them everywhere! I was with her last Saturday. Hard to believe that only a week later we are at her funeral."
Another friend, the playwright Brenda Murphy, was at the hospital when Pam, who had beaten cancer after a long illness, died of a heart attack.
"Last Sunday afternoon Maura Brown, Nuala Quiery and myself were standing at the door of the Mater Hospital crying one moment, laughing the next. Our friend Pam had just died. The fabulous, talented, clever, intellectual Pam Brighton. Pam would often drive me up the wall in rehearsals. I would fight and argue the bit out with her. But I knew she was special. She made my career as a playwright. She made me laugh and she was outrageous. I will miss Pam the rest of my life, it was a privilege to know her. I will never meet her like again."
Former prisoner-turned-writer Laurence McKeown collaborated with Pam on many of his and Brian Campbell's plays, including The Laughter of Our Children (about the 1981 hunger strike). "She lived her life according to her personal politics and put integrity before money — to her cost, financially, but not in terms of the friends she ultimately made and who will remember her for her courage and conviction."
Tony Devlin from Brassneck Theatre Company recalls, the "professional, thought-provoking, exciting, moving, inspiring, challenging, and ultimately entertaining theatre my friend Pam brought to West Belfast."
Pam could not only be infuriating, she could be mustard, as they say in Belfast! There isn't a person she worked with whom she didn't fall out with or argue with – and yet the service was packed with old friends who had travelled many, many hours and long distances, including her first husband Phil, father of Ned. The large presence was testimony to the affection and respect in which she was held, for her life's work and the commitment she had to the oppressed, the alienated and disaffected.

Print This Post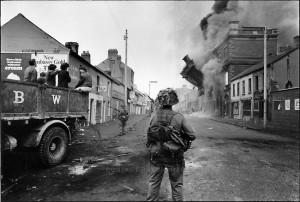 West Belfast was reviewed last week by Anthony Neeson in the Andersonstown News. Here it is:
IT'S not often that I read a book twice. Twenty-five years ago Danny Morrison's first novel West Belfast was published, but it's been out of print for several years and as a result Danny has decided to re-release it.
That, however, meant editing the book and it was during this process that he says he became "embarrassed" with some of the language. Several thousands words lighter and West Belfast is a much pacier read this time round.
The same story is there, and for those who didn't read it the first time round or who have no idea how people who are weighed down with the everyday routines of life find themselves slipping towards what would turn out to be a quarter of a century of conflict – without them even knowing it – this is well worth the read. However, if like me you read it the first time round, it is also worth revisiting. Hence my second read.
It's 1963 and the O'Neill family are a typical family on the Falls. Mother's up in the morning before anyone else getting the fire ready, da's preocuppied with work, or the lack of it. The innocence of the young children is matched only by the loss of innocence of the older boy, John. It's unsettling watching them struggle with their daily lives – their little victories and defeats – when we know what awaits them and their neighbours just around the corner as 1969 looms. But yet even during these days of familiar family life an undercurrent of political change is bubbling away in the background with the Divis Street riots, UVF murder and the rabble- rousing of a new firebrand preacher, Ian Paisley.
The book covers a ten- year period up until 1973, and goes a long way to explain how ordinary men and women through events and their own experiences suddenly find themselves at the heart of a conflict. Danny brings those lives and events to life with the familiarity of someone who has lived them and known them.
And the book doesn't over sentimentalise the IRA. With a British soldier in his cross-hairs we are let into the eternal thoughts of one volunteer:
"Already I can hear the familiar sermon echoing all the comparisons and lecturing me, the killer. I can see those comparisons myself right down to our mutual likes and dislikes in food, Granny Smith's apples, flowing butter on warm white bread, plenty of salt and vinegar on the fish and chips."
Countless history books have been written about the Troubles and the majority of them are tired with clichés and are instantly put-downable. As a novel, however, West Belfast does more to capture the history of this part of the city during its recent and most turbulent period.
– published 29th January, 2015

Print This Post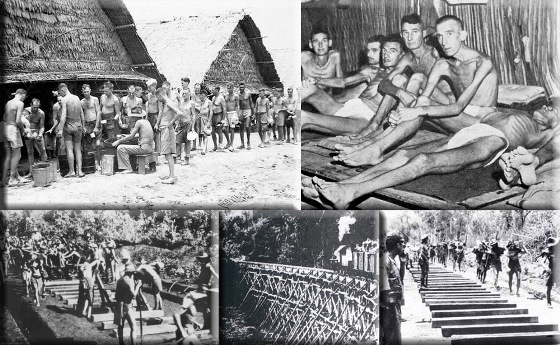 I reviewed Richard Flanagan's novel The Sound Of One Hand Clapping for The Examiner in 1998 and didn't like it. So, eagerly because of all the praise it had received, but with some reservations, I plunged into The Narrow Road To The Deep South.
I still have problems with Flanagan's style, use of time and point of view and was glad I read the novel which won the Man Booker Prize, 2014. But I found myself in agreement with many of the criticisms made in a devastating review in the London Review of Books by Michael Hofman.
The main character is an Australian military surgeon, Dorrigo Evans, who is captured in South East Asia during WWII, becomes a POW and along with thousands of others is brutally put to work on the Thailand-Burma Death Railway. The descriptions of the cruelty, the hunger, the cholera, the privations, the lice, the ticks, the ulcerated limbs and amputations and casual death, are harrowing. Even so, I found myself equally curious, and would have preferred more, about the fate of some of the Japanese officers post-war and their attempts to escape the war crimes commission.
One of those who is caught, a Korean collaborator who maltreated the prisoners, is sentenced to death as a Class B war criminal. However, it doesn't escape his notice that "the Allied victors often seemed to free officers who had links with the Japanese nobility and let others more lowly, like themselves, be the scapegoats whom they hanged… Why did the Americans support the Emperor but hang them, who had only ever been the Emperor's tools?"
The title of the book is based on a seventeenth century haibun (a mix of prose and haiku) by Japanese poet by Matsuo Basho, Oku no Hosomichi, which translates as The Narrow Road to the Deep North.
Evans recalls a brief love affair he had with Amy the young wife of his uncle, the memory of which helps sustain him through his ordeals and outlasts his imprisonment and insufferable marriage.
There were some passages I thought very well written.
This one is Evans' observation about the relationship between Amy and his uncle: "She glanced at her husband, a look in which Dorrigo glimpsed a complex mud of intimacies normally invisible to the world – the shared sleep, scents, sounds, the habits endearing and frustrating, the pleasures and sadnesses, small and large – the plain mortar that finally renders two as one."
Evans' thoughts on violence reminded me of a passage from my own novel, Rudi, on the same subject.
Flanagan writes: "For an instant he thought he grasped the truth of a terrifying world in which one could not escape horror, in which violence was eternal, the great and only verity, greater than the civilisations it created, greater than any god man worshipped, for it was he only true god. It was as if man existed only to transmit violence to ensure its domain is eternal. For the world did not change, this violence had always existed and would never be eradicated, men would die under the boot and fists and horror of other men until the end of time, and all human history was a history of violence."
I wrote: "His [Rudi's] father had said that all wars were mostly dirty affairs and only a minority of combatants ever acquitted themselves with honour or distinguished themselves with their bravery… His father had always insisted that there was nothing intellectual about warfare. Lyrical words, editorials, orations, sermons, could never sanitise it…
"What annoyed Rudi was that the armed man throughout history was seen as charismatic and seductive… [And] he regretted how warfare, above the influence of culture, fundamentally shaped the history of humanity and would continue to define the world."

Print This Post
I was on a panel on Sunday with Alex Kane and Eamonn Phoenix. We were on Radio Ulster's Sunday Sequence, chaired by Audrey Carville, and were there to discuss the recently released state papers from London, Dublin and Belfast covering the period before and after the signing of the Anglo-Irish Agreement on 15th November, 1985.
Unfortunately, due to time constraints, each of us only got the chance of answering two questions and so a lot of the subjects weren't broached. But here are some observations from the papers.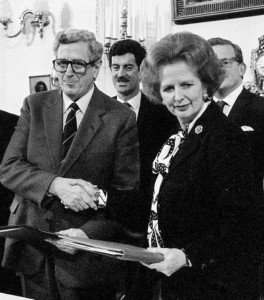 In November 1984 at Chequers Thatcher had infamously rejected the New Ireland Forum proposals of the Dublin government/SDLP with her 'out, out, out' remarks. However, after that, senior civil servants and some diplomats on either side got down to work, discretely, with the British Foreign Office being the most (relatively) sympathetic to Dublin's needs. Garret Fitzgerald said that Thatcher's rejection had "left the SDLP in a state of shock" and claimed that her words had been "the biggest boost to the IRA he could ever remember."
The talks were in private, in confidence, and the exploratory papers were not initially circulated within the NIO because the British anticipated its fury.
Throughout the Troubles the NIO wielded a disproportionate and malign influence on British decision-making (which can be seen at the time of the hunger strike). Even under Direct Rule, unionists, for all their complaining, had their fellowmen in senior positions within the NIO and civil servants who regularly leaked to them.
In return for the South being consulted about the North the British wanted increased cross-border security cooperation, wanted Dublin to sign up to the European extradition treaty and to amend the moot territorial claim of Articles 2 & 3 of the Irish constitution.
Interestingly, Britain was already receiving top intelligence from the Southern security forces, despite Dublin being accused of holding back and of using security as a bargaining chip.
In one paper Britain's security coordinator says that Special Branch and MI5 had "excellent relations" with Garda Intelligence and Security Branch, and "benefit from a degree of co-operation and from a flow of intelligence which we believe to be at a greater level than is suspected by at least some Irish ministers."
The other reality was, of course, that the South was paying more per capita towards cross-border security costs than was the British exchequer.
Thatcher continually complains about 'the Irish' wanting to interfere in Britain's internal affairs, then, in despair at the seemingly intractable nature of the conflict, she fleetingly considers whether a possible answer "might not simply be a redrawing of boundaries", that is, repartition, and handing some parts of the North to the South! Of course, she isn't the only one disconnected.
The stance of the Southern government is pathetic. Fitzgerald begs that all they want  are 'minimal steps to protect the minority' and that the SDLP must be saved from the electoral rise of Sinn Féin. He suggests that the authorities should knock down Divis Flats, because conditions there only breed support for Sinn Féin and the IRA, without seemingly realising that Sinn Féin and its supporters were for years involved in the Demolish Divis Campaign! (Interestingly, in another telling remark, Cardinal Ó Fiach informs the Irish ambassador to the USA who is in the North on a fact-finding tour, that "in the Belfast area alone the Housing Executive were receiving approximately 140 enquiries a week from Sinn Féin to four from the SDLP."
Perhaps the most embarrassing statement is that from Foreign Affairs Minister Peter Barry who basically asks Englishman Douglas Hurd if he, Barry, could go for a drink on the Falls Road. Barry suggests that 'the most difficult nut to crack' was West Belfast. "It would be a good thing for an Irish minister like himself to be seen having a drink in a local club to demonstrate things had changed."
Douglas Hurd disagreed strongly.
The Agreement was vehemently opposed by unionists who picketed and violently attacked the Maryfield Secretariat, where Irish civil servants were based. Unionists resigned their Westminster seats and forced by-elections in January 1986 to show that 'Ulster Says No' to the Agreement. They held a Day of Action in March 1986 during which there was widespread intimidation of people attempting to go to work. The RUC failed to intervene and in one incident an RUC Landover was actually driven out of the way to allow a tractor and trailer to block the road to the Stormont estate. Not that this 'solidarity' ingratiated the police with loyalists: loyalists set about petrol-bombing or opening fire on RUC officers' homes. Over 500 homes were attacked in 1986 and 120 families needed rehousing.
One government paper says of Peter Robinson's position on the attacks; "He found it impossible to condemn them. 'Loyalist violence against the RUC was inevitable. Everybody must regret the turn of events, but the British Government looks on the RUC as being the instrument for imposing the Anglo-Eire Agreement,'" said Robinson. Another file recounts how, at the dissolution of the Assembly in June 1986, eighteen DUP members and the UUP's Jeffrey Donaldson and Frazer Agnew had refused to leave the chamber until, at the request of the Assembly clerk, the RUC "moved in to eject them" at 2am. Paisley and Robinson were the last to be carried out, with Paisley infamously telling the RUC men "not to come crying to me if your houses are burned".
In August 1986 Peter Robinson led a 150 strong group of loyalists, some carrying cudgels and dressed in paramilitary uniforms, in 'an invasion' of the village of Clontibret in County Monaghan. Robinson was arrested and later fined €17,500. His paying the fine led to him being derided as 'Peter Punt' by former DUP member George Seawright.
The hypocrisy of the British with regards to Seawright is revealed in the papers. Seawright had once said that Catholics who object to the singing of the British national anthem were "Fenian scum" who should be burned in an incinerator along with their priests. The British government refused to meet with elected representatives of Sinn Féin because of Sinn Féin's position on the IRA's armed struggle.
But here is how a Mr ND Ward from the Northern Ireland Office squared that it was right to meet Seawright but not a member of Sinn Féin!
"Mr Seawright is a maverick and, some would say, a nutcase, but he is not a subversive in the Sinn Féin sense and to treat him on a par with Sinn Féin and refuse to see him as part of a delegation might only seem to enhance his standing in some quarters."
Despite Dublin allegedly having a consultative role in the North its influence could not protect the nationalist community along the Garvaghy Road in Portadown. On 12th July 1986 the RUC forced an Orange Order march through the nationalist area, batoning protestors off the streets, and sparking several days of rioting. Ultimately, it was the steadfastness and resistance of the people there which stopped that sectarian coat-trailing exercise and there has been no march on the Garvaghy Road since 1998.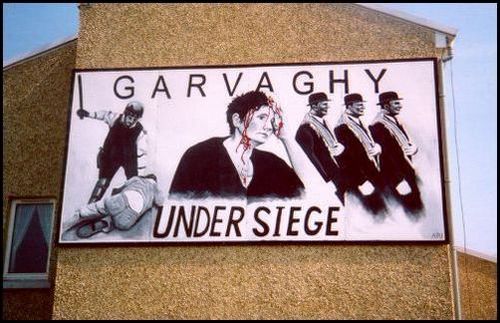 Print This Post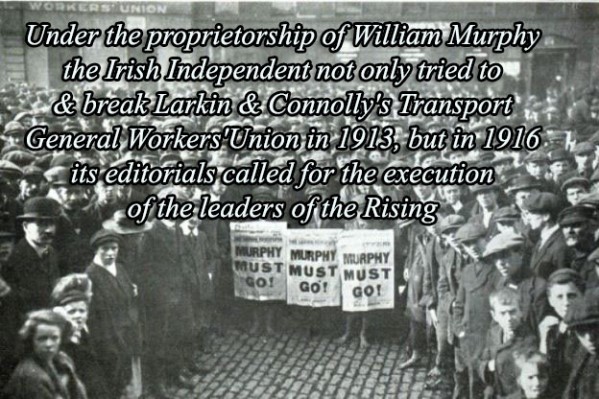 In the December edition of the Irish Political Review, historian Manus O'Riordan has written a brilliant analysis about Gerry Adams and Fine Gael with regards to Adams' joke abou the smashing of the Irish Independent by Collins' IRA in 1919.
The article is reproduced here, courtesy of the Irish Political Review and with the permission of Manus O'Riordan.

WHEN FINE GAEL LEADERS CHAMPIONED A SMASHING INDO ACTION
Does the November 10th denunciation by Irish Independent political correspondent Fionnán Sheehan of Sinn Féin President Gerry Adams – for his "it's the way he tells 'em" account of the IRA smashing of the Irish Independent printing machinery in December 1919 – also imply that Sheehan is nonetheless a "sneaking regarder" of that smashing Indo action? What other sense can be made of the following elements in Sheehan's line of reasoning:
"The IRA's failed attack on the Lord Lieutenant of Ireland, Lord French, took place at Ashtown in west Dublin, where Martin Savage was killed and Dan Breen wounded. After the incident, the Irish Independent published an editorial condemning those who took part in the attack. Action was taken as a warning to the proprietors of all newspapers 'that such unpatriotic comment at the height of the fight for freedom would not be tolerated'. A group of 30 IRA men raided the offices and smashed the print works with 'sledge hammers and crow bars and heavy wrenches' – aided by members who worked in the pressroom who knew what equipment to break to cause the most damage. During the raid, the editor was reputedly held at gunpoint by an unmasked Bill Judge while Paddy Kelly covered the rest of the staff… Gerry Adams has twisted this incident from the War of Independence into a veiled threat about holding a newspaper editor at gunpoint as he attacked this newspaper group over the coverage of Mairia Cahill's IRA sex abuse allegations. Adams justified his claim by attributing the action to Michael Collins –  even though Peadar Clancy and Michael Lynch are more often associated with the organisation of the printing press raid – as he joked to guests at his lavish $500-a-plate fundraiser in New York that he was 'not advocating that'. But he dropped the gag a day later when he wrote: 'And when the Irish Independent condemned his actions as 'murder most foul' what did Michael Collins do? He dispatched his men to the office of the Independent and held the editor at gun point as they dismantled the entire printing machinery and destroyed it.' … Collins was a wanted man by the British authorities and experts have pointed to the naivety of linking him to the incident. 'There's no way Michael Collins would have compromised the intelligence operation by being there in person', said Gerry O'Connell, Honorary Secretary of the Collins 22 Society… On a wider level, what's even more insidious is Adams's attempts to draw parallels between Collins's IRA and the action of the Provos during the Troubles. Adams attempts to rewrite history by ignoring the mandate of the overwhelming vote for the then Sinn Fein in the 1918 general election. (My emphasis; making the 1919 smashing of the Indo printing machinery all right, then, with Sheehan? – MO'R). Rewriting history, he attempts to portray the Provos as the direct descendents of the IRA of the War of Independence."
But perhaps it is as much a mistake to look for logic in Sheehan's historical essay as it is to look for integrity in his reporting of Adams's blog. Adams did not naively assume Collins's personal presence on the Indo raid, and perhaps it would have been grammatically clearer if he had inserted the word "they" before "held". It is, however, the Collins 22 Society itself that is being naïve in the extreme in not "linking him to the incident". Michael T Foy has related the following in respect of the personally hand-picked assassination Squad run by the IRA Director of Intelligence, Michael Collins:
"Although the Squad was still finding its feet, Collins wanted to strike a spectacular blow… Among the plans Collins considered was assassinating (Lord) French on the review stand at College Green during an Armistice Day march-past on 11 November 1919… (But Minister for Defence) Cathal Brugha had vetoed the operation because it endangered civilian bystanders… Finally on the morning of 19 December 1919, after a tip-off … that French's train would return just after midday from his Roscommon estate, fourteen men (from an augmented Collins Squad – MO'R) armed with revolvers and grenades cycled out to Ashtown railway station close to Phoenix Park." (Michael Collins's Intelligence War, 2006, pp 31-32).
As we know, the assassination attempt failed, Martin Savage was killed in action, and Dan Breen was wounded. Breen further related: "On the morning after the attack the Irish Independent published a leading article in which we were dubbed 'assassins'. The article was liberally interspersed with such terms as 'criminal folly', 'outrage', 'murder'. This was the very paper which depended on the support of the people who had voted for the establishment of the Irish Republic. It had not even the sense of decency to withhold the expression of its views until the inquest had been held and Martin Savage laid to rest. The other Dublin papers we did not mind. The Irish Times was openly a British organ; the Freeman's Journal was beneath the contempt of any decent Irishman. But we could not allow an avowedly Irish paper to insult our dead comrade. I was confined to bed and had no direct part in subsequent events. I heard that some of the boys favoured the shooting of the editor of the Independent. Another course was eventually adopted. It was decided to suppress the paper… Twenty or thirty of our men, under the leadership of Peadar Clancy, entered the building and held up the staff with revolvers. They informed the editor that his machinery was to be dismantled; they smashed the linotypes with sledges and left the place in such condition that it was hoped no edition could appear for some time. But with the assistance of the other Dublin printing workshops the Independent was able to appear next day. However, we had taught them a salutary lesson; somehow, we were glad that nobody was thrown out of work, because many of the staff were members of the Irish Republican Army. Never afterwards (during the War of Independence, that is – MO'R) did the Independent or any other Dublin newspaper refer to members of the IRA as murderers or assassins. In later days the Independent was of much service in exposing British atrocities, even though it never supported our fighting policy. The proprietors got £16,000 compensation for the raid." (My Fight for Irish Freedom, 1964 edition, pp 94-95).
An extreme partisan of Michael Collins like John A Pinkman was not, however, as liberal or as forgiving towards the Irish Independent as Dan Breen. Proud to be an officer in Collins's newly-established Free State Army, and no less proud of his own role in ensuring the death-in-action of Cathal Brugha at the outset of the Civil War, Pinkman was also proud of having been part of a Collins Squad team seeking out a non-combattant de Valera for assassination, only weeks before Collins's own death-in-action, and he further rejoiced at the Cosgrave Government's war crime execution of Erskine Childers. In his 1960s memoirs, Pinkman recalled the Free State Army's Civil War occupation of the Irish Independent premises: "On Thursday morning, 6 July 1922 … our small party of troops … was sent to occupy Independent House in Middle Abbey Street and protect it from being seized by anti-Treatyites. The staff of the Irish Independent clearly resented our presence and did everything they could to make our stay as uncomfortable as possible. They resented us not because we were soldiers or because they were sympathetic to the anti-Treatyites; they resented us simply because we were Irish troops. Today, most readers of the Irish Independent ('Ireland's most popular newspaper' – Pinkman's own interpolation) probably don't realize how reactionary and pro-British that newspaper once was. Under the proprietorship of William Murphy it not only tried to break Larkin's and Connolly's Transport and General Workers' Union in 1913, but in 1916 its editorials called for the execution of the leaders of the Rising!" (In the Legion of the Vanguard, 1998 edition, p 10).
This October 26th the Sunday Independent Pope-in-residence, John-Paul McCarthy, made the following ex cathedra pronouncement: "In his powerful memoir of the McCarthy-era in post-war America, Witness (1953), Whittaker Chambers insisted that communism could only be beaten via a process of implosion. 'The final conflict will be between the Communists and the ex-Communists.' This insight helps explain the crisis that is currently engulfing Gerry Adams. Mairia Cahill's allegations – that is to say, allegations that emanate from the core of republicanism – have probably done more damage to Sinn Fein than all the recent external critiques combined. There is something peculiarly Irish about this sequence of affirmation and negation that ex-communists like Chambers analysed. Michael Laffan's handsome new Royal Irish Academy book on WT Cosgrave suggests that in many ways our infant state owed its life to a group of men who tunnelled through the other side of their ancestral republicanism… Cosgrave notoriously instituted a policy that had been perfected by Trotsky, namely summary executions of prisoners. Our first cabinet was convinced that they were dealing with an enemy that was best understood as a cocktail of all the worst aspects of the post-Famine world… Cosgrave would become one of only a handful of Irish prime ministers who branded their names irrevocably on to the flesh of a big idea."
John-Paul's McCarthyite invocation of Cosgrave as another stick with which to beat Gerry Adams backfires on the Sunday and Irish Independent hysterical wave of indignation at Adams retelling the story of what happened to the Independent printing machinery in December 1919. The problem for the Indo is that Cosgrave regarded any Government of which he was a member as a lawful authority entitled to do whatever it liked, irrespective of whether one of his Governments was waging war to defend the Irish Republic or another was waging a second war to destroy it. The issue of the smashing of the Indo printing machinery came up during a Dáil Éireann debate on 27 April 1922 concerning the smashing of the printing machinery of the Freeman's Journal by IRA volunteers, following a vicious post-Treaty attack on de Valera in its issue of 5 January 1922, at a time when Dev still held office as President of the Dáil. The April Dáil debate took place in the interregnum limbo between Treaty and Civil War. The future Fianna Fáil Tánaiste Seán MacEntee objected to the Dáil paying a sum of £2,693 in compensation for the Freeman's Journal smashing action, describing it as hypocritical. The hat worn by Michael Collins in this debate was that of Minister for Finance. He confined himself to justifying the technicalities of the Freeman's Journal compensation, without making any reference at all to the Irish Independent action for which he had been responsible. He did not need to. It had been unequivocally justified by his confederates – WT Cosgrave, the Minister for Local Government, and Dick Mulcahy, the Treatyite Minister for Defence who had previously been IRA Chief-of-Staff during the War of Independence. The only TD to question the Indo action was the man who had been Minister for Defence during that War, the "diehard" Republican ant-Treatyite Cathal Brugha, as the following Dáil exchanges illustrate.
SEAN MOYLAN: I should like to know if the Irish Independent was compensated when the Irish Independent called Martin Savage a murderer and an assassin? Was Dáil Éireann the Government of the country in 1919?
MR. MULCAHY: As far as any action against the Independent is concerned, that was taken in order to save life purely and simply.
MISS MARY MACSWINEY: Explain!
MR. MULCAHY: There were members of the Independent staff who, it was very seriously considered, would lose their lives if something was not done to relieve the excitement and to relieve the anger of certain members of the Volunteers in Dublin City, if some kind of outlet had not been opened to them. The outlet that brought the smallest loss to the country was allowed in that instance.
MR. W.T. COSGRAVE: And allowed by the responsible authority in this country, which is a very different thing to unauthorised reprisals on the part of individuals or collections of individuals. There is no similarity whatever between the two cases except to those who do not wish to see. In one case you had responsible officers and soldiers of the Republic operating under the orders of a responsible authority and operating in the interests of the country… We all remember the expression of the ex-President when he said the authority of the Dáil is sovereign in the country…
CATHAL BRUGHA: I am not going to speak at all in connection with this attack on the Freeman. But the Minister for Local Government has very dogmatically stated that the attack made a couple of years ago on the Independent was done by a responsible authority. Before I say anything further, I would like to have the opinion of the present Minister for Defence on that statement of the Minister for Local Government.
MR. MULCAHY: That attack was allowed by responsible authorities.
CATHAL BRUGHA: That attack was not allowed by any responsible authority in this country. I did not allow it. I did not know anything about it until it was done. I do not like to give the proper name to the men who destroyed that property or made that attack without consulting the person in authority.
MR. MULCAHY: There were many, many acts done in the country on the authority of responsible officers who could not go to the Minister of Defence for authority and the Minister of Defence was not the only responsible authority in the army during the war. Every battalion, brigade, divisional and G.H.Q. officer had a certain responsibility, and stood up to that responsibility and in the carrying out of these responsibilities in different places during the war they had to undertake actions for which the Government itself never accepted responsibility.
CATHAL BRUGHA: We now see the conception of authority by some of those who have allowed an usurping Government to be set up.
MR. MULCAHY: These were responsible officers acting under the general authority given to them…
MR. HARRY BOLAND: The same authority as is alleged to have dealt with the Independent also dealt with the Freeman's Journal; that is the Executive of the Irish Republican Army.
MR. MULCAHY: That is not so.
It is pure hypocrisy on the part of Fine Gael to criticise Gerry Adams for recalling the smashing Indo action of December 1919, given that it was championed in the Dáil by two of that Party's honoured icons, the second and third leaders of Fine Gael, Cosgrave and Mulcahy. Second and third? Well the first leader of Fine Gael was the Fascist Eoin O'Duffy.
–       Manus O'Riordan

Print This Post
Today, the CIA torture report has been published. Forty-three years ago, in 1971, Irish nationalists and republicans were subjected to similar torture. Back then, the Irish government took Britain to the European Court. In the first phase of the inquiry, the European Commission found Britain guilty of torturing prisoners. This, of course, after much 'diplomacy' was later finessed into a European Court ruling that Britain had subjected a group of internees to 'inhuman and degrading' treatment only, because they didn't mean to torture the men and derived no pleasure from it!
Documents that were unearthed in 2014 showed that British government figures had lied to the European Court and that Britain had sanctioned torture and sanctioned the cover-up. Last week, the Irish government asked Europe to re-open the case in the light of these new revelations.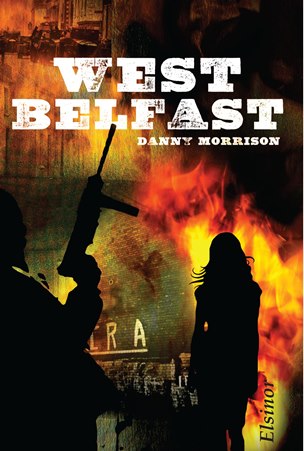 My novel, West Belfast, written 25 years ago and which is being re-issued in January, includes a chapter where one of the main characters, John O'Neill, is arrested and is one of the hooded men. It is fictional, of course, but before I wrote it I interviewed three of the hooded men to get a sense of what they experienced:
AUGUST 9th, 1971
Before John had time to recognise the crashing sounds, the noise of boots on the stairs and Sheila's and Monica's screaming, the paratroopers came in on top of him. They had sledge-hammered the front and back doors and had left their armoured cars on the main road to ensure surprise. Raymond was away in England and Jimmy was staying in his granny's house so there was no disputing who – Peter or John – was the 23-year-old.
"What's going on? What's going on?" demanded Peter.
"Never you mind, old man. John O'Neill, I'm arresting you under the Special Powers Act. Tie him up!"
Catherine was shaking, Monica and Sheila were crying.
"Leave him alone! Leave him alone!" his youngest sister protested but she was pushed aside.
His hands were tied behind his back and a rope put around his neck.
This was the price that had to be paid, John kept thinking, but cursed himself for being at home having chided the others who had fallen back into the habit of creature comforts. If only the house had been raided in July then I wouldn't be here now, he thought.
Peter ran out into the street and stuffed a packet of cigarettes into John's trouser pocket. But the escort wouldn't accept John's shoes and socks. Though it was still dark, people had gathered and were shouting abuse at the soldiers. There was a sudden, hushed silence when the noose around John's neck was tightened and he began choking.
"Get your bin lids out and start rattling!" shouted a neighbour, Peggy Carson. Another, Mrs Clarke, comforted Catherine. John was made to lie on the floor of the armoured car, soldiers' boots on top of him.
"What about Donnelly?" he heard an officer ask.
"We missed the bastard."
They arrived at Mulhouse Street Barracks. He was taken inside and roughed up. Radios were crackling, and Armoured Personnel Carriers were arriving and departing in a frantic commotion of shouting, cursing, and horns being blasted. The place tasted of fear. He was brought into what appeared to be an assembly hall where there were many other prisoners similarly bound. A soldier was appointed to each prisoner.
There was a loud explosion close by; probably a nail bomb, thought John. They had planned what to do when internment was introduced. As soon as the crowds came on to the streets the units would begin moving weapons out of dumps. They were to attack the soldiers and demonstrate that the IRA was still intact; but it was also part of the plan to move the struggle onto a new level.
The sun came up to reveal in the sky palls of black smoke rising from nationalist areas as the rioting spread. John was bundled out of the hall and placed on plank seating with others in the back of a canvas-covered lorry. Of the eight prisoners only John was an IRA Volunteer, while a few were supporters and the rest had a small local profile in street politics. The lorry drove out of the base and turned down the Grosvenor Road. Shooting from the Leeson Street area could now be heard. The soldiers fell quickly to the floor but jabbed the muzzles of their rifles into the prisoners forcing them to sit upright.
"Boys, this is Pocky Logan, Pocky Logan! Don't be shooting! Hold your fire!" shouted a prisoner sitting closest to the back flaps. John felt disgusted at the spinelessness and noted that the soldiers who had slapped them for asking questions or speaking earlier didn't interfere or interrupt Logan's screams.
At Girdwood Barracks John was thrown out of the lorry. There was a queue of silent prisoners waiting to go into a gymnasium. Many were badly injured, blood pouring from head-wounds. One complained that his fingers were broken and was struck with a baton across the shoulder blades. There was an old man, stiff in his movements, who had just received a black eye from a military policeman for refusing to comply with an order. Another soldier protested at him being hit.
"This is feckin' desperate, corporal. Look at 'im – he's only an old man."
"Mind your own business and carry out your orders," said the Military Policeman, who was his senior.
In the gymnasium several hundred prisoners were sitting on the floor, some in pyjamas, with their hands on their heads. The Military Policemen were in control. Fractious detainees were hit with batons and ordered to do press-ups. Names were called out and then those persons were marched out to interrogation rooms.
John's wrists were still behind his back. He was photographed and taken to a room for questioning. As he approached the room he heard a loud groan. Two RUC men in plain clothes, whom he took to be Special Branch officers, were interrogating a prisoner who was handcuffed and hanging from a round iron bar cemented into the wall. On the other wall was a framed colour picture of Queen Elizabeth and the Duke of Edinburgh, smiling.
"No more, no more, please! I'll talk. Let me down, please!"
The fear in the room was palpable but John was suspicious of the quasi-crucifixion. Activity in the room had only begun when he was a few yards off and there was too much blood on the prisoner's face. He had heard from old republicans about being put in the same cell as someone who would claim to be from another IRA Brigade area but who was actually a plant, trying to get information. He decided that this was a set-up.
One of the RUC men flicked through a thick file: "Ah, so you're John O'Neill. Take him away!" He was surprised that that was all that was said. On the way down the corridor he had to pass MPs who were standing about.
"Here's the bastard that shoots our mates in the back!" one shouted. They began punching and kicking him. He ran as fast as he could but two of the MPs had their arms through his and they slowed him down. He was put back on the floor. The beating had helped restore his faith in his convictions. The bruises were sore but he was not bleeding and he stared ahead of him, curiously enjoying the thought of a cigarette, inhaling the stream of blue smoke like it was an intoxicating draught. He was also more anxious about his family than about himself because at least he knew what to expect.
The cord around his wrists was cut off and he was ordered up off his feet and taken to the toilets. "Here, clean them!" he was told. He let the scrubbing brush fall to the ground.
"Clean them!" the voice roared – bad breath – inches from his face. John refused, was punched in the stomach and grabbed by the scruff of the neck. He was flung to the floor and caught some of the kicks before they did him harm. He was brought back to his previous position. Hours passed. The prisoners were called up to a table for tea. There were only about twelve cups for the entire hall and the fact that they were being re-used without being washed put John off. Since his days at sea he had a fastidious attitude towards delph and cutlery but he was so thirsty that he drank the awful concoction. Out of the side of his eye he caught sight of other prisoners washing windows, brushing the floor and two carrying mops and buckets out of the toilets.
"O'Neill! Out here!"
"Cah! Out here!" When prisoner Kerr realised he'd been called he wasn't long responding. Another four were ordered out. John was escorted out the door into the daylight and fresh air.
"Hands out front!" He was tied with plastic cuffs.
The engines of a Wessex helicopter were started up and the men were ordered to climb in. John was last. Behind them the doors locked like a vacuum seal. They took off and the flight lasted about fifteen minutes. An MP grinned at John.
"Can you swim?" he shouted. "I said, can you swim?"
John nodded.
"Well then, can you fly?" The prisoners were worried. "Did you ever see the Viet Cong getting thrown out of the choppers? Eh? That's what's gonna happen to you fuckers."
The door roared open and air shot in. John was kicked out and his heart gave one last hard pump, but he fell only a few feet into a dog compound where whorls of faeces sat like deposits of giant lugworms. The other prisoners landed beside him and the helicopter quickly rose into the sky. Snarling Alsatians came running at them and the prisoners formed a group with their backs against each other, kicking at the animals who were on leashes staked beside their kennels, but long enough to present a danger. A gate opened and handlers rushed in, grabbed the men by the hair and trailed them through the barking dogs. Other soldiers, standing about as observers, shouted their approval of what was happening.
The men were taken back into the gymnasium where the number of prisoners had significantly fallen. They were then individually called for stew which turned out to be cold. It was covered in a white layer of grease and was unappetising. Anyone who refused to eat was beaten, so John was again pummelled.
His name was called. An MP grabbed him and frog-marched him out of the hall. He was taken into a large hole, which soldiers had blown in the wall dividing Girdwood Barracks from Crumlin Road Jail, and was led through. In the basement of D wing his hands were untied. The RUC found the cigarettes and confiscated them. John's watch and ring had already been stolen.
"These will be placed in this bag outside your cell and you can collect them when you're going," an RUC man said, whilst a prison warder locked him up in a cell. John was jubilant and was singing to himself, "I've survived! I've survived!"
His cellmate stared at him: "My God, what have they done to you?"
The young man, whom John didn't know, tore some linen from the bed, wetted it with water and washed the wounds. He rinsed out the makeshift flannel in the cup which instantly turned bright red. John thanked him. He then realised the extent of his injuries. His lips were split open and the air was like acid eating at them. Both eyes were black, one was almost closed over. Blood had clotted on his scalp and had dried over the skin creases. The door was unlocked and an RUC officer appeared.
"You, get out! You shouldn't be in here with him!"
He was left on his own and pondered over what sort of arrangement was it that had RUC men and MPs in charge of prison warders, telling them where to put prisoners and when to open and close the cells. The door creaked open again. He recognised a senior officer in the Special Branch. He had been shown his photograph. The IRA had been planning to kill him. They had nicknamed him the Bouncer. The Bouncer introduced himself.
"You must know where there's a few guns knocking about, John, my old friend. I'm not after names, just guns and bombs, you know the sort of things. I want you to think about it, son. You look like a nice fella. I know everything about you but I'm a reasonable man. There's £20," he said, extricating two £10 notes from a thick wad. "No, just you think about it. There's plenty more where that came from, as you can see. I'll call back later after you've rested."
John placed his ear to the door and listened carefully until the Bouncer had finished his rounds. Then he banged on the cell door until a warder opened it.
"Any chance of a smoke?" he asked. "I've fags just sitting outside in a brown bag." The warder gave the bag a glance.
"Piss off." He proceeded to close the door.
"Wait, wait, wait! Just a minute!" John dug his hands deep into his pocket and pulled out the two £10 notes. "This is no use to me in here. Here take them, go ahead, but give me a smoke."
"Let's see," said the jailer. "Okay, what's the harm." He gave him the packet, lit him up one of the cigarettes and pocketed the money in his breast pocket, fastening the silver button. The barefoot prisoner lay back on his bed, one leg over the other, smiling at the high, yellow ceiling.
When the Bouncer returned John had enough smokes for a week.
"Well, have you thought about it?"
"I've thought about it and I'm not interested."
"You'll be sorry. I have something special in mind for you. You're one of the lucky ones. Now, give me my money, I mean, our money back."
"I haven't got it."
"Where is it then?"
"He has it," said John pointing. "That screw has it in his top pocket. I gave it to him to mind for you."
The warder began stuttering.
"Oh yes, here you are, sir, here you are."
"Why wouldn't you take the money?"
"Money wouldn't buy my pride."
"Well, you'll have plenty of time to think about your pride."
All that night the lights were kept on and the cell doors were banged. It was only possible to lightly doze.
On Tuesday morning MPs took John out of the jail and forced him to run an obstacle course made of barbed wire and broken glass. He was once again confused and afraid because he had thought it was all over once he was in jail. His moods swung between spiritual highs and demoralised lows.
What if they're right and I'm wrong? Could we really have expected to take on the British government without retribution? Were we upstarts, dreamers, doomed from the outset? Then he would draw upon his convictions which were buried under the weight of the brutality, and he felt an inner peace. I am right, I am right! he said aloud.
And when they saw the trace of that defiant smile they beat him all the more.
Late on Tuesday night, shaken and hungry, he was brought outside into the darkness. There were three other prisoners whom he recognised but did not acknowledge. Their hands were tied behind their backs with plastic cord. The MPs stood in front of them, silently. Slowly and deliberately they produced eight hoods – hessian-type bags – and put one hood inside the other. Then they walked behind each prisoner and pulled the hoods over their heads. The man on John's right began to scream and he heard the dull thuds of fists pile-driving into a stomach. The terrified prisoner quietened down after that.
Someone twisted the bag at the back until it tightened and John felt as if he was choking. A helicopter landed and they were pushed and kicked on board. Within seconds it took off. It flew for over three-quarters of an hour. When it came to ground they were again kicked and forced to run over rough terrain. The length of the journey made John think he was in England or Scotland.
He was brought into a brick building. The floor was cold and bare. From the echo of his escort's boots he felt that they were going down a corridor. He was brought to be medically examined. He could hear the doctor turning in a swivel chair.
"Any ailments?" said the doctor. He was English. John guessed he was fat, from the compression in his voice.
"I've a bad heart," said John.
"Uncuff him and take his clothes off." He cursorily examined him. "He's all right for interrogation."
The hood was wrenched tight and he was forced out of the room. He was bundled into a boiler suit, two sizes too big for him.
"Up against that wall!"
He didn't understand the order because of a loud hissing noise and was forcibly spread-eagled by two or three people with English and Scottish accents. He tried to reduce the angle by a few inches, and thus ease the pressure on his limbs, but his feet were kicked even further apart.
"Now, maintain your posture or else …"
Hours dripped by and he felt as though a snow-plough went through his brain, scattering cells, splattering red flakes into the ditch, returning and churning up more furrows, shaving his brain smooth, opening the road to allow the interrogators' traffic through.
"What time is it?" he asked.
"It's August and don't you leave that wall!"
He fell and was beaten, then he was helped into the spread-eagle position and told: "Resume the posture!"
More hours passed by.
"Come with us."
He was taken into a room. The hood was removed and a number of men sat behind arc lights which were trained on him where he stood.
"You asked to see us."
"I didn't ask to see you," he whispered.
"What did he say?"
"He said he didn't ask to see us."
He was hit across the head and fell on the concrete floor, but got on to all fours. His interrogators wore track suits and plimsolls and their faces were hidden. He was frog-marched back to the wall.
"Resume the posture!"
Hours passed. More beatings each time he fell. The noise drove excruciating pain through his head.
"Can I go to the toilet?" he asked.
"You are shit, so shit where you are!"
He had no bowel movements and had been given no water. He dreamed he was urinating against an entry wall and urine dribbled down his leg, hot and stinging, chafing his thigh, and he was reminded of dribbling as a child when he thought he had finished.
"Out!"
Corridor. Room. Lights.
"You asked to see us?"
"I didn't ask …"
Another beating. Back to the wall, back to the Devil's screech.
"Out!"
Corridor. Room? No room. Air. Lorry. Drive. Helicopter. Sky. Earth. Jeep.
"Get him through the hole in the wall."
Crumlin Road Jail?
The hood was removed. Three RUC officers sat in front of him.
"Are you John O'Neill?"
"Yes."
"Here is a removal order empowering the RUC via the Civil Authority to remove you to any place where your presence is required and question you for any length of time. As you can see it has been signed by the Minister of Home Affairs, Mr Brian Faulkner. Okay? Here you are."
It was stuffed into the top pocket of the boiler suit.
He was taken back out through the hole in the wall, hooded, placed in a jeep, driven to the helicopter, flown to the place of interrogation and was soon back up against the wall in the spread-eagle position.
Hours. Hood removed.
"You asked to see us?"
– Silence.
"I told you he asked to see us, didn't I!"
"Yes, you did! Do you think is he ready?"
"I don't know. Let's ask. You did ask to see us."
His convictions were hanging on to the edge of a cliff with one finger nail. You were a tout before, O'Neill. Are you going to be a tout again? What about Paul McShane? Paul McShane . . . Paul McShane, McShane, the shame; the shame of squealing on McShane. School days, so long ago, so innocent, before all this. He hauled his mind up from where it perilously dangled, used the pause, the silence, as breathing space and muttered: "I didn't ask to see you …"
"Fuck you, O'Neill!" The lamp was knocked over and one of the figures kicked him in the groin. The whole world went dark.
…………………………
"Where's the guns?"
"Where's Stevie Donnelly?"
"Where's Dominic Gallagher?"
"You blew up the jeep in Brougher Mountain!"
"You killed the three Scottish soldiers!"
"Two of them were brothers, you bastard."
"Yeh, and seventeen years of age."
"You blew up Roden Street Barracks!"
"You blew up Sergeant Wallace in Springfield Road!"
"You planted incendaries in Anderson and McAuley's!"
"Where's the guns?"
"Where's Stevie Donnelly?"
"Where's Dominic Gallagher?"
Some of the questions and statements meant nothing. He wasn't talking but most of the time there would have been no time to have answered before the next question or statement came.
"You blew up Roden Street Barracks!"
"You blew up Sergeant Wallace in Springfield Road!"
"You planted incendaries in Anderson and McAuley's!"
"You blew up Bronco McIvor!"
"Outside his house! That was nice!"
What? What was that? Did he hear that? John wanted to tell them that they had got it all wrong, that he didn't blow up Bronco. They had worked together. Shared cigarettes. Had become friends. Bronco wanted him to stay. Not go on the boats. But then he knew that that was a lie. Was there a police reservist called Bronco blown up in his car? Whatever the truth, John now experienced a mix of emotions as if he were just learning for the first time that his comrades killed Bronco, old Bronco McIvor with the King Billy tattoos, who had gone on to join the Police Reserve, who wasn't just a mouthpiece, who somewhere along the line, because of a word or a deed or an emotion, had been tipped over the edge… like John.
Did they know they had shaken him, might have had him? They could see his face because the hood had been removed. But they could not read the expression of sadness and regret beneath the blood and bruising.
"Do you want to go back to the music room, John?"
The music room, that's what they called the room where the high-pitched hissing sound, the 'white noise', went on and on and on.
Days passed, days of more blood and bruising.
John turned the minute hand of the chubby alarm clock back, to give the workers an extra half-hour to get out. Stevie covered the doors. As John ran to make their escape Stevie dropped his gun and grabbed him in a bear hug, like a madman.
"For fuck's sake Stevie let me go. Let me go! This place is gonna go up! I've planted bombs. It's gonna go up, up, up!"
"What's gonna go up? What's gonna go up?"
He awoke, handcuffed to a radiator – the rest room.
"Okay, back to the wall. Resume the posture! You'll talk. You'll
talk!"
The doctor saw him twice more: "Fit for interrogation!"
"Where's the guns? Where's the guns? Where's the guns?"
"Where's Donnelly? Where's Stevie Donnelly? Where is he?"
"Where's that cunt Gallagher? Where's Dominic Gallagher?"
John sat at the top right hand corner of the ceiling, out of sight, impish, giggling, as they punched him in the ribs down below.
Next, he was being rolled about on the ground. They were rubbing his neck, massaging his muscles, restoring his circulation.
They lifted the hood up and he sipped some water through his parched lips. They gave him a piece of broken bread which almost choked him.
"Right. Resume the posture!"
Spread-eagled again. Legs kicked out. He tried to cheat by using his head to take the weight off his arms but they fired shots which forced him back on his fingers. He thought of his mother and she appeared before him and he felt happy. He did not feel like a person, he was either a mind or an aching, sore body, never the two together.
He felt like crying, he had just shit himself. It had been a painfully slow bowel movement and the little warm balls stuck between the cheeks of his buttocks. They gave off, he imagined, a dreadful stink and reduced him to a baby. He was helpless.
"John? John?" It was a friendly, soothing voice. "John, it's okay. The hooded treatment is over."
His eyeballs returned to his head. His head, arms and legs returned to his torso from the distance to which they had been kicked. He listened hard. His eyes shot from side to side within the darkness of the hood.
"It's over, John. I'll take the hood off in a minute and tidy you up but I'll have to put it back on when you move back to Crumlin Road Jail. These people don't want you to know where you are or to see their faces. Okay? Now, take it easy …"
It was a Belfast accent. He was worried that his mind was playing a trick on him. The RUC man's assurances made him even more afraid. The hood did come off and John stood trembling. He couldn't move his arms. His legs were cramped in a standing position.
"Come on. I'll help you. It's over. You have my word. I'll be travelling with you."
John burst out crying as he shuffled barefoot down the corridor and into the toilets. His ankles, knees, were swollen, his hands, wrists, elbows and shoulders were in great pain. His friend shaved him, cleaned and wiped his backside. He rubbed and softly chopped at his arm and leg muscles.
"John you have to be photographed. Come with me. It won't take long."
He was photographed in the nude and the cameraman appeared to be hundreds of yards away in the distance. He was taken back to the corridor. He couldn't talk but hung on to the man who was showing him mercy. He held onto him when he thought he was leaving him.
"Look. It's okay. It's time to go. Trust me. Help me put on the hood. We'll do it together. That's it. Now, I have to handcuff you. Then we'll get on board the helicopter. When it lands I'll remove the handcuffs and the hood but don't look back. You're going away from here, back to your mates. When you go to jail there'll be a tribunal. You're not a bad fella, you know. After thirty days you'll be able to go to this tribunal and sign a form and you'll be out. If I ever meet you in the street would you buy me a drink?"
John spoke for the first time: "I'll buy you all the drink you want."
"We're going now."
When the helicopter landed the policeman said: "Don't be looking back. Good luck," and he pulled the hood off and pushed him out. The doors whooshed closed and other RUC men put him into the back of a Land Rover and then drove him to the jail.
He was brought into the basement of D Wing. The prison doctor weighed him. He had lost 16 lbs.
"What day is it, doctor?"
"It's Tuesday."
"It couldn't be. I was here on Tuesday. It must be Thursday or Friday."
"No. It's Tuesday, Tuesday the 17th August."
John shook his head in disbelief. He just shook his head.


Print This Post
Last night (December 4th) I was at an event in St Mary's University College, Falls Road, where author Eimear O'Callaghan was interviewed by journalist and political commentator Paul McFadden about her memoir, Belfast Days – A 1972 Teenage Diary.
Jokingly, during Q & A, I said that I must compare what she was writing back then, at the age of 16, and what I was writing at the age of 19. So, I got out my 1972 diary.
It is Saturday, March 4th. Eimear writes: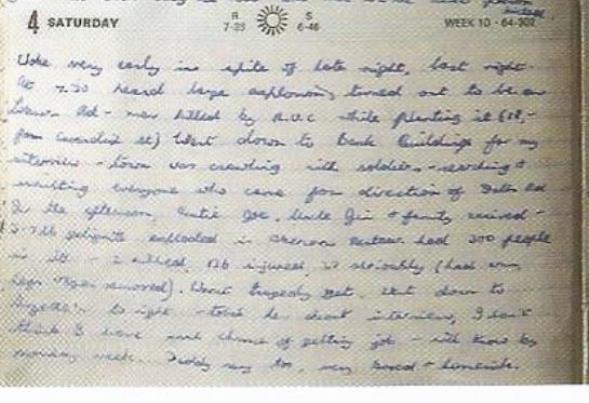 Woke very early in spite of late night last night. At 7.30, heard a large explosion. Turned out to be on the Lisburn Road – a man was killed by RUC while planting bomb (18-year-old from Cavendish Street).
Went down to Bank Buildings for a job interview. Town was crawling with soldiers, searching and insulting everyone who came from direction of Falls Road. In the afternoon, Auntie Jo, Uncle Jim and family arrived.
A 3-7lb gelignite bomb exploded in the Abercorn Restaurant, had 300 people in it, 2 killed, 136 injured, 27 seriously, (had arms, legs, eyes removed).
I don't think I have much chance of getting the job – will know by Monday week.
Daddy rang – very bored and homesick.
It is Saturday, March 4th. I write: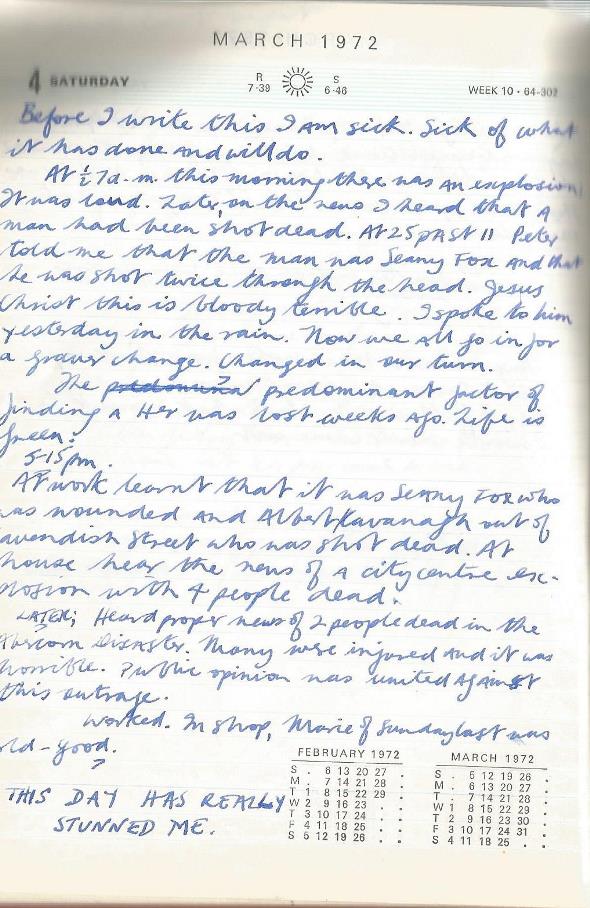 Before I write this I am sick. Sick of what it has done and will do.
At ½ 7am this morning there was an explosion. It was loud. Later, on the news I heard that a man had been shot dead. At 25 past 11 Peter [Fox] told me that the man was Seany Fox and that he was shot twice through the head. Jesus Christ this is bloody terrible. I spoke to him yesterday in the rain. Now we all go in for a graver change. Changed in our turn.
The predominant factor of finding a Her was lost weeks ago. Life is Green.
5.15pm
At work learnt that it was Seany Fox who was wounded and Albert Kavanagh out of Cavendish Street who was shot dead. At house hear the news of a city centre explosion with 4 people dead.
LATER; Heard proper news of 2 people dead in the Abercorn Disaster. Many were injured and it was horrible. Public opinion was united against this outrage.
Worked. In shop, Marie of Sunday last was cold – good.
THIS DAY HAS REALLY STUNNED ME.
The following day, Sunday, March 5th I write: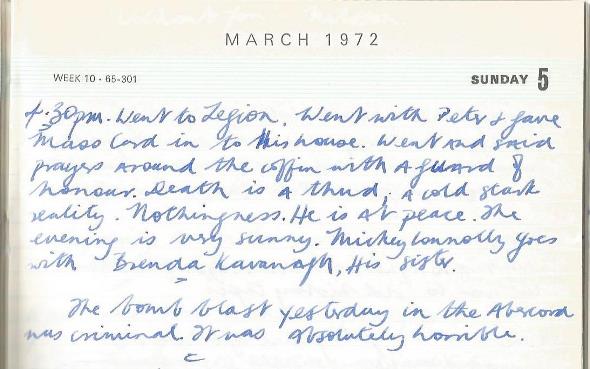 4.30pm. Went to Legion [of Mary]. Went with Peter and gave Mass card in to His [Albert Kavanagh's] house. Went and said prayers around the coffin with a guard of honour. Death is a thud; a cold stark reality. Nothingness. He is at peace. The evening is very sunny. Micky Connolly [an old school friend from Andersonstown] goes with Brenda Kavanagh, His sister.
The bomb blast yesterday in the Abercorn was criminal. It was absolutely horrible.
Despite what I wrote back then, and despite being horrified about the consequences of violence, I had already committed myself to the republican cause. We certainly live with ambivalence; square ambiguity.
After his release from prison I spoke to Seany Fox. He said that Albert and he were unarmed and set out early to blow up Olympia Typewriters on Boucher Road when there would be no civilians about. They had just lit the fuse when the RUC appeared.
"Once the police saw us they started shooting at us, and the car. The police were about the watchman's hut when they started to shoot. The car took off. We were about 50-100 yards from the car. We ran towards Windsor Park. There is a 7-foot high fence along the perimeter of the factory grounds separating it from the park. Albert stopped and put his hands in the air. They were still shooting – and still coming. I climbed over the fence. Albert was standing there. I ran about 100 yards. I was hit in the back. I fell and although in pain I was still OK. Albert was still standing with his hands up. There was a policeman covering him as he stood there. Just then the policeman came over to me. He had a gun in his hands and shot me another few times in the stomach and chest. I was conscious. I think I was hit six times altogether. I'm not sure. I was rolling about the ground.
"Albert was still standing at the wire. The other policeman then shot Albert – I suppose he thought I was dead. I don't know how many times he was shot. There were two bullet holes in his head – in the forehead and bullet wounds on his back. This I found out in my depositions at the trial. I was lying there, the bomb went off and all the people came out from the district – the Village. They gathered round me, threatening to burn me. Some of them put wood on my feet. Just at that a patrol of British army soldiers came along. They spread out then.
"The corporal came down to me and fixed me up. He took my coat off, put bandages on me, and I think the British army called for the ambulance. The police walked away when they shot me. I don't know where they went. When the ambulance came they put me in the back. They drove out of the field on to the road. The policemen stopped it on the road and told the ambulance driver that he had to have a man go with it, and the Brit turned round and said: 'It's alright, I'm here. I'll go with him.' There was an argument between the British and the police – about it being urgent to get me to hospital. 'This man is going to die,' one of them said. The Brit went to the hospital. I was conscious even then, remember them taking my shirt and boots off.
"Albert faced them with arms up. He did not run towards the police. The ambulance couldn't have got in for Albert – the wire was between us. I asked them to get Albert. People told me he lay there for hours."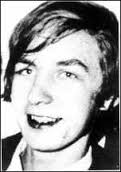 Albert was eighteen when he was killed. His younger brother Paul was later jailed two or three times. On the last occasion, he was arrested with Martina Anderson (and others) in 1985 and charged with conspiring to cause explosions in England. Martina and Paul Kavanagh were married in prison and celebrated their 25th wedding anniversary this year. She served fourteen years, he fifteen. They fully supported the peace process and all the difficult compromises that were required to try and promote reconciliation and build confidence between unionists and nationalists. Martina is now a European MP for Sinn Féin. Paul was removed from his position as a special advisor to Deputy First Minister Martin McGuinness following a campaign which led to the introduction of the SPAD bill at the Assembly.
Eimear O'Callaghan's diary are the observations of a wide-eyed young girl and she goes through all the turbulence and challenges made upon us by history.
It is an honest book. And a good book.