Print This Post
Today, Armenia commemorates the 100th anniversary of what historians have called the first genocide of the 20th century when around 1.5 million Armenians died at the hands of Ottoman forces between 1915 and 1917. In 2001, I wrote a feature about the beginning of the massacres. I called it, A Story of Revenge. Here it is:
"THEY took everyone away… They struck and cracked my brother's skull with an axe. They took my sister and raped her. As soon as the soldiers and the gendarmes began the massacres, the mob was upon us too and my brother's head was cracked open. Then my mother fell from a bullet or something else. I was struck on the head and fell to the ground…
"I do not know how long I stayed there. Maybe it was two days. When I opened my eyes I saw myself surrounded by corpses… I saw my mother's body; she had fallen face down. My brother's body had fallen on top of me. When I stood up I realised that my leg was injured and my arm was bleeding…"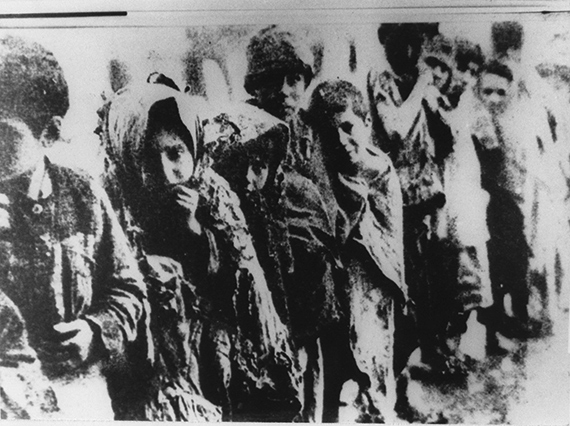 That's how Soghomon Tehlirian began describing the Turkish massacre of 20,000 of his fellow Armenians from Erzinga in 1915 when he was a teenager. Turkey, at the centre of the Ottoman Empire, had earlier become a constitutional monarchy after a coup by the Committee of Union and Progress (popularly known as 'the Young Turks'). They initially promised their multi-racial subjects reform and equality and were thus supported by the Armenians, who even joined the Turkish army in large numbers at the beginning of the 1914 war.
However, the C.U.P. became increasingly nationalistic and xenophobic, began 'Turkifying' the empire and demonising the Christian Armenians who had occupied their homeland for several millennia. The Armenians – like the Jews – had often been subjected to massacres – Turks and Kurds killed 300,000 in 1895 alone.
Talaat Pasha, Minister of the Interior, was the principal architect of the 1915 massacre, which Soghomon Tehlirian had survived. The genocide of the Armenians was well planned, and, just as the Nazis were to do two decades later, was carried out in a systematic manner under the cover of war. In 1914 Armenian army recruits between the ages of 16 and 60 were mobilised and transported in the back of covered trucks – believing they were going on a training exercise. Instead, they were publicly executed in town squares or taken to torture camps were they were murdered. Armenian intellectuals, MPs, teachers and doctors were next rounded up in Constantinople (Istanbul) and executed, leaving the Armenians leaderless.
Talaat signed the deportation orders for civilians in Armenian towns and villages. Whole populations were rounded up and removed to distant locations before being liquidated, 24,000 being killed in one three-day period of mass shootings. Others were placed on ships that were scuttled in the Black Sea or were forced on death marches to the Syrian Desert. At least one million were killed and two million displaced. Thousands were also rescued and sheltered by compassionate individual Turks, Kurds and Arabs, but these were a minority of cases.
Soghomon Tehlirian escaped into the mountains and was protected by a Kurdish family until his wounds healed. When war ended with the defeat of Germany and the break-up of the Ottoman Empire the Allies said that the Turks responsible for the massacres would be punished but they were never seriously pursued. Talaat Pasha and his cohorts escaped, Talaat being given shelter in Germany where he lived under a false name. In his absence he had been tried, found guilty and sentenced to death for ordering the massacres.
After the war Tehlirian returned home but only two families were left in Erzinga – and they had 'converted' to Islam. He wandered from place to place, suffered several nervous breakdowns, and whilst in Constantinople learnt from newspapers about Talaat Pasha's central role in the exterminations. In 1920 he went to the USA where he joined the Diasporan Responsible Body, received special training, then went to Berlin where he and his comrades began the job of tracking down Talaat. Within three months they discovered his residence.
One morning as Talaat came out of his home Soghomon Tehlirian killed him with a single revolver shot. Over the next year other members of the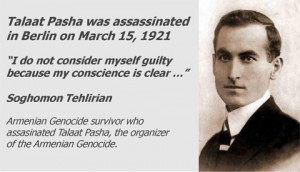 Armenian DRB executed the top six former leaders of the Young Turks in what later came to be called 'The Armenian Nuremburg'.
Today Armenia is an independent republic with close ties to the former USSR. Some of its territory still remains under Turkish rule. To this day Turkey still denies the Armenian genocide – which is one of the main obstacles to it being accepted into the European Union.
Tehlirian was arrested in Berlin and charged with the murder of Talaat but a German jury – listening spellbound to his account of the Erzinga massacre and the killing of his entire family – acquitted him and described the shooting as justified homicide. He lived out the remainder of his days in California – an Armenian hero.

Print This Post
The journalist Brian Rowan has reviewed West Belfast on Eamonn Mallie's website. Here is the feature in full.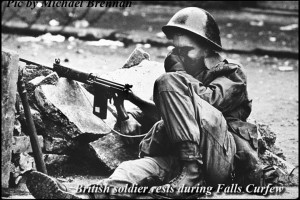 The re-written and re-worked novel West Belfast is a story about how the ordinariness, the kindness and the innocence of this place became shattered.
Its setting is the sixties – stretching into the early seventies.
A story about tugs of love and war.
Danny Morrison's novel was first published in 1989, and has been re-shaped in a 25th anniversary edition.
His story-telling grows from his roots in the Falls Road community and then his background in the IRA and in republican politics, but it begins before then – before the first shots were fired or bombs exploded. Its starting point is an adventure in the Belfast hills – young kids out exploring – seeing the geography of the city begin to take shape in their minds.
"The realness of it all, the Sundayness of it all, gave the picture a quality which could only have been appreciated from this height and at this distance. It was breath-taking," Morrison writes.
In the page turns, you also read about the realness of family struggles, struggles related to work and money – trying to make ends meet at Christmas. There is nothing imagined or fictional or unreal about this. Those of us who know and remember the working class streets of the city back then, know there was little but, despite this, there always seemed to be just enough. People got by, people who lived and survived and held together as communities.
There is a love story woven throughout the pages of this novel, told in the young lives of John and Angela – a broken love and then a letter of hope.
Then, there is the ruthlessness and the rawness of an exploding conflict, told from a particular background and perspective by Morrison, but a story that can read across into other communities, and regiments and police families. Many mothers cried the tears that Catherine cries for Jimmy in Morrison's book.
In real life, away from the pages of a novel, the loyalist David Ervine talked many times about the "something" that "happened" here. What he meant was that ordinary people – loyalist, British, republican were dragged into a war – into something that changed many lives and broke and destroyed and took many others.
Another loyalist William 'Plum' Smith, author of the recently published Inside Man, has spoken and written about being "born into conflict". He too remembers the innocence and the ordinariness of Belfast before the wars.
There are ghosts in Morrison's novel and ghosts in the realness of what happened here.
The long peace hasn't exorcised the memories of the long wars.
Morrison describes ghosts that broke health and minds. And, there is a line he uses as Angela breaks-up with John.
"The truth would have wounded him even more."
Think about that sentence and those words, not in terms of broken love, but broken bodies – the brokenness of conflict and the past.
Will ugly-truths make things better or worse?
Books – fiction and fact – written by many, including Morrison and Smith, give us an insight into not only what happened, but why it happened.
There is much reading and learning between their lines.

Print This Post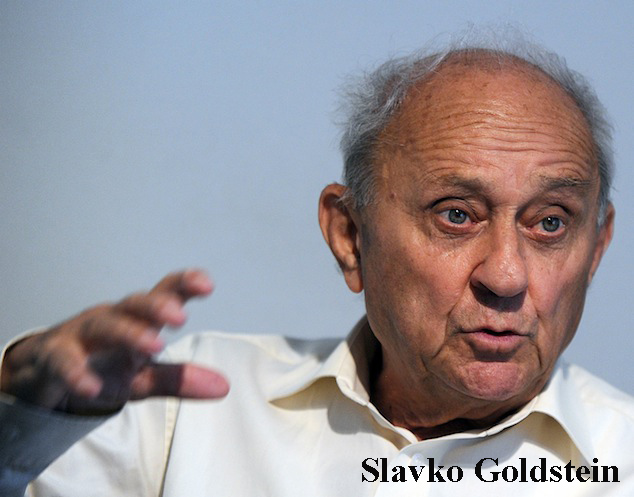 "The twentieth century produced the greatest hopes for mankind," writes Slavko Goldstein, in this informative but depressing memoir, 1941 – The Year That Keeps Returning. "It became the graveyard of great ideals. It taught us that ideals are most often a seductive chimera and that doubt is not a fatal weakness but a necessary defense against fatal beliefs."
Goldstein gives a detailed account of life in Croatia during WWII and the fate of the Jews and Serbian Orthodox Christians at the hands of the Ustasha fascists who seized power and established, with Hitler and Mussolini's blessing, the Independent State of Croatia. Goldstein's father and many of his family members were murdered during the war and young Goldstein and his mother fought with the Partisans led by Tito. (The Partisans and the National Liberation Army were the only army in which Croats and Serbs were on the same side of the battle front.)
Tito's 'unification' of Yugoslavia ('Brotherhood and Unity) did temper local hatreds but also led to the suppression of freedom. Disillusioned, Goldstein immigrated to Israel before returning to Croatia. He had no time for the "fetishism of the state and a fetishism of the nation" and recalls Einstein's famous claim that it is more difficult to break human prejudices than to break the atom.
"We were mature enough to resist evil, but we were not mature enough to crown our victory humanely. Like many military victories in history, ours did not remain untainted either."
This comment, in particular, refers to the slaughter ("an orgy of vengeful wrath") by the Partisans of Ustasha forces, their families, sympathisers, and those 'mistaken' as collaborators, 70,000 in total, who attempted to flee into Austria and surrender to the Allies but were refused access. The aftermath of the 'Bleiburg repatriations' and 'the Way of the Cross', as their surrender and return and massacre came to be called, remains a taboo topic and a huge challenge to Croatia/Serbian society on how to deal with the past.
'Way of the Cross', says Goldstein, "is an apt metaphor for the tortuous, several-hundred-mile-long march of starving and thirsty prisoners, many of whom could not withstand the torment and were killed."
The past haunts the present not just in Croatia, Serbia, Bosnia, but, as we know only too well, in Ireland.
"Although some years later the Germans, with some self-satisfaction, created the word Vergangenheitsbewältigung (overcoming the past), I fear that they still haven't fully confronted this past, even less so in the case of our eastern neighbours and here in Croatia. Hidden diseases still fester, the most stubborn roots of which lie in 1941, even if the years that came before and after aren't guiltless either," says the author.
And, of course, 1941 did return again in 1991 with the break-up of Yugoslavia, with the fall of communism, and a bloody civil war over contested territories, particularly in eastern Croatia.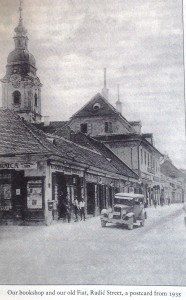 Goldstein's father, a bookseller, was arrested with other intellectuals and held in Zagreb Jail before being taken away and killed in some dark, unknown place. From prison he wrote to his son: "It is better to bear an injustice than to commit one." They knew that he had been taken from the prison because a railway worker, again at great risk to himself, found a piece of rolled-up paper lying beside the track and bravely brought it to Goldstein. It had been thrown from the train and said, "I would be grateful if any honest passer-by would deliver this note to my wife." It had her address written on it and a message that they were being transported to Lika (and to their deaths).
"I have not written the word 'bravely' by accident," says Goldstein. "At that time, compassion and honesty were not enough for a person to take a prisoner's randomly thrown letter so promptly to an unknown addressee, the prisoner's wife. Indeed, the man must have possessed courage."
This war was intimate, Croat Catholic neighbour against Orthodox Christian Serb, with thousands of incidents of cruelty and fewer acts of kindness and help involving great risk. One wonders if society can overcome such a bloody past. Goldstein was grateful to the Starešinić family who had taken over their dispossessed shop but who defied the anti-Jewish Ustasha laws and kept their property safe.
In one Ustasha massacre the militia raided a small village and took away 83 people, only six of whom were men. The rest were women and children (ten of whom were younger than five years old). They were tied together in groups of eight, shot and thrown into a deep cavern. One victim, a young woman, wounded, and lying among the dead, managed to drag herself out of the cavern and, "completely distraught, ran into Luk Miškulin, a resident of Boričevac and the father of two of the Ustasha who had participated in the killing. He revived her with some water and food and guided her on the road to her people, evading the Ustasha guards and patrols along the way."
Croatia was also occupied in part by Italian soldiers who when quartered with Jewish families were kind and sympathetic. Yet Goldstein witnessed Italian soldiers robbing and setting fire to houses in two little villages – to the last house, the last barn, the last hayloft.
He wondered: "Were the men committing this evil – looting, robbing, burning, leaving only desolation in their wake, and taking 1,100 innocent villagers away to internment – the same good-natured, cheerful soldiers who softly sang "Mama son' tanto felice" on the Karlovac promenade and played the melody of the "Chorus of the Hebrew Slaves" from Nabucco in front of Lopašić's monument, and the same polite officers who brought sweets to the children of their landlords and saved those in danger?"
Yet, other Italian commanders adopted and cared for Serbian children who had been orphaned by the Ustasha massacres and some sheltered Jews in the northern Croatian coastal regions and Dalmatia despite demands from the Ustasha authorities and Nazi representatives to hand them over.
In the Ustasha death camp of Jasenovac a prisoner asked the camp commander whether he feared God's punishment for the godless acts he was committing, to which the commander responded: "Say nothing to me. I know I will burn in hell for what I have done and for what I will do. But I will burn for Croatia."
It is difficult to imagine a more descriptive characterisation of the fanaticism of hatred, says Goldstein.
It took me a long time to finish this book and not because it is 600 pages long but because I found it depressing yet compelling. I had to repeatedly put it down, only to pick it up again.
There were two villages, one Croat, one Serb, where at the beginning of the twentieth century neighbour would help neighbour restore a house, build a road. Then came 1941. Over the years, relations were being somewhat restored. Then came 1991.
Today old acquaintances pass by each other without a greeting. "Other people would greet each other coldly, but it was rare that anyone would stop and ask an old friend, 'How are you? How are the wife and children?'"

Print This Post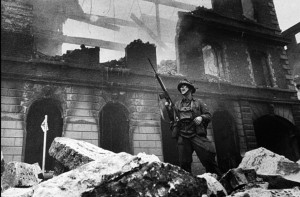 The political and cultural commentator Alan Meban has just reviewed my novel West Belfast on the Slugger O'Toole website. Here it is:
I grew up hearing Danny Morrison's name on the radio at breakfast time as Sinn Féin's Director of Publicity. More recently I've known him as chair of Féile an Phobail and spotted his attendance at many of the festival's events in St Mary's and the annual West Belfast Talks Back debate. But I'd never realised he was an author until his book (re)launch earlier this year at the end of January.
Spread over a decade, West Belfast is a coming of age story of John O'Neill growing up around the Falls against the backdrop of the civil rights movement, heightening tensions and the start of the Troubles. As well as watching John fall in love, move jobs, and explore the world, readers follow John as he deals with his inner tension, at first distancing himself from what was going on in his community before deciding to become involved.
"A strange sort of a fella … I used to think he couldn't open his mouth. Very quiet. But he's grown up now … Good looking and kind. Maybe a bit too serious."
That's how John's girlfriend Angela described him early on in their relationship. It's the age of Saturday night dances and cozying up to the sound of the Beatles.
After his first experiences of discrimination in a low wage job at an Ormeau Road engineering firm, John got work as a galley-boy on ships out of Belfast, before shifting to bigger trans-Atlantic vessels and becoming a trade union official. Returning to Belfast between crossings, John noticed the changes in his area:
"They were no longer the British Army but were now called "the Brits". Confrontations were regular and people complained that the soldiers were worse than the RUC, assaulting young people and firing tear gas into streets at any pretext.
John began smuggling weapons from Montreal back to Liverpool and onto Belfast, and quickly became more involved with the IRA.
While the story is told through a republican lens, the novel doesn't overly glorify violence or set the IRA up as heroes. Instead the author finds humanity and dignity in unexpected places and allows for the complexity of characters' motives adapting as the situation around them changes.
The book describes a familiar slip from innocence into activism, personal tragedy, and portrays the chaos of fast-moving events like the Divis Street riots. The chapter that relives the experience of "The Hooded Men", tortured and thrown out of an army helicopter that the men didn't know was hovering just above the ground, is a gruelling read.
Angela's tale is gentler and provides a good counterbalance to John's descent into violence. Yet her life too is affected by the changing vibe in Belfast and necessitates a rapid flit to England before eventually returning home to be reacquainted with old friends.
Early on the text is thick with landmarks and street names, nearly trying too hard to root the narrative in its real location. The storytelling adopts a mixture of styles and the plot switches between characters, even spending a chapter inside the mind of an IRA sniper at work.
It was a couple of years before Danny Morrison told anyone that he'd started to write a novel. Soon after West Belfast was published in 1989 he was arrested and imprisoned. (The conviction was overturned in 2008.) "He wasn't around to do much publicity," novelist and playwright Ronan Bennett explained at the launch of the novel's new 2015 edition.
Originally typed up on his 512k Amstrad computer, when Danny came back to republish his first novel it didn't exist in digital format. So he scanned it in, fixed the spellings, and realised that back in the 1980s he had often used three words rather than one. So, although this latest edition has the same story, same characters, the same beginning, middle and end, the text has been tightened up and apparently some of the more embarrassing sex scenes have been removed.
While not strictly history, Danny Morrison's novel captures the spirit and some of the events of a time not long before I was born. At times an uncomfortable read, over two hundred pages it develops a sense of people and place that will long stick in my mind. If you're looking for a book that clearly identifies the goodies and the baddies, move along the shelf. But if you're keen to explore the complexity of conflict and how it shapes lives, West Belfast opens an insider's window into Irish republicanism.
West Belfast is published by Elsinor Press, priced £10 and available from Amazon, Sinn Féin's Falls Road bookshop or direct the author's website.

Print This Post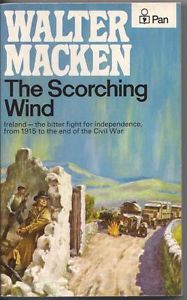 Recently, An Phoblacht published a feature by Robert Allen about the writer Walter Macken who died in 1967 at the age of fifty-one, who has been described by the Connaught Tribune as "Galway's neglected genius of literature," and the centenary of whose birth takes place this May.
Danny Morrison remembers in his teens discovering with excitement Macken's trilogy – Seek The Fair Land (1959), The Silent People (1962) and The Scorching Wind (1964) – a literature which presented and dealt empathetically with earlier periods in the struggle for Irish freedom: namely, Cromwell's invasion of Ireland; the Famine of the 1840s; and the Easter Rising and subsequent Tan War and Civil War.
Macken told his wife Peggy that his objective was to write the history of his people from the point of view of the ordinary man. "Before I die I want to do the history of our own people from the viewpoint of the little man, not all the big shots and the people who have done 100 things or anything like that."
The publication of the trilogy was preceded by Macken's earlier novels, Rain On The Wind and Bogman, and succeeded by his later works, Quench The Moon and Brown Lord Of The Mountain. Fifteen years ago when those four books were re-issued by Brandon, Danny Morrison re-read the novels and wrote this assessment of Walter Macken's writing which he has enlarged upon for this An Phoblacht feature.
Loyal Provincialist
"It's a strange thing," says a character in The Bogman, "that nothing is more boring than eternal fertility."
That sentiment, and a dislike for everything east of Galway City, are common themes running through four re-issued novels of Walter Macken, all of which are set in the bleak and rugged landscapes of Connemara, its interiors and shorelines.
When people hear the word 'Connemara', according to Stephen O'Riordan's dying mother in Quench The Moon, "they immediately think of wild animals and pagans." But, she argues, being uncorrupted by civilisation means "the Connemara people are still living. Everything they do is dramatic. When they love, they love unashamedly and tempestuously and in a healthy manner. When they fight, they fight with ferocity… Their whole life is a fight against something."
But if Stephen wants to become a writer, she tells him, then he must leave, he must see the world.
(In real life Macken believed that a writer should not leave his own country, much like the Russian poet Nikolay Gumilyov who wrote, "A great poet always shares the fate of his nation, regardless of what political programme he supports.")
Donn Donnshléibhe, on the other hand, is drawn back to the Mountain sixteen years after having walked out on his pregnant wife in 1939, hours after marrying. He has roamed the world, and fought in wars.
Donn, a powerful personality, belatedly realises that he belongs to this society and is the moving force behind bringing the people electricity, mains water, farming equipment, entertainment, and confronting the church along the way. However, he becomes disillusioned and blames the entire community when his retarded daughter, a beautiful, simple girl, is raped by a thankless youth whom he befriended and discouraged from emigrating by giving him a loan for a tractor. He becomes a slave of his own determination to exact revenge and darkens the skies over the Mountain. But, ultimately, it is the people who intervene and stop him from killing the culprit – and although grateful, Donn feels that he must leave once more.
Macken (1915-1967) often appears restless with this characters, as if he cannot decide whether his creations can survive happily in Connemara. Certainly, the more sophisticated, like Cahal Kinsella, the eponymous bogman, has to flee the mob with his maimed girlfriend, Marie Brodel, having satirised their narrow parochial ways in his songs as a release from his claustrophobic, loveless, arranged marriage to a woman twice his age. And Stephen O'Riordan, writer manqué, comes back to Killaduff to collect his bride only to discover that she had been drowned by her brother whom he then murders, before being knifed himself and left for dead by two other vengeful brothers.
Macken, however, is no Zola and these novels are no Irish equivalents of Earth or Germinal. The violence is sanitised; sex implied.
The later work, Brown Lord Of The Mountain (which with The Bogman is the most accomplished) was published in 1967, just before Macken's death at fifty-one. It is consummately drawn, free of the quaintness and maudlinism of Quench The Moon (banned in 1948 because it describes a pregnancy outside of marriage!), which is also marred by the begorra-ism of an occasional, extremely irritating, narrative voice which slips in and out of the vernacular like Darby O'Gill on poitín.
Macken was a loyal provincialist and probably his critical reputation suffered for it. As an author, he would never be mentioned with the same reverence as Peadar O'Donnell (Donegal) or Patrick Kavanagh (Monaghan), his contemporaries who were readily admitted to the literary Pale, though he was a credited dramatist. He wrote several plays in Irish and was, for a time, a prominent actor in the Abbey Theatre (and also played a leading role in the film, The Quare Fellow). His novels were received well in America, but he is survived more by his historical trilogy, comprising Seek The Fair Land, The Silent People and The Scorching Wind, than by his other novels and plays.
The trilogy, despite the last volume's portentous ending in tragic fratricide, is commonly taken as eulogising the cause of Irish nationalism. Certainly, it was tacitly appropriated, post-1969, into the republican canon as a populist text reflecting continuity of struggle against the traditional outside enemy. I remember buying several copies of each and passing them around my friends who devoured them, such were we in the North starved of anything literary that spoke to our political stirrings. In the early 1970s, there wasn't a Long Kesh hut without those books – The Scorching Wind probably being the most popular.
Seán O Faoláin has observed that "there was hardly an Irish writer who was not on the side of the movement for political independence", but that "immediately it was achieved they became critical of the nation." A variation, I suppose, on Adorno's "quintessential intellectual, hating all systems, on our side or theirs, with equal distaste".
I can understand the temptation though I've never been entirely convinced that it isn't a contrived stance, this utter 'independence'. To be critical for the sake of being critical. Artists are often notoriously pompous asses. How they suffer!
Many of Macken's characters belong to isolated communities which are alienated from the centre. Veterans of the independence war complain about being sold out socially and economically, but also that 'the common man' is a victim of the establishment. Their children still have to emigrate. A medical student who comes to the city notes that louts, ignoramuses and oppressors lead the country. All politicians are swindlers and thieves.
But up here the guards' writ does not run. Macken doesn't seem able to make up his mind about the 'primitive ways of protection' (summary justice) which, although demotic, is open to the abuse of being yet another 'system'. And his characters agonise over the loss of the old ways, the old values.
Eventually, he comes down on the side of restraint; on the side of progress and modernisation. That things are changing and can change for the better: slate replacing thatch; artificial fertiliser in place of seaweed. "Someday what I'm going to do concerns Connemara," pledges Stephen, promising to merge art and life.
Macken is also a romantic and inevitably comes down on the side of love.
Mico the fisherman, in Rain On The Wind, decides not to kill himself, not to sink his boat and deprive his family of a livelihood, and turns to the shore to find beckoning him the girl he thought didn't love him, along with his friends and family. But Cahal Kinsella embraces exile because it means a fresh start for him and Máire.
Donn Donnshleibhe can see no solution for himself but exile, only to discover his forgiving wife, whom he thought had rejected him, is pregnant and has the solution in her suggestion that they live at the bottom of the Mountain for a change. He then realises that he came back to Ireland, to Connaught, for love: "It is the only thing left to believe in, the tie between two people."
Macken's storytelling is old-fashioned to our modern ear, but that is a minor complaint. Perhaps the thatch is gone for good, but when we read a Keane or the McCabes we find that out there in the sticks is the same bitchiness and ugliness and milk of human kindness that land and the wilds universally evoke in human nature.

Print This Post
Today on The Nolan Show on BBC Radio Ulster, one of the SDLP's leaders, Alex Attwood, was asked who was standing for the party in Fermanagh & South Tyrone in the May general election. Alex said the party had yet to decide. In fact, the SDLP convention took place in January, so much for Alex's knowledge of his own party! They chose a relatively unknown councillor, John Coyle.
Currently, there is a lot of debate around election pacts after the DUP and UUP announced that they had agreed a pact for four constituencies: East Belfast (DUP), North Belfast (DUP), Fermanagh & South Tyrone (UUP) and Newry & Armagh (UUP).
Alex Attwood is hyping up their chances of taking Newry & Armagh from Sinn Féin because high-profile Conor Murphy is not standing and has been replaced by sitting MLA Mickey Brady who probably has one of the best records for constituency work in the North.
Let's remind ourselves of Alex's history of hyping!
And, thank you, Alex for giving me the excuse I have been looking for to re-publish a feature I wrote in 2001 about your strategy of getting Bríd Rogers (whose name, I confess, you did know) elected to West Tyrone! Here it is:
HAVING BEEN MOVED to tears by Commander Alex Attwood's despatches about the war crimes against his people in West Tyrone, your intrepid reporter has risked his life, crossed the Strule River under cover of darkness, and broke through the lines of the Sinn Féin besiegers, to report at first hand the massacres taking place in this most distressful county.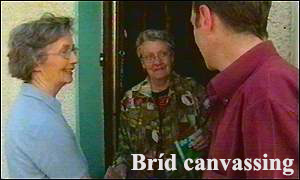 Unknown to the outside world, and to BBC and UTV, food is still getting through, though I did see some demoralised troopers balk at the prospect of having to eat their hats in the grim days ahead. Ordinary people appear oblivious to the siege and go about their everyday lives, working, eating, drinking, golfing, fishing, completing crosswords. However, from David Sharrock of the Daily Telegraph a disturbing despatch is emerging of serious war crimes in the smouldering village of Greencastle. It appears that twice in the space of one hour, Commander Attwood's lieutenant, Bríd Rogers, was twice insulted and called bad names by a man who was home from England for a holiday and had had a few drinks.
ON A MORE serious note, has the SDLP completely lost the run of itself? I strongly suspect that it was Alex Attwood who came up with the silly idea of describing the battle for West Tyrone in the general election as the SDLP's 'Stalingrad'. In history the 1942 siege of Stalingrad simplistically represents the forces of good (the starving citizens of that city and its outnumbered Soviet Army defenders) seeing off the forces of evil (Hitler's armies) and reversing the tide of WWII. But a little bit of history, like knowledge, can be a big bit dangerous. At Stalingrad Hitler was humiliated and found himself out-manoeuvred by the unexpectedly talented young Soviet commander Zhukov, whom Alex is trying to emulate.
By describing the battle in West Tyrone as its Stalingrad the SDLP is putting all its eggs in one basket, so to speak. I believe Pat Doherty (Sinn Féin) is going to win and when he does the SDLP will then have conceded in one fell sweep that Sinn Féin has effectively won the battle for the hearts and minds of northern nationalists. No political party should ever allow its future to be decided in one constituency. The use of the Stalingrad analogy/metaphor smacks of desperation and an attempt to galvanise otherwise despondent party workers and supporters.
Having been up this week in West Tyrone, which is one half of the former Mid-Ulster constituency to which I was once elected, I have a number of observations to make. Firstly, Sinn Féin was significantly ahead of the SDLP in the 1997 local elections (32% to the SDLP's 23%) and the 1998 Assembly election (34% to the SDLP's 26%). In the most recent by-election last year Sinn Féin dramatically trounced the SDLP.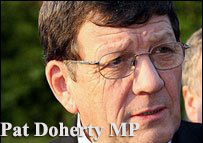 Secondly, it was generally accepted that in this election Pat Doherty would massively outpoll Joe Byrne of the SDLP and take the seat from Willie Thompson. The SDLP, as it was entitled to do, pushed Byrne aside and replaced him with the high profile Bríd Rogers, with no real hope of her succeeding but with the intention, I believe, of stopping Doherty.
I say this with good reason because if the SDLP really believed they were going to beat Sinn Féin then you would have expected them to match their anticipated high poll and put up a large number of candidates for the council elections which also take place on June 7th. Instead, the SDLP in West Tyrone are putting up just twelve candidates (two less than before) to Sinn Féin's twenty candidates (seven more than before). If anyone can explain to me how this represents a sign of confidence I will eat Alex Attwood's baseball hat whilst it's on his head and he's running a marathon.
People aren't stupid and it is for this reason that Bríd Rogers' intervention, being parachuted in from Upper Bann which she represents in the Assembly, is generally seen as a spoiling exercise against Pat Doherty, who has been actively representing West Tyrone for over four years. The hysterical reaction of the SDLP to the cut-and-thrust of the election campaign, where insults are traded on the street and people on doorsteps tear your literature up, is nothing more than a headline-grabbing attempt at garnering sympathy.
A Sinn Féin election worker in North Antrim has been threatened by the LVF and has had his car burned; a Sinn Féin candidate in Newtownabbey has been threatened by loyalists with hatchets; a Sinn Féin candidate in South Antrim has recently received two death threats (having had his home shot-up twice in recent months) and yet none of these incidents received the type of television coverage that Bríd Rogers' encounter with a drunk man in Greencastle received. A big part of the SDLP's election personnel is in the newsrooms of distant Belfast, London and Dublin.
At the end of the day, the republicans are still seen, especially by the media, as the threat, those most determined to challenge and change the status quo. Who really believes the ridiculous Belfast Telegraph poll on voters' intentions? This week the Financial Times stated that a private poll by the NIO indicated that Pat Doherty was ahead in West Tyrone, but that too is irrelevant. Polls are manipulated and abused, and are as accurate as gossip, though I don't believe they should be banned.
Finally, next week's two elections are extremely important to our future and to the negotiations that will take place in the weeks ahead. If you have a vote, use it. Nationalist people marched and were battered into the ground demanding the right to vote. And they came up again and again.
This Thursday unionist domination of Belfast City Council can come to an end through the ballot box. This Thursday can represent another step on the road to freedom.
FOOTNOTE: Bríd came third, 6,000 votes behind Pat Doherty

Print This Post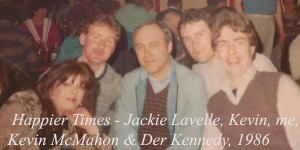 Around about this time in 1988 I was in Milltown Cemetery with several thousand people at the funerals of Dan McCann, Sean Savage and Mairead Farrell, IRA Volunteers who had been killed by the SAS in Gibraltar ten days earlier.
Given the large number of relatives at the graveside, I didn't go into the Republican Plot but stood at the hearses with the journalist Mary Holland and veteran republican Richard Behal. I had seen and spoken to my friend Kevin Brady earlier, around midnight, when we were waiting at Kennedy Way for the arrival of the bodies from Dublin airport but the cortege had been hijacked on the M1 motorway by the RUC who forced the drivers of the hearses to follow them and take the coffins directly to the homes of the three Volunteers and deny us paying our respects.
On the morning of March 16th, to our pleasant surprise, the RUC and the British army were nowhere to be seen. They had completely withdrawn. It seemed as if they had now ended their five-year-old policy of attacking IRA funerals and had pulled back to allow us to bury our dead in peace and with dignity.
As the coffins were lowered into the ground and Gerry Adams was just about to begin his oration, the first hand grenade exploded not far from the hearses. We immediately dived to the ground and debris and soil flew through the air. There was another explosion and pandemonium broke out. Initially, I thought we were coming under mortar fire but then there was the sound of low velocity gunshots. I stood up and could see a crowd of young people chasing someone who was heading in the direction of the M1. Alan Rusbridger, later editor of The Guardian, would write how a man told him to keep his head down before he leaped over the headstone Rusbridger was hiding behind, and began pursuing the attacker.
That man was Martin McGuinness.
People were screaming, the wounded were lying all around. A St John's ambulance, I think, was at hand and were administering medical help to those injured.
An angry crowd had caught a man who they thought was with the gunman who was now escaping. I ran over and could see that he was a journalist and told them to let him go, that I knew him. I am not sure – but I think he might have been Noel Dornan who went on to become the editor of the Irish News but was then working for the Belfast Telegraph.
There were a couple of other explosions down on the Bog Meadows and more gunshots.
A few hours later I received a call from Flair Campbell who had gone to the morgue with Brid Wiggins and he told me that Brid (Kevin's sister) and he had just identified one of the three people killed as Kevin, Kevin Brady, who had been mortally wounded when he challenged Michael Stone during the attack.

Print This Post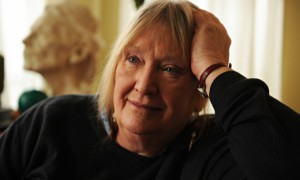 Last Sunday the news of Pam Brighton's sudden death spread quickly throughout the West Belfast community where she had made her home the past twenty years or more. In fact, I received a text from the Basque Country telling me the sad news just before I was phoned by a friend in the city.
Yesterday, I was honoured to chair the service for Pam which took place in Roselawn, and to introduce as speakers her friends, Maura Brown, Brenda Murphy and Bridie McMahon, whom Pam had mentored in Dubblejoint and Justus Theatre Companies, and who hilariously regaled her life and their adventures together.
Pam, who was sixty-eight, was born in Bradford but was always 'really' from Belfast and in particular West Belfast. She had one child, Ned, who also came to Ireland and made it his home. Ned married Jeanette Keenan, daughter of the IRA veteran, the late Brian Keenan, and they have two children, Oisin and Dearbhla.
Pam was a woman whose life was lived to the full and who covered an extraordinary range – from lawyer (in human rights veteran Mike Mansfield's practice) to actress, theatre director and writer, directing in her early days the agitprop theatre group 7:84; with the Half-Moon Theatre where she worked with Shane Connaughton and Peter Sheridan; to her work with Charabanc in the 1980s, producing raw, honest and hilarious theatre, along with Marie Jones, Ian McElhinney, Andrew Hinds and Peter Sheridan.
Theatre that dealt with the lives of 'insignificant' people, as Fintan O'Toole put it – "women who are supposed to have no place in history other than as extras for the crowd scenes".
The excitement that surrounded the setting up of Dubblejoint with Marie Jones and Mark Lambert in 1991 cannot be overstated. Pam was totally committed to making theatre accessible and relevant to working-class communities. She discovered new talent and encouraged people not only to write their own stories but to tell those stories in their own voices. She touched so many lives and covered so many themes and subjects from the local (Just A Prisoner's Wife, Binlids, A Working Class Hero, The Ballymurphy Massacre) to the international (the late Brian Campbell's Voyage of No Return which explored colonial and sexual exploitation on the island of Montserrat), to Marie Jones' reworking of Gogol's subversive social comedy The Government Inspector.
She premiered many productions in West Belfast, including Someone Who'll Watch Over Me, and, in collaboration with Marie produced a formidable body of work such as the astonishing, cathartic journey about one man's liberation from sectarianism, A Night In November, and the brilliant Stones In Their Pockets, inspired by a Shane Connaughton story.
I first saw Pam when she was in her early 20s, many, many years before I met her in her late 30s. I had been a fan since the 1960s of filmmaker Ken Loach, famous for Cathy Come Home and Kes, and loved his 1975 film, Days of Hope, about the British working class and the rise of Labour.
In that film Pam acts the part of Sarah whose pacifist, Christian socialist, husband Philip is a conscientious objector, who is arrested and condemned to death. Pam is young, vivacious, loyal, and (no surprise) supportive of resistance and revolution! If memory serves me well, I think that there is also a scene where she cradles an infant in her arms – her real life son, Ned Cohen, who decades later makes his home in Ireland.
So, now here was Pam Brighton, visiting me in Crumlin Road Jail, telling me that she was working for the BBC and had proposed to the BBC that they adapt my first novel, West Belfast into a four-part radio drama. Most of the visit, actually, was about prison conditions and how we were doing. It was about politics, about Ireland, England, what I thought of the Middle East, Nicaragua, the recent release of Nelson Mandela in South Africa, my position on arts and culture and capitalism! She was relentless!
Even after I was sentenced and convicted, and West Belfast couldn't find a writer to adapt it, Pam still stuck her neck out for me. She kept writing to me in jail. At her behest, I wrote a short story called We Got Tonite, based in an unnamed city, where there was no conflict, no IRA or RUC. It was about infidelity in a marriage, the breakdown of that relationship, and a subsequent reconciliation. The BBC recorded it – either with Stephen Rea or Dan Gordon doing the voice-over. But the BBC banned it! Not Thatcher. But the BBC. Pam was incandescent.
When I came out of jail I rejoined the management of Féile an Phobail where Pam was also on the board.
In 2000 she produced another former prisoner Brian Campbell's play Des, about the revered Father Des Wilson. In typical Pam style she said, "The play skipped the reverence, and gave us the man."
The work that emerged from Dubblejoint, the talent it facilitated, the new actors it produced, the offshoot companies like Justus it inspired, the communities it uplifted, the people who acted in them, wrote for them, designed backdrops and costumes, did lighting and sound – from Brian Campbell, Laurence McKeown, Brenda Murphy, Gary Mitchell, Brian 'Cormac' Moore, Tony Devlin, Donna McGarry, 'Cruncher' O'Neill, Danny Devenney, Marty Lyons – to name but a few, are part of Pam Brighton's enduring legacy.
One of Pam's closest friends, Maura Brown, remembers her fondness for animals: "She had two dogs, Maddy and Chucky, two of the worst behaved dogs I've ever seen but she loved them and insisted on taking them everywhere! I was with her last Saturday. Hard to believe that only a week later we are at her funeral."
Another friend, the playwright Brenda Murphy, was at the hospital when Pam, who had beaten cancer after a long illness, died of a heart attack.
"Last Sunday afternoon Maura Brown, Nuala Quiery and myself were standing at the door of the Mater Hospital crying one moment, laughing the next. Our friend Pam had just died. The fabulous, talented, clever, intellectual Pam Brighton. Pam would often drive me up the wall in rehearsals. I would fight and argue the bit out with her. But I knew she was special. She made my career as a playwright. She made me laugh and she was outrageous. I will miss Pam the rest of my life, it was a privilege to know her. I will never meet her like again."
Former prisoner-turned-writer Laurence McKeown collaborated with Pam on many of his and Brian Campbell's plays, including The Laughter of Our Children (about the 1981 hunger strike). "She lived her life according to her personal politics and put integrity before money — to her cost, financially, but not in terms of the friends she ultimately made and who will remember her for her courage and conviction."
Tony Devlin from Brassneck Theatre Company recalls, the "professional, thought-provoking, exciting, moving, inspiring, challenging, and ultimately entertaining theatre my friend Pam brought to West Belfast."
Pam could not only be infuriating, she could be mustard, as they say in Belfast! There isn't a person she worked with whom she didn't fall out with or argue with – and yet the service was packed with old friends who had travelled many, many hours and long distances, including her first husband Phil, father of Ned. The large presence was testimony to the affection and respect in which she was held, for her life's work and the commitment she had to the oppressed, the alienated and disaffected.

Print This Post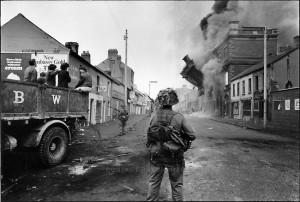 West Belfast was reviewed last week by Anthony Neeson in the Andersonstown News. Here it is:
IT'S not often that I read a book twice. Twenty-five years ago Danny Morrison's first novel West Belfast was published, but it's been out of print for several years and as a result Danny has decided to re-release it.
That, however, meant editing the book and it was during this process that he says he became "embarrassed" with some of the language. Several thousands words lighter and West Belfast is a much pacier read this time round.
The same story is there, and for those who didn't read it the first time round or who have no idea how people who are weighed down with the everyday routines of life find themselves slipping towards what would turn out to be a quarter of a century of conflict – without them even knowing it – this is well worth the read. However, if like me you read it the first time round, it is also worth revisiting. Hence my second read.
It's 1963 and the O'Neill family are a typical family on the Falls. Mother's up in the morning before anyone else getting the fire ready, da's preocuppied with work, or the lack of it. The innocence of the young children is matched only by the loss of innocence of the older boy, John. It's unsettling watching them struggle with their daily lives – their little victories and defeats – when we know what awaits them and their neighbours just around the corner as 1969 looms. But yet even during these days of familiar family life an undercurrent of political change is bubbling away in the background with the Divis Street riots, UVF murder and the rabble- rousing of a new firebrand preacher, Ian Paisley.
The book covers a ten- year period up until 1973, and goes a long way to explain how ordinary men and women through events and their own experiences suddenly find themselves at the heart of a conflict. Danny brings those lives and events to life with the familiarity of someone who has lived them and known them.
And the book doesn't over sentimentalise the IRA. With a British soldier in his cross-hairs we are let into the eternal thoughts of one volunteer:
"Already I can hear the familiar sermon echoing all the comparisons and lecturing me, the killer. I can see those comparisons myself right down to our mutual likes and dislikes in food, Granny Smith's apples, flowing butter on warm white bread, plenty of salt and vinegar on the fish and chips."
Countless history books have been written about the Troubles and the majority of them are tired with clichés and are instantly put-downable. As a novel, however, West Belfast does more to capture the history of this part of the city during its recent and most turbulent period.
– published 29th January, 2015

Print This Post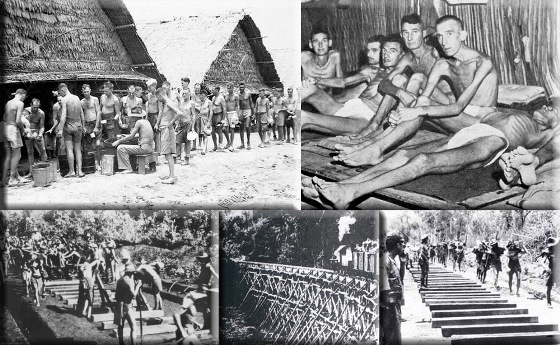 I reviewed Richard Flanagan's novel The Sound Of One Hand Clapping for The Examiner in 1998 and didn't like it. So, eagerly because of all the praise it had received, but with some reservations, I plunged into The Narrow Road To The Deep South.
I still have problems with Flanagan's style, use of time and point of view and was glad I read the novel which won the Man Booker Prize, 2014. But I found myself in agreement with many of the criticisms made in a devastating review in the London Review of Books by Michael Hofman.
The main character is an Australian military surgeon, Dorrigo Evans, who is captured in South East Asia during WWII, becomes a POW and along with thousands of others is brutally put to work on the Thailand-Burma Death Railway. The descriptions of the cruelty, the hunger, the cholera, the privations, the lice, the ticks, the ulcerated limbs and amputations and casual death, are harrowing. Even so, I found myself equally curious, and would have preferred more, about the fate of some of the Japanese officers post-war and their attempts to escape the war crimes commission.
One of those who is caught, a Korean collaborator who maltreated the prisoners, is sentenced to death as a Class B war criminal. However, it doesn't escape his notice that "the Allied victors often seemed to free officers who had links with the Japanese nobility and let others more lowly, like themselves, be the scapegoats whom they hanged… Why did the Americans support the Emperor but hang them, who had only ever been the Emperor's tools?"
The title of the book is based on a seventeenth century haibun (a mix of prose and haiku) by Japanese poet by Matsuo Basho, Oku no Hosomichi, which translates as The Narrow Road to the Deep North.
Evans recalls a brief love affair he had with Amy the young wife of his uncle, the memory of which helps sustain him through his ordeals and outlasts his imprisonment and insufferable marriage.
There were some passages I thought very well written.
This one is Evans' observation about the relationship between Amy and his uncle: "She glanced at her husband, a look in which Dorrigo glimpsed a complex mud of intimacies normally invisible to the world – the shared sleep, scents, sounds, the habits endearing and frustrating, the pleasures and sadnesses, small and large – the plain mortar that finally renders two as one."
Evans' thoughts on violence reminded me of a passage from my own novel, Rudi, on the same subject.
Flanagan writes: "For an instant he thought he grasped the truth of a terrifying world in which one could not escape horror, in which violence was eternal, the great and only verity, greater than the civilisations it created, greater than any god man worshipped, for it was he only true god. It was as if man existed only to transmit violence to ensure its domain is eternal. For the world did not change, this violence had always existed and would never be eradicated, men would die under the boot and fists and horror of other men until the end of time, and all human history was a history of violence."
I wrote: "His [Rudi's] father had said that all wars were mostly dirty affairs and only a minority of combatants ever acquitted themselves with honour or distinguished themselves with their bravery… His father had always insisted that there was nothing intellectual about warfare. Lyrical words, editorials, orations, sermons, could never sanitise it…
"What annoyed Rudi was that the armed man throughout history was seen as charismatic and seductive… [And] he regretted how warfare, above the influence of culture, fundamentally shaped the history of humanity and would continue to define the world."