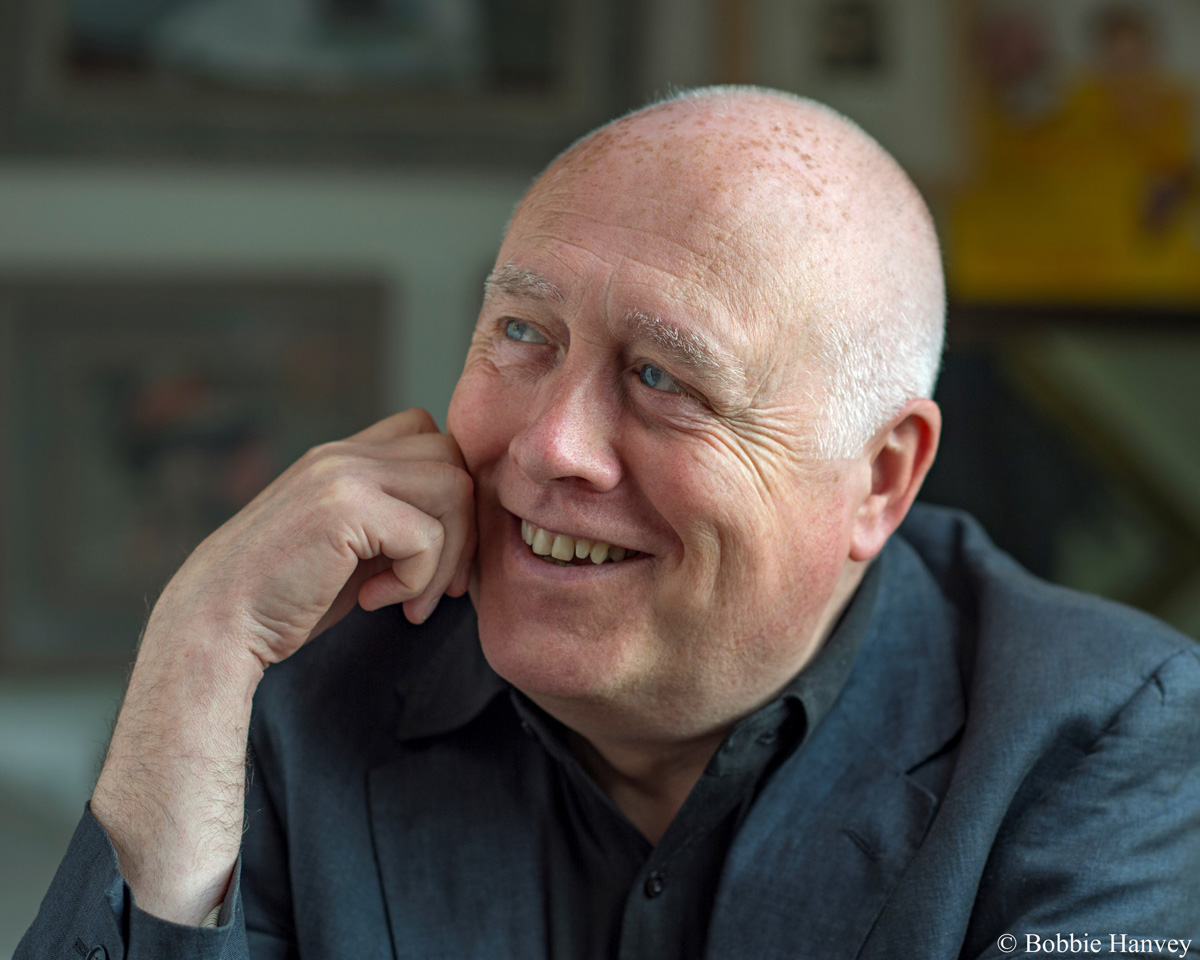 Danny Morrison is a writer who lives in West Belfast. In the 1980s he was the national director of publicity for Sinn Féin, served time as a republican prisoner, and as well as writing/reviewing is a political commentator in newspapers, on television and radio. He is the secretary of the Bobby Sands Trust and for several years until 2014 was the chairperson of Féile an Phobail, the festival founded in West Belfast in 1988.
Danny Morrison was born at home, a two-bedroom house, in 17 Corby Way, Andersonstown, Belfast on 9th January 1953. After Geraldine and Margaret he was the third child to Danny (d. 2001) and Susan Morrison (née White, d. 2011). His father was a painter at the Belfast shipyard, Harland & Wolff, but after an accident became a telephone operator. In 1957 the family moved to a three-bedroom house, 2 Corby Way, where his sister Susan (d. 2001) was born. His parents bought 27 Iveagh Parade, off the Falls Road, to where the family moved in the summer of 1963. Here, his brother Ciaran was born in October 1968.
Danny was schooled at St Teresa's Primary School, Glen Road Christian Brothers School, St Mary's Grammar School, St Peter's Secondary School and the College of Business Studies (which he left after Bloody Sunday in 1972). He was interned in Long Kesh in 1972 and 1973.
After his release from Long Kesh, Danny became editor of the Sinn Féin newspaper, Republican News, at the age of 22, during an IRA ceasefire in 1975. In 1978 he was charged with IRA membership and conspiracy to pervert the course of public justice. He defended himself in court and was granted bail. The charges were withdrawn in February 1979, a month after he became editor of the newly merged An Phoblacht/Republican News. He has also written or edited scores of political pamphlets (including Notes for Revolutionaries, The Good Old IRA and Ireland – The Censored Subject) and a variety of publications, and scripts for documentary films on the history of republicanism.
During the 1981 hunger strikes he was a spokesperson for IRA Volunteer Bobby Sands MP and later that year during a crucial debate at Sinn Féin's annual conference (the ard fheis) called for the party to embrace electoral politics, coining the phrase which was to sum up the Republican Movement's subsequent dual strategy of waging struggle with "an armalite in one hand and a ballot box in the other."
In January 1982 he and Owen Carron (who, after the death of Bobby Sands, succeeded Sands as MP for Fermanagh and South Tyrone) were arrested attempting to enter the USA from Canada with false papers and were briefly imprisoned in Buffalo before being granted bail and expelled. They returned for trial in October 1983 and were sentenced to a year's probation but were ordered out of the country almost immediately. As of 2023, Danny is still banned from entering the USA. He was also banned from entering Britain between 1982 and 1995.
Danny was elected in Mid-Ulster to the Northern Ireland Assembly on an abstentionist ticket in October 1982 and worked in the constituency for four years, based in Carrickmore, mostly staying with Sally and Francie Hurson (d. 1984), brother of the hunger striker Martin Hurson (d. 1981). Danny lost out on the Mid-Ulster seat at the Westminister general election in June 1983 by 78 votes to the DUP's William McCrea. He also unsuccessfully stood twice in the European elections in 1984 and 1989.
Danny was national director of publicity for Sinn Féin from 1979 until his arrest on 7th January 1990 in connection with the abduction of Sandy Lynch, an IRA informer, for which he was sentenced to eight years imprisonment. In 2004 a book, Stakeknife by Greg Harkin and a former British intelligence officer was published, alleging that Danny Morrison was set up by a rogue IRA man, Freddie Scappaticci, who was actually working for the British. As a result of these revelations Danny successfully applied for his case to be reviewed. (His co-accused joined in the action.) In October 2008 the Appeal Court in Belfast officially overturned the verdict but a spokesperson for the Public Prosecution Service asked that in the interests of 'national security' the former defendants not be given the reasons why. On 9th January 2009 the Appeal Court, having indicated that it would state the reasons, sat once again but this time ruled in the PPS's favour (details of case can be read here). However, the Appeal Court also stated that had the information been available to the Director of Public Prosecutions at the time (1990) Danny Morrison and his co-accused would probably not even have been charged.
Danny's first novel, West Belfast, was published in November 1989 but never formally launched. In 2015 a revised West Belfast was reissued to celebrate the 25th anniversary of the first publication. On the Back of the Swallow, his second novel, was written in prison and published nine months before his release (May 1995). The Wrong Man, his third, was begun in prison, completed after his release and was published in February 1997. This novel he adapated as a stage play which was performed in Dublin, Belfast, London and Edinburgh, and was nominated by Fest magazine as one of the top three dramas of the 2005 Edinburgh Fringe Festival. His fourth novel, Rudi – In the Shadow of Knulp, which was inspired by Knulp, the 1915 novel by Hermann Hesse, was published in 2013. His works of non-fiction are: Then The Walls Came Down, based on his prison letters, published in October 1999; All The Dead Voices, a part-memoir, published in 2002; Rebel Columns, a collection of his political writings, published in 2004; and Free Statism & The Good Old IRA, published in 2022. He edited a book of essays, Hunger Strike, which was published in 2006 by Brandon, updated and reissued in 2019. Also in 2019 he and an artist friend, Seán Mistéil, published an illustrated book of quotes from literary, cultural, political, philosophical and historical sources, Life, I Do Not Understand You.
He has also edited a number of books, including The Diary of Bobby Sands (1981); The Comrades (by former prisoners, 2021); A Shared Struggle (by surviving Palestinian and Irish Republican hunger strikers, 2021); 6000 Days by Jaz McCann (2021); and On The Blanket by Eoghan Mac Cormaic (2022).
Danny's short stories have been published in various magazines and broadcast on BBC, RTE and Lyric FM, though one, 'We've Got Tonite', a love story, was banned by the BBC in 1992 despite having already been recorded.
After his release from prison, Danny contributed to Sinn Féin's submission to the Mitchell Commission – the Independent International Commission on Decommissioning – which established the principles of non-violence for political parties in the North of Ireland; and also produced some of Sinn Féin's election broadcasts for television. He remains a committed Irish republican but gave up full-time activism to devote himself to writing and reviewing. He has written and reviewed for the Irish Examiner, the Irish Times, The Observer, The Guardian, The Washington Post, and Boston Globe.
In 2022 he and his German publisher at Elsinor Verlag set up the imprint Greenisland Press which in 2022 published three books: Free Statism & The Good Old IRA; Curious Journey by Timothy O'Grady and Kenneth Griffith; and Rewriting The Troubles by Patrick Anderson.
Contact Danny Morrison at danny@dannymorrison.com