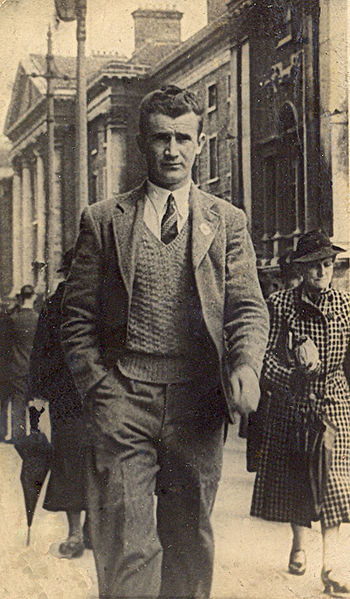 10th November. The late Siobhan O'Hanlon, former IRA activist, Armagh prisoner, and latterly secretary to Gerry Adams MP, was in South Africa several times before and after the peace process proper. She and her partner, Pat Sheehan (one of the 1981 hunger strikers and the longest on strike when the strike ended), met many people, probably the most important of who was Nelson Mandela. But while there she also met a Kerry man called Michael O'Connell. He had emigrated to Rhodesia (later Zimbabwe) after World War II and then to South Africa. Siobhan befriended him and when Michael returned to Ireland on holiday he would visit the North and it was at that time that I was introduced to him.
As a young person in the 1940s Michael knew one of the IRA's chief of staff Charlie Kerins who was a friend of my Uncle Harry. Charlie was executed in Dublin under De Valera in December 1944. My own uncle faced execution but was fortunately reprieved.
In 1974, or thereabouts, my Uncle Harry gave me a book called 'The Felons Track' by Michael Doheny, which Charlie had read, and signed, in his death cell and sent out to Harry. I treasured it. But over the years, during various raids, confiscations, seizures and arrests the book went missing and I have lost it – which is a major disappointment. Our offices at 170a Falls Road were often raided. When Roy Mason took it into his head to suppress 'Republican News' (after we published an uncomplimentary photograph of the British queen in 1977, and the itinerary of her visit to the North) the British army raided and wrecked our offices, seized all of our archives (only a fraction of which was returned following a successful court order), including a family photograph of NICRA spokesperson, Frank Gogarty, and a wedding photograph of a great republican, Paddy 'the Crib' Duffy.
(The Branch once chased a car I was in which the Crib was driving. But they only arrested me and I ended up in the dirtiest cell I have ever been in – in Dundalk Barracks on Grand National Day!)
Anyway, Michael returned to Ireland this year after the death of his wife and he has kept in contact with me. He came to Belfast, stayed in an excellent B & B in Crocus Street ( Belfast 90611467), off the Falls,  and I brought him on a tour of the city which encompassed, Bobby Sands' family home in Twinbrook, the Republican Plot in Milltown Cemetery, Geordie Best's grave in Roselawn (which I found, after asking two gravediggers wearing poppies), Castlereagh Interrogation Centre, and Stormont, where we were given a tour by Sinn Fein's Jim Gibney (the man I remember first suggesting that we should put forward Bobby Sands as a candidate in the Fermanagh/South Tyrone bye-election after the sudden death of Frank Maguire).
We had a coffee in the café and at our table I introduced Michael to Martina Purdy (BBC political correspondent); Eamonn Mallie (a journalist – and outstanding modern art connoisseur, with whom I had fallen out due to his failure to show up as a speaker at a 2008 Féile an Phobail event); Brian/Barney Rowan (former BBC Security Correspondent); Jim Dougall (former northern editor of RTE); and Mark Devenport (the local BBC's political editor). In turn, we were introduced to an economic spokesperson, formerly a director with the Northern Bank, now retired. I told him that I knew the person who had robbed him of £26.5 million but he put his fingers in his ears at the mere mention of it!
The journalists asked me why I was there. I told them that I always visit Stormont just prior to the Assembly collapsing and that I was a supporter of Jim Allister (who would destroy the Union) and a supporter of Alisdair McDonald (who would destroy the SDLP)!
9th November. When I read a good book I leave a lot of pencil marks in the margins: things that I would note as 'good descriptions', excellent quotes, a brilliant turn of phrase, or, if I am reviewing, an important twist in the narrative/plot.
Just finished reading 'The Ministry Of Pain' by Dubravka Ugresic, a book that comes with a string of encomiums. It was also shortlisted for the Independent Foreign Fiction Prize… and yet it left me unmoved. It is about a lecturer, Tanja Ludic, who has fled Croatia during the Balkan War and is teaching (fellow Yugoslavs) Slavonic Languages and Literature at the University of Amsterdam. It is about their displaced lives, language lost in translation, and how best one should cope with conflict and one's nationality/statehood in a foreign place.
In this book I left not one mark in the margin and I could not understand the praise it received. I bought another of Ugresic's books in hardback some time ago, 'The Culture of Lies', which I shall now be slow to approach.
8th November. On way to Sunday dinner in the house of our friends, Anne Cadwallader and Gerry O'Hare, in Andersonstown, when I meet an elderly woman who stops to say hello. I recognise her from her daughter Bernadette as Mrs Madden from either Andersonstown Crescent or Drive and I tell her that I went to St Teresa's Primary School from 1957 until 1964 with her son Gerry (or Gerard) who was the funniest person I have ever met. He and I would come out of school together and then he would tell yarns or jokes just opposite St Teresa's Chapel, near the Popular shop,  and he had me almost wetting myself. Since, I have only met him once, in Madden's Bar on St Patrick's Day about seven or eight years ago, but apart from recognition there was none of the magic of the old days. Mrs Madden spoke about my family, and her neighbour, my late Aunty May, widower of Hugh Downey, a Stormont MP from the late Forties. Then we reminisced about the spot where we were standing: where the Belfast boundary officially ended and where there were three whitewashed cottages. I pointed out where the Buntings' house use to be and she pointed out where Fox's butchers once was but that after the father's retirement a son or sons couldn't make a go of it. I had gone to primary school with Bernard Fox but also knew that Bernard's older brother, Brian, I think, who had been in the IRA, had died in an accidental shooting in England while on active service around Christmas 1974
7th November.  Planted 100 bluebell bulbs in my back garden (bought through an 'Irish Times' advertisement!) which allegedly will bloom next Spring.
4th & 5th November. In Cork with Féile management member Barry Fennell and director Sean Paul O'Hare for meetings with the Tina Neylon of the Life Long Learning Festival Committee, Cork City Council, representatives of Co-Operation Ireland, Denis Barrett (VEC), Willie McAuliffe (chairperson and deputy principal of Colaiste Stiofain Naofa), and the people behind Meitheal Mara. Meitheal Mara translates as 'workers of the sea',  and the organisation builds the light skin covered boats exclusive to Ireland, runs educational, training programmes (and in its employment uptake gives work to former prisoners in the Cork area) and operates bi-lingually. Féile plans to host a lecture during Féile an Earraigh in February by the founder of Meitheal Mara, Pádraig Ó Duinnín. Pádraig is currently the subject of an ongoing TG4 dcoumentary which charts his course around the coastline of Ireland, travelling by currach, van and bicycle.