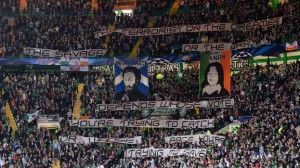 Was on Radio Ulster's The Nolan Show today about the campaign by some Celtic supporters to put a hunger strike song, Roll of Honour by the Irish Brigade into the BBC charts. I am not a soccer supporter – I prefer Gaelic football and rugby.
In 2004 I wrote about Celtic in an article  for the Irish Examiner. Celtic fans didn't like it because it knocked their saint, Martin O'Neill! Anyway, any pretext for resurrecting it! Here it is –
'Martin O'Neill MBE, OBE, etc'
So Martin O'Neill, the former Gaelic football player-turned soccer star-turned soccer manager, hero of Celtic fans worldwide, the man who took the team to their first European final in more than 30 years, accepted an OBE medal (Order of British Empire) in the British Queen's New Year Honours List.
The letter of offer he received in November said: "The prime minister has asked me to inform you, in strict confidence, that he has in mind, on the occasion of the forthcoming list of New Year's honours, to submit your name to the Queen with a recommendation that Her Majesty may be graciously pleased to approve that you be appointed an officer of the Order of the British Empire."
How must Celtic fans feel about his acceptance? Many will feel disappointed and angry. Others, however, given human nature, will try to perform a little mental somersault and write off the OBE simply as O'Neill's personal business, unrelated to Celtic. But, given what O'Neill said, that is not an option.
"I am honoured to accept it on their [the club's] behalf. As a club, Celtic has enjoyed success in the past few years, culminating in the appearance at the UEFA Cup final. This recognition belongs to all those who have made a contribution to that success," he said, thus associating the team and its supporters with awards, whose nominees are decided by an anonymous Whitehall committee acting for 10 Downing Street, and which are dispensed by the apex of the class system itself, the British Queen. Furthermore, the awards are given out in a hierarchical fashion (knighthoods to big business and patrons of the governing party: MBE's to car park attendants and bin men).
A few months ago it was revealed that filmmaker Ken Loach (who made 'Hidden Agenda' about the RUC's shoot-to-kill policy) and the black poet Benjamin Zephaniah had both turned down the award.
Zephaniah broke with protocol and spoke about his decision to reject the offer. He said: "I get angry when I hear that word 'empire'; it reminds me of slavery, it reminds me of thousands of years of brutality, it reminds me of how my foremothers were raped and my forefathers brutalised. It is because of this concept of empire that my British education led me to believe that the history of black people started with slavery and that we were born slaves, and should therefore be grateful that we were given freedom by our caring white masters. It is because of this idea of empire that black people like myself don't even know our true names or our true historical culture."
Many people have probably forgotten that back in 1982, when he played for the Northern Ireland team, Martin O'Neill accepted an MBE. He was hardly a gullible 30-year-old, even then, though, interestingly, I have never seen MBE after his name. He said he accepted the award on behalf of the team and Nottingham Forest for whom he also played. Thus, in his recent decision to accept an OBE he has not acted inconsistently. Furthermore, he is not the first manager or player at the club to accept an honour: Jock Stein became a CBE, Bobby Lennox and Billy McNeill MBEs and the club chairman Bob Kelly a knight.
Blinded by their own passion for the club and the culture it represents, fans have deluded themselves by not facing up to these ambiguities. In recent years O'Neill's reputation as a great manager has soared, particularly since he took over at Celtic in the summer of 2000 and became its saviour and a hero to thousands of fans.
I have never been able to share the obsession with soccer that many people, mostly men, have with the game. It dominates their waking hours, and their dreams and nightmares when they sleep. It circumscribes their lives and responsibilities. It is as if there is nothing else more important in the world. Wives and girlfriends play second fiddle to a ball and eleven men.
But in the case of Celtic FC there is a further dimension, given the history and struggle of the Club and its identification with the 150,000 impoverished Irish Catholic immigrants who fled to the East End of Glasgow in the post-Famine period. No wonder 'The Fields of Athenry' is the fans' favourite anthem, lambasting Lord Trevylan and the British Crown for the deportations to Australia of those Irish who rebelled or who stole grain to feed their families.
It was in Edinburgh that the local Irish community set up the Hibernian football club to help raise funds for the relief of the new immigrants. In Glasgow in 1887 a Maris Brother, Brother Walfrid, followed their example. He saw the need for the community to have belief in itself and the opportunity to raise money for his charity, The Poor Children's Dinner Table. He proposed the name Celtic for the club as a reflection of its Irish and Scottish roots. Within five years it won both the league and the Scottish Cup.
The Club's identity was further shaped and intensified by the sectarian polarisation in Scotland that defined the main rival soccer teams, Celtic and Rangers. This – and incidents at matches, from pitch invasions to riots – was heightened by events back in Ireland (the 1916 Rising, Partition, the Belfast pogroms). Rangers refused to sign on any Catholic players: Celtic would fly the Irish Tricolour from its flagpole during matches.
To many of its fervent Irish fans and their Scottish cousins the fortunes of the club, particularly against Rangers, took on the symbolism of the Troubles from a simplistic sectarian perspective. Over the years Irish republican songs about the conflict were appropriated as Celtic anthems on the terraces and sang with the passion of mythic battle songs.
The sense of belonging and of ownership was strengthened In 1995 (and again in 1999) when Celtic fans were able to buy shares in the club and purchased £14million worth, representing one of the most successful flotations within soccer and making Celtic certainly a club of the people.
So, given this backdrop, the decision of Martin O'Neill – from a northern nationalist home and republican area of County Derry – comes as a double-blow to the club's fans.
One obvious response of fans would be to uncouple support for Celtic from association with the cause of Irish republicanism, which is anti-imperialist and anti-Honours. However, I can't see too many being able or prepared to make such a wrench.
Benjamin Zephaniah said that he was shocked at how many of his fellow writers, including blacks, jumped at the opportunity to go to Buckingham Palace when Queen Elizabeth had her "meet the writers day" in July 2002 and at the excuses they gave. Among them were: "I did it for my mum"; "I did it for my kids"; "I did it for the school."
But the most pathetic of all excuses, he says, is the one: "I did it for the people".