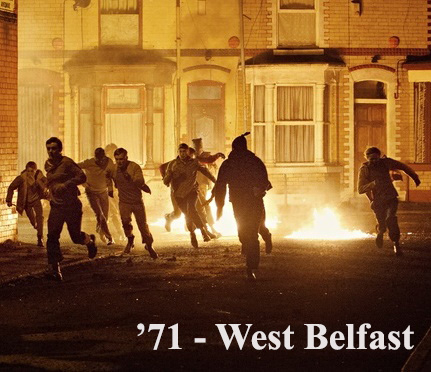 Interviewed on BBC Radio Foyle with Jim Allister, TUV, about Stormont Speaker Mitchell McLaughlin's speech on the issue of mutual respect.
15th March. Took part in discussion on conflict resolution with former Para Glenn Bradley at Queens Film Theatre after the showing of Yann Demange's '71. Full turn-out and very good Q&A.
14th March. In Donegal at commemoration for Kevin Brady and, later, launched West Belfast at a reading and signing in Leo's Tavern.
11th March. Interviewed by Rachel Shaw who is writing her dissertation on the psychological impacts of the Trouble's on its victims.
5th March. Interviewed on the Nolan Show about remarks by New York's Catholic Archbishop Timothy Dolan comparing the IRA to ISIS.
9th March. Interviewed by John Morrison, senior lecturer in criminology at the University of East London, about the evolution of the Republican Movement, and the relevance of centenaries.
7th March. Photographed and interviewed by Elle who is doing a degree in photojournalism.
25th February. Interviewed by Josephine Gallagher, a journalism student from the Dublin Institute of Technology, who is writing a dissertation on RTÉ and the BBC's coverage of the 1981 hunger strikes.
Chaired the service for Pam Brighton at Roselawn Crematorium.
17th February. Began teaching my eight-week Creative Writing Course for Tar Anall, Conway Mill.
11th February. Interviewed on Good Morning Ulster with Trevor Ringland about the opening of two new interpretative centres, Museums of Orange Heritage, funded by £3.6 million from the EU's PEACE III programme, and whether the museums would attract nationalists and republicans.
From the Kennedy Centre cinema, myself and others did a Skype interview with Stephen Fry [who was in London] for a forthcoming BBC documentary, Real Lives Reunited on Stephen Fry's 1997 visit to West Belfast for the premiere of Oscar.
5th February. Interviewed on Nolan Show, Radio Ulster, about a Belfast Telegraph poll indicating that people across East Belfast are deeply disillusioned about the peace process, with many believing that nationalists have got the better deal.
2nd February. Interviewed by Brian Campbell from the Irish News about West Belfast. Hugh Russell took photographs.
29th January. Ronan Bennett officially launched West Belfast at a Féile an Phobail event in St Mary's University College, chaired by Geraldine McAteer, which included Ronan spontaneously interviewing me about writing.
West Belfast was reviewed by Anthony Neeson in the Andersonstown News.
26th January. Interviewed by BBC Northern Ireland for a forthcoming documentary, Real Lives Reunited on Stephen Fry's 1997 visit to West Belfast for the premiere of Oscar.