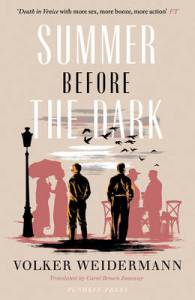 Finished Summer Before The Dark by Volker Weidermann and about which I have mixed views. I bought it because I am a big fan of the writer Stefan Zweig but was also influenced by the incredible number of good reviews and endorsements it received.
Its premise is sound: a work of non-fiction (using fictional devices) drawing on letters and the writings of a number of writers (and editors), including Stefan Zweig, Joseph Roth and Irmgard Keun who rendezvoused in Ostend in 1936 on the eve of WWII as they fled the Nazis. I'd read two of Keun's novels, After Midnight, which I didn't like, and Child of all Nations, which I enjoyed. I loved her description of Germany as "the land of the brown plague".
Weidermann's book also refers to the life and sad death of the writer Ernst Toller who escaped to the USA with his beautiful wife, the actress Christiane Grautoff. He lectured for a while and had some plays performed but suffered from depression. His wife later told of how she always had to pack a length of rope in the top layer of his suitcase, so that he could have a final way to escape. And that's exactly how he killed himself after hearing that his brother and sister had been arrested and sent to a concentration camp. He hanged himself in his room at the Mayflower Hotel, near Central Park in New York, in May 1939.
The emigres also discuss the case of Edgar André, a communist leader arrested within days of the Reichstag fire which Hitler exploited to crush leftist opposition.André had been tortured until he was crippled and wasn't brought to trial for three years. He  was summarily convicted and beheaded. André's statement to the court is reproduced where he says: "Your honour is not my honour, for we are divided by an abyss. If you are going to make the impossible possible here and send an innocent man to the block, then I am ready to walk that hard road. I want no mercy! I have lived as a fighter, and I will die as a fighter, and my last words will be: 'Long live Communism!'"
27th February. Gave Basque journalist Samara Velte a political tour of West Belfast and also did an interview with her about Brexit. Samara works for the Basque newspaper Berria, which is published completely in Basque language.
24th February. Did another interview with New Jersey High School students on the political situation in the North and the history of the conflict.
21st February. Did an interview with Iranian Press TV via Skype on the issue of Brexit.
Did an interview via Skype with high school students in New Jersey, USA, about the conflict in the North and the 1981 hunger strike.
16th February. Finished Passion of Youth an autobiography by Wilhelm Reich which I bought for $4 in a little second-hand bookshop in Oknha Chhun Street, Phnom Penh. Reich, who went on to become a psychoanalyst, a member of the second generation of analysts after Sigmund Freud, and who practised his profession in the US, writes explicitly about his promiscuous childhood, his incestuous aspirations regarding his mother, his difficulties and early alienation from this father, and, later, his experiences during WWI. The impact of his mother's infidelity on the family is hard reading, although when his father seeks out his mother-in-law she says, matter-of-factly, "What has happened has happened – you must make your peace now, and eventually all will be well."
That's not how it turns out.
The recriminations are relentless – the father even casts doubt on the parentage of his sons – and his mother repeatedly tries to kill herself. During her last, final successful attempt using poison, she exclaims from her deathbed, "Only one more hour!"
At this stage Reich's father is distraught and wishes he could take back all his cruel words. Reich's mother says: "Leo, I was always true to you – it was only that once – forgive me now – Willy and Robert are your children – be good to them for me!"
Reich's response to losing his mother was incredibly weird, I thought.
"But the fact that my Mother had died, as sad as it was in itself, and under such circumstances, overwhelmed me less with grief than with the fascination at a novel situation. Mother was the first person I had seen die. Yes, I must admit that I felt a certain pride in having the right to be called an orphan."
After WWI he struggled through poverty and hunger to study in Vienna. "When you are hungry, wrong becomes right, and right wrong."
Reich became a highly controversial figure for his unorthodox sex and 'energy' theories and was considered a sexual predator and delusional as well as being a charlatan. He was arrested for being in violation of a court order forbidding the distribution of his invention, the Orgone Energy Accumulator, and was sentenced to two years in prison. He died in Lewisburg Federal Penitentiary in November 1957, aged sixty.
Although disgraced, his theories continued to influence popular culture. Wikepedia cites several examples: the evil Dr. Durand Durand in the film Barbarella (1968) seems to be based on Reich; he places Barbarella (Jane Fonda) in his Excessive Machine so that she dies of pleasure, but rather than killing her the machine burns out. An orgone accumulator made an appearance as the Orgasmatron in Woody Allen's comedy feature film Sleeper. Patti Smith's Birdland on her album Horses (1975) is based on Reich's life. Hawkwind's song Orgone Accumulator, on their album Space Ritual (1973) is named for his invention, as is Love Camp 7's Orgone Box (1997). In Bob Dylan's Joey from Desire (1975), the eponymous gangster spends his time in prison reading Nietzsche and Reich. Reich is also a character in the opera Marilyn (1980) by Italian composer Lorenzo Ferrero. Kate Bush's single Cloudbusting (1985) described Reich's arrest through the eyes of his son, Peter, who wrote his father's story in A Book of Dreams (1973). The video for the song features Donald Sutherland as Reich and Bush as Peter.
13th February. Finished The Comedians by Graham Greene which I first read in the summer of 1970.
6th February. Finished The Quiet American by Graham Greene which I first read in 1971.
31st January – off to Vietnam and Cambodia.