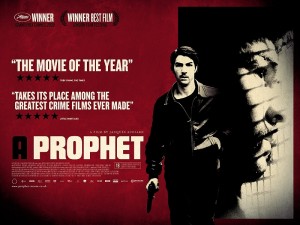 13th January. Reviewed the French gangster film, 'A Prophet', for BBC's Arts Extra, having watched the film earlier in the day at a special screening in the QFT with fellow reviewer, crime writer and Queens lecturer Andrew Pepper. I couldn't rave about the film as much as presenter Marie-Louise Muir or Andrew. Anyway, locals can listen to the BBC programme [9mins 40secs in] for the next six days at http://www.bbc.co.uk/programmes/b00ptkkt
'A Prophet' opens at the Queens Film Theatre on the 22nd January and runs until the 4th February.
9th January, 2010. Got lots of books among my Christmas and birthday presents: the four-volume Paris Review Interviews; a box collection of the novels of John McGahern; 'God Is Not Great' by Christopher Hitchens; 'The God Delusion' by Richard Dawkins; 'The Brothers Karamazov' by Dostoevsky; 'Berlin' by Antony Beevor; and 'The Resurrectionist' by Jack O'Connell! Read the Christopher Hitchens' book within a few days – powerful arguments (apart from Hitchens' own 'sectarianism' and unbridled contemptuousness) but a disturbing book even for a lapsed Catholic agnostic!
8th January. At comedy night at Black Box which was part of the 'Out To Lunch Arts Festival'. Missed the compere, Seamus Carabine, but was there for Andrew Maxwell, an extremely funny, witty, intelligent comedian who had several goes at Iris Robinson and Gerry Adams over Gerry's brother Liam. Had a 'light' discussion with him later about the nature of humour and what is permissible; he on the side of all is fair game!