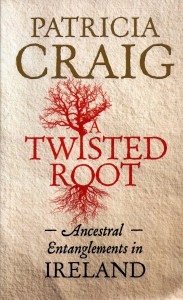 Being expelled from St Dominic's Grammar in 1959 over an innocent adolescent 'carrying-on' with some boys that summer in the Donegal Gaeltacht, undoubtedly had a profound effect on 16-year-old Patricia Craig from St James', off the Falls Road. Her 'co-accused', so to speak, Rita O'Hare, from the Glen Road, was also dismissed.
Rita went on the become the Sinn Féin National Director of Publicity and the party's current representative in Washington, whereas Patricia became an eminent and astute writer and critic whose works have been hugely influential on the perception of the literary canon of the North.
A few years ago Patricia wrote about her youth,  Asking For Trouble – The Story of an Escapade with Disproportionate Consequences. Now she has turned her hand to a very ambitious and detailed research project, investigating her antecedents, and comes up with surprising and rich results.
In A Twisted Root – Ancestral Entanglements in Ireland she is able to trace her family connections back to the Plantation in the form of Katherine Rose who came to Lisburn, through to a forebearer William Blacker who founded the Orange Order, and her great-uncles who fought in the IRA in the 1920s. Patricia's mother was a Catholic, her father a Protestant. Which, interestingly, was also the case with Rita O'Hare.
The book demonstrates how in a place like ours, we are all related in one way or another, given those ancestors who converted from one religion to another or who changed political allegiance. (Not sure who in the Morrisons, my Scottish Presbyterian ancestors, jumped 'ship' and left me with no Lodge but a cumainn! I owe you nothing. And I owe you everything.)
She argues that this heterogeneity "makes a nonsense of the monolithic certainties on which the entire structure of our centuries-old conflict is based". In a way she is right: the pure Gael does not exist. (Nor the pure English or Scottish race.).
But the past, and particularly the wrongs of the past, where they explain the conditions of injustice and inequality under which one's community has had to live, or lives, are not fallacies but potent drivers of action. If wrongs are not redressed through reform, they will be redressed through rebellion, with each rebellion creating an inescapable culture and patriot narrative which will resonate for generations.
So, in sympathetically explaining the Plantation, for example, Patricia leans towards what she calls 'scrupulous historians' (what an oxymoron) as opposed to 'old-style nationalist historians', whereas truth, in my opinion, is to be found somewhere between, if it is to be found at all.
Although it does seem incredulous that she is able to produce a distant relative here and there who, Forrest Gump-like, witnesses many of the defining events throughout our history, I would not like to contradict her because she marshals convincing supportive evidence (a bit overwhelmingly and with some licence here and there) for these often convoluted connections.
The pace and interest and accessibility quickens when we reach contemporary times and it is easier to take issue with her!
Having written several memoirs I know of the problems one can encounter with one's family and living relatives. The closer one comes to the present the greater the danger of offending someone and yet the writer struggles between depicting the truth as she sees it or a tactful travesty of the truth. Charles McQuaid in The New Yorker once wrote: 'If you want to be a writer, somewhere along the line you're going to have to hurt somebody. And when that time comes, you go ahead and do it.'
I suppose, it all depends on how tactful or tactless one is.
In many ways a paean to her mother and father, A Twisted Root, is a valuable and provocative contribution to our ways of seeing.
"All of us in the north of Ireland, Protestant, Catholic or what-have-you, are a compound of the same good and bad elements from brave hearts to stiff necks," says the West Belfast woman who has come a long way from snogging boys in a Donegal haystack, back in 1959, as gaeilge.
Published by The Blackstaff Press – £12.99
This review was published in the Andersonstown News, 18th April, 2013