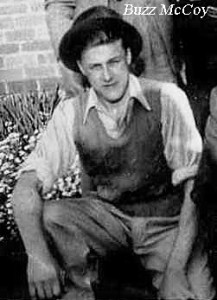 Wrote a feature for the 'Andersonstown News' (10th January) called 'Suspicions about "Suspicious Minds"'. Here it is:
The Morrisons moved from 2 Corby Way to 27 Iveagh Parade in 1963. Leaving behind my 10-year-old best friend Brendan Hunter, I was broken-hearted. But things were partly assuaged by adventure and new and older faces especially that of 'Buzz' McCoy.
Buzz lived in the squalid Beechmount Bungalows, built to meet the demand for immediate post-war housing. Later, the bungalows were demolished and replaced with the 'Pass 'n' Grove'.
On the night that President Kennedy was assassinated, Buzz was sitting on our stairs trying to teach me chess, though I suspect now that he was actually trying to get off with our Geraldine but was too shy. In the years '64, '65 and '66 Buzz was a real mentor to us young ones.
He was apprenticed as a carpenter but he found it mind-numbing. He would get agitated about going out on Friday nights to Sammy Houston's Club or the Astor so, beforehand, with his mates, he went for a few pints of cider to the Spanish Rooms (which no longer exists), to work up some courage.
It was around about this time that he met this plain Jane from St James called Hitler: I mean, Elizabeth. They say love is blind and we couldn't see what he saw in her. I couldn't believe it when they got engaged. He was ordered by the Third Reich not to say he was from the Bungalows but from Beechmount Avenue!
Buzz had tousled hair, wore a slightly scuffed hat and an open-neck shirt and was always clean-shaven. He was rarely in a fight but his mother, who 'suffered from her nerves', worried about him day and night.
Buzz was self-taught on the guitar, banjo and mouth organ and had begun writing his own highly original compositions, some of which he valiantly sent to Manfred Mann, Joe Cocker and even to a young Les Gray (who went on to found Mud and later had the hit 'Lonely This Christmas').
In 1966 the UVF killed two Catholics. In October 1968 Elizabeth, who had an exaggerated sense of her beauty, abruptly broke off her engagement at the first opportunity. Buzz had stopped to talk to an old friend he knew, actually his first love, and they were just innocently catching up on news. He was shattered. It was also the week that the civil rights marchers were batoned by the RUC in Duke Street, Derry.
His mother was frightented of the impending Troubles and also by Buzz's depression. She gave him his fare and packed him off to her sister's in White Plains, USA. Ironically, Buzz was drafted into the US Army and actually ended up in Vietnam. Back in Belfast we instinctively supported the North Vietnamese and only later learnt of the danger he had been living under – and of his fate.
It was whilst serving in Saigon in late 1968 that he wrote the lyrics of 'Suspicious Minds'.
At Christmas 1996 Ray Heffernan, in a Dublin pub, met Robbie Williams, who was then down on his luck. They had a few beers. Ray brought Robbie back to his flat and sang one of his compositions, 'An Angel Instead'. Later, there was a legal dispute over rights and Heffernan foolishly signed a waiver for a measly £7,500 for a hit that earned Robbie Williams millions.
Everyone mistakenly thinks that Willie Nelson wrote 'You Were Always On My Mind', just as they incorrectly believe that Elvis wrote 'Suspicious Minds', which is always included in the 'One Hundred Greatest Songs of All Time'.
Candi Staton (1982) and Fine Young Cannibals (1986) did excellent covers of 'Suspicious Minds'. But the most poignant version I ever heard was at a wedding, when the groom (a cousin of Buzz) dedicated it to his hour-long, newly-wed, which was, unsurprisingly, not the highlight of their short marriage.
"Why can't you see/What you're doing to me/When you don't believe I word I say," he sang as he got all shook up and she got all choked up.
Arguments have raged down the years about the influence of marxist James Connolly on Padraig Pearse and his writings.
There is a magnificent quote attributed to Pearse – which I can't remember exactly – but which since the 1970s has turned up in US academic papers in support of Pearse's communist credentials.
Tom Hartley and I were having a drink in the PD one night with that underrated republican publicist from West Belfast, Sean Morris, and were praising him for a poster advertising the Easter Parade he had recently brought out which quoted Pearse on the masses and the need for class struggle.
I had read all Pearse's writings, including 'The Murder Machine' and 'The Sovereign People', and said admiringly, "Fair play to you, Sean, I have never come across that quote by Pearse."
"I know," he said. "That's because I made it up."
Nowadays it is impossible to fool someone who is just about to celebrate their fortieth or fiftieth birthday into believing that you just have to do a message in the White Fort for a second, and will they come with you. They know as sure as day follows night that the whole family is there to 'surprise' them!
I could have kept the story of Buzz until the eve of April 1st but I needed the element of surprise. Poor Buzz. I gave birth to him in the first paragraph and killed him off half way through this feature. But it would have been nice if a guy from Beechmount had written 'Suspicious Minds'. As for Elizabeth – she still lives in St James and, I'm happy to report, she never married. No man would have her!