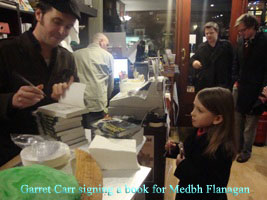 5th February. Spoke last night at the book launch of 'The Badness of Ballydog' by Garrett Carr in the No Alibis Bookstore on behalf of Féile an Phobail and as part of our Spring Festival, Féile an Earraigh. Other events over the next few days – besides lots of concerts and family events – include a talk in the Linenhall Library tomorrow at 1pm by Pádraig O Duinnín from Cork's maritime cultural and education centre, Meitheal Mara. In his presentation, 'A Man of the Sea', Pádraig will be talking about the art of traditional boat-building in Ireland.
Also tomorrow, beginning at 4pm in the West Club, we have Scribes At The West featuring Duke Special, Tom Mathews and Les Barker. All our welcome.
29th January. Interview with Jennifer Wentworth who is doing her dissertation on "IRA propaganda".
28th January. Death of J.D. Salinger.
25th January. Did Skype interview with Bonnye Stuart, a researcher from Winthrop University in South Carolina. Here subject is the influence of televised images of Martin Luther King and the US Civil Rights Movement on the nationalist people of the North and their demonstrations.