16th January.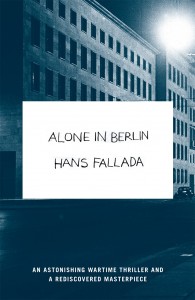 Finished what is probably the best book I have read in ten years, 'Alone In Berlin' by Hans Fallada. Finished it with tears streaming down my cheeks.
15th January.
Went to the Black Box to hear Chris Mullin speak, part of the Cathedral Arts Quarter's 'Out To Lunch Festival'. First met Chris about twenty-five years ago, before he became a Labour MP. A decent, honest, honourable man – and a fighter. Last saw him in 2002 at the Guardian's London summer party held in the former home, I think, of the British spy Anthony Blunt. Chris – as well as being instrumental in the campaign to clear the names of the Birmingham Six, Guildford Four and Judith Ward – is a successful novelist. Got his book, 'A View From The Foothills', his diaries about his time in government.
On my way to the black taxi depot in King Street I bumped into Neilly Rooney who was using a walking stick. Joyriders had knocked down this 73-year-old man close to his home in Albert Street some months ago and he is still recovering. He had been to Specsavers but had to call back for his glasses in half an hour. So… we went into Maddens for a yarn …and a drink! Neilly's father had been in the British army in the Far East during WWII and was captured by the Japanese. He was among the POWs forced to build the Burma-Siam railway, during the construction of which it is estimated that 100,000 civilians and 13,000 POWs died. The story was later fictionalised in the film, 'The Bridge Over The River Kwai'. Neilly said his father was destroyed by the experience and though he survived imprisonment he died within a few years of returning to Belfast.
All mementoes of his father and family photographs were destroyed when Neilly's mother's house in Conway Street was burned down on the 14th August, 1969, by loyalists, B Men and the RUC, just an hour or two before the RUC shot dead Neilly's nine-year-old son Patrick as he lay in bed in their home at St Brendan's Pass, Divis Flats.
Neilly can be very funny and kept me entertained about stories of him as a crooner (he loves Country and Western music) and kept showing me text messages containing Iris Robinson jokes that were still arriving on his phone!