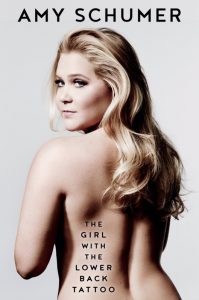 Finished reading Amy Schumer's The Girl With The Lower Back Tattoo – not my usual fare, needless to say. But I had seen and enjoyed her film Trainwreck, a few months ago, and heard her being interviewed on the radio where she came across as intelligent, confident and witty. The book lived up to my expectations of its author – raunchy and funny – and I found her candidness refreshing, especially the chapter on her mother.
Whether it was cathartic to write, I am sure her mother Sandra found it traumatising to read!
Her description of how she succeeded in comedy, through sheer hard work, is fascinating. But even though she has 'made it' there is constant pressure: 'Unlike musicians, comedians are expected to always bring new shit. No one wants to hear the greatest hits, so I was back to square one. This requirement of comedy is exhausting and challenging, but I wouldn't have it any other way. It's exciting and humbling to have to start over – and the payoff is even better. You feel so accomplished when you've accumulated enough material – one joke at a time – for an entire special.'
She rails against the fashion and media shaming industry which upholds slim models ('waifish elves') as the norm and promotes a masculine view of women. She says that when she gets out of the shower and looks at herself she looks 'blotchy and messy and not at all like the girls in those magazines. But I am still fucking beautiful. I'm a real woman who digests her meals and breaks out and has sweet little pockets of cellulite on her upper thighs that she's not apologising for. Because guess what? We all have that shit. We're all human beings.'
Amy is one well-rounded (psychologically!) individual and writes honestly about herself, about love, family and relationships.
12th September. Took part in a solidarity picket at the Falls' International Wall to mark the 72nd birthday of Leonard Peltier and call for his release.
8th September. Finished a delightful first novel Orange Boy Blue by Julia Roddy, a sophisticated 'love-across-the-barricades' East Belfast story.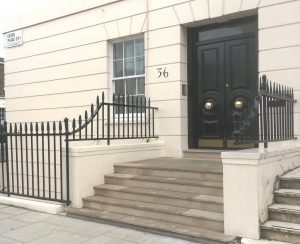 4th September. Visited the scene of the assassination of Sir Henry Wilson outside his home at 36 Eaton Place, London; No 9 Eaton Place, the former home of Sir Edward Carson; and Gerald Road Police Station which is now a listed building, and where Wilson's IRA assassins, Reggie Dunne and Joe O'Sullivan, were taken and badly beaten after the shooting.
3rd September. At Reading Prison, England, for the launch of the ArtAngel project around themes of imprisonment. It was here that Oscar Wilde wrote De Profundis, his letter to Bosie, Lord Alfred Douglas, which deals with the subject of alienation, sorrow and suffering. He wrote: 'To regret one's own experiences is to arrest one's own development. To deny one's own experiences is to put a lie into the lips of one's own life. It is no less than a denial of the soul.'
My imagined 'letter' from Reggie Dunne to the IRA after the assassination of Sir Henry Wilson in 1922 is on display at Reading Prison in a cell and a recording by the actor Will Howard is available.
1st September. Read The Good Muslim by Tahmima Anam which I couldn't really get into, although good writing.
28th August. Finished Red Dust by Gillian Slovo, a novel about South Africa's Truth and Reconciliation Commission, with many twists and turns, as the torture of political prisoners, including one ANC member who has been 'disappeared', impacts on survivors, victims' families and the culpable. Begs the question: is establishing the truth always more important than the pain it might cause?