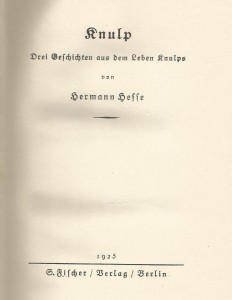 I am half-way through The Marquise Of O- (And Other Stories) by Heinrich Von Kleist, a German playwright and author of novellas dealing with violence and mystery. In 1811 thirty-four-year old Kleist in a suicide pact with Henriette Vogel who was dying from incurable cancer first shot her and then himself at Wannsee, near Berlin. He simply couldn't cope with life, with existence.
Then, last week, I discovered that one of my readings in Berlin was going to be at the Heinrich von Kleist Library in a district of the former East Berlin – and what an occasion it turned out to be! The library was full, Marina Georgi and her staff laid on drinks and food and gave me presents of a pen, beers from the local micro-brewery, but most precious of all was a hardback copy of Knulp, published in 1925. Marina told me that earlier that day an old man called into the library. He couldn't come to the event but that he would like her to give me the book as a memento of my visit! What a gesture, what kindness. Thank you, whoever you are.
16th September. Was part of a panel discussion on tonight's BBC television's Spotlight chaired by Noel Thompson. Was on with Fionnuala O'Connor and Alex Kane to discuss the legacy of Ian Paisley who died last Friday. I said that I was wrong when I thought he would never do a deal with Sinn Féin but that I was glad he had, and had brought the DUP over the line. I also doubted whether he had done it for egotistical reasons and I didn't buy into the theory that he wanted 'peace-maker' rather than 'trouble-maker' on his headstone because he must have known that he could not so easily erase all that came before. Simplistically – although the cause of the conflict is much more complex – if the cause of our recent Troubles could be laid at the door of one man, it would be Ian Paisley. After we left the studio Fionnuala and I were criticised on air by Gregory Campbell for our 'disgraceful' remarks!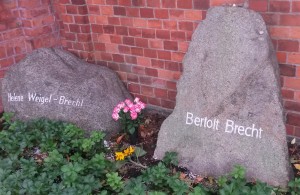 12th September. Went to Dorotheenstadt Cemetery and visited the graves of Heinrich Mann, Herbert Marcuse, Christa Wolf, and Hegel, and was standing at the grave of Bertolt Brecht when I received a text message from my brother Ciaran to tell me that Ian Paisley had died.
During one of my interviews I was asked about the provenance of the name Rudi which was thought not to be German. Then, as I was walking around Dorotheenstadt didn't I come across this grave!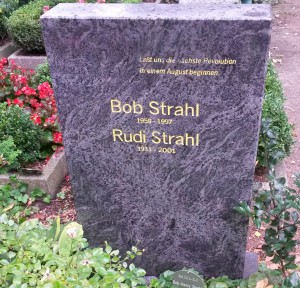 11th September. Visited the House of the Wannsee Conference. Here on 20th January 1942 Reinhard Heydrich chaired a meeting lasting just a few hours. Attended by fifteen high-ranking SS officers and representative of Germany's public administration the plan was drawn up to murder all European Jews. The house itself is eerie for having been filled with evil but now it is the location for a permanent exhibit and an education department which offers youth groups and school children talks on the holocaust and the history of National Socialism and its consequences. There were about thirty young people there at two separate seminars. The historian Joseph Wulf had between 1965 and 1972 attempted but failed to found a documentation centre in the villa. It was only in 1992, after German reunification, that the Memorial and Educational Site was established – on the 50th anniversary of the Wannsee Conference.
At Heinrich von Kleist library tonight I read from Rudi and was interviewed by Milena Adam who also acted as translator.
10th September. Visited the Stasimuseum in the morning. This afternoon, in the Haus Der Berliner Festspiele was my first event – 'Approaches to Trust' – which was moderated by the well-known translator Bernhard Robben with an actor, Matthias Scherwenikas, reading from a political essay I wrote. Later, it was the same platform but in the Martin-Luther Kirche and the discussion and reading was about Rudi.
9th September. Interviewed by Berlin's Radio 1 about the situation in Ireland and my book Rudi.
Attended the official opening of the ilb.
8th September. With friends was given a personal tour of the Reichstag. Later, met the Irish Ambassador to Germany, Michael Collins. He introduced Jörg Rademacher who spoke about his exhibition on the life of Oscar Wilde which was on display and about his new translation of Dorian Gray for which I wrote the introduction.
7th September. Went to Jablonskistrasse, the setting of no 55, the apartment where the fictional Otto and Elise Hampel live in the Fallada novel Alone In Berlin.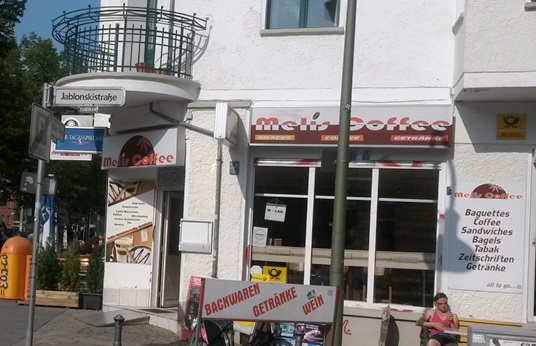 6th September.  In Berlin to attend the International Literature Festival (ilb).
1st September. Interviewed on Radio Foyle, then on the Nolan Show, re the 20th anniversary of the IRA ceasefire.
31st August. Went up to Long Kesh and looked out across the old car park towards where the visiting area and H-Blocks were, and reflected on the conflict on this the anniversary of the 1994 ceasefire.
30th August. Interviewed in RTE studio Dublin by Aine Lawlor for the Marian Finucane Show about the 20th anniversary of the IRA ceasefire and also about my writings.
27th August. Interviewed by Paul Clarke on UTV along with William 'Plum' Smith, former loyalist prisoner, about the 20th anniversary of the IRA ceasefire.
25th August. Did Skype interview with Leaving Certificate student Megan Conway on Bobby Sands and the 1981 hunger strike.
23rd August.  At meeting in Ulster Hall addressed by George Galloway whom I later took to the Andersonstown (PD) Social Club, then to Kelly's Cellars.
18th August. Interviewed by Victoria McGroary who is at Brandeis University, USA, and who is working on her doctorate about the Troubles, in particular Sinn Féin and its transformation into the dominant nationalist party in the North.
9th August. At City Airport picked up Martin Sixsmith and his wife Mary. Later, did guest interview with Martin about his journalism but particularly about his book, Philomena.
8th August. Interviewed by Gerry Braiden for The Herald on the Scottish referendum on independence on 18th September. Chaired Féile event given by Sean Connolly on performance enhancement.
6th August. At City Airport picked up Marina Lewycka (A Short History of Tractors in Ukrainian) who will be speaking at Scribes tomorrow along with Conal Creedon and Ronan Bennett.
5th August. Edited down a lengthy feature on Culture of Trust which will appear in Berliner Zeitung and Frankfurter Rundschau.
4th August. At Féile-organised discussion of 20th anniversary of IRA ceasefire. On the platform: Brian Rowan, Eamonn Mallie and Charlie Bird.
1st August. At the launch of white marble bust of Bobby Sands, sculpted by Paraic Casey from County Clare. At the event in the Felons Club both Paraic and Gerry Adams spoke.
31st July. Chaired launch of Tom Hartley's new book, Milltown Cemetery – Written In Stone. This is my introduction:
My name is Danny Morrison and I am proud to chair this opening event of Feile 2014, especially since it is on behalf of one of my oldest friends, Tom Hartley.
I actually knew Tom's brother Terry when both of us were waiters in the International Hotel back in 1968. I think it was in that hotel that the inaugural meeting of the Civil Rights Movement was held, and, of course, it was also from that hotel, where he worked, that in 1966 young Peter Ward went for a drink to the Malvern Arms and was shot dead on his way out.
Of course, none of us back then, fairly innocent, were to know of the darkness that lay ahead.
Tom and I became friends and comrades through our work in the Republican Press Centre where I was based as editor of Republican News and Tom was the manager.
He wrote a few pieces back then but was mostly in charge of putting pressure on people to pay their bills. In fact, he got a very angry reply back from a republican prisoner serving life in England who had received a letter from Tom saying that if he didn't pay his bill his subscription would be cut off.
Later, Tom became general secretary of Sinn Fein and was a good, healthy and progressive influence on the party, and, of course, he has also been Lord Mayor of Belfast. Tom was the first member of Sinn Fein to attend the First World War commemoration service at Islandbridge in Dublin in 1994.
This festival, Féile an Phobail, celebrated its 25th anniversary last year. Tom was involved from the outset but his initial contribution actually didn't involve cemeteries but taking a minibus of tourists around West Belfast and pointing out famous landmarks. He would stop in Harrogate Street and point out a certain house and explain that a famous Irishman had been born in it. It was missing a plaque but it was, of course, the house were one Tom Hartley had been born.
When he first began his walks of City Cemetery he gave myself and the poet Michael Longley a private, fascinating tour, and he certainly opened my eyes to the history of the unionist people as 'written in stone' and our complicated history. For example, one grave he brought us to was that of Robert Lynd.
Robert Lynd was born in North Belfast in 1879. His father, a Presbyterian minister and former Moderator, was an anti-Home Ruler. Robert, though, declared himself a socialist, became a fluent Irish speaker and later a republican, but was opposed to physical force, believing that violence would alienate the unionists, for whom he always maintained a great affection.
He worked in London as a journalist and while there got to know Michael Collins. He taught Roger Casement Irish and was one of the most active petitioners for Casement's reprieve in 1916, visiting him in Brixton Prison.
He was a member of Sinn Fein for a while and also wrote the introduction to James Connolly's book, Labour in Irish History.
He died in London in 1949 but was buried in the city cemetery. There were tributes from George Bernard Shaw and Sean O'Casey. The Union flag at Inst.
College, his old school, hung at half-mast. Present at his funeral here on the Falls Road, were Vice-Marshall Sir William Tyrrell; Sam Porter, then Lord Chief Justice; Lynd's nephew, Robert Lowry, a future Lord Chief Justice (who in 1978 would acquit Gerry Adams of an IRA membership charge); the artist William Conor; the former IRA Chief of Staff, Sean McBride, then Minister of External Affairs for the Dublin government; McBride's assistant, Conor Cruise O'Brien; and Senator Denis Ireland.
Tom was discovering for us an almost, almost lost past.
I now have the honour of introducing our main speaker, Philip Orr, who will officially launch Tom's companion volume to his book on City Cemetery. Philip is a former teacher, a consultant to various museums, a playwright and author of the best-selling book, The Road To the Somme: Men of the Ulster Division Tell Their Story.
He is a good friend of Feile and has appeared on many Feile platforms before –  performing along with Mike Gaston a selection of Robbie Burns poems and songs, discussing with Joe Austin the poppy and the lily and he will be speaking at the Falls Library next Wednesday on the subject of 'The Great War and Unionist Memory'.
26th July. Went to the Gate Theatre in Dublin to see The Price by Arthur Miller. Brilliant.