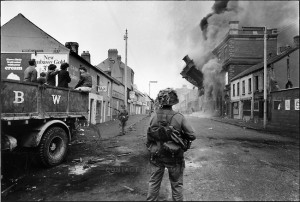 West Belfast was reviewed last week by Anthony Neeson in the Andersonstown News. Here it is:
IT'S not often that I read a book twice. Twenty-five years ago Danny Morrison's first novel West Belfast was published, but it's been out of print for several years and as a result Danny has decided to re-release it.
That, however, meant editing the book and it was during this process that he says he became "embarrassed" with some of the language. Several thousands words lighter and West Belfast is a much pacier read this time round.
The same story is there, and for those who didn't read it the first time round or who have no idea how people who are weighed down with the everyday routines of life find themselves slipping towards what would turn out to be a quarter of a century of conflict – without them even knowing it – this is well worth the read. However, if like me you read it the first time round, it is also worth revisiting. Hence my second read.
It's 1963 and the O'Neill family are a typical family on the Falls. Mother's up in the morning before anyone else getting the fire ready, da's preocuppied with work, or the lack of it. The innocence of the young children is matched only by the loss of innocence of the older boy, John. It's unsettling watching them struggle with their daily lives – their little victories and defeats – when we know what awaits them and their neighbours just around the corner as 1969 looms. But yet even during these days of familiar family life an undercurrent of political change is bubbling away in the background with the Divis Street riots, UVF murder and the rabble- rousing of a new firebrand preacher, Ian Paisley.
The book covers a ten- year period up until 1973, and goes a long way to explain how ordinary men and women through events and their own experiences suddenly find themselves at the heart of a conflict. Danny brings those lives and events to life with the familiarity of someone who has lived them and known them.
And the book doesn't over sentimentalise the IRA. With a British soldier in his cross-hairs we are let into the eternal thoughts of one volunteer:
"Already I can hear the familiar sermon echoing all the comparisons and lecturing me, the killer. I can see those comparisons myself right down to our mutual likes and dislikes in food, Granny Smith's apples, flowing butter on warm white bread, plenty of salt and vinegar on the fish and chips."
Countless history books have been written about the Troubles and the majority of them are tired with clichés and are instantly put-downable. As a novel, however, West Belfast does more to capture the history of this part of the city during its recent and most turbulent period.
– published 29th January, 2015