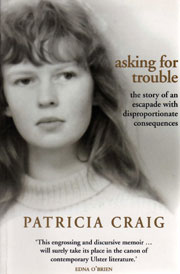 Finished Patricia Craig's memoir, 'Asking For Trouble', the story of her dismissal from St Dominic's Grammar School in 1959 over her alleged scandalous behaviour with lads in the Donegal gaeltacht, and the repercussions that had on the rest of her life. Patricia, who became a renowned critic, reviewer and anthologist, will be talking about her life and her work in the literary arts during August's féile.
16th May. Finished 'The Inseparable Twins' by Anatoly Pristavkin, a beautiful, sad book about sibling love in the midst of cruel war. I can never think about this book without hearing the music 'Caucasian Sketches' by the Russian composer Mikhail Ippolitov-Ivanov, that music being used to introduce the adaptations of the novel for radio's 'Book At Bedtime' in the early 1990s. I had been after the book since then and recently got it second-hand. It is the story of two Moscow orphans, the Kuzmin twins, Sashka and Kolka, who are sent to an orphanage in Chechnya, to a village where the indigenous population has been dispossessed and transported to Siberia, accused by Stalin of collaborating with Germany. Except that not everyone left; some have taken to the mountains from where they wage an irregular war. The book is heartbreaking and exhilarating and is one of my favourites.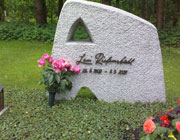 15th May. Yesterday, I visited the Old North Cemetery, which was very peaceful – no dogs or cyclists allowed; but could discover no graves of the famous. Today, visited the grave of Leni Riefenstahl in Waldfriedhof Cemetery. She was the director famous for her innovations as a filmmaker, in particular 'Triumph des Willens' ('Triumph of the Will'), and famous for her personal friendships with Hitler and Goebbels. She was arrested after the war but was released without charge. She also made the film about the 1936 Olympic games, 'Olympia'. This was the games when Chancellor Adolf Hitler stormed out after Black American, Jesse Owens, took gold in the sprint (and features as a sidebar in a great first novel, 'Olympia', by Canadian Denis Bock)
Riefenstahl lived in denial of her Nazi associations and died just seven years ago at the age of 101. Her grave is well maintained.
14th May. Speaking in Munich in a fringe event of Germany's Kirchentage – bi-annual meetings of Catholics and Protestants that go back over one hundred years. A special 'House of Ireland' was organised by German-Irish travel agent Christian Ludwig. It was here that a panel discussion took place, which included myself and the Irish ambassador to Germany Dan Mulhall, on the subject, 'Northern Ireland – the Long Road To Peace'.
Visited the house where  Thomas Mann wrote 'Buddenbrooks' (1902) which I read in The Crum in 1990. Two quotes: "Every day is fishing-day, but not every day catching day." And the motto or advice of Johann Buddenbrooks the elder, who founded the family firm: "My son, attend with zeal, to thy business by day; but do none that hinders thee from they sleep at night."
12th May. Finished José Saramago's 2005 novel 'Death At Intervals'.
3rd May. Interviewed by Italian journalist Giulia Caruso.
1st May. Gave the Bobby Sands lecture in Roslea, County Fermanagh: obviously, because of the current election campaign, with many resonances to Bobby's election in this constituency in April 1981.
30th April. Finished 'Little Man, What Now?' by Hans Fallada. Apparently it is more popular than 'Alone in Berlin' but I think the latter is better. Sent letter by email to Professor Thomas E. Hachey, Executive Director of the Center for Irish Programs at Boston College, seeking clarification about the terms under which Ed Moloney and Anthony McIntyre were involved with Brendan Hughes in the archive under Mr Hachey's control. Ed Moloney quotes Brendan Hughes as stating that my Uncle Harry threw me out of his house because of political disagreements – which is a lie and something which never happened. I know this is a minor complaint in comparison to what the Dark has alleged about dozens of other former activists or divulged, including incriminating his best friend who had been due to give the oration at the Dark's funeral but for a sudden illness. How comradely, bizarre or perverse is that? Could mother-of-ten Jean McConville, killed and secretly buried by the IRA because they could not stand over admitting to her killing, could she from her small landing with its limited view of Divis Flats have divulged more than what was privileged to the Dark (about people who are still alive and still open to prosecution and imprisonment)? Given that the public are allegedly allowed access to the archive I want to know can I have access to the tapes in case there are things omitted which perhaps place allegations made in the book in a different light. When I receive an answer I shall publish it.