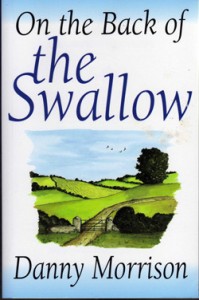 'On The Back of the Swallow' is now available for downloading for free in PDF format. It was my second novel and I wrote it whilst imprisoned in the H-Blocks. It took about thirteen months to write. In August 1994 I was on my first parole and officially launched the book in the Green Cross art shop on the Falls Road. Reviews were mixed and the novel was reviewed ad hominem. The worst and most hostile was by Aisling Foster in the 'Irish Times' who repeatedly dragged in the conflict and my imprisonment in her sneering review, titled 'Rewriting society as fiction'.
"Intrigued, impressed, charmed and irritated" wrote Sharon Barnes in the magazine, 'In Dublin'.
"Just misses the mark" said the 'Cork Examiner'.
"A courageous book" said Vincent Banville in the 'Sunday Press'. "The author, because of his republican associations, will get an amount of publicity, but let us hope that the book, which is a more than worthy realisation, does not get overlooked in the general hoo-hah."
Writing in the 'Irish Press' Kate Shanahan said: "There are passages so good that one can predict that the writer is on the threshold of becoming a new voice in Northern Irish literature. Unfortunately, the sharply observed dialogue and characterisation of one section may be weakened by over-statement and self-conscious dialogue in another…
"[T]he final section of the book, which deals with Nicky's arrest, interrogation and incarceration in prison has a cinematic scope that is quite outstanding…Taken a step further, this novel would translate well into a screenplay…
"For some people, its author will always be seen in his persona as a former spokesperson for the Republican Movement. Whether you agree with his politics or not, on the evidence of his book, Morrison is a writer first and foremost and one worth watching in the future."