At least thirty four Palestinians have been killed by Israeli forces since they began holding Land Day protests on March 30th. This afternoon, at the gates of Belfast City Hall, members of a number of organisations held a rally in solidarity with the Palestinian struggle. One of the main speakers was Sue Pentel and this is what she said:
Tá mé ag seasamh anseo inniu mar bhall Ghiúdach den IPSC agus mar bhall de Ghlór Ghiúdach ar son Síocháin Chóir.
I am standing here today as a Jewish member of the IPSC and Jewish Voice for a Just Peace Ireland.
Netanyahu and Mark Regev, the Israeli ambassador claim that they are speaking for me – they are not. Netanyahu and Regev claim that they are defending the Jewish citizens of Israel – they are not.
It is clear to all that the Israeli army is operating a shoot to kill policy. This is now the third week of the Great Return March and over 30 peaceful protestors have now been shot and 2,000 injured in Gaza.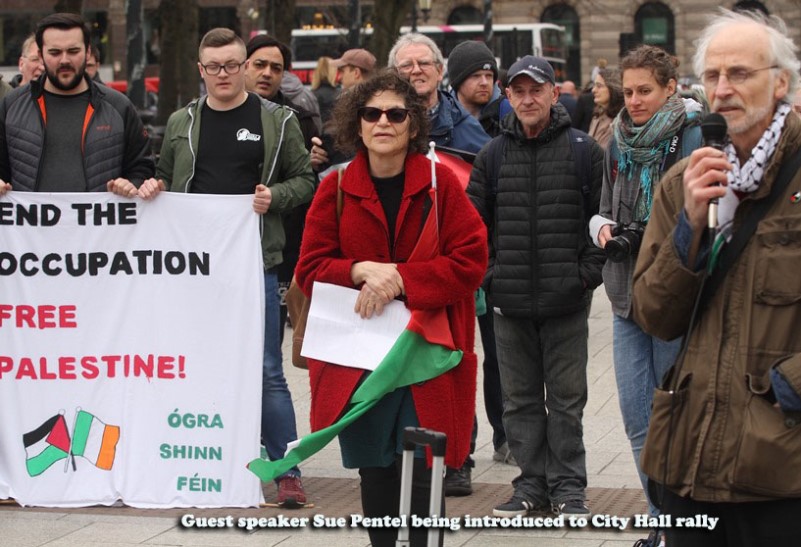 I stand here to give voice to the growing number of Jews, both within Israel and around the world who are standing up for the Jewish tradition of justice and equality, who condemn the slaughter in Gaza and who call for Israel to halt its attacks and who stand in solidarity with our Palestinian brothers and sisters.
I also stand here to oppose all forms of racism, sectarianism and anti-semitism. There is no room for racism and anti-semitism in the solidarity movement. Ignorance of any kind cannot move us forward and we should be vigilant in opposing the notion that Israel/Zionism and the Jews are one and the same – this is exactly what the Israeli state wants.
Supporters of Israel accuse those that oppose the Israeli state and Zionism of being anti-semitic – Jews and non-Jews alike. They talk of self-hating Jews and dismiss Jewish opposition as unrepresentative.
I stand here today to say that this is a lie used to divert attention from human rights abuses – a policy which uses the history of the Jews as a justification for murder, land grabbing and racism.
There are many Jewish groups opposing the Israeli governments policies both within and outside of Israel and these include:
KOL AHER – ANOTHER VOICE, Israelis living in the Gaza border area, who are organising demonstrations and calling on the Israeli government to:
Cease the shooting of unarmed demonstrators! –
Lift the siege on the Gaza Strip!
Kol Aher challenges the Israeli government :
for the humanitarian disaster that is Gaza
for the corruption of a society's basic moral values,
for the glorification of the sniper rifle.
Opposition also includes Breaking the silence– veteran combatants from the Israeli army who along with B'Tselem – the Israeli Information Centre for Human Rights are calling on Israeli soldiers to refuse orders to shoot to kill.
Uri Avnery, an army veteran, wrote:
'I, Uri Avnery, soldier number 44410 of the Israel army, hereby disassociate myself from the army sharpshooters who murder unarmed demonstrators along the Gaza Strip, and from their commanders, who give them the orders, up to the commander in chief.
We don't belong to the same army, or to the same state. We hardly belong to the same human race.'
Jewish opposition to Zionism is nothing new including Holocaust survivors such as Hajo Meyer a survivor of Auschwitz and founder member of the International Jewish Anti Zionist Network and Holocaust Survivor Hedy Epstein a life long anti-Zionist, who in her 90s was campaigning in support of Palestine.
Belfast was lucky to host visits from both these Holocaust survivors but we have not always had such welcome visitors.
As a Jewish person living in Ireland who condemns the Israeli project and its treatment of the Palestinian population I challenge the Linenhall Library, of whom I am a member, for inviting the Israeli ambassador, Mark Regev, to host an exhibition while innocent demonstrators were being shot dead by Israeli snipers. I ask Northern Ireland Friends of Israel how they can look but do not see –
the humanitarian disaster that is Gaza,
the shoot to kill policy of the IDF,
I ask how they can watch the video of the Israeli sniper cheering at shooting an unarmed civilian and not be deeply shocked at what this means for the soul of these young people, for their humanity, for what sort of society they are creating in Israel today.
I want to say that I stand with the Jewish tradition for justice and freedom that says:
That Anti-Zionism does not equal anti-semitism
That Israel must be held accountable –
for creating an apartheid state
for the ethnic cleansing of Palestinians
for its war crimes
As a part of the international solidarity movement we call for:
an End to the Israeli siege of Gaza
an End to the slaughter
Support for the Boycott movement called for by Palestinian Civil Society
Support the Right to Return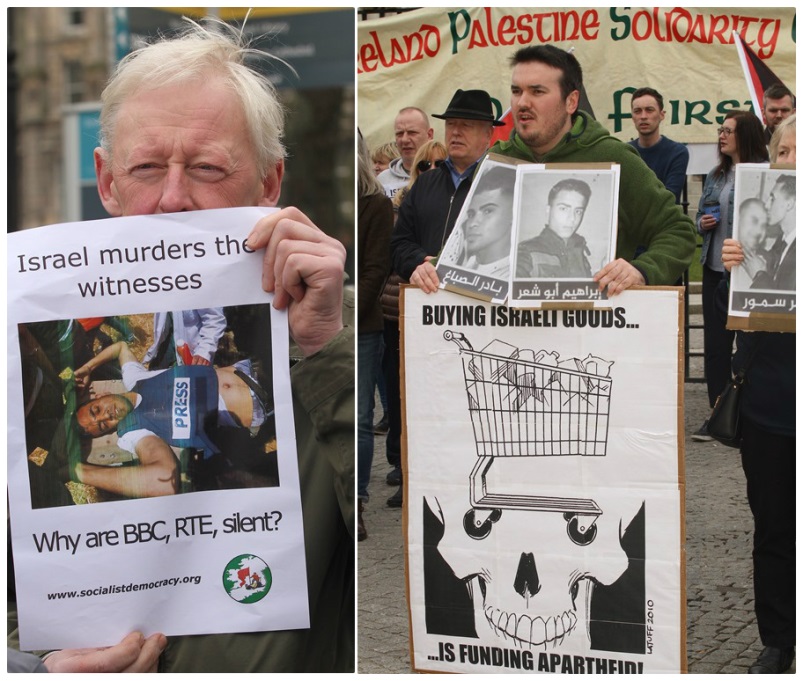 And to finish I want to say that I am angry.
The March for Return is an inspiration – tens of thousands of people, from all walks of life including families, young people, and grandparents – all pushing for their undeniable, basic right to live freely.
Seventy percent of the Gazan population are refugees, meaning they or their grandparents fled or were expelled from towns, villages, and cities inside the territory that become Israel in 1948.
My grandmother and grandfather fled from a Latvian ghetto because of anti-semitism, to live in Europe. Now Netanyahu tells me that the so-called Jewish state, which has created the largest ghetto in the world, which is continuing the slaughter as we speak,is being done in their memory and in my name.
Netanyahu is lying ……
LO BISHMI -Ivrit
Nicht in meine nahme -Yiddish
Gan in m'ainm
Not in my name!
(All photographs courtesy of Peadar Whelan)