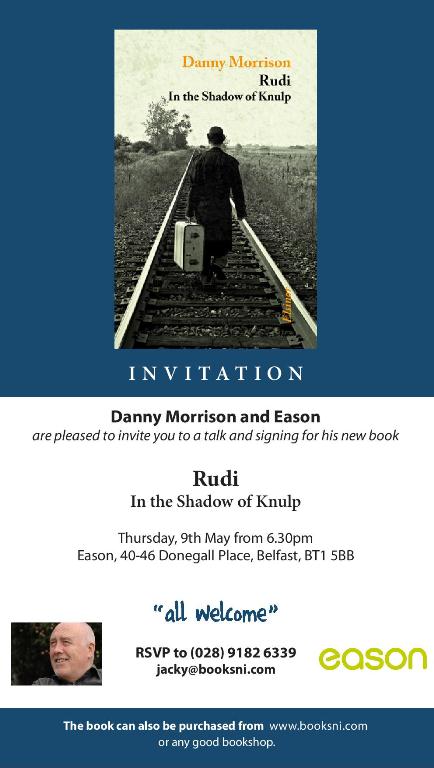 Eason's Donegall Place, 6.30pm, Thursday 9th May, I shall be reading from my new novel and signing copies. You are all welcome! See poster for full details.
This quotation is from the prologue – Drumbridge, 1946
The attacker shivered and waited in the shadows at the rear of the Diamond Bar for what seemed like an eternity. A patron stumbled out into the cold air, croaking the song he left behind, as he made his way to the toilet in the courtyard. Another drunk left the bar and lurched towards the gate to go home, but wavered and was lured back by the fug and the thought of more free drink.
If Jeff wasn't alone when he came out, he would be tracked from a distance and for opportunity, this night or another soon − as time was pressing and he would shortly be leaving Ireland for good.
A spirited rendering of For He's a Jolly Good Fellow, led by Jeff's younger cousin Sammy, could be heard coming from the hive of the bar.
Another ten minutes passed.
When the door opened a coffin of light fell across the yard.
It was Jeff, at last.
As he zigzagged across the dimly-lit yard he was having problems prising free the buttons of his fly and appeared not to be in as jovial a mood as the company he had just left.
The attacker readied himself, took a deep breath, ran out from the shadows and from behind plunged the knife deep into the side of his victim, who gasped in anguish and buckled as if from the impact of a bullet.
The attacker appeared to hesitate, but had the presence of mind to withdraw his knife, then turned and ran towards the Shambles, as Jeff collapsed in a pool of blood.