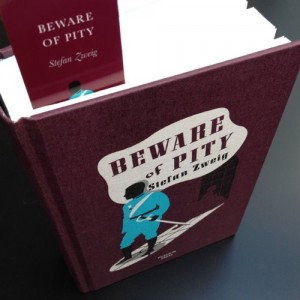 Finished Beware of Pity by Stefan Zweig, the Austrian writer who with his second wife committed suicide in Brazil in 1940. I had previously read The Post Office Girl which I really liked. In 1934 Zweig had been driven into exile by the Nazis and first immigrated to England. This long, psychological novel revolves around an incident at a dance in a wealthy landowner's house when a young cavalry officer commits a faux pas, not realising that the girl he addresses is 'a cripple', having been paralysed in an accident. In a series of events he allows his pity to dictate his reaction and as a result his affections are misinterpreted.
I find it amusing that Chambers Biographical Dictionary, on the basis that Zweig spent a short time in England, describes the Austrian as 'a British writer'! The same dictionary describes the German writer Alfred Döblin, who spent 1933–1940 and 1953-57 in France as 'a French novelist'.
22nd January. Interviewed by Peter Geoghan from the Sunday Herald about my views on the Scottish independence campaign and referendum and what repercussions, if any, a yes vote would have on our political situation in the North.
Finished Truth Is A Strange Fruit by David Beresford.
21st January. Interviewed on BBC Radio Ulster's Stephen Nolan show along with Denis Murray (journalist) and Seamus Close (former Alliance Party MLA and deputy head of the party) about the second part of Eamonn Mallie's Paisley interview broadcast last night on BBC 1.
20th January. Did another interview with PhD student Thomas Leahy who is looking at British security and intelligence policies against the Republican Movement from 1969-1998.
14th January. Enjoyed Purblind, a first novel by Mike Philpott, in which the author boldly uses multiple points of view (which unless by a Tolstoy or Dostoevsky, I do not normally like) but which surprisingly he pulls off! Never, ever guessed the ending! Great imagery and dialogue and period evocation from '63 on.
7th January. Finished Nothing Gold Can Stay by Ron Rash, an Appalachian author and poet. Am not usually a short-story reader (apart from Chekhov, Babel and a few others) but enjoyed this book and his style which is reminiscent of a cross between E. Annie Proulx and Cormac McCarthy, though not as robust or descriptive. Particularly liked A Sort Of Miracle when a man who dislikes his two brother-in-laws suddenly comes to depend on them for his life; and the eerie Something Rich and Strange about the drowning of a young girl.
4th January. Interviewed by Andrew Walsh who is writing a book about the events on August 13th-15th 1969. Had previously been in touch with him over another book of his which was published last year – From Hope to Hatred: The Falls Curfew and Catholic Alienation.