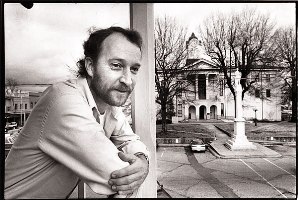 Read Big Bad Love by Larry Brown, a collection of short stories sent to me by Deborah Kehoe from Oxford, Mississippi, who knew the author. Brown died four years ago at the age of 53 from an apparent heart attack. His characters are unhappy folk who love beer, brawling and their pickups more than other human beings (or so it sometimes seems). Reminded me somewhat of the style of Daniel Buckman (like Brown a Vietnam vet) two of whose novels I read, Water in Darkness and The Names of Rivers. Am looking forward to reading another of Brown's books which Deborah sent, his unfinished novel, A Miracle of Catfish.
Read Forgotten Soldiers – The Irishmen Shot At Dawn, a very worthy book by BBC journalist, Stephen Walker, about the campaign for a pardon for the twenty-six Irish men who were shot at dawn for a variety of offences as soldiers during the First World War. (Three hundred others from Britain were also executed.) The men were not conscripts but Volunteers and most were from the nationalist tradition. Walker writes that: "The issue of different treatment for officers and rank-and-file soldiers was investigated by the Irish government. Its report cites the cases of eight officers who were court-martialled and found guilty of military offences but who were later reinstated and often pardoned… It is clear that the court martial system was simply mirroring a class divide that existed in Britain at that time…"
Walker states that, "Research suggested that Irish soldiers were three to four times more likely to be sentenced to death than any other men in the British army, with the exception of non-European recruits. Figures showed that in most British formations one in every 3,000 soldiers was sentenced to death, yet for every 600 Irishmen who enlisted one would be sentenced to death following a court martial…About one in every fifty recruits to the British army was Irish – yet one in every thirteen men condemned to death was Irish.
Among the stories told is that of Private George Hanna from Belfast who lost three brothers in the war and was charged with desertion and was eventually shot at dawn.
Of course, when those who survived the war returned they came home to a very different Ireland – one in the throes of a war of independence. "Many ex-soldiers," says Walker, "felt disillusioned about their war service, unsure why they had volunteered. Some felt they had fought the wrong war, against the wrong enemy, and began to doubt the intentions of a British government that they had entrusted to grant Home Rule after hostilities with the Germans had ended." Unionists, on the other hand, returned confident that as a result of their sacrifice Britain would rule politically in their favour – and they were right.
In November 2006 a pardons amendment was introduced in the House of Commons and the reputations of the forgotten soldiers was slowly being restored.
Read Focus, Arthur Miller's only novel, which was given to me as a Christmas present by my friend Joelle. It was published in 1945 and is a story about anti-semitism in New York. The main character Lawrence Newman, a Gentile, suffers from poor eyesight and has to get a pair of glasses which suddenly make him look like "one of them", a Jew, "a kike". He goes through a number of phases, of first trying to ingratiate himself with racists but then begins to see what it is like to suffer racial discrimination and begins to fight back.
Read a book of essays on Francis Stuart, Writing Ulster 1996, Special Issue. Stuart is quoted as saying: "the imaginative writer, the poet or the novelist shouldn't be adamant about anything." There is also a quote from Frank Kermode's The Romantic Image, which was basically Stuart's view as well. With Yeats in mind, Kermode asserts that the artist is not just separate but alien: "He must be lonely, haunted, victimised, devoted to suffering rather than action – or, to state this in a manner more acceptable to the twentieth century, he is exempt from the normal human orientation towards action and so able to intuit those images which are in truth, in defiance of the triumphant claims of merely intellectual disciplines."
I remember Kevin Myers powerfully rebutting the view of the artist as "exempt" from normal behaviour/values at the time of either the controversy over Stuart being made a Saoi of Aosdána in 1996 or at the time of his death in 2000 when Myers was claiming that Stuart's admirers deliberately downplayed his role as a Nazi collaborator/sympathiser. The old argument of whether a work of art can ever be treated separately from the artist. One of Stuart's defenders (who was also persuasive in his arguments, which I lean to) was Fintan O'Toole. On an absolutely and completely irrelevant point Fintan O'Toole's writings often remind me of what Cyril Connolly had to say about George Orwell: "He could not blow his nose without moralising on conditions in the handkerchief industry."
Read John Cheever – The Journals (published 1991) – absolutely brilliant and one of the best works of literary non-fiction I have read in a long time. The accounts of his prodigious drinking (like the accounts of the drinking of Evelyn Waugh in his Diaries, which I am leisurely reading) are gob smacking. Cheever eventually quit drinking in 1975 and died of cancer in 1982. I'll come back with other comments on this fascinating book at a later time because the sun has just come out and I should go for a walk in the park!