Last October Glenn Bradley* wrote a feature here on the immediate impact the result of the referendum had on his business which trades in providing paving materials or bespoke associated art-scape features for public realm and private hard landscaping projects. This is his assessment of developments since then.
IN the piece I wrote here four months ago I finished by saying the following: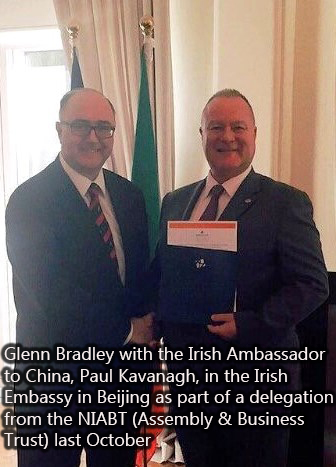 "What I am certain off is: the Northern Ireland Assembly cannot stand still and needs to be on the same page pro-actively leading to protect this small place. Such protection does require a buffer against the economic tsunami ahead of us where, with their boots firmly at ground truth reality, not pie in the sky temporary economics by academics, they challenge the British government regarding our unique post-conflict situation, and collaborate with all sections of business and our closest neighbours on this island to generate trade, protecting workers' livelihoods."
The RHI scandal became a catalyst which drove a two-edged sword into the heart of our partnership government resulting in most politicians blinkered to electioneering or worse, some, focused on sabre rattling & beating the tired, worn, battle drum presently. Despite my plea, the Northern Ireland Assembly is standing still and is doing nothing as a co-operative partnership to protect this small, fractured economy from the economic, social & political tsunami before us.
BREXIT negotiations are on-going and lobbying across these Islands by various business bodies and leaders continues unabated.
Then I heard these words from senior DUP politician Nelson McCausland: "I wouldn't care what sort of situation I face as long as I'm out of Europe!"
I think for a full ten seconds I'd an utter, mouth-dropping, gasp of incredulity that anyone involved in the governance of this place could so whimsically dismiss qualified business advice, and the electorate here who, overwhelmingly, voted for REMAIN in the referendum last year.
Nelson McCausland, from the (presently) largest political party here, was saying that he does not care about the impact on jobs, the economy, trade or indeed any of the harm that leaving the EU will do to this little north-east region of Ireland, constitutionally linked to the UK.
He spoke those words on the very day that one of our largest and home-grown companies, ALMAC, stated that to assure continued export customer market access they had opened a protective site in Dundalk while awaiting the outcome of BREXIT negotiations.
ALMAC have stated they will have to relocate production to Dundalk resulting in the loss of jobs here should there be no tariff deals.
Is McCausland's ambivalence an indication of his party's view? If so, such an attitude will damage business here, and is unwelcome, especially from a public servant whose wages are paid from taxation achieved through dynamic business success.
There is a disorderly and desultory way in which BREXIT is going forward, and no one, absolutely no one on the BREXIT lobby appears to have a plan. The political turmoil on this island (Enda Kenny is in the departure lounge) and our very own RHI catalyst here, while important, become small fry to the juggernaut scale of what BREXIT means for both jurisdictions in Ireland.
We in Northern Ireland are being dredged out of the EU against our will, and despite 'conservative & unionist' party wishful-thinking that the Republic would follow suit, it will not happen (any time soon).
There will be a border, and I cannot see how it will be 'aqueous' regarding customs non-tariff issues concerning the processing for manufactured products entering or leaving here.
Stephen Kelly of Manufacturing NI has already stated "estimates for non-tariff costs in the guise of Certs of Origin, International CRMs, LCs and so on would be in the region of £475 per load." Some might say that is a small expense but not to a business moving many loads of products or goods daily. Such laborious processes and costs for non-tariff custom procedures will drive the business economy here downwards which weighted with the withdrawal of EU funding to our farming & agricultural sector, along with the withdrawal of EU funding to our infrastructure construction projects, makes here, a very dull place. Indeed, we become an economic basket case region on a level the conflict never even got near.
I reiterate the call again, it is essential that the Northern Ireland Assembly fights to protect workers lives, and equity with free trade which is a necessity for our unique economy. It is essential that our post-conflict evolution is recognised and we secure special status zone category with the EU. In size and scale this is not Britain; our small population of 1.8 million who land border the EU (our southern neighbours) require continued free movement, trade and ongoing EU peace & financial commitments to continue unabated (finance that I do not see the UK government rushing to guarantee!).
*Glenn Bradley is the Regional Manager Ireland of an international hard landscaping material supplier. He is committed to eradicating labour and human rights abuse in global supply chains via ethical trading initiatives where he is a trainer, and is the ascending Chair to the Business & Human Rights Forum here in the North. A former soldier he is also involved in peace-making and is a member of Veterans for Peace, made up former ex-services personnel who are against war as a solution to problems. You can follow Glenn on Twitter @Bradleygj or on Instagram @BelfastBrad