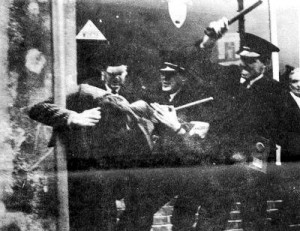 Was invited by Denis Haughey of the SDLP to participate in the McCluskey Civil Rights Summer School in the old Church of Ireland Holy Trinity Church in Carlingford, last Saturday, 28th August. I was to debate with Austin Currie the question: "How might the Civil Rights campaign have developed had there been no 'armed struggle'?"
The hostility shown by Austin Currie and several contributors from the floor epitomises what is wrong with the SDLP and why it is going nowhere. In my opinion, they believe they were born to lead, that republicans are upstarts, that they invented the civil rights movement and own the copyright. Their holier-than-thou attitude is so quaint and laughable. They are certainly chafing at Sinn Féin having overtaken them at the polls. For fuck's sake, get over it! Some of them are clearly in need of therapy to deal with unresolved hostility.
Austin continues to make the cardinal mistake of holding republicans responsible for the violence of the past ["the barbarism of the IRA"] without accepting that the state was born out of violence and in violence, that the forces of the state employed violence to maintain the status quo and thus provoked much of the other violence. He only mentioned the oppression and alienation of the nationalists when I put him on the spot and failed to address my contention that the armed struggle had created negotiating muscle for the SDLP between 1971 and 1973 [when it was able to argue for power-sharing and a Council of Ireland].
Denis Haughey and Tim Attwood were very courteous but many among the audience of about sixty are in need of serious manners. I have never witnessed any of our guests at Féile an Phobail – from Ruth Dudley Edwards to Eoghan Harris to Ian Paisley Jnr – ever being received in such an ill-mannered way from the floor.
25th August. Interviewed by Rob Hampton from London who is working on a post-graduate thesis on the pre-merger of An Phoblacht and Republican News and my role and views at that time.
23rd August. I wrote a piece about Béal na mBláth commemoration in West Cork yesterday which was addressed by Fianna Fail minister Brian Lenihan. The piece was published in today's edition of the Andersonstown News.
17th August. Did short telephone interview with Andrew Moore from King's College, London, who is completing his MA and about to start a PhD on counter-insurgency and the role of intelligence in British security policy in Ireland.