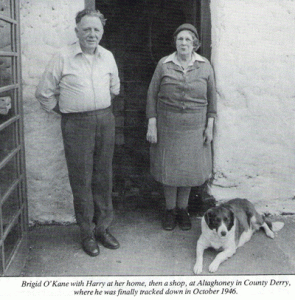 Spoke at Craigbane Graveyard at the unveiling of a newly erected headstone to Brigid and Rose O'Kane who billeted IRA Volunteers on the run in the 1940s, including my Uncle Harry.
12th December. On BBC Talkback panel with Alex Kane and Brian Feeney, hosted by William Crawley, about the Stormont inter-party talks from which British PM David Cameron made a quick exit.
4th December. At event in St Mary's University College, Falls Road, where author Eimear O'Callaghan was interviewed by journalist and political commentator Paul McFadden about her memoir, Belfast Days – A 1972 Teenage Diary.
3rd December. Interviewed by Irena Sargsyan, Georgetown University, Washington, DC, who is writing her doctoral dissertation studying how some leaders of resistance movements are "able to overcome the collective action problem and mobilize and sustain armed campaigns that require voluntary risky actions, whereas others are not. Why are only some opposition leaders effective in achieving political objectives through sustained armed resistance?"
Took part in BBC Talkback panel discussion on academic report on the loyalist flag protest – 'The Flag Dispute – Anatomy of a Protest'. In the studio with Paul Nolan (one of the authors), Councillor Lee Reynolds (DUP), Billy Hutchinson (PUP) and a loyalist protestor.
1st December. Saga of West Belfast continues. More editing required. Did final corrections. Out by Christmas? Beginning to doubt it.
28th November. Did interview with Ocean FM on last night's political discussion.
27th November.  Spoke along with former Unionist Party member Roy Garland at a discussion in Sligo organized by Tús Nua – 'Beyond Conflict – Building The Future'.
26th November. Wrote review of William 'Plum' Smith's prison memoir Inside Man for loyalist website (longkeshinsideout) which shall appear tomorrow.
25th November. Interviewed on Radio Foyle about Gerry Adams' use of the word 'bastards' when referring to political opponents who are sectarian, homophobic, racist and/or sexist – take your pick!
Talk with Berlin-based Jim Masterson who is writing an academic paper on how the media has supported the peace process in the North; have they been positive and objective or rather obstructive or even destructive in their reporting of events.
24th November. Interviewed by my friend Tom Hartley about my early life for community television station, NvTV. Date of broadcast to follow.