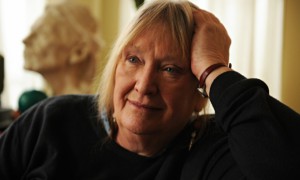 Last Sunday the news of Pam Brighton's sudden death spread quickly throughout the West Belfast community where she had made her home the past twenty years or more. In fact, I received a text from the Basque Country telling me the sad news just before I was phoned by a friend in the city.
Yesterday, I was honoured to chair the service for Pam which took place in Roselawn, and to introduce as speakers her friends, Maura Brown, Brenda Murphy and Bridie McMahon, whom Pam had mentored in Dubblejoint and Justus Theatre Companies, and who hilariously regaled her life and their adventures together.
Pam, who was sixty-eight, was born in Bradford but was always 'really' from Belfast and in particular West Belfast. She had one child, Ned, who also came to Ireland and made it his home. Ned married Jeanette Keenan, daughter of the IRA veteran, the late Brian Keenan, and they have two children, Oisin and Dearbhla.
Pam was a woman whose life was lived to the full and who covered an extraordinary range – from lawyer (in human rights veteran Mike Mansfield's practice) to actress, theatre director and writer, directing in her early days the agitprop theatre group 7:84; with the Half-Moon Theatre where she worked with Shane Connaughton and Peter Sheridan; to her work with Charabanc in the 1980s, producing raw, honest and hilarious theatre, along with Marie Jones, Ian McElhinney, Andrew Hinds and Peter Sheridan.
Theatre that dealt with the lives of 'insignificant' people, as Fintan O'Toole put it – "women who are supposed to have no place in history other than as extras for the crowd scenes".
The excitement that surrounded the setting up of Dubblejoint with Marie Jones and Mark Lambert in 1991 cannot be overstated. Pam was totally committed to making theatre accessible and relevant to working-class communities. She discovered new talent and encouraged people not only to write their own stories but to tell those stories in their own voices. She touched so many lives and covered so many themes and subjects from the local (Just A Prisoner's Wife, Binlids, A Working Class Hero, The Ballymurphy Massacre) to the international (the late Brian Campbell's Voyage of No Return which explored colonial and sexual exploitation on the island of Montserrat), to Marie Jones' reworking of Gogol's subversive social comedy The Government Inspector.
She premiered many productions in West Belfast, including Someone Who'll Watch Over Me, and, in collaboration with Marie produced a formidable body of work such as the astonishing, cathartic journey about one man's liberation from sectarianism, A Night In November, and the brilliant Stones In Their Pockets, inspired by a Shane Connaughton story.
I first saw Pam when she was in her early 20s, many, many years before I met her in her late 30s. I had been a fan since the 1960s of filmmaker Ken Loach, famous for Cathy Come Home and Kes, and loved his 1975 film, Days of Hope, about the British working class and the rise of Labour.
In that film Pam acts the part of Sarah whose pacifist, Christian socialist, husband Philip is a conscientious objector, who is arrested and condemned to death. Pam is young, vivacious, loyal, and (no surprise) supportive of resistance and revolution! If memory serves me well, I think that there is also a scene where she cradles an infant in her arms – her real life son, Ned Cohen, who decades later makes his home in Ireland.
So, now here was Pam Brighton, visiting me in Crumlin Road Jail, telling me that she was working for the BBC and had proposed to the BBC that they adapt my first novel, West Belfast into a four-part radio drama. Most of the visit, actually, was about prison conditions and how we were doing. It was about politics, about Ireland, England, what I thought of the Middle East, Nicaragua, the recent release of Nelson Mandela in South Africa, my position on arts and culture and capitalism! She was relentless!
Even after I was sentenced and convicted, and West Belfast couldn't find a writer to adapt it, Pam still stuck her neck out for me. She kept writing to me in jail. At her behest, I wrote a short story called We Got Tonite, based in an unnamed city, where there was no conflict, no IRA or RUC. It was about infidelity in a marriage, the breakdown of that relationship, and a subsequent reconciliation. The BBC recorded it – either with Stephen Rea or Dan Gordon doing the voice-over. But the BBC banned it! Not Thatcher. But the BBC. Pam was incandescent.
When I came out of jail I rejoined the management of Féile an Phobail where Pam was also on the board.
In 2000 she produced another former prisoner Brian Campbell's play Des, about the revered Father Des Wilson. In typical Pam style she said, "The play skipped the reverence, and gave us the man."
The work that emerged from Dubblejoint, the talent it facilitated, the new actors it produced, the offshoot companies like Justus it inspired, the communities it uplifted, the people who acted in them, wrote for them, designed backdrops and costumes, did lighting and sound – from Brian Campbell, Laurence McKeown, Brenda Murphy, Gary Mitchell, Brian 'Cormac' Moore, Tony Devlin, Donna McGarry, 'Cruncher' O'Neill, Danny Devenney, Marty Lyons – to name but a few, are part of Pam Brighton's enduring legacy.
One of Pam's closest friends, Maura Brown, remembers her fondness for animals: "She had two dogs, Maddy and Chucky, two of the worst behaved dogs I've ever seen but she loved them and insisted on taking them everywhere! I was with her last Saturday. Hard to believe that only a week later we are at her funeral."
Another friend, the playwright Brenda Murphy, was at the hospital when Pam, who had beaten cancer after a long illness, died of a heart attack.
"Last Sunday afternoon Maura Brown, Nuala Quiery and myself were standing at the door of the Mater Hospital crying one moment, laughing the next. Our friend Pam had just died. The fabulous, talented, clever, intellectual Pam Brighton. Pam would often drive me up the wall in rehearsals. I would fight and argue the bit out with her. But I knew she was special. She made my career as a playwright. She made me laugh and she was outrageous. I will miss Pam the rest of my life, it was a privilege to know her. I will never meet her like again."
Former prisoner-turned-writer Laurence McKeown collaborated with Pam on many of his and Brian Campbell's plays, including The Laughter of Our Children (about the 1981 hunger strike). "She lived her life according to her personal politics and put integrity before money — to her cost, financially, but not in terms of the friends she ultimately made and who will remember her for her courage and conviction."
Tony Devlin from Brassneck Theatre Company recalls, the "professional, thought-provoking, exciting, moving, inspiring, challenging, and ultimately entertaining theatre my friend Pam brought to West Belfast."
Pam could not only be infuriating, she could be mustard, as they say in Belfast! There isn't a person she worked with whom she didn't fall out with or argue with – and yet the service was packed with old friends who had travelled many, many hours and long distances, including her first husband Phil, father of Ned. The large presence was testimony to the affection and respect in which she was held, for her life's work and the commitment she had to the oppressed, the alienated and disaffected.