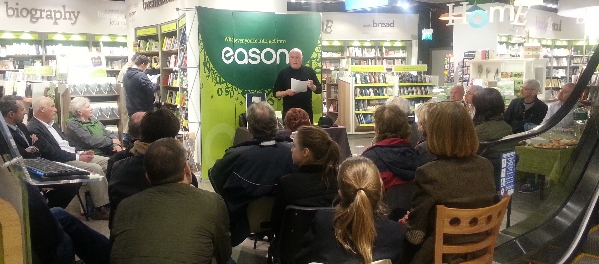 On Thursday night I did a reading and book signing in Eason's in Donegal Place. The staff in the shop, especially Jonathan and Allison, were wonderful. Got a real buzz out of the Q & A. People from Carrickmore, Glenavy and Downpatrick came along. Earlier, I was invited on to Frank Mitchell's show on U105 to talk about my book and instead was subjected to an inquisition about Gerry Adams, the  IRA, IRA operations etc etc. He never asked me about the book or the process of writing it or what influenced me. In fact, it was a waste of time doing the interview.
Incidentally, Jude Collins on his blog comments on the Q & A. And the other writer he mentions, David Park, will be reading at the Whiterock Road library this coming Monday at 6pm, along with Lucy Caldwell and Colin Bateman.
7th May. My interview with Peter Taylor on republican dissidents was broadcast tonight on BBC Radio 4. There were two other documentaries on television – an excellent one by Chris Moore on UTV about collusion and 'Spotlight' on BBC about Thatcher and Ireland for which I turned down an offer to be interviewed.
5th May. Stopped off in Dublin on our way back from a wedding in Abbeyleix. It was like a summer's day,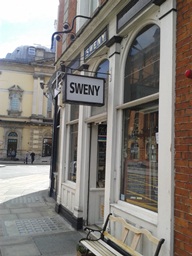 young people lying on the grass at Stephen's Green, children throwing bits of bread for the pigeons and the ducks. Reminded me of that Bagatelle song whose lyrics go: "And the young people walking on Grafton Street, and everyone looking so well, I was singing a song I heard somewhere, called "rock'n'roll never forgets".
Went into Swenys, the Dublin pharmacy featured in James Joyce's Ulysses, and had a yarn with the proprietor PJ Murphy who invited me to a reading of Finnegan's Wake that night but I had to head home. Thinking of Bobby Sands and his comrades throughout the day.
1st May. Finished reading Call Mother a Lonely Field by Liam Carson, a beautiful little memoir which leaves a nice taste on the palate of memory long afterwards. Liam shall be doing a reading during our summer Féile – he'll be speaking in An Chultúrlann, in the gallery, on the afternoon of Saturday 3rd August.
29th April. Received an email over the weekend from Gerry Moriarty, northern editor of the Irish Times, asking me a number of questions about the 1981 hunger strike and in particular the period around July when the British government rejected a compromise. When I got the paper today the story was reduced to an 'argument' between Richard O'Rawe and 'Danny Morrison'.
Finished reading Hermann Hesse – Pilgrim of Crisis by Ralph Freedman.
23rd April. Interviewed by Corinne Purtill, UK correspondent for Global Post, a US news agency, about life in Belfast fifteen years after the signing of the Good Friday Agreement.
22nd April. Interviewed by Donal MacIntyre for  a four-part series for TV3, 'Print and Be Damned' about the history of Irish newspapers. My interview was about newspaper coverage of the north, particularly from a southern perspective.
21st April. Interviewed by Stephen Nolan on BBC Five Live about the historical legacy of the conflict and my views on a Truth Commission.
18th April. Interviewed by Dr. Niall Ó Dochartaigh from the University of Ireland Galway about Sinn Féin policy and the republican approach to negotiation.
Interviewed by Judith Hill for UTV Live Tonight about prison memories and the ongoing discussion around the preservation of parts of Long Kesh/H-Blocks.