Was at the Linenhall Library today for the launch of a new theatre company aimed at giving expression to that lumpen section of the unionist community who for a variety of reasons feel marginalized and demonized and who have rarely received a 'good' press.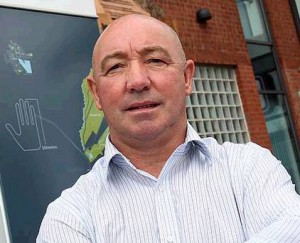 Etcetera Theatre Company is the product of the efforts of two former loyalist prisoners, William Mitchell and Robert Niblock (pictured, left) who became interested in writing whilst in jail though it was many years before either writer's work was performed in public and began to receive due recognition. (Bobby Niblock's Reason to Believe was performed across Belfast, including at Féile an Phobail where it premiered in 2009 to much praise.)
Their number one priority is to initially give voice to the 'Protestant, Unionist, Loyalist' community.
William Mitchell (artistic director) says: "Our experience leads us to judge that these communities currently feel culturally marginalised and disillusioned, as audience, participants and creative artists have an untapped vein of significant stories to tell and also need to find ways of telling new stories."
Some promising young actors did a reading from Bobby Niblock's new play Tartan, set in the early 1970s, which deals with one gang's induction and grooming into loyalist paramilitarism. The performance was pregnant with foreboding but it will be interesting to see how Niblock handles that particular journey and what its resolution turns out to be.
Details of the new company can be found at etcetera's website here.
(Cover pic of William Mitchell being interviewed by BBC at today's launch)