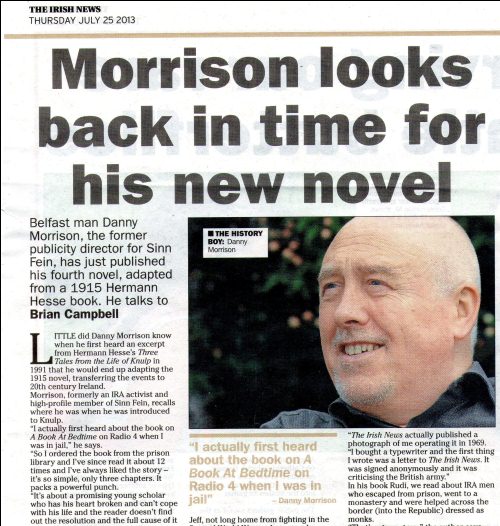 Last week I was interviewed by journalist Brian Campbell. The interview is published in The Irish News today (25th July) under the heading 'Morrison Looks Back in Time for his New Novel'. Here is the feature in full:
Little did Danny Morrison know when he first heard an excerpt from Hermann Hesse's Three Tales from the Life of Knulp in 1991 that he would end up adapting the 1915 novel, transferring the events to 20th century Ireland.
Morrison, formerly an IRA activist and high-profile member of Sinn Féin, recalls where he was when he was introduced to Knulp.
"I actually first heard about the book on A Book at Bedtime on Radio 4 when I was in jail," he says. "So I ordered the book from the prison library and I've since read it about twelve times and I've always like the story – it's so simple, only three chapters. It packs a powerful punch.
"It's about a promising young scholar who has his heart broken and can't cope with his life and the reader doesn't find out the resolution and the full cause of it all until the last few pages.
"I decided to try and adapt it, using the plot but bringing it to Ireland and to make the character a member of the Protestant/unionist community in the 1940s. I had to do a lot of research into that time so I'd have some idea of the psyche and the personality of my Rudi."
Morrison was charged with false imprisonment and conspiracy to murder in 1990 in relation to the kidnap of a suspected IRA informer. He was sentenced to eight years in prison and was released from jail in 1995. In 2008 the appeal court in Belfast overturned the conviction.
These days Morrison is the chairman of Féile an Phobail and secretary of the Bobby Sands Trust, as well as carving out a career as a successful writer. His previous books include the novels West Belfast (1989), On the Back of the Swallow (1994) and The Wrong Man (1997), a book of prison letters (Then The Walls Came Down, 1999), and a memoir, All The Dead Voices (2002).
Rudi is the story of a loner who has lost his way. In his youth he was a promising scholar and was deeply in love with 'the sumptuous, voluptuous Isabel'. Born in Belfast but brought up in the fictional 'Drumbridge' (which Morrison says is an amalgamation of Dromore and Banbridge), Rudi has his heart broken by Isabel and everything falls apart. He ends up a wanderer, restless and homeless, for the next few decades until a young friend, Rebecca, tries to get him to tell her his story.
It's a fantastic read, charting the story of this "humble, ageing bachelor" who gets jokingly called 'Rudi the Orangeman' at one point.
It begins in1946 with the stabbing of Jeff, not long home from fighting in the Second World War, and we soon learn there is "the rumour of IRA involvement".
But unlike Morrison himself, Rudi has no political allegiances.
"That's the way he was and I could understand that and admire that. I tried to be like that," he says. "When friends of mine were rioting I refused to pick up a stone until eventually there was a threshold reached and I made a decision to become involved and I became interned and the rest is history."
He says he always wanted to dedicate his life to writing but then the Troubles broke out.
"I probably would have ended up a journalist or a writer but the Troubles came along and I ended up devoting whatever talent I had to republicanism," he says.
"When I got out of internment I became editor of Republican News and a few years later I became national director of publicity for Sinn Féin until my arrest in 1990. I was editor of An Phoblacht and I was an abstentionist MLA in Mid-Ulster from 1982 to 1986. I was the main spokesperson during the hunger strike, representing Bobby Sands in the election broadcasts.
"So that's where all my energy and attention went.
"I was in jail when the [IRA] ceasefire was called [in 1994] and I absolutely supported it. So, although I'm still a Sinn Féin supporter I only speak for myself now." He recalls that his first couple of appearances in the media came in The Irish News.
"I was 16 in 1969 and I had a transmitter that I gave to republicans and that became Radio Free Belfast," he says. "The Irish News actually published a photograph of me operating it in 1969.
"I bought a typewriter and the first thing I wrote was a letter to The Irish News. It was signed anonymously and it was criticising the British army."
In his book Rudi, we read about IRA men who escaped from prison, went to a monastery and were helped across the border (into the Republic) dressed as monks.
"That's a true story," the author says. "It would have been in 1971, 1972 or 1973."
It's a brilliant structured book, split into two parts and it keeps you turning the pages to discover why Rudi's life spiralled out of control. Morrison is gifted at vivid descriptions that draw you into a scene: "When the [pub] door opened a coffin of light fell across the yard"; in a scene where a car encounters treacherous snowy conditions, "a blizzard of large flakes swarmed like locusts, devouring the head beams"; and when Rudi took lifts from strangers and has to listen to their various ramblings, "he felt he was a pin cushion, who was there just to absorb all their barbs".
As for his next novel, the old Monty Python line "And now for something completely different…" is appropriate.
"It's about a taxi-man who's in his late sixties and who has always wanted to play in a band, so he decides to form a boy-band. So it's like The Commitments for older people. It'll be more of a comedy. The provisional title is Band on the Run."
As a man who recently turned 60, does he have any boy-band ambitions?
"No," he laughs. "But I am enjoying writing the book, though."
[Front pic: 'Drumbridge, 1946']