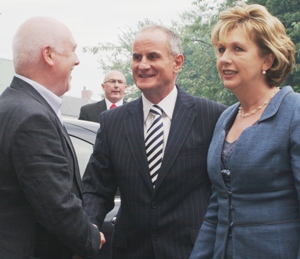 13th August. Just came across a brilliant site where you can access over two hundred short stories by Anton Chekhov .
12th August. Did interview with Ben Williams, a post-graduate student/researcher based at the University of Liverpool who is studying a thesis on "the impact of international relations on the Northern Ireland peace process".
10th August.  Reading again 'The Mental' by Bobbie Hanvey which I would like to adapt for the stage. Am writing to him seeking permission.
9th August.  Last day of August Féile, thank God! Neil Hannon concert in Andersonstown Leisure Centre.
8th August. Chaired meeting on the Basque Country with panellists Inaki de Juana and Arturo 'Benat' Villanueva, who are fighting attempts by the Spanish government to have them extradited from the North.
7th August. With poet Levi Tafari at festival event, St Mary's University College.
6th August. Introduce Scribes at the West with Alexei Sayle, Pauline McLynn, Ann Zell and Tim Brannigan, chaired by Robert McMillen.
5th August. Attend West Belfast Youth Talks Back and, later, West Belfast Talks Back.
4th August.  Introduce President Mary McAleese to give the P.J. McGrory Human Rights Lecture.
3rd August. Introduce Sean Hillen at Falls Library to give lecture on Bram Stoker's 'Count Dracula'.
30th July. Introduce Deputy Mayor Danny Lavery to officially launch exhibition by Sean Donaghy in Falls Library.
27th July. Meet with President Mary McAleese's protocol people and security people to show them around St Mary's University College.
24th July. Wrote 700 word feature on Schubert and submitted it to RTE's 'Sunday Miscellany'.
23rd July. Did interview with Aila Matanock, a PhD candidate at Stanford (USA), who is writing her dissertation on "why armed groups participate in elections, either in addition to or instead of using violence."
22nd July.  Did interview with Maria Armoudian from Los Angeles, a political scientist and journalist who is working on a book about the media's impact on conflict and inter-group relationships.
20th July. Gave John Cusack, actor and political activist, a tour of Belfast and later had dinner with him before he left for a family holiday in the west of Ireland.
14th July. Did interview with RoseMarie FitzSimons from the US who is researching a film on the Irish peace process.
13th July. Interviewed by Joe Austin on Féile FM re the forthcoming festival.