So disquieted by 'The Book of Disquietude' by Fernando Pessoa to the extent that I couldn't finish it. You feel immoveable, that the story is leading you nowhere except into depression and perhaps even death!
Not sure where I first came upon his name but a few years ago I was in Portugal for a week's autumn holiday on the southern coast with some friends. I was determined to go to Lisbon which I hadn't seen since February 1980 when I was stuck there, alone, in a flea-ridden, backstreet hotel, with little money, during an air traffic controllers' strike.
But I had been smitten by the beauty of the old city which had suffered a major earthquake in 1755, an apocalyptic event which had killed about 30,000 people, literally shook the contemporary world and was written about by writers as diverse as John Wesley and by Voltaire in 'Candide'. In 1980 there was still a hint of the 1974 revolution in the air and there were many huge anti-imperialist murals on walls, but also a significant number of refugees from the former colonies of Mozambique and Angola living in encampments on the outskirts of the city.
I originally had it in my mind to search out and perhaps re-interview Otelo Saraiva de Carvalho, the left-wing Portuguese army officer who led the 1974 revolution which overthrew the dictator Salazar. I was enthralled by his account of the coup. He had told me that when he was in the colonies interrogating captured guerrillas he [and young officers like him] realised that the guerrillas were right and he was wrong! I searched the internet for current information on him and was disappointed to read that he had apparently turned to business and was now a small arms trader. So I didn't pursue it.
At 5.25am I left my snoring friends in the apartment and walked down the dark street into town to the railway station. The air was briny and chilly and the streets were deserted. Outside a shop lay a strange lump of a mongrel, but as I neared I realized it was actually a big brown dog with a much smaller black companion curled up beside it, each comforting the other.
As I crossed the wide Avenida dos Descobrimento, solely and completely in possession of the street as far as the eye could see, I had a feeling of déjà vu, of standing on the Falls Road in the early hours of the morning, shortly after the barricades went up in August 1969, when the road was completely empty of traffic and when to be in possession of the road felt eerie yet exhilarating.
I decided to buy a single ticket at 21 Euros so as not to be tied to a time for returning. I was the only customer and was first on the train, though I was joined by other passengers before the 6.11 departed for Tunes, an hour down the track and where I had to transfer.
When we arrived there it was light but even colder than before. At the station there were no time-tables, no station master, no platform numbers – almost like the helpful directions we give tourists in Ireland! At one point, a young woman, who had the appearance of poverty, jumped off the platform opposite, where there was a small café. She carried a baby in one arm and an infant aged about two held on to her right hand as they stepped across the stones and humming steel tracks. Using her knee as a fulcrum she raised the infant and tossed him onto our platform, then sat the baby down, before herself climbing up. Then she shouted across to the café, presumably that the train was coming. A man her age, in thin track bottoms, then crossed the exact same way she had with the children except that he carried two paper cups of coffee. I was panicking but none of this took a puff out of the thirty or so passengers on the platform, some of whom had a variety of luggage, destination presumably Lisbon which was confirmed when I found someone who spoke English.
 I made my way to Cemitério Inglês (the English Cemetery), hoping to visit the grave of Henry Fielding, author of that comic epic 'The History of Tom Jones'. I got there at ten past one but the cemetery had closed at one o'clock and although I could see life inside through a gap in the gate and pressed the bell no one came to the front to let me in, even for just a few minutes. Fielding had come to Portugal in search of a cure for gout and asthma but died within two months.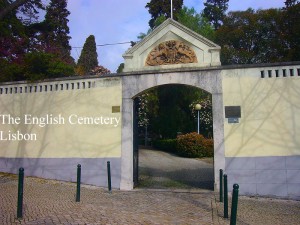 From there I went to the Jeronimos Monastery, which in one incarnation or another has been on the site since 1459 and survived largely unscathed the 1755 earthquake. Here are the tombs of the famous explorer Vasco da Gama [whom we learnt about in school] and the sixteenth century lyrical poet Luís Vaz de Camões. And here also is where in 1988 the remains of 47-year-old Fernando Pessoa, who died in 1935, were reinterred. His work went unrecognised until after his death and now he is considered a great poet 'whose part in modernism gave Portuguese literature cachet elsewhere in Europe'.
Serendipitously, just a few weeks after my holiday, I was at a book sale in the Cathedral Arts Quarter, came across 'The Book of Disquietude', which, of course, I bought, to savour another day. But boy did it prove to be a difficult and depressing, overly-melancholic read, though this imagery isn't bad: "Whenever I see a dead man, death seems to me a departure. The cadaver looks to me like a suit which was left behind. Someone went away and didn't need to take the one and only outfit he'd worn."
He also approvingly quotes himself (who wrote under the name of a poet called Alberto Caeiro), again, with an interesting idea: "24 March 1930. I passively re-read – receiving what I feel like an inspiration and liberation – those simple lines by Caeiro that naturally result from the smallness of his village. Since it is small, he says, one can see more the world than in a city, and therefore the village is larger than a city…
Because I am the size of what I see
And not the size of my stature.
Yes, Pessoa is the prose master of tedium – though someday I shall attempt his poetry!