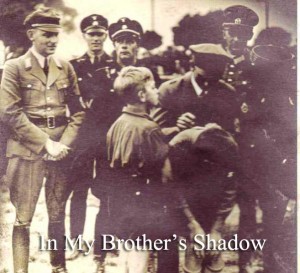 27th May. Though it still requires some re-writing I finished the last chapter of my new novel, 'Rudi', but not with a flush of euphoria. It has been very long in the making even though it is quite short at 45,000 words but will probably grow. But it is the length I envisaged. I haven't liked it for a while but my pride grows the more I think about it! Am letting two friends read it for their views.
25th May. Finished reading 'In My Brother's Shadow', a memoir by Uwe Timm. Uwe's brother Karl-Heinz, sixteen years his senior, volunteered for the SS Death's Head Division and fought in the German offensive at Kursk in Ukraine, where he died in October 1943 at the age of nineteen. Uwe wonders what his brother actually knew and felt about genocide, massacre and rapine. A short but very honest book which I shall pass on to my German friend and translator, Jörg Rademacher.
21st May. Read 'Chekhov In My Life – A Love Story' by Lydia Avilova (which I bought for £1 in the Linenhall's book sale!) whilst in Vienna on our tenth wedding anniversary. Not sure how reliable Avilova's claims are about her love affair. She claims Chekhov said to her: "If I live, think, fight, and suffer, then all this is reflected in whatever I happen to write… I will describe life to you truthfully, that is, artistically, and you will see in it what you have not seen before, what you never noticed before: its divergence from the norm, its contradictions…"
16th May. Did interview with leaving cert student from Dundalk, Iarla Graham, in relation to the 1981 hunger strike.
15th May. Met with Robert 'Beano' Niblock, an ex-UVF lifer, who has written a play, 'A Reason To Believe', a black comedy, which Féile an Phobail hopes to put on as part of the August festival.
Lunched with the Reverend Harold Good, former President of the Methodist Church in Ireland, who along with Father Alec Reid acted as an independent witness to verify the decommissioning of IRA weapons in September 2005.
Am in email communication with the former British army soldier who story I lifted from Sharedtroubles website and published here a while ago.
Finished 'Odd Jobs' by the late John Updike and owe the Falls Library a substantial fine! It is a great book of essays and covers a vast range of issues, including some with quirky titles such as 'First Wives And Trolley Cars'. There are pieces on Kafka, Edmund Wilson and a dozen other key figures. We learn that 'Ironweed' was rejected by publishers thirteen times, that André Gide turned down 'Swann's Way' and that 'Dubliners' went unpublished for ten years while Irish and English publishers dithered over "a few of its excessively accurate details."
Updike's writing is beautiful and is full of little nuggets such as "Earth is like our allotted span of life – ample but infinite", and this one from the late John Cheever, "A page of good prose remains invincible."
This, from 'The Importance of Fiction', is simply brilliant: "Fiction is nothing less than the subtlest instrument for self-examination and self-display that Mankind has invented yet. Psychology and X-Rays bring us some portentous shadows, and demographics and stroboscopic photography do some fine breakdowns, but for the full parfum and effluvia of being human, for feathery ambiguity and rank factivity, for the air and iron, fire and spit or our daily mortal adventure there is nothing like fiction: it makes sociology look priggish, history problematical, the cinema two-dimensional, and 'The National Inquirer' as silly as last week's cereal box." Also: "The fiction writer is the ombudsman who argues our humble, dubious case in the halls of eternal record."
13th May. Finished the MS of the very funny, latest novel from Garbhan Downey, 'The Blue Rose', which is truly mental!