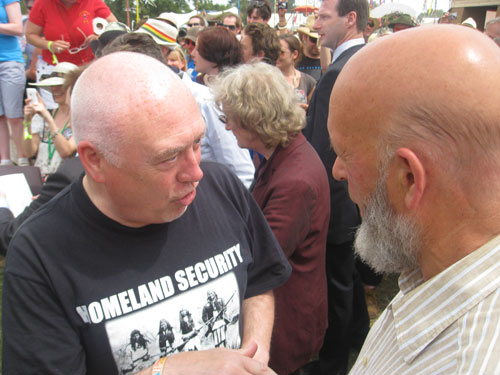 Back, exhausted, from an equatorial Glastonbury. On the last day I saw Ray Davies with the Crouch End Festival Choir, Richard Thompson and Stevie Wonder [who didn't play 'My Cherie Amour' or 'You Are The Sunshine of My Life', but was still brilliant].
Ray Davies was mesmerising and I felt very emotional as he dedicated 'Waterloo Sunset', 'Days' and 'See My Friends' to Peter Quaife, the original Kinks' bassist, who died just a few days ago.
26th June. Jackson Browne was a bit disappointing though he did 'After The Deluge' – which Christy Moore also played later in the night at the Acoustic Tent. Went to hear Michael Eavis interviewed by legendary disc jockey Johnny Walker. Eavis is a fascinating man and joked that his Methodist father and preacher would turn in his grave at the thought of him accepting a CBE from the Queen in 2007 but that he did it for the sake of his elderly mother. Johnny Walker asked him for his reaction about being nominated by Time magazine as one of the top 100 most influential people in the world and he said he was humbled. Caught the Pet Shop Boys concert and they put on a brilliant show.
25th June. Hardly slept because of the heat. Went to the field above the Pyramid Stage to do a live interview with Radio Ulster and bantered Conor Bradford about him having a kaftan and flares in the attic from the Sixties. In the afternoon, The Stranglers concert was brilliant. Later, was sitting down watching Willie Nelson perform on the Pyramid Stage when someone brushed past me. Looked up and it was my son Kevin whom we thought couldn't make it to Glastonbury. It was a lovely surprise. That night when all the young ones headed off to see Dizzy Rascal and the Gorillaz, I went to see Alan Price, former organist with The Animals, who did a great set.
24th June. Got call from Jacqueline McIntyre producer of BBC radio's Good Morning Ulster, asking me if I would do an interview live around ten to nine tomorrow re the fortieth anniversary of the festival. Agreed to it. At our campsite we were joined by friends whom we first met at Glasto about five years ago – Gary from London and his fiancée Michelle from Cork. At the Green Fields a surprise visitor showed up – Prince Charles! We spotted Michael Eavis first and people thought it was Bono coming to pay a surprise visit, his gig having been cancelled because of an injury. But the difference between Bono and Charlie is day and night. Spoke to Michael Eavis about having contacted him earlier with a proposal that he give a talk at Féile an Phobail this year on the subject of 'The Glastonbury Story'. Shook hands with Prince Charles who asked me did we 'really' sleep in tents for three nights. I told him we came for six days every year. Not sure what he made of my T-Shirt – the native American Indian one which says, 'Homeland Security – Fighting Terrorism Since 1492', but I am sure he didn't have a clue about my background. He was very personable but slighter in height than I had imagined.
23rd June. To Glastonbury Festival – perhaps my last, given how crippling the arthritis in my ankles and feet has become. But painkillers ease the problem and we camped close to the main stages.
18th June. Wrote obituary on Seando Moore for The Irish News.