Interviewed along with Professor Keith Jeffrey on local BBC radio's Good Morning Ulster on the subject of the 40th anniversary of the introduction of internment and the repercussions of that disastrous exercise in repression by the Ulster Unionist government, supported by Ted Heath's Conservative government. Hard to believe that it was forty years ago.
6th August. Chaired the last discussion in Féile 2011 with guest speaker Pat Anderson on the subject, 'Algerian War/Irish Troubles – Historic Parallels'.
5th August. Introduced Gerry Adams who officially launched Sile Darragh's book, 'John Lennon's Dead – Stories of Protest, Hunger Strikes and Resistance', about her time in Armagh Prison during the struggle for political status. Chaired the event, 'Hunger Strike – Lessons During a century of Protest', in the Felons Club, which included on the panel, Barry Flynn, Pat Sheehan, Gerry Kelly and Mary Doyle.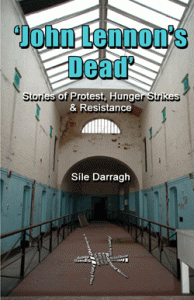 4th August. Introduced guest speaker Kevin Murphy who spoke about the history of open water swimming. Introduced Robert McMillen who chaired Scribes at the Rock.
3rd August. Introduced the event 'Youth Talks Back' in St Louise's Comprehensive College which included Niall Ó Donnghaile, Hugh Jordan, Darwin Templeton and Frankie Gallagher.
2nd August. Introduced Jim Gibney who chaired the event, 'Prisoners Past or Prisoners of the Future', at St Mary's University. Chaired the event and introduced guest speaker, Fintan O'Toole who spoke on the subject, 'After The Celtic Tiger: Lessons of an Economic Disaster'. Introduced John Conroy, guest speaker, who spoke on the subject, 'The Making of a Torturer – Unspeakable Acts, Ordinary People'.
1st August. Introduced the Amnesty International event, 'Human Rights & Journalism', at St Mary's University.
29th July. Introduced Darach MacDonald and Austin Hunter at Féile event, 'Blood And Thunder', about loyalist bands.
28th July. Interviewed Stephen Walker as part of Féile about his book on Monsignor Hugh O'Flaherty. Introduced Bill Rolston at the launch of his book, 'Children of the Revolution'.
25th July. Was interviewed about republicanism, Sinn Fein's dialogue with the SDLP in the 1980s and the final stages of the GFA by Graham Spencer for his book.