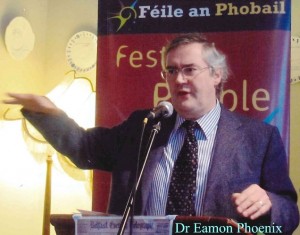 28th November.  As chair of Féile I introduce historian Dr Eamon Phoenix and Dr Jörg Rademacher who are speaking about the visit of James Joyce to Belfast exactly one hundred years ago. The event is co-sponsored by the 'Belfast Telegraph' and Féile an Phobail.
27th November. Picked up Jörg Rademacher at Aldergrove Airport for tomorrow's lecture on Joyce.
25th November. In my local Gransha, second-hand shop, for £1 I buy a copy of Sebastian Barry's novel 'A Long, Long Way', which was shortlisted for the 2005 Man Booker Prize.
Picked up German journalist, Christian Steinhagen, from Aldergrove Airport. He is here to write a feature about Belfast and the lecture to be given by his fellow countryman about James Joyce this Saturday.
23rd November. Finished 'The Secret Scripture' by Sebastian Barry – and what a treasure, what a find! I was briefly introduced to him in Dublin about ten years ago but was stupidly prejudiced against him. He is a brilliant writer.
20th November. On holiday in the Algarve, Portugal, but later go to Lisbon to do some research. Visited Mosteiro dos Jerónimos and the tombs of Vasco da Gama, the explorer, and the poet Luis de Camõens (author of 'Lusiad'). A poem about de Camõens inspired Robert Browning to suggest to his wife, Elizabeth Barrett Browning, that she should title her intimate series of poems, 'Sonnets from the Portugese'. And so she did!
Also buried within the monastery are the remains of Fernando António Nogueira Pessoa, poet, writer and critic who died of cirrhosis at the age of forty seven in 1935.  His remains were removed to the monastery on the fiftieth anniversary of his death.
His portrait featured on the 100-escudo banknote. The US critic, Harold Bloom, once referred to Pessoa as the most representative poet of the twentieth century along with Pablo Neruda. Pessoa wrote under several heteronyms – imaginary characters/names which allowed him to write in the voice, style and manner of many fictional poets. On three sides of his tomb short verses from three of his main heteronyms are quoted.
In agony, with a sudden attack of arthritis in my ankles, I reached the British cemetery in the Estrela quarter to visit the grave of Henry Fielding, though he was not for receiving me. Or rather the caretakers of the British cemetery weren't. They knocked off at 1pm and I arrived at 1.10pm but the guidebook does not mention that the cemetery closes early. Fielding was a novelist and playwright, author of 'Tom Thumb' and 'Tom Jones' and the 'Journal of a Voyage to Lisbon'.
Whilst in the capital, I could find little information about Alexandre Manuel Vahia de Castro O'Neill, one of the founders of the Lisbon Surrealist Movement and who is of Irish descent.
19th November. Unable to make the launch in Dublin of 'My Mother Always Used To Say' compiled by Valerie Bowe for Currach Press, to which I contributed. The proceeds from the book will go to the Kitty Whittle Fund in Dublin to provide education bursaries for lone parents.
I wrote that my mother, Susan, was devastated when her mother, my Granny White, died in 1959. I often found her crying when the song, 'A Mother's Love's A Blessing' came on the radio.
A mother's love's a blessing, no matter where you roam.
Keep her while she's living 'cause you'll miss her when she's gone.
Love her as in childhood, though feeble, old and grey,
For you'll never miss your mother's love till she's buried beneath the clay.
13th November. Presented Roisin Duffin of Colaiste Feirste with an iPod for coming first in Féile's short story competition in the 14-16yr category.
11th November. As chair of Féile an Phobail, I, along with Jenny Gillespie [events manager] and Elsie McLoughlin [marketing officer], were interviewed by Maria McCourt and Michael McAdams about Féile which has been nominated for an Aisling culture and arts award.