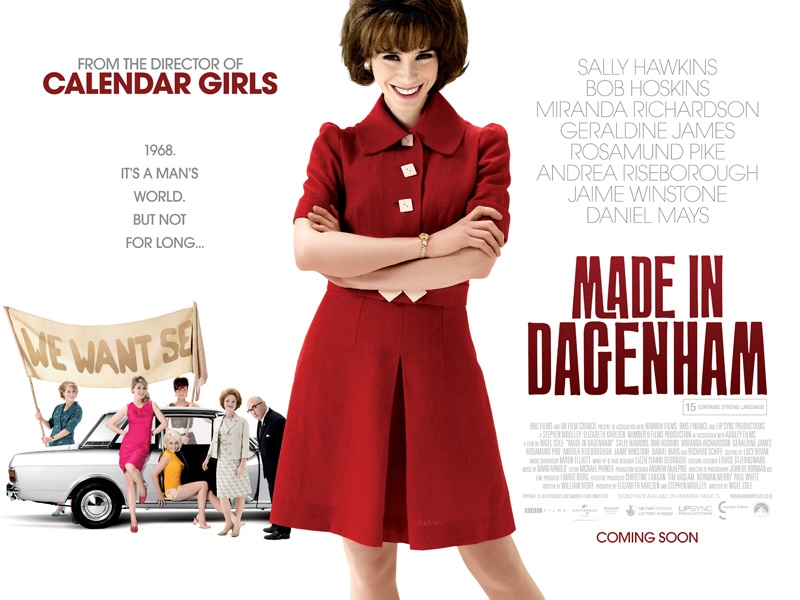 On Sunday we went to see an excellent film, 'Made In Dagenham' about the Ford factory women's strike in 1968. The dramatization was very evocative of the period, was funny and at times very moving: a little gem. The strike was initially called by the women sewing machinists in protest at being reclassified as 'unskilled' but mushroomed into a courageous fight for equal pay and led two years later to the introduction in Britain of the Equal Pay Act. The star of the show was easily Sally Hawkins as happily married, mother-of-two Rita O'Grady who is suddenly thrust into the leadership, is quickly politicised and soon learns to her personal cost the price of sticking to one's principles. Miranda Richardson is perfect as the supportive minister, Barbara Castle.
Today, Tuesday 5th October, was interviewed by Nick Mack who is doing research on behalf of the Community Arts Forum to explore the contribution community arts makes to community development.
28th September. Finished G.K. Chesterton's 'Autobiography'.
27th September. My feature published in today's Andersonstown News. It is about the Chilean miners who are still trapped below ground. I called the piece, 'Esperanza, Spanish for "Hope"', though the paper gave it a different title.
Tonight, went to see Tim Robbins and his band The Rogues Gallery in the Limelight. Had a great time and met up with Tim briefly afterwards.
26th September. Went to the Waterfront as the guest of Mr Gibney to see 'Low Pay? Won't Pay!' based on a Dario Fo play and starring the excellent Chris Patrick Simpson.
25th September. We went to see the American film 'Winter's Bone' in the QFT. It is set in scary, hillbilly country and is about the struggle of a 17-year-old girl, the daughter of a drug dealer, to keep her family together and save the family home. Bit gruesome at times – especially hat part which involves a chainsaw!
21st September. Finished 'The Girl With The Dragon Tattoo' by Stieg Larrson.