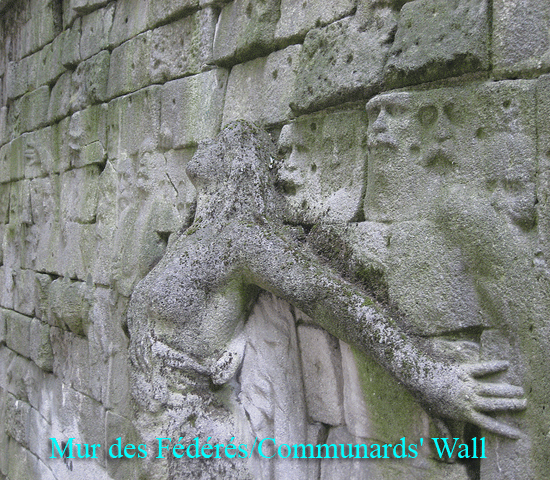 A friend from Colorado asked me was I ever in La Père Lachaise cemetery in Paris. Several times I was there and in 2003 wrote a feature about it which appeared in my book, Rebel Columns. It was titled 'And Outcasts Always Mourn'. Here it is:
Foremost, there are two types of tourists: those who go away to relax and luxuriate, usually in a balmy climate, and those who go away to learn and explore. However, no matter where I go, or what type of holiday I embark on, I get restless after three of four days and look forward to getting back to the blue skies above Black Mountain in 'equatorial' West Belfast.
We went to Gran Canaria for a week a few years ago – to Playa del Ingles, and our apartment was within petrol-bombing distance of the Kasbah, the playground for youngsters with boundless energy who danced and drank till dawn. We were in bed for 10 each night but thanks to these kids, not asleep until six each morning. It wasn't until we hired a car and took to the mountains, away from the madness of the resorts, that the holiday became tolerable.
Even so, getting home to beautiful Belfast was the best part.
So, I prefer short holidays to long ones, and pack in as much as possible.
Two weeks ago, my wife and I and her nephew Peter from Toronto (our French translator) went to Paris for three days and walked out a pair of shoes each. Did all the usual sights: Arc de Triomphe, Moulin Rouge, Le Sacre Coeur, the Seine cruise, Notre Dame Cathedral and the Louvre (with the Mona Lisa looking browned off with all the attention). Viewed the city from the top of the Eiffel Tower, dined in Montmarte, and drank endless cups of strong coffee at sidewalk cafes. On occasions we split up and went our separate ways and thus I spent the last day all by myself, out at Le Père Lachaise, wandering through the city's largest cemetery.
I love cemeteries, not because I am morbid (though I am harmlessly melancholic), but because cemeteries speak for a people, its motley collection of individuals, from the lowliest to the highest, from the leaders to the followers, the politicians, the writers and musicians, the masses. They tell a people's history and though the briefest of details – name, date of birth and death, and sometimes an epigraph – are carved in and will fade over time from headstones, even these last words evoke a great narrative about a person's worth, their place on this earth, their legacy.
The cemetery opened in 1804 as a solution to the problem of overcrowding following the revolution of 1789. The first man to be buried here was an anonymous bell-ringer from the local police station, but several famous Parisians were re-interred in Pere-Lachaise, including Moliere, the French dramatist who wrote, "We die only once, and for such a long time." The cemetery became a much sought after resting place for the rich and famous – or the stranded, as in the case of Oscar Wilde, W.B. Yeats and Jim Morrison. Yeats died in Paris in 1939, on the same day as a Parisian refuse collector, and they were buried close together. There is a theory that the person who was re-interred in Drumcliff in Sligo never wrote a poem in his life but emptied plenty of bins.
Le Pere-Lachaise covers 100 acres and I walked most of it, beginning with the grave of Rossini. There, I thanked him with a few prayers and found myself irreverently humming the 'William Tell' overture, that is, the theme for 'The Lone Ranger' to which, as a child, with a yard brush called 'Silver' between my legs I use to "de-deeee-de-de-deeee-de-dee-dee-de-deee-dee…" through Andersonstown with the ever-faithful 'Tonto' (six-year-old Brendan Hunter) on his mop by my side.
(Only when I got home from Paris did I discover that the mausoleum was empty and that Rossini's body was moved to Florence in 1887 – but nobody has told the Paris Tourist Board, or else they are not letting on.)
Other composers buried in the grounds, and still here, I hope, include Bizet, Chopin, Dukas and Poulenc; singers Maria Callas and Edith Piaf, where fresh flowers had been laid; actors Simone Signoret, Yves Montand and Sarah Bernhardt; the dancer, Isadora Duncan; and writers from Balzac to Colette, to Marcel Proust, Gertrude Stein and the American Richard Wright, author of that brilliant novel, 'A Native Son'.
The cemetery has 97 divisions and is easily navigable because each section is signed and named. I am not sure what the convention is in other cities and towns throughout Ireland but here in West Belfast's vast City Cemetery and Milltown Cemetery there are no signs on the roads and lanes, making it possible to lose loved ones not just once, but again and again. Of course, great argument would erupt if our councillors were tasked to agree to name lanes after notables, given the large number of Orange leaders, empire builders, British soldiers and IRA members who populate both cemeteries.
Soft rain fell as I made my way through the cobble-stoned avenues of Le Pere Lachaise, drawing out that universal, almost sweet, earthy odour from the trees, bushes and clay, and the scent of our dead.
And then I came upon the Mur des Federes, and I stood and wondered about the dreams that died here in a nightmare.
In the Franco-German war of 1870 France was thrashed and Napoleon III was taken prisoner. But Paris fought on and declared a 'Government of National Defence'. It lay under siege for six months before surrendering. Meanwhile, a pro-monarchist Assembly in Versailles, outside the capital, with Adolphe Thiers as Chief Executive, accepted an armistice. Paris, which had a strong revolutionary and republican tradition, rose up against the capitulation of the government and formed the Commune (municipal council). The Commune put a moratorium on unpaid war-time rents and stopped pawnshops from selling goods, made all church property state property, postponed debt obligations, and abolished interest on the debts.
Thiers, watched by German forces, bombarded the city for six weeks, which was then slowly taken, barricade-by-barricade, street-by-street in bloody battles, in which at least 30,000 people lost their lives and over 17,000 more were either executed or transported to French penal settlements overseas.
The 'Communards' made their final stand in the Pere Lachaise cemetery. And here, at Mur des Federes, in the quiet eastern corner, is the wall against which their leaders, 147 of them, were executed and buried. Not far away is the grave of Thiers who died six years later.
And finally to the grave of that great genius Oscar Wilde – broken and murdered by the intolerance of society because he loved men. I am sure Wilde would enjoy the fact that the authorities no longer replace his penis, or rather that on his monument, which collectors would break off as mementoes. In his lane the trees were shedding their small, pale leaves, like a perpetual autumn. Three sides of his monument were imprinted with lipstick from the adoring, some voluptuous, kisses of many women.
And on the fourth were these lines from 'The Ballad of Reading Gaol'.
And alien tears will fill for him
Pity's long-broken urn,
For his mourners will be outcast men,
And outcasts always mourn.