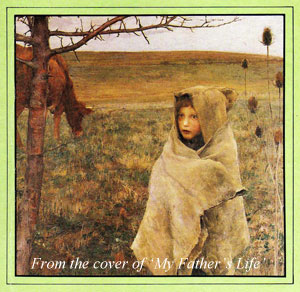 Finished 'My Father's Life' by Rétif de la Bretonne, a wonderful little French book and chance find in a second-hand bookstore in a market in Gorey a few weeks ago. I was at a wedding and had a few hours to spare, went into Gorey and bumped into Gerry Hanratty, a former republican prisoner from Belfast who is now married and living in Co Wexford. He pointed me in the direction of the market after we had a coffee and a yarn.
Did interview with Dr. Peter F. Trumbore [an associate professor of political science at Oakland University in Rochester, Michigan] about his research project that in part deals with the current state of the Republican Movement.
15th August. Wrote a feature for the Monday edition of the Andersonstown News about drink and writing! 'Writers Block While The Writer's Blocked'.
10th August. Interviewed by Freddie Cowper-Coles from King's College, London, who is doing research on the conflict here.
9th August. Wrote a feature for the Monday edition of the Andersonstown News about Feile.
The summer Féile is over and I am a stone lighter. What a hectic time. What an extraordinary time. West Belfast goes out – and West Belfast invites in. We exemplify how culture can replace and displace conflict. It is the political ambience, the mix of social commentary about society and the world at large, the laughter of our community, the appearance and availability of poets, singer/songwriters, the breadth of music, the street theatre, the dramas, the street parties, that make Féile an Phobail quite unique on this island.
And it has an impact, has an effect to the good.
A woman who had never been at West Belfast Talks Back before came up to Majella McCloskey, one of the organisers of the event, and could hardly contain herself. She said she had never experienced an event like it. The goodwill, the banter, the confidence of the audience, the range of questions, the level of discussion was so impressive.
Earlier, Deputy First Minister Martin McGuinness shared a platform in the Falls Library alongside former loyalist prisoner William 'Plum' Smith to discuss the road to ceasefire. As Jim Gibney said, it was a powerful signal from McGuinness that unlike the snobbery practised by many politicians, there is no 'elitism' attached to his office, we are all equal and should be heard whether the views are ones we agree with or totally oppose.
Where else would you get in the one programme Red Hand Luke (aka Dan Gordon), Lenny Henry, a Teddy Bear's picnic, Ian Paisley Jnr, It's a Knockout, Nobel Laureate Seamus Heaney, a convention of former boxers, Irvine Welsh, Bert Lynch (aka Jimmy Ellis) from 'Z Cars', the Russian Philharmonic Orchestra, £26.5 million in missing bank notes, Brian Kennedy (the novelist!), a poc fada through the grounds of Stormont, 400 kids at a Hip Hop, Samba Soccer, a lumber from George Clooney, an international food fayre, to mention a fraction of the events.
But there are always going to be some complaints. Like the liquored guy who wasn't allowed to go backstage to torture and invite Lenny Henry to some rave ("so much, hic, for this being a, hic, f****** festival of the people!"
Then there was last Wednesday. I was stopped by a friend who has a foot in several camps (so to speak). "Here, Dan, I was told that youse tried to stop supporters of the prisoners in Maghaberry from taking part in the parade."
Then you patiently explain what happened, but with some frustration because you know that whoever initially spread that rumour had had to have done so with malice and had had a 72-hour start. You explain that Féile placed notices and press statements in local papers months ago inviting community organisations, youth clubs, sporting organisations, etc., to participate in the opening day children's festival parade; that we asked people and groups to submit events to be included in the published programme and that we try to provide such groups with space or rooms or lecture theatres and with free publicity.
That's how there is a Palestinian Day, a Communist Party panel discussion, an Islamic talk, a lecture on Christianity in St Oliver Plunkett Church, a Prisoners' Day in the Felon's, a film about Bombay Street in Clonard Hall, an Amnesty International discussion on the media and human rights, etc.
The prisoners' support group did not ask to participate, nor did they liaise with the parade organisers, nor did they ask for a room in which to hold a meeting nor did they ask for publicity. That rumour monger reminds me of the person who criticised Sinn Féin for doing nothing for the prisoners, then as soon as Sinn Féin MLAs visited Maghaberry accused Sinn Féin of being 'blood suckers', of attempting to exploit their prisoners! Talk about a balloon!
Regardless, it was a great festival, perhaps the best in twenty-three festivals.
Most memorable moments?
The dropped jaw, the disbelief, of an elderly woman in the audience listening to Irvine Welsh's expletive-rife, hilarious and grotesque tale of marital dysfunction when the misogynistic husband's football match is disrupted by his 'selfish' wife getting run over by a train and losing both legs. I have no idea what she thought she was coming to hear – but it certainly wasn't that!
Brian Kennedy recalling the mesmerising effect of album covers of LPs in Patsy Crawford's old shop in Beechmount Avenue, particularly that of the Flying Column's 'Four Green Fields'.
Another moment. Seamus Heaney in St Mary's, people choking back tears as he read 'Mid-Term Break' about the death in a car accident of his four-year-old brother Christopher, and those devastating last lines: "A four foot box, a foot for every year."
Yes, Féile united many.
Many thanks to all the wonderful staff, workers and voluntary workers but particularly to Cathy Kelly, Finance Manager extraordinaire, who ensures that the engine never seizes!