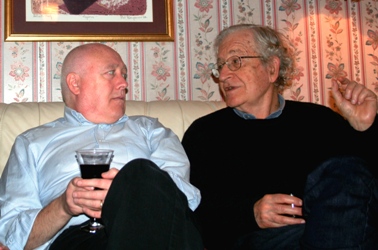 31st October. Greeted Noam Chomsky to West Belfast and Féile an Phobail before his address at St Mary's University College, organised by our Discussion & Debate group. Later, we had dinner with him. He is very quietly spoken and draws upon a wealth of information and historical references when speaking about international politics. Feel he is a little too pessimistic about the possibility of progress and change but he is very impressive, patient and generous with his time. We presented him with Denis O'Hearn's biography on Bobby Sands and a copy of the essay book on the hunger strike.
30th October. Finished Diane Athill's memoir, 'Stet'. Finished reading/judging 160 short stories written by 11-16 year-olds as part of Draoicht festival, along with fellow judge Patricia Gormley.
29th October. Finished reading 'The Fairy Tales of Hermann Hesse', translated by Jack Zipes.