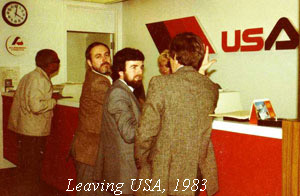 Wrote a feature for today's edition of the 'Andersonstown News', which they titled: "From Most Wanted to Not Wanted in three decades":
A long, long time ago, when I was a teenager and hadn't a clue about life, I applied for a job as a librarian. What a wonderful career, I thought, sitting behind a counter and reading all of one's favourite novels, in between stamping the return date on a few books.
I filled in the application form, posted it and was invited to do an interview in Academy Street, Belfast. Three men were on the panel.
"St Peter's? Britton's Parade?" said one of the panellists, as he drew on his cigarette and blew out magnificent plumes of smoke from the engine room of the unsinkable Titanic. "That's where the IRA gave its press conference, isn't it?"
Back then, I was a pretty honest tout.
"Yes, that's the school I went to and where Joe Cahill met the press," I said, too affirmatively, about the IRA's brazen appearance, days after the introduction of internment in 1971, when the Belfast Brigade confirmed that the arrests had not impacted on its capability.
"Fine, Mr Morrison, we'll let you know if you got the job," said Captain Edward John Smith.
Thirty nine years later and I am still waiting to hear if an elderly Mr Morrison starts on Monday as a junior librarian.
Don't wonder – this story is going somewhere.
In 1982, after a dozen times unsuccessfully applying for a US visa, it was decided that I and Owen Carron should illegally enter the USA on the percentage basis that at least one of us would get through to speak at the annual Nor-Aid dinner dance in New York. Owen, the previous August, had succeeded the late Bobby Sands as MP for Fermanagh and South Tyrone.
I flew from Dublin to Amsterdam to Toronto, where I was promptly arrested. They had found anti-Paisley leaflets in my suitcase (protesting against Paisley's tour of Canada was my pretext for being there). I was held in an immigration centre for the weekend, appeared in court, and, after promising that I was not using Canada as a jump-off to illegally enter the States, I was released.         
A few days later, having used Canada as a jump-off to illegally enter the States, I was arrested by the FBI at the border using Polish papers. I, Petra Somebody, was from Cracow and my arrest coincided with US President Ronald Reagan's designation of 'Let Poland Be Poland Day', as part of his pro-Solidarity crusade.
The FBI had also caught Owen Carron at – the appropriately named – Peace Bridge, just outside of Buffalo.
We and our drivers ended up in jail – Fort Erie Penitentiary, I think. About eighty per cent of the prisoners were black and were forced to wear uniforms, even when on remand. We refused to wear a criminal uniform and so as not to upset the clientele and provoke a riot we were moved to the women's wing, twenty nine out of thirty of whom were prostitutes. Boy, did they love Owen Carron! They kept calling him a leprechaun.
To cut a long story short we later got bail, were kicked out, and were brought back in 1983 to face trial, were found guilty and sentenced to a year's probation, but were expelled without further imprisonment. The irony was that we were given an open-ended visa to go to the USA to face a charge of entering the USA without a visa – to speak for five minutes at a Ra-Ra party!
Fast forward twenty years. Frank Costello, a US ex-pat who lives in Belfast, gets me an invite to speak at the Harvard Kennedy School. I go for an interview at the US Consulate in Queen Street. I am asked if I am in Sinn Fein and I say I am not. I am then told that if I were in Sinn Fein I would have no problem getting a visa. I am refused a visa. In the 1970s and 1980s I was refused a visa because I was a member of Sinn Fein and I am now refused a visa because I am not a member of Sinn Fein!
Fast forward to 2010. Through a friend, Gretchen Bales, I receive about a dozen invitations, and the offer of handsome fees, to speak at universities across the USA on the subjects of Irish literature and conflict resolution. Okay, we are living in a post 9/11 world but my conviction for conspiring to kill the lovely Sandy Lynch has meantime been overturned and I am an innocent writer, hardly al Qaeda.
As a test case, we decide to apply for a visa to speak at just one venue – the University of California on October 20th. I apply to the PSNI for a Bill of Health. Their List of Offences and Proof of Acquittal costs £20 but the Consulate refuse to recognise the word of the good PSNI! I need a Metropolitan Police Report which costs me £70. In early September I go to the US Consulate for an interview (at which, incredibly, you have to stand) which is pretty perfunctory except the guy wants to know what dates I was in the RA and I disappoint him with no-noes.
It is now the 27th November 2010 and the US authorities have yet to inform me whether I will be speaking in California four weeks ago.
But I don't feel bad. Tomorrow I am expecting a letter from Academy Street to confirm that I can begin lending you books anytime soon.