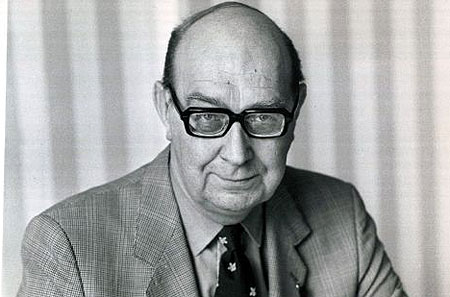 Finished a biography on Philip Larkin by Richard Bradford, 'First Boredom, Then Fear – The Life of Philip Larkin'. From the intro: "The defensive strategy of the pro-Larkinists, that a writer's prejudices are separable from and irrelevant to their literary achievements, is charitable but both demonstrably invalid and impossible to maintain. To treat poems as pure artefacts is formalism gone mad – try reading Yeats's 'Easter 1916' without involving thoughts on the actual Easter Rising and Yeats's experience of it – and to cite only those elements of a writer's life which we believe best correspond with his stature as an artist takes us back to the worst aspects of Victorianism."
Larkin – "a man for whom the mundane, the dreary and the mildly depressing were inspirational."
Not love you? Dear I'd pay ten quid for you:
Five down and five when I get rid of you.
…
He married a woman to stop her getting away
Now she's there all day,
Love Larkin's poetry. Note his racism (which many of his friends tried to excuse): "…hardly any of his letters from 1972 onwards fails to include, apropos nothing in particular, some reference to the enduring presence of 'Pakis' or 'Niggers' in English society, such as satanic figures as Arthur Scargill or the burden placed upon taxpayers like Gunner and himself by the growing mass of lazy, unwashed left-wing students."
Interviewed by Jenny Mallon, a final year student at the University of Ulster, Jordanstown, the focus of whose study is 'the year 1981 and the Irish hunger strikes'.
30th March. Interviewed by final year history student at the University of Ulster, Coleraine, Daniel McKenna, on his dissertation on the political rise of Sinn Fein 1981-1983.
Did a reading and a Q & A at the creative writing class in the Metropolitan College, Whiterock, organised by writer and broadcaster Paul Clements.
29th March. Did Skype interview with Hope Mills [USA], a graduate student studying the 'artistic response to the 1981 Hunger Strike'.
25th March. Went to Féile FM, which was its last day of full-time broadcasting, to explain why the management of Féile an Phobail felt it had to close the station.
16th March. Was invited by English teacher Kelly McGahan to judge a public speaking competition in St Louise's College. The standard was incredibly high and the young girls were amazingly confident.
Spoke at symposium in the Market Place Theatre, Armagh, after the performance of 'The Chronicles of Long Kesh'
15th March. Did Skype interview on republican politics with Bonnie Weir [USA] for her doctoral thesis.
14th March. Spoke at the official launch of the hunger strike exhibition at the Strule Arts Centre, Omagh.
12th March. Learnt of the sudden death of Brian Moore, a.k.a Cormac the cartoonist. Very sad.
10th March. At the launch of Stephen Walker's book 'Hide and Seek' in the Queen's Bookshop. His book is about the extraordinary story of Vatican-based Irish priest Monsignor Hugh O'Flaherty and the quest to capture him by SS police chief Herbert Kappler. O'Flaherty, based in the Vatican during WWII, organised the hiding of many PoWs and Jews from the Nazis, saving over 6,500 lives.