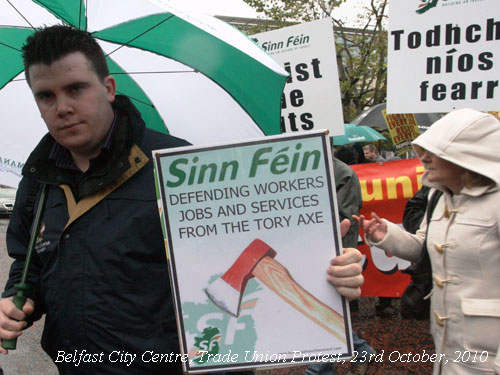 Interviewed on BBC's 'Talkback' and UTV television re the non-wearing of the poppy by nationalists though SDLP leader Margaret Ritchie has now sprouted one, fully-formed.
Wednesday 10th November. Along with others as guests I represented Féile an Phobail at East Belfast Talks Back in Ashfield Boy's School, Holywood Road, which is closely modelled on West Belfast Talks Back. Among the speakers – Martin McGuinness, Peter Robinson, Liam Clarke and Dawn Purvis. In the chair – the charming Mark Devenport. Good audience involvement and great turn-out, despite the organisers being prohibited from announcing the presence of the twins and the Secretary of State (who failed to turn up for the second year running but sent a substitute from the '1970s', a la from the 'Life On Mars' television drama, Hugo Swagger).
Met with actress Roma (Tomelty) Carnegie to plan an event or events to commemorate the life of her father, the actor and writer Joe Tomelty, whose centenary occurs in 2011.
Tuesday 9th November. Finished 'A Walk On The Wild Side' by Nelson Algren. Really enjoyed it, though it was dark, disturbing, sad and tragic.
Monday 8th November. At St Mary's University College I gave a presentation about the work of Féile to business people on an 'emerging leaders' course organised by Common Purpose.
Thursday 4th November. Did interview by Skype with schoolteacher Deva Watson and her pupils from Chichester High School in Boothwyn, PA., USA on the 1981 hunger strike.
Sunday 31st October. Interviewed by Newstalk [Dublin] along with a panel of commentators exploring the life and complex political legacy of Ian Paisley.
Friday 29th October. Finished reading the short stories submitted to Féile by Belfast Schools as part of our Draoicht festival. Patricia Gormley and I are the judges and, like in previous years, we are usually unanimous in our opinions. Once again Belfast Royal Academy did extremely well, pocketing five out of the six prizes! My favourite, though it did not come first, was 'Ring-A-Round-A-Roses, A-Pocket-Full-Of-Secrets' in the 11-13-year-old category, which was well-plotted and had many twists and turns.
Saturday 23rd October. Took part in trade union march from the Art College to City Hall in protest at proposed budget cuts. Good turnout.
Thursday 21st October. Finished 'Klingsor's Last Summer' by Hermann Hesse, three stories examining the human condition, 'A Child's Heart', 'Klein and Wagner' (a weird and confusing story about a civil servant who has deserted and possibly killed his wife and children and who goes on to rationalise suicide and take his own life) and a story about a dying artist, Klingsor. The description of Klein's despair is reminiscent of Hamsun's 'Hunger' and the hyperbole in 'Klingsor' of Whitman's high-blown poetry.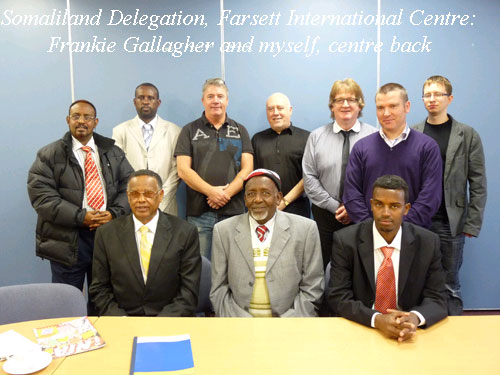 Thursday 14th October. At Farset International conference centre, Frankie Gallagher (UDA) and I addressed a delegation from Somaliland in the Horn of Africa which was visiting Ireland on a fact-finding tour regarding the peace process, how to raise the morale of their community and engage their young people. I spoke about the work of Féile an Phobail in this regard but also gave them my republican analysis of the conflict. This part of their visit was organised by Co-operation Ireland.
Finished 'Falconer' by John Cheever, the great writer who died in 1982.