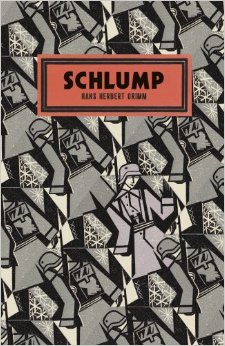 Two days after his meeting with communist GDR officials, Hans Herbert Grimm, went home to Altenberg and committed suicide. It was 1950 and Grimm was fifty-four years of age. Grimm, a schoolteacher, had taken part in WWI, and in 1928, anonymously, wrote a semi-biographical novel, Schlump, based on his experiences. Unfortunately, publication of his anti-war novel coincided with, and was overshadowed by the publication sensation of Erich Maria Remarque's All Quiet On The Western Front.
Schlump can be a very funny book though not as funny as The Good Soldier Švejk by Jaroslav Hašek. Young Schlump (the nickname of the actual character Emil Schulz) volunteers for military service and is initially enthusiastic until he experiences the brutality and inhumanity of the front line and trench warfare, and the poverty and starvation at home when he is wounded and on leave. He curses the Kaiser and the military brass but it is the pacifistic subtext and the debunking of the propagandised myth of courage which the Nazis took exception to in the novel.
In one scene, after Schlump lands a plum office job away from danger, he meets a reservist called Gack who has been assigned to the post. Gack considers himself a bit of a philosopher whereas Schlump considers him 'a right nutter'.
After a British bomb is dropped on the village marketplace, killing a young pregnant woman, Schlump rails against war and says: 'This entire war is nothing but the cruellest, vilent slaughter, and if mankind can put up with such an atrocity for years, or stand by and look on, well, it deserves nothing but contempt. But he who fashioned mankind, he ought to be throughly ashamed of himself, for his creation is an utter disgrace!'
Gack thunders at him that he is talking blasphemy and Gack later says: 'I am here because my captain ordered me here. I will go at once to the trenches, and with joyful heart, if he so commands. But I also know why providence led me to a place where I have a lot of time on my hands. Look, I know that we are going to win the war, and after the war there will be a great united Europe in which the soul of every people will be free to unfold itself. Its leader will be a man with a superhuman soul, a man from our nation, who has suffered more than any other.'
Schlump is flabbergasted 'at the peculiar madness of Gack the philosopher.'
When the Nazis came to power they publicly burnt many books, including Remarque's and Grimm's. It was believed that no copies of Schlump had survived but in 2013 a manuscript of the novel was found hidden inside a wall at Grimm's home and it was then realised that he had been the author.
Grimm joined the Nazi Party out of a sense of self-preservation and was a language interpreter during WWII. It was a decision for which he would be punished, postwar, when the communist government in Soviet-occupied East Germany banned him from teaching. A friend of his, another teacher, had been interned in Buchenwald (which remained open as a camp) and died there from starvation. Despite former pupils, and the head of the Cultural Department, vouching for him, and that he revealed himself as the author of the anti-fascist Schlump, GDR officials were unimpressed. Grimm was allowed to work in theatre for a time but then he was banned from even that and had to work in a salt mine.
It was two days after he was summoned to a meeting with GDR officials in 1950, about which no record remains and about which he said nothing, that Grimm took his own life, though by what means it is not clear.
In 1928 Hans Herbert Grimm had written, 'My publisher hopes that one day someone will come along and rediscover Schlump.'
And so it eventually was – in 2014: a century after the awful war it depicts.
20th January. Did four interviews about last night's announcement that Martin McGuinness will not be standing in the forthcoming Assembly election. First was with Richard Chambers, journalist with Newstalk's Pat Kenny Show; next, BBC Radio 4 (along with Ian Paisley Jnr MP); then on BBC Talkback with Brian Feeney and Reg Empey; and finally on Radio Foyle after the 1pm news.
10th January. Did an interview with Niall Cullen, a PhD student in Contemporary History at the University of the Basque Country, on the reciprocal influence between Irish republicanism and Basque nationalism.