Am about to introduce Scribes at the Rock with Henrietta McKervey, Stuart Carolan and the wonderful Marian Keyes!
6th August. Interviewed with Alan Kane on Radio Ulster's Good Morning Ireland by Noel Thompson with regard to Jeremy Corbyn's bid for the leadership of the British Labour Party and what it would mean for Ireland.
3rd August. At unveiling at Falls Library for the legendary actor J.G. Devlin (1907-1991) who hailed from West Belfast.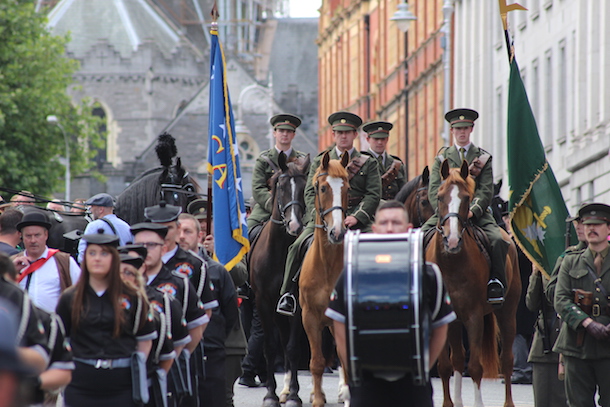 1st August. In Dublin for the re-enactment of the funeral of O'Donovan Rossa in 1915. Massive crowd and a very moving event in Glasnevin Cemetery.
30th July. Interviewed in the Andersonstown Social Club by Bobby Storey about growing up in West Belfast and the politicisation of my generation. The opening event of Féile 2015.
28th July. Interviewed by Dieter Reinsch, a Researcher at the European University Institute in Florence who is doing my PhD Project on Education and Political Imprisonment in Ireland since 1970.
24th July. Spoke at an event in the City Hall, Cork, about the links between the Cork Life Long Learning Festival and Féile an Phobail.
22nd July. Interviewed by Victoria McGroary, a PhD student at Brandeis University in Massachusetts whose thesis is on conflict resolution.
21st July. Interviewed on BBC's Talkback about David Cameron's remarks that the British government would see off ISIS the way they had seen off the IRA!
15th July. Did informal interview with three US students about the conflict.
Interviewed by veteran journalist Vincent Brown about a forthcoming TV3 bio of Gerry Adams.
14th July. Interviewed by French TV for a documentary on the legacy of Easter 1916.
29th June. Finished reading the first part of a trilogy, Green Dawn at St Enda's, by a young English writer Tracey Iceton which is mostly set in Patrick Pearse's school St Enda's School, between 1912 and 1916. Good writing.
23rd June. Interviewed by French/German documentary programme about Bobby Sands.
20th June. Did a reading from West Belfast in the Lock Restaurant, Sallins, County Kildare, as part of the Wolfe Tone Festival.
18th June. At screening of the 1961 film Saoirse in QUB and met the legendary filmmaker, George Morrison, who spoke at the event.
19th June. At Lord Mayor Arder Carson's reception in Belfast City Hall to honour George Morrison.