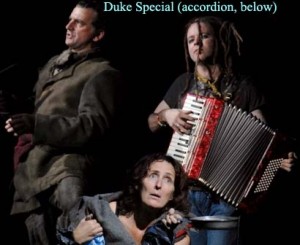 7th February. On Royal Avenue on a freezing day I met Tom Mathews and knew/ That a pint of stout he would want, a pint that I might later rue.So, we went to Madden's Bar to literally discuss the state of the literary nation. He had been in a shop, trying to buy Martin Amis's latest book but the assistant had been searching for an author called 'Amos'. Tom is currently reading 'Imperium' by the English author Robert Harris which, from Tom's description, reminded me of Robert Graves' 'I, Claudius'. After a few drinks, Tom then left to catch the 4pm train to Dublin. At the Scribes event yesterday I had noticed him occasionally taking notes in a very nice, leather-backed notebook (which some lady, I think, had bought him as a Christmas present), using a 2B pencil, a pencil showing a degree of lead overly circumcised. He explained to me that when ideas occur to him he has to immediately write them down and this was his working method. And I had been thinking all along that that was what the back of one's hands were for.
Received a very savvy email from my friend and neighbour Rory in response to my article on 'Profiting from Death'. He said: "I couldn't agree with you more (and you should have mentioned the Irish News by name)… I don't care if 'they' use a handcart for me and definitely a cheap coffin and no flash limos either… Aside from a real wooden 'Calvin Klein designer-box' they are made of chip wood and after a week or two the deceased is 'swimming in water' as they all 'cave-in'… Sorry to disagree with you, you got one fact wrong. I recall 'me da' saying (and he died in 1959), "Look at that 'so and so' is dead 15 times." Say three 'Our Fathers' and three 'Hail Marys' for your mistake! By the way, the better quality papers down South don't do multiple notices.'
Very interesting. Could we get people – who can ill afford the costliness of these death insertions – to agree to only put in one or two family notices?
6th February. Brought poet/cartoonist Tom Mathews around a few hostelries before bringing him to Scribes at the West [club] where he was one of the speakers along with Les Barker and Duke Special who also sang [brilliantly!]. What a performer. What performers! Duke Special was fresh from a gig in Draperstown in support of the victims of the Haiti earthquake. He is celebrating the forthcoming release of three new records which include songs he wrote based on Bertolt Brecht's words for the recent production of Mother Courage and Her Children at the National Theatre in London (which featured Duke and actress Fiona Shaw); songs from an unfinished musical by Kurt Veil based on Mark Twain's Huckleberry Finn; and a collection of songs inspired by 'The Book of Illusions' by the American writer Paul Auster.
5th February. Picked up poet Les Barker from City Airport and brought him to the BBC where he was interviewed by Kim Lenaghan for Arts Extra. Les recited his tragic/comic poem about the sinking of the Titanic from the polar bear's perspective. Later gave Les a small tour of Belfast [pubs] meeting Dawn Purvis along the way who said in response to Les's poem about the Titanic, "it was okay when it left us in East Belfast"!