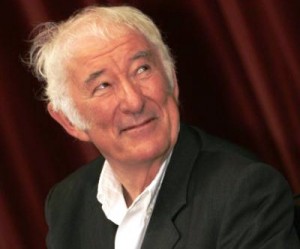 At Féile an Phobail I introduced many speakers during the festival including Seamus Heaney who spoke at Sam Thompson's grave in the City Cemetery before giving a talk on his old friend and school head master, Michael McLaverty.
7th August. Introduced Lara Marlowe [Irish Times] who spoke about her journalism and the conflicts she had covered.
2nd August. Introduced Féile/Amnesty International event on 'Human Rights & Journalism'. Introduced Pat Finucane Centre event on 'Weapons of Choice'.
31st July. Introduced Patricia Craig at St Mary's who gave a talk on her memoir, 'Asking For Trouble', followed by a Q & A session. Later, introduced Irvine Welsh ['Trainspotting'] who read from his book 'Reheated Cabbage' and then did a Q & A on the writing process. Excellent events with good audience participation.
30th July. Attended the rededication of the grave of Sam Thompson in City Cemetery. Speakers – Jimmy Ellis, Ann Devlin and Seamus Heaney. Later, introduced Seamus Heaney at St Mary's University College where he gave a very moving talk about his old headmaster, friend and mentor, Michael McLaverty, and read from a selection of poems. In my introduction I said:
Very often when introducing someone famous it is customary to say that our next guest needs no introduction and then the host goes on to do just that! Well, who am I to break with tradition?
When I was a teenager in the early sixties we were open to all sorts of influences. It was either Micky Connolly, who wanted to play lead guitar along with Eric Clapton in Cream, but who went on to become a doctor, or Gerry Fitzgerald, who went on to become the chief photographer with the Belfast Telegraph, who said to me one day, "Here, have you heard of Heaney?"
Now, I thought they were talking about Dessie Heaney from 6B.
I was big into Leonard Cohen so 'Death of a Naturalist' and 'Door Into The Dark' sounded Cohen-esque enough for me.
Needless to say, I was bowled over and have followed the twists and turns of this man's life ever since.
Most of you know the roots of this community festival, and the role of culture in replacing and displacing conflict, and you all know those famous words of Bobby Sands – "Everybody has their part to play, no matter how great or small."
Zhang Xianling served 22 years in labour camps because the Chinese authorities considered his poetry deviant. After he was rehabilitated he said: 'Every thinking person has a choice of three different relationships with the society and politics of his or her country: to participate, to flee, or to transcend.'
Edward Said, in his book, 'Culture and Imperialism', quotes Hugo of St Victor, a twelfth-century monk from Saxony, who wrote: 'The person who finds his homeland sweet is still a tender beginner; he to whom every soil is as his native one is already strong; but he is perfect to whom the entire world is as a foreign place.'
What we have learnt – certainly I have – as we have grown older, and hopefully wiser, is that having your part to play does not oblige you to the parish or to the nation but is applicable to this our earth and to humanity.
Nevertheless! Nevertheless.
Don't think, Seamus, you get off that lightly!
You have won the Nobel Prize for Literature, and you know what Shelley said about poets being the real legislators of the world, so would you not consider running for President?
Okay, you are not from Belfast – and I am not saying you're a bog trotter – and you're not as young looking or as nimble as our Mary – but the laureate of Presidency is there for the taking, though unfortunately we up here are not allowed to vote for you.
The number of accolades showered on Seamus Heaney are innumerable. Just this week his forthcoming book, 'Human Chain' [I like the title – another Leonard Cohen spectacular!], Seamus's 12th volume of poetry, has been nominated for the Forward Prizes for Poetry.
An hour ago, Seamus visited St Thomas's school for the first time since 1961 where he worked under a great headmaster and writer, Michael McLaverty. Today, he will pay tribute to his friend and mentor.
Folks, may I introduce the gentleman Seamus Heaney, of whom we are so proud!
29th July. Féile kicked off tonight! Chaired the launch in the Falls Library of Tom Hartley's revised book, 'Written in Stone'. Guest speaker – Dr John Dunlop.
26th July. Finished 'The Paris Review Interviews Vol. II'.
24th July. At Glasnevin in Dublin we were given a wonderful tour by the cemetery's chief executive, George McCullough, a Belfast man. It was so moving. I had last been there in 1989 at the burial of my uncle, Harry White, in the Republican Plot. So, we visited Harry's grave and that nearby of Dave O'Connell [who died at the age of 53], former Vice-President of Republican Sinn Fein. We visited the graves of Thomas Ashe, the first republican to die on hunger strike, in 1917; Kevin Barry; O'Donovan Rossa; and Maud Gonne MacBride, among others. Interestingly, there were few flowers on Dev's grave whereas Collins' grave was awash with fresh bouquets placed by visitors.
19th July. Finished 'The Land of Green Plums' by Herta Müller, first published in English in 1996 and winner of the International IMPAC Dublin Literary Award. What an awful novel. Unfocussed, confusing, evoking no sympathy for the characters – students oppressed by Ceauşescu's not-so-secret Romanian police. I know you cannot judge the entire oeuvre of a writer on one novel but I'll not be rushing for another by her. Last year she was awarded the Nobel Prize for Literature.
15th July. Posted piece on website about Michael Dorris and a reader's reaction to my feature of some years past.
10th July. Went to New Ross. Did tour of replica Famine Ship, the Dunbrody. Very moving. Later, visited the home where the great grandfather of President John F Kennedy was born and toured the small museum there.
9th July. At wedding in Castletown, County Wexford. On way out of church was told that Liam Mellows was buried in the adjacent cemetery. I had always thought he was buried in Galway. When younger read the Desmond Greaves' biography 'Liam Mellows And The Irish Revolution', a great book which analysed Mellows' socialism, particularly what he wrote whilst in Mountjoy Jail before he was summarily executed by Free State Forces.
8th July. Launch of Féile's summer programme.
7th July. Interviewed by Peter Taylor for a BBC documentary on his reporting of the conflict, to be broadcast in September.
Finished 'Paperboy' by Tony Macaulay who was born on the Shankill and sold the Belfast Telegraph as a child there. The book is very funny and Tony is one of the readers at this year's Scribes during the August Féile.