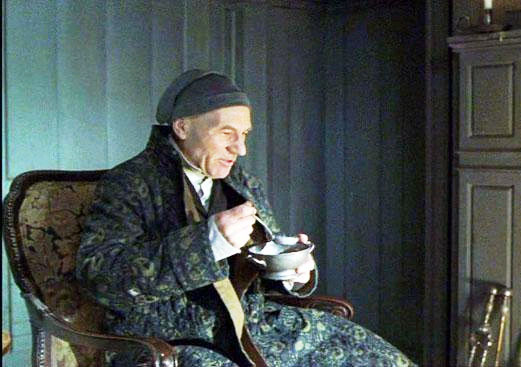 Wrote a spoof story, 'So This Is Christmas', for the 20th December edition of the 'Andersonstown News', though it appears in the paper under the title 'Time To Call A Christmas Truce'.
"That'll be ninety pence, sir."
I went through the shrapnel in my coat and fired it onto the counter like Squire 'Red' Will Danaher buying a drink. Unfortunately, it came short at only 35p and 10 cents Euro, and the queue behind me was getting restless.
A fat guy, in case there were thieves about, was gripping what suspiciously looked like a pair of women's pyjamas and three second-hand Hawaiian shirts. Other customers stood with thumbed Maeve Binchy paperbacks, Bridget Jones' DVDs and one woman looking pretty pleased was struggling with the entire backlog of Foster and Allan LPs. There were other customers, but they were humbly just over for a weekend shopping trip from Poland, Romania and Nigeria.
I searched the deepest recesses of my trousers and was in luck. I gave the oul doll a pound coin, and, accidentally, a used tissue of some vintage.
January 2010 and already I'd got half the cards for the missus next Christmas! And all for 90p!
"Haven't you forgotten something?" I said to the elderly woman, on the breast of whose grey cardigan was pinned one of those intimidating, guilt-tripping coloured ribbons. She was wobbling a bit, as if I had punched her one, or as if she was in need of a hip refurbishment. There was no way was she taking NHS negligence out on a man just because he had a few drinks with his mates on New Year's Day.
"Sorry, sir?" replied Granny Lumbago.
"My change. Aren't you forgetting my change."
"Oh, sorry. I thought…"
"Yes?" What did she think? That I was Bob Geldof?
"Oh, it's okay, I suppose. Keep the change! Give it to a good cause," I announced, feeling magnanimous.
Eleven months later, on my third little Baileys, nagged to bring down from the loft the decorations for the missus, I come across my purchases. I couldn't believe it.
"I've been robbed!" I said to the wife.
"What do you mean?"
I showed her the allegedly, charity Christmas Cards. One featured the ugliest deep-sea fish you have ever seen, camouflaging itself as frosted holly. 'Caution', the small print said, 'Glitter content – do not rub eyes.' Not only do they rob you blind but they make you blind.
Another reminded me of nits on strands of Joe Magee's hair at primary school though the blurb claimed, 'White Berries of Mistletoe'.
"You bought those!" the wife laughed.
"I'm taking them back."
"Don't be an idiot. Anyway, where'd you get them?"
They had been on sale in one of them Heart Attack Shops, or Oxfam, or War on Want, whatever. Those shops all look the same.
"Ditch them," she said.
"No way!"
"Well, you'll not be sending them to any of my family."
Wanna bet.
At that, the phone rang.
"It's for you," says the missus. From her tone I knew right away that it was our only daughter. For some reason, although we have two spare rooms and she studies psychology at Queens only a mile away, she decided to move across town. "To learn to live on my own feet," though she taps me every other week and I'm "not to tell Mammy".
"Hi Daddy," she says. "Linda wants to buy Micky some cigars for Christmas but doesn't know what to get. She said he didn't want anything too strong. I told her you liked those kind of ones, eh… What kind did I get you for your birthday? Do you remember?"
"Oh, you clever girl! But not clever enough for Daddy! That's what Santa is bringing me as a secret Christmas present, isn't it?"
At the other end of the phone complete silence… then a sob. I love my daughter's capacity for acting. Sarah Bernardt the Second.
"Even if you knew that, Daddy, why didn't you just pretend! Mammy's right, you always spoil things!"
Lord Almighty, a couple of Baileys, one slip of the tongue and there's been a change of sides and you're in divorce country. But there was no way was I spending Christmas with my parents! It was my sister's turn.
"Honey, honey! That was just a joke," I lied.
"Aye right! You always have to be right about everything and what you're best at is looking after 'Number One'. Out with your mates. Out to football. You never take Mammy anywhere."
"I took you and her on our honeymoon," I said, a bit too frivolously.
"Oh!" an exasperated cry. "Give me my Mammy!"
A man does his best, works his fingers to the bones, but you just can't win.
"You handled that like an expert," says smug wife, who has unsuccessfully been struggling to wear my trousers for over twenty years.
"I didn't mean any harm. In fact, I'm not feeling well," I said, resorting to the last refuge of the dumbfounded. "In fact, I blame that oul doll down in Castle Street and those fishy Christmas cards."
"And what's this about 'oul dolls'? And for that matter, 'the missus'? Don't be such a Neanderthal. Would you like to be called by parts of your anatomy?"
Things were now spiralling out of control. Time for truce and treaty.  I apologised. I phoned my daughter and made up, though I have to say, the weakness of actresses for flattery never fails to amaze.
She arrives in at Christmas Eve with parcels and reluctantly I am about to tip the taxi driver.
"Daddy, this is Alojzy," she says, by way of introduction.
"Pops, I've heard so much about you," says Alojzy, who thinks I'm a Rice Krispie, hugs me, turns out to be from Kracow, is studying us at Queens and knows my baby girl.
My wife shakes a lock-jaw at me, invisible to everyone but me, but which implicitly warns me not to open my mouth.
"Ah yes. Yes," I say. "Come in, come in, friend."
Around the fire, as is our tradition, we open one present each.
Mine is a magnificent Hawaiian Shirt, featuring the most beautiful coral fish you have ever seen, resembling, just slightly, frosted holly, inlaid with Joe Magee's nits.
But from its top pocket falls a packet of Sweet Phillies cigars and I look at my daughter and I love my daughter and I look at my wife and I love my wife and I look at Alojzy and I think, okay punk, when's she due.