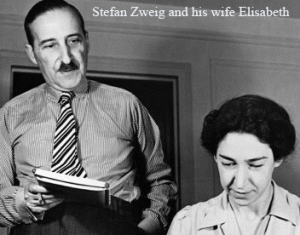 Finished 'The Post Office Girl' by Stefan Zweig, a sad, desperate story set in the 1920s about a poor young woman whom life is passing by, suddenly lights up, then fades again. The novel was found after Viennese-born Zweig and his wife committed suicide in Rio de Janeiro in 1942 to where he had gone into exile.
Was interviewed by a third-year English university student, David Ody. He is doing his dissertation on the impact of imprisonment of republicans and the effect of the educational development that occurred in the cages of Long Kesh and the H-Blocks, circa 1974-1980/81.
30th January. Did radio interview with Diane Byrnes ['Echoes of Erin'] on Pittsburgh station.
28th January. Met with delegates from the Ancient Order of Hibernians [USA] and gave them a rundown of my analysis of the situation.
26th January. Finished 'The Solitude of Thomas Cave' by Georgina Harding which is based on an unsubstantiated anecdote that an English sailor accepted a bet from his comrades that he could not survive alone at the arctic circle until they returned for the next whaling season. It is a remarkable novel.
25th January. Interviewed by American woman, Katie Keenan, a Visiting Researcher, re Féile an Phobail. She is in Belfast studying the role of cultural events in the re-imaging of Belfast as a 'post-conflict' city.
24th January. Wrote quirky feature for today's Andersonstown News, titled, 'George Galloway – MP for West Belfast!'
20th January. Attended Allianz Arts & Business Awards on behalf of Féile which won a prize. Finished 'The Fry Chronicles', an autobiography by Stephen Fry. Never realised how insecure he is. Lots of name dropping and funny in parts.
17th January. Wrote a feature for today's Andersonstown News, titled, 'Compression Of Expression'.
13th January. Interviewed by Patrick Vacquier, a French student, about Bobby Sands and the 1981 hunger strike.
11th January. Interviewed by Pascal Pragnère, a French student, about national identities in the conflicts in Ireland and Euskal Herria.
10th January. Wrote a feature for today's Andersonstown News, titled, 'Suspicions About Suspicious Minds'.