http://www.youtube.com/watch?v=7XFr0T8Etes
The Irish News phoned me the other day for an interview: they were doing a feature on the thirtieth anniversary of the Assembly elections which were held in twelve constituencies under PR on 20th October, 1982. I had forgotten all about it. Back then, I was the national director of publicity for Sinn Féin and editor of An Phoblacht/Republican News working out of Dublin three days a week.
In April 1982, James Prior, who had succeeded Humphrey Atkins as Secretary of State, had published a white paper referring to 'partial' or 'rolling devolution'. Sinn Féin's long-standing policy, until the ard fheis of 1981, had been to boycott such elections. But the hunger strike and the elections of IRA prisoners Bobby Sands, Kieran Doherty and Paddy Agnew, and, after Bobby's death, Owen Carron; their morale-boost to the struggle; the prestige and international publicity accruing from these successes and the difficulties they presented to the British government, convinced the republican leadership of the merits of adopting an electoral strategy.
The decision at the ard fheis of 1981, when I made the case for a dual strategy, removed the impediments and authorised the ard comhairle to decide on whether to contest any future election.
My wife and I were still in bed, the boys still asleep, when an anxious Tom Hartley knocked on our door in Beechmount Parade. He was general secretary of Sinn Féin at the time. He said that the previous night, supporters of two of our three candidates in Mid-Ulster, Francie Hurson (brother of hunger striker Martin Hurson) and Sean Begley, had fallen out. They couldn't agree on where to divide the constituency in terms of canvassing Number 1 and Number 2 preferences for their particular candidate, with one side feeling that the other side was looking for too much territory. Francie and Sean, who weren't involved in the row, withdrew their names from the race.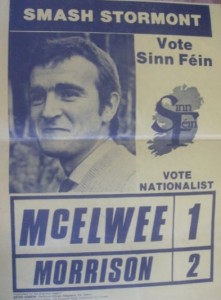 We still had a third Mid-Ulster candidate over in South Derry, Benny McElwee (brother of hunger striker Tom McElwee), who would surely pick up votes across Mid-Ulster from Castlederg to Moortown.  But the problem was that we needed at least twelve candidates to qualify for television and radio election broadcasts and now we were down to eleven. Tom's message from Gerry (Adams) was that we were to go up to Mid-Ulster, link in with Owen Carron and Francie Molly, the main men, and find a suitable candidate. If we could not find a candidate then I had to put my name forward!
At our meeting in Dungannon the two men reported that Francie and Sean could not be persuaded to change their minds and that there was no other option but for me to run. Young Seamus Kerr had expressed an interest but I think a candidate had to be at least twenty-one and he was underage.
We drove at speed around the constituency to get sponsors to sign my nomination form. Francie Hurson (who tragically died in 1984) became my director of elections and Sean Begley (now a councillor) my election agent. At two minutes to five, just before the deadline, I handed in my papers to the electoral office in Omagh and then drove to Dublin to work on that week's paper, wondering what I had let myself in for.
During the campaign we were continually stopped by the British army, the UDR and the RUC in a way that is hard for young people to imagine today. Our supporters putting up posters near Kildress were fired on from a passing car; others were arrested and held for up to three days. On the Crockanboy Road, on our way to Gortin, a helicopter swept overhead, landed in a field in front of us. Soldiers ran out onto the road and stopped the car which Seamus Kerr was driving and which had posters pasted on the doors and loudspeakers on the roof. We were kept there for several hours and then let go. Our planning meetings were held in an old school hall on the Creggan Road in Carrickmore. Activists arriving and leaving were held at checkpoints, their documents removed and read for information.
Campaigning brought hundreds of people out of being passive observers and into activity. One indefatigable activist, fifteen-year-old Barry McElduff, skipped school in the run-up to polling day, and it appears to have done his education no harm!
The counting centres began opening the boxes at 9am on Thursday, 21st October. Ours was in Omagh. But because the first result to come in was for West Belfast where Gerry Adams topped the poll and exceeded the quota, how well Sinn Féin had done in its first election (10% of the vote) became the big media story, headlining on British national television and further afield. Martin McGuinness was also elected on the first count in Derry and Owen Carron on the first count in Fermanagh and South Tyrone. Also elected were Jim McAllister in Armagh and myself in Mid-Ulster.
I had to give up the editorship of An Phoblacht/Republican News which I loved, but I fell in love with the people of Tyrone and eventually ended up living with the Hursons and working there for the next four years until the Assembly (which we and the SDLP had correctly boycotted) collapsed.
It would be another sixteen years before the Good Friday Agreement was signed and the two main unionist parties agreed to share power with ALL representatives of the nationalist community.