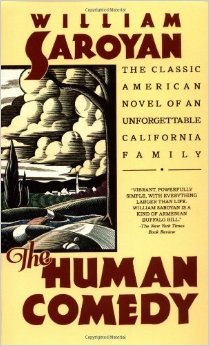 Finished a wonderful, charming little novel from 1943, The Human Comedy by William Saroyan. Saroyan, the son of an Armenian immigrant, made his initial impact during the Great Depression with "a deluge of brash, original, and irreverent stories celebrating the joy of living in spite of poverty, hunger and insecurity" (Merriam Webster's Encyclopedia of Literature). Set in a small town, Ithaca, California, it deals with childhood, youth, love, family life, community and a brother away to war.
There is a great exchange between boys bored on a Sunday afternoon after church. Auggie Gottlieb is in his front yard making a net to catch animals when Enoch Hopper – 'the most high-strung boy in Ithaca, the most restless, the swiftest moving, the most impatient, and the loudest-talking' – comes along. Enoch tries to lure his friend away with a string of proposals, all of which are rejected by Auggie who wants to finish his net:
"Come on, let's start a baseball game or go out to Guggenheim's water tank and climb it…
"Come on, let's go. Let's go out to Malaga and go swimming…
"Come on, let's start a game. Let's go down and sneak into the Bijou, see a Tarzan picture…
"Let's go down to the courthouse park, to the city jail there and talk to the prisoners…
"Let's go down to Chinatown and walk down China Alley…
"Come on, let's go over across the Southern Pacific tracks and get into a game with the Cosmos Playground gang…
"Let's go out to the fair grounds and run the mile track…
"Come on, let's go out on the empty lot and play catch."
It's not until Lionel comes along that Enoch gets someone to play with!
23rd April. Interviewed by Eleanor Hughes a third year History student at Northumbria University who is writing her dissertation on 'The Evolution of the Provisional IRA, 1969-1977'.
22nd April. Interviewed on the Nolan Show along with Malachi O'Doherty's about Malachi's Belfast Telegraph feature claiming a comparison between ISIL suicide bombers and the 1981 hunger strikers, which I rebutted.
20th April. Interviewed by Lawrence Butler Perks, a PhD student at the University of Aberdeen whose subject was 'Myth creation and myth appropriation in the Irish experience of insurgency warfare 1916-1923 & 1969-1998'.
16th April. Interviewed by Sonia Sarkar, an Indian journalist, who is writing a research essay on the British media's coverage of The Troubles.
14th April. Gave a young student from UCC, Will Maness from North Carolina, a tour of West Belfast.
11th April. Finished 1941 – The Year That Keeps Returning by Slavko Goldstein. Here is the review
5th April. Attended Easter Commemoration at Pearse's Cottage, Rosmuc, Galway.
27th March. Reading from West Belfast at the Cork Lifelong Learning Festival. Also on the bill was Martina Devlin reading from her novel The House Where it Happened.
26th March. Speaking at University College Cork on the 1960s and read from West Belfast. Did a reading and Q&A at O'Donovan's Hotel, Clonakilty, re West Belfast.
25th March. Interviewed by Jade Williams, a third year student at Liverpool Hope whose dissertation is on the 1981 hunger strike.
Interviewed by journalist Ken Sweeney about what I believe to be a false claim by US actor Ryan O'Neal. O'Neal claimed on RTE last week that when Stanley Kubrick was making Barry Lyndon in Ireland in the 1970s he was threatened and intimidated out of the country by the IRA.
Interviewed on BBC Radio Ulster's Talkback and BBC Newsline on the issue of Royal Prerogatives and the On The Runs.
19th March. In discussion about the art of writing with a young English author Sophie Lusby who has just finished her first novel.
18th March. Was on William Crawley's Talkback in panel discussion with commentators Alex Kane and David McCann, talking about the DUP/UUP pact in four constituencies.